In Needham, Arlekin Players — A Russian Theater Troupe — Build Artistic And Cultural Bridges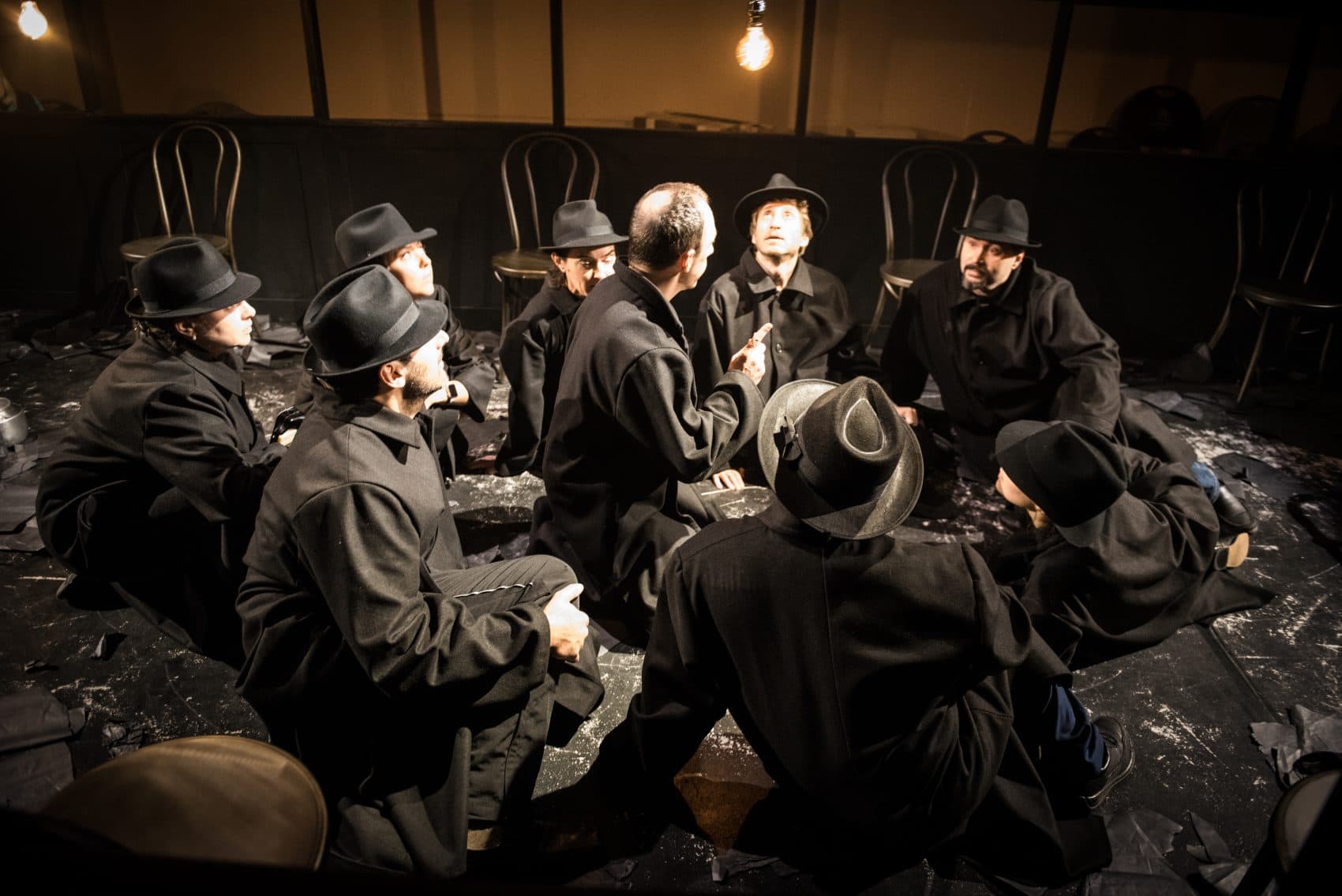 This article is more than 5 years old.
The way Arlekin Players founder and artistic director Igor Golyak tells it, the origin story of his internationally well-regarded troupe is something akin to a fairy tale. "It's a Cinderella story," Golyak said, during a recent interview. "I came from Russia in 2004, and in 2009, a bunch of friends of mine asked me to comment on their skits they were doing. After some of the comments they said, 'Since you're so smart, why don't you teach us?' I started teaching them. I asked them for a commitment of a year, and they're still with me."

During that eight-year interval, Golyak and his troupe have continued the fairy tale, with an eye on building artistic bridges while creating a space for what the Players describe, according to their website, as a "brand new theater in the new world… a space for artists to experiment and learn from each other without the pressures of commercial theater." It's a kind of theater that not only crosses borders, but also draws from a number of performance traditions: "Dance, spoken word, performance art and modern music arrangement harmoniously intertwine in our performances to create unique and memorable productions."
After six seasons of an itinerant existence, the group created a home for themselves with the Arlekin Players Theatre in Needham, in which they settled just last year. But those early seasons, while rootless, were fruitful: the Arlekin Players took their production of a Chekhov play, "The Bear," to regional, national and international festivals and won awards for it, and traveled to the esteemed Moscow Art Theater School with their production of the Pushkin play "The Guest."
Close to home, the Arlekin Players and their supporters have launched a number of cultural undertakings, including a lecture series by Harvard's Anatoly Smeliansky, who is, according to the Harvard Gazette, "the founding director of the American Repertory Theater (A.R.T.)/Moscow Art Theater School Institute for Advanced Theater Training at Harvard University." Other cultural draws by the troupe are screenings of high-definition broadcasts of theater works staged in Russia, and readings of American plays rendered into Russian — including, fittingly enough, Christopher Durang's "Vanya and Sonia and Masha and Spike," which itself is a riff on many of Anton Chekhov classics, including "The Seagull."

For all the troupe's international success, local recognition has been slow in coming, Golyak noted. "Yes, I wish we could have a bigger presence in Boston," he said. "I wish more people would know about us. The theater is quite small. One of the issues we face is we do have a great following, especially in the Russian community of course, but I kind of wanted to have people who are not part of this community come out and look at what we do."
Golyak's efforts are paying off as the troupe's work begins to exert a greater reach across Boston-area stages. Earlier this season, the Players had the chance to bring one of their works, "Natasha's Dream," to the Mosesian Center for the Arts in Watertown at the invitation of New Repertory Theatre artistic director Jim Petosa. The play had already enjoyed a run in Russian, but, Golyak recalled, the New Rep "asked us to repeat the run in cooperation with them in English. Jim Petosa graciously offered the stage and offered to be our partner in this production."
"The goal of the theater in general is to build bridges between the cultures."

Igor Golyak
While a broader audience is gradually discovering the Arlekin Players, the local Russian émigré community has long embraced it as a place to gather, connect and celebrate their culture of origin. "For some of them it's nostalgia," Golyak noted, though, he added, "actually, the goal of the theater in general is to build bridges between the cultures. When they come here and they see audiences of both American and of Russian origin together trying to understand common human experiences, this is a feeling that makes them happy, that delights them, that says, 'Even though I have an accent in English, [and] I don't speak as well as I speak in Russian, I can still communicate through the means of theater.' Audience members feel that."
Asked about the task of building such cultural bridges in the face of heightened tensions between the United States and Russia, Golyak responded by making what he felt was a crucial distinction.
"I try to think of myself as more of an American… I am a proud American. But it's funny, when we go overseas we are an American theater. When we are here, we're a Russian theater. One of the goals of the theater is self-understanding. Who the heck are we? The status of immigrant, of in-between, of not belonging to anything — it's something that all immigrants experience. Most of the immigrants [in Boston's Russian expatriate community] don't think of themselves as Russians. Yes, they know what's going on [at an international level], but they want to be here — they want to be Americans. This theater gives them that feeling. It's the closeness of the human experience, of the person sitting next to them and crying at what happened to Natasha… [they] experience what is happening on stage, and feel what is happening on stage, and can understand one another without it being very specific about 'American culture' or 'Russian culture,' whatever the culture may be."
"The status of immigrant, of in-between, of not belonging to anything — it's something that all immigrants experience."

Igor Golyak
Even so, the troupe's current production carries a distinctly Russian flavor. The Arlekin Players have adapted an unfinished work by Russian novelist and playwright Mikhail Bulgakov (author of "The Master and Margarita") into a stage version they call "Dead Man's Diary: A Theatrical Novel" (on stage now through June 4). The source material satirizes theater, telling the story of a man who attempts suicide while on the brink of success in the stage world, only to find himself disheartened by the theatrical demimonde.
The synopsis might sound grim, but Golyak pointed to the show's light-hearted origins. "We had a summer retreat in New Hampshire, in a camp. We went there as a group, and we were fooling around with some of the scenes, very funny scenes from this novel. I said, 'You know, I should unite them and show them to some of our patrons.' And then I started putting them together, and I understood, 'No… I want to do a full production.' I wish I could tell you something more philosophical," Golyak added, "but that's how it happened!"

But not everything about "Dead Man's Diary: A Theatrical Novel" is funny business. The project has attracted some top talent from Golyak's motherland. "Now I have artists that are coming from Moscow — for example, the set designer for this, [Nikolay Simonov] is the head of design department for the Moscow Art Theater, probably one of the most prestigious theaters in the world." Moreover, composer and choreographer Jakov Jakoulov is on board penning the score.
Golyak directing a play that skewers, to some degree, the very business of putting on plays may seem a little strange, considering that he has two theater degrees — one in acting, plus a master's degree in directing. Furthermore, he speaks reverently of the contributions of a certain noted Russian actor and director. "Russian theater, the way I studied it, is completely unique," Golyak said. "Its base of contemporary theater is with Konstantin Stanislavsky being the designer of the modern theater world, and American theater artists and teachers like Lee Strasberg, Stella Adler and the Group Theatre and so on — they took from Stanislavsky."

However, those icons of the American theatrical tradition didn't get the rest of the story. "They were in contact with Stanislavsky during the first period in his life. And later, once he developed his system, it was already the Soviet Union and the system wasn't available internationally." The result, Golyak says, is that to American sensibilities the dramatic tradition of his homeland is "a unique type of acting, a unique type of theater that is completely different than what Huntington does, or A.R.T. does. It's fantastical amusement."
That's another reason why Golyak wishes for local audiences to have more familiarity with the Arlekin Players. The work his troupe brings to the stage, he said, is "very different than what is done [in the United States] — it's geared toward a younger audience, an audience that is not used to extremely traditional theater. It's something different. Unfortunately, in Europe this 'something different' is already classic. Here, it's not so much."