A Revived 'Earfull' Brings Artists Of All Sorts Into The Same Space
Resume
"Words, words, words, words," said singer-guitarist Patty Larkin, on a Tuesday night late in May, opening the local spring music-and-reading series called Earfull. She was setting up "It Could Be Worse," a song with what she called a "very Irish-Catholic title."
"Words are important," Larkin continued, on the patio stage outside the Branch Line restaurant in Watertown. "It took me a long time to figure that out, even though I was an English major." She paused for a beat, deadpanning, "I use them every day."
Larkin was one of four artists entertaining a sold-out crowd at the revival of a reading-and-music series called Earfull, subtitled "Writers Reading and Songwriters Singing." Each artist had roughly 20 minutes on stage. Larkin and Damon & Naomi provided the music. Novelist Jessica Shattuck started the night by reading a chapter from her latest, "The Women in the Castle," and Andre Dubus III followed Damon & Naomi's set, reading from his upcoming 2018 novel, "Gone So Long."
"When I can be part of an event that combines reading with music or film or standup, that broadens the audience," Dubus said. "I jump on with arms and legs open wide."
So, do rock fans read books? Do readers rock? Are there enough to bring them together under one roof for a night?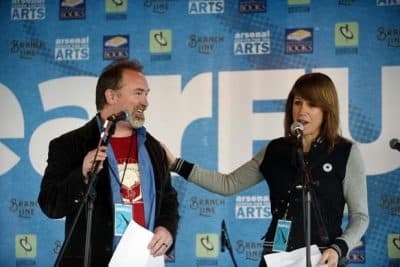 These were key questions a few Boston folks faced 16 years ago. They were singer-guitarist Jen Trynin and her husband, producer/Q Division Studios co-owner Mike Denneen, along with former Newtonville Books owner Tim Huggins and then-Kendall Café owner and band manager Michael Creamer. They thought the answer could be yes. They created Earfull, which took place at the tiny, long-gone Kendall Café in Cambridge.
"The idea was to create a combined author/musician series where authors could read in a more relaxed, 'cooler' environment and musicians could feel smart. I just think for an audience it works great to alternate short sets between authors and musicians. They require different sorts of attention and I think the mix works really well," Denneen said.
"I'd just add that I think literature and music touch us differently," said Huggins, who emceed the recent show. "There's something about the commingling of each and having it hosted at a restaurant/bar setting. It becomes a special kind of immersion and experience."
There were 19 Earfull events staged during its first run at the Kendall. One memorable night in March of 2002, the Dropkick Murphys and author Dennis Lehane shared the space and brought the house down. The Dropkicks, a favorite band of Lehane's, amped up an already sweaty evening, with their Celtic punk rock and Dropkicks leader Ken Casey quipped, "You're not bad for a bunch of smaht people."
The Kendall Café went down in 2003 when the building was sold to a developer, bringing an end to that run. They attempted to revamp the series at the Paradise Rock Club's front lounge for a couple of shows, but that didn't quite work. Last spring, they kicked Earfull up again in conjunction with the Mosesian Center for the Arts in Watertown, where Denneen serves on the board.
The three-date slate of shows continues Tuesday, June 6 with authors David Anthony Durham and Jayne Anne Phillips, with musicians Trynin and The Sheila Divine's Aaron Perrino. Then, on Tuesday, June 20, authors Annie Hartnett and Anna Noyes with musicians Lyle Brewer and Dennis Brennan take the stage.
The first show last month was thoroughly enjoyable. The format, as always, toggled between the writers and the musicians. Shattuck began by reading from what she called her World War II-era book's "lightest chapter … romance in the time of Hitler." It concerns a courtship between a young woman and a Nazi officer. (The novel itself revolves around three women and their children who hide in a ruined Bavarian castle near the end of the war, after their husbands were executed for plotting against Hitler.)
Husband and wife duo Damon Krukowski and Naomi Yang — professionally known as Damon & Naomi — played an acoustic guitar and synthesizer-based set that began with the late Tim Buckley's elegiac "Song to the Siren."
"Our songs are on the sad side, I should warn you now," Damon explained. "We're not hiding the cheerful material. This is what you get." Theirs was a gentle, hypnotic and contemplative set.
"We need sadness to feel joy," Dubus said, upon taking the podium. He pumped up the energy level, weaving the beginnings of "Gone So Long," a tale told from three points of view from characters 20 years apart in age. Daniel, in his mid-60s and ill, is searching for his daughter, someone he hasn't seen in 38 years for some disturbing reasons. He flashes back to a scene in May of 1969, where the music — played at the giddy Himalaya carnival ride — was by Tommy Roe and the Archies.
"One of the main themes is wrestling with the passage of time and the malleability of memory," Dubus said later. "When I look back on what I've written, I find for my characters, it's hard for them to be in the present without feeling the weight of the past. And in my own life, too. As Faulkner said, 'The past is never dead. It's not even past.' "
Dubus said the music and lyrics of Bruce Springsteen, Bob Dylan and Tom Waits has had as profound an effect on his writing as Ernest Hemingway has. As he was writing "Gone So Long," he was listening to '70s-era Neil Young and Lucinda Williams.
Larkin followed Dubus, shifting between acoustic and electric guitars, mixing humorous chat with more serious songs. An ironic highlight was the fast, upbeat tune "The Book I'm Not Reading." But Larkin wasn't singing out against the act of reading, but rather the pleasure of being read to. "The book I'm not reading is riveting," she sang. "I need someone to read me stories, someone to turn the pages ... the book I'm not reading should be read aloud."
Denneen said people's interest in the literary component of performance has been stoked by the success of The Moth series. "We haven't specifically tried Earfull other places," he said, "but I imagine it would work. Boston works for us because we have great connections to authors and musicians who wouldn't ordinarily play such a small venue. The uniqueness of the event makes it interesting to both. The short sets and format are definitely the appeal for the performers."
Damon & Naomi cut their teeth as two-thirds of the dream pop band Galaxie 500. As Damon & Naomi they have made nine studio albums. The latest, 2015's "Fortune" accompanies the silent film Naomi made. (She also makes fashion videos.) Damon, too, is busy outside music, penning the just-published "The New Analog: Listening and Reconnecting in a Digital Word," which he said was "about change from analog to digital and all our ways of communication. It's not pro or con; it identifies problems and issues considering our sense of space and time, how it's affected by visual media."
"It's not a crowd that would go to an 11 o'clock show. It was a nice experience for us because it was different."

Naomi Yang
"It's not a crowd that would go to an 11 o'clock show," Naomi said with a laugh, talking about rock gigs. "It was a nice experience for us because it was different."
"What's funny for us," Damon added, "is as you get older your audience diverts into crowds that goes to rock clubs and those that don't. So, it's unusual to play for people our own age."
For Larkin, the pairing is perfect. She's been collaborating with poets and writers for three years at the Fine Arts Work Center in Provincetown, a residency program for writers and visual artists. "I did a show with Marie Howe, a poet laureate from New York, a remarkable writer. She read poetry and some of them I backed up with violin bow on my electric guitar."
Larkin likes the idea of merging pre-existing poetry and new music. "I feel as a songwriter I go down familiar paths and I use the templates I know," she said. "I'm working on a new album and I've written songs and set eight or nine poems to music. The voice is so different — not me."
Trynin, who helped create the Earfull series way back, is up this week, one of the four artists on the bill. She bridges the writing/music worlds. Trynin wrote a memoir, "Everything I'm Cracked Up to Be: A Rock & Roll Fairy Tale," and is working on "a creative non-fiction" book now. She was a solo artist signed to Warner Bros., played guitar and sang in Loveless and has been playing with her full-on rock band Cujo of late.
"For this show, I'm going solo acoustic, which I haven't done in 20 years," Trynin said. "Some old songs, some new songs, including one called 'Come Back.' As much as I like playing loud music, I like the intimacy of softer playing and this is way more intimate than rock clubs."
Update: The June 20 lineup has been changed from Anita Shreve to Anna Noyes. This post has been updated to reflect that. 
This article was originally published on June 05, 2017.
This segment aired on June 5, 2017.