Check Out These Strange And Fabulous 'WearableArt' Ensembles On View In Salem
"World of WearableArt," New Zealand's annual international fashion competition, aims to take "art off the wall and adorn onto the human form," according to organizers. It's part "Project Runway," part carnival masquerade, part Cirque du Soleil, part trippy fashion spectacular.
"It's not costume for the sake of costume. It's really about how you can create something that is original … how you can use materials in a different way," says Lynda Roscoe Hartigan, deputy director of Salem's Peabody Essex Museum, where 32 of the ensembles are on view in the exhibition "WOW: World of WearableArt" through Sunday, June 11.
Artist Suzie Moncrieff launched the competition in 1987 to promote a small rural art gallery in New Zealand. She attracted a crowd of (organizers say) about 200 people. Now it's a theatrical production in Wellington running for three weeks each year, featuring more than 150 garments, and drawing an audience of some 58,000.
"World of Wearable Art" outfits in the exhibition include a felt outfit modeling Paris' Notre-Dame Cathedral, a dress resembling a classic 1950s car, a lobster-clawed costume, a dress shaped like a paper lantern and a bra resembling prickly cacti.
"Is it art? Is it costume? Is it fashion? Is it wearable?" Hartigan says. "People have to be able to walk in them, turn around in them, actually wear them on the body." That said, "You're not going to be able to sit down in most of the ensembles that are in the show."
Here's a look at the outfits:
'Hermecea' | 2011 | Jan Kerr, New Zealand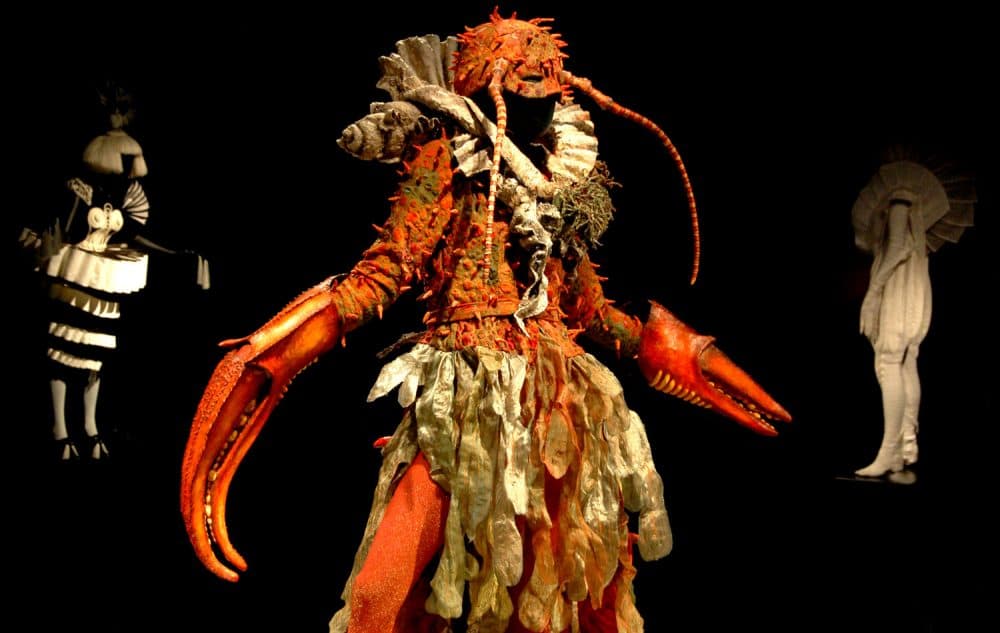 "The ensemble has a lobster tail," Hartigan says. "The dress arms terminate in a claw form." Kerr spent two years embroidering, painting and sewing the jacket, shell-inspired collar and tail from handmade fabric, papier-mâché and wire. "It's almost like she's creating a human-crustacean mutant."
---
'Skin' | 2011 | Marjolein Dallinga, Canada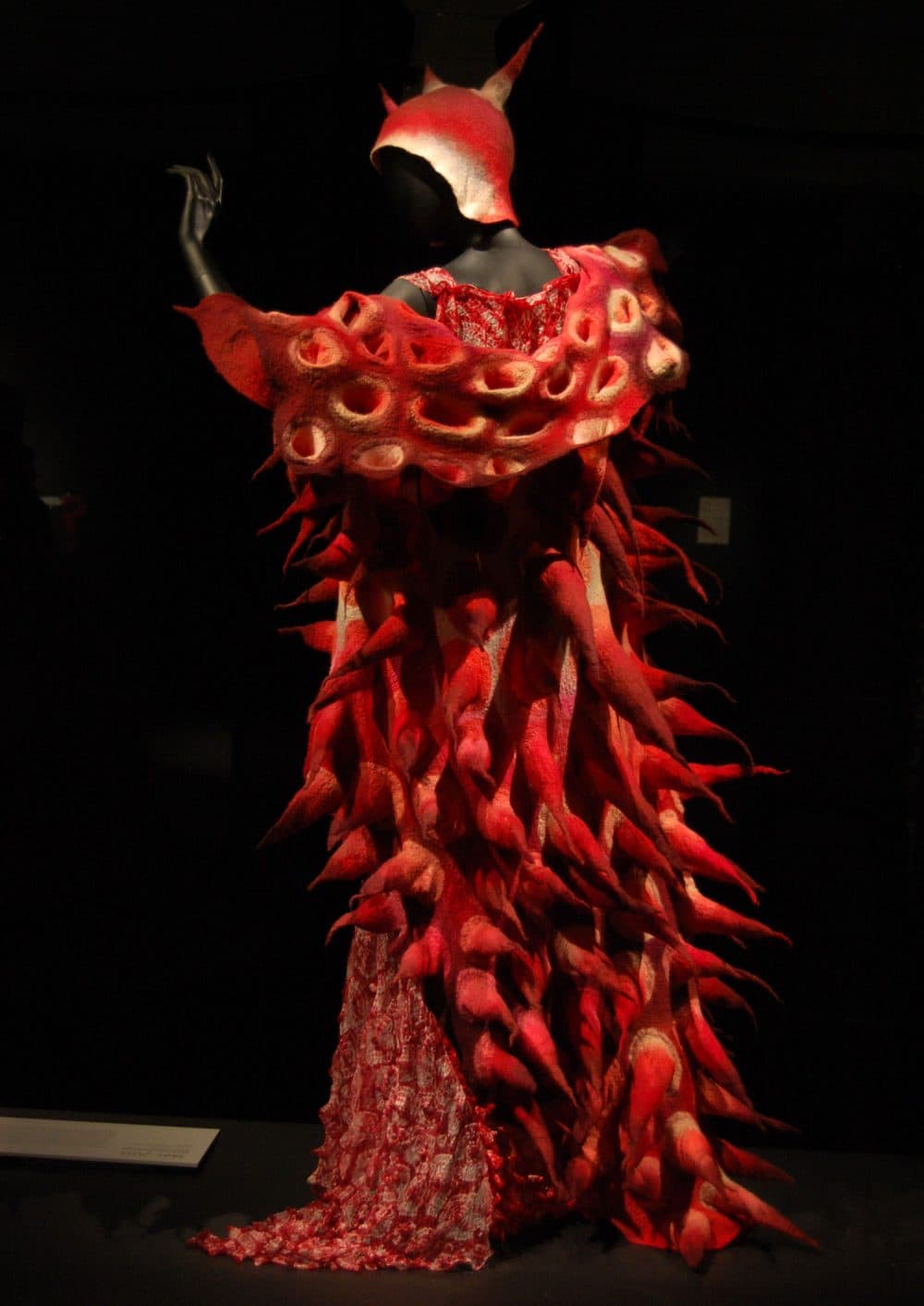 A painter and experimental artist for Cirque du Soleil, Dallinga created this spiky headpiece, cloak and dress from felted and hand dyed wool and silk. "She thinks of felt as a warm organic substance that really brings together sculpture and painting," Hartigan says. "The ensemble looks aggressive and erotic, but it's super soft. It's this enveloping protection."
---
'Beast In The Beauty' | 2012 | David Walker, United States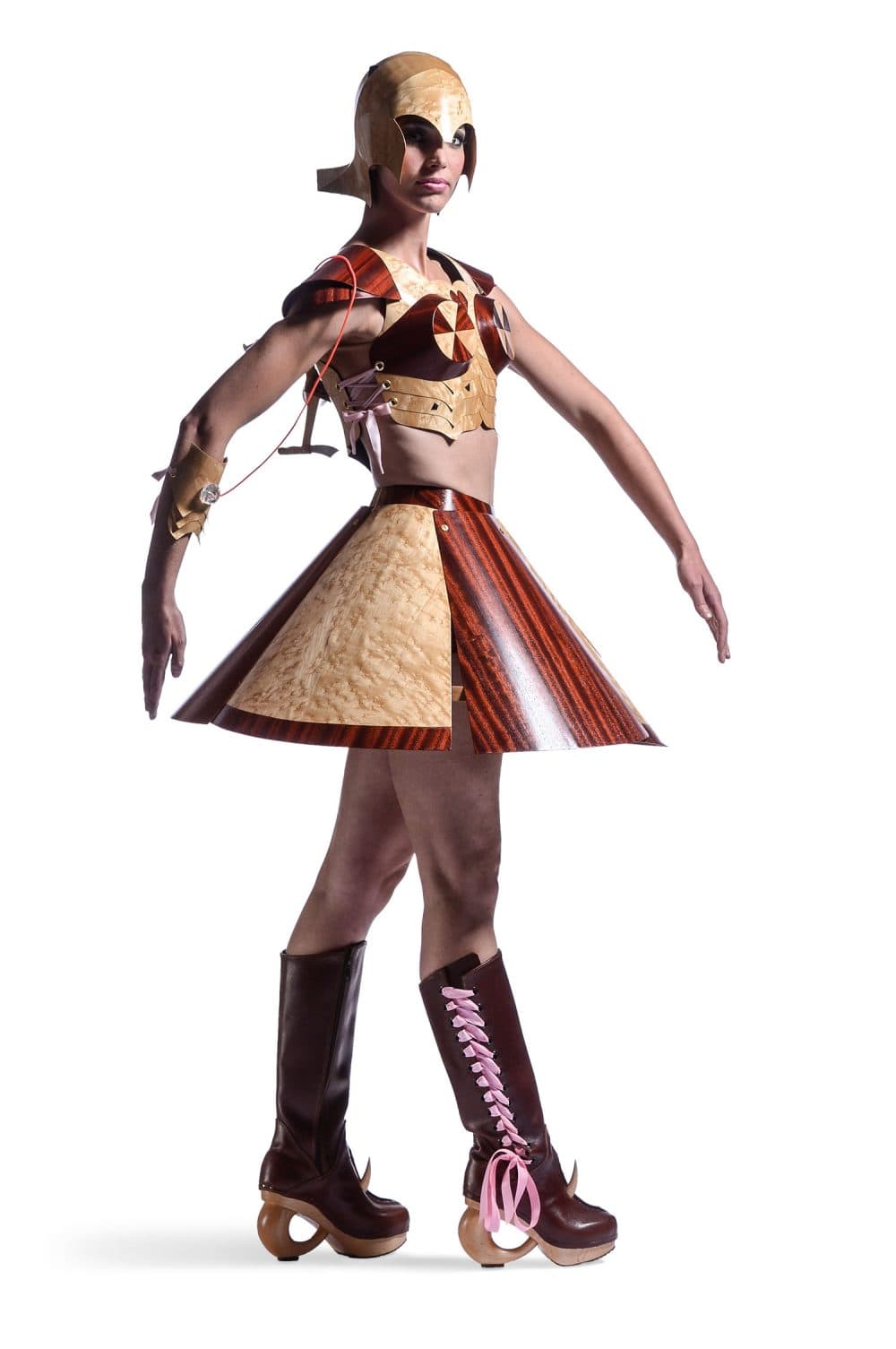 "Some of these artists are creating these ensembles as a way of expressing a personal story," Hartigan says. Alaskan carpenter David Walker crafted this suit of wooden armor (maple and padauk wood veneers) in homage to his wife before she died from breast cancer. It has radiation symbols on the breastplates. Pink laces on the boots evoke the pink ribbon symbol of efforts to cure breast cancer. And it's speckled with dark dots, Hartigan says, "to suggest the presence of the cancer and where it was spreading through her body."
---
'Gothic Habit' | 2014 | Lynn Christiansen, United States
Christiansen's dress depicts Paris' Notre-Dame Cathedral with 2,300 pieces of laser-etched and laser-cut felt. "She finds going into buildings a spiritual experience," Hartigan says. "So she wondered what it would feel like if you were in the building in a different way."
---
'Prickly Heat' | 2010 | Wendy Moyer, Mexico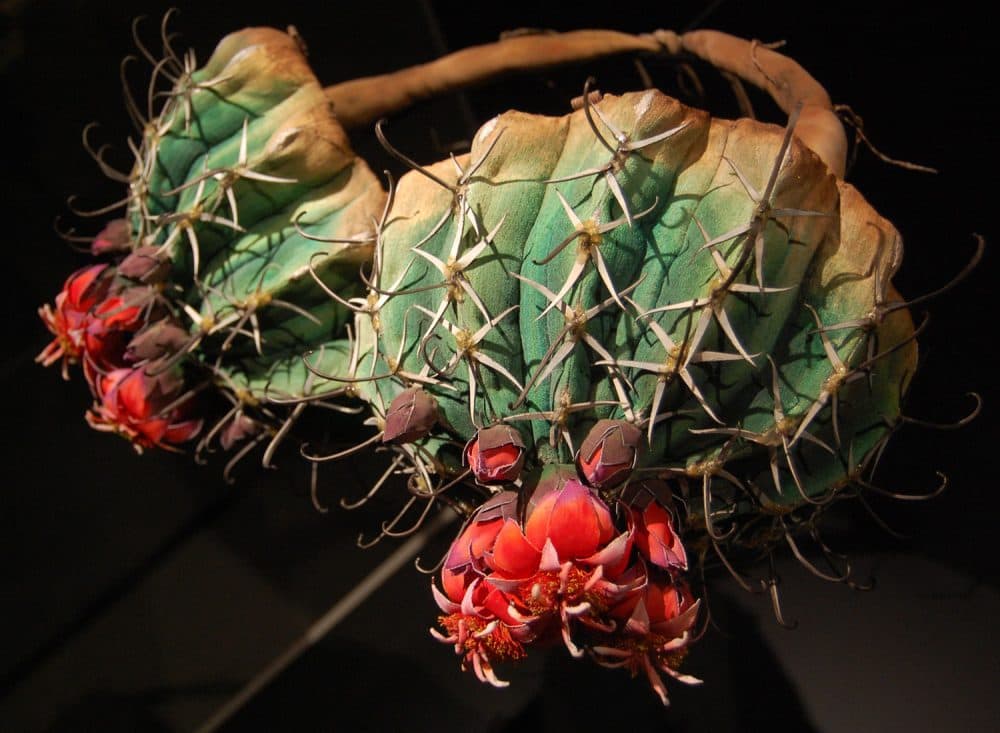 Since 1995, "Bizarre Bras" has been one of the recurring design challenges at "World of WearableArt." The category is "an opportunity to experiment on a much smaller scale," Hartigan says. Here Moyer evokes blooming fishhook barrel cacti with a bra built from clothing remnants and plastic containers supported by a wire grid. The design is meant to be both humorous and pointed. "Watch out" Moyer has said, "in Mexico the spines on these babies have earned another name: Manca caballo — horse crippler."
---
'Le Tatau' | 2006 | Lindah Lepou, New Zealand
Lepou, a Samoan couture designer, arranged the sequins and beads on this bodysuit to evoke "tattooing recently popular with Samoan youths who take pride in its representation of family history and cultural identity," according to the museum. "Historically, Samoans had their entire bodies and faces covered with intricate designs as signs of power and attractiveness."
---
'American Dream' | 2009 | Sarah Thomas, New Zealand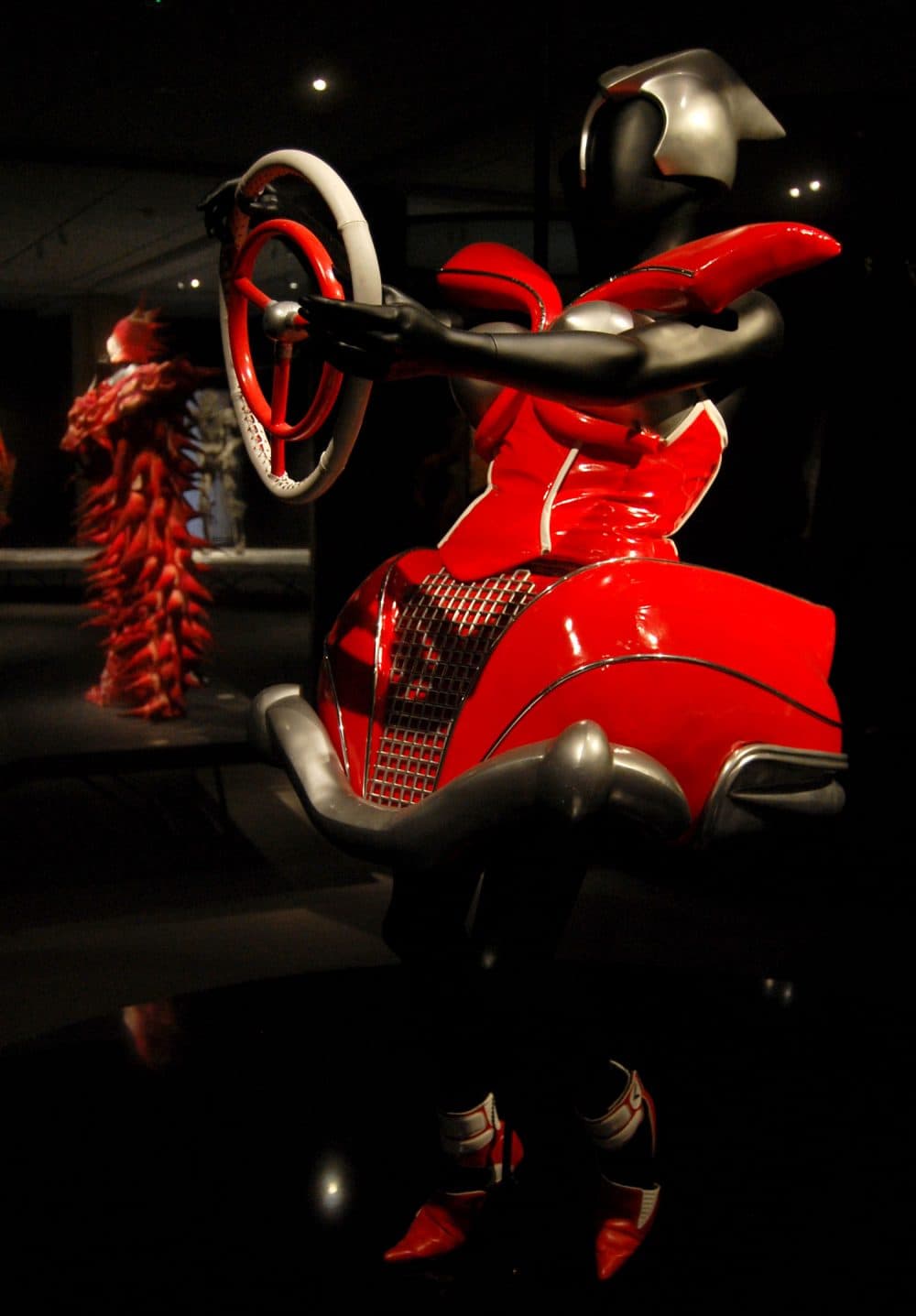 The English-born, New Zealand-based artist and teacher transformed vinyl, leather, plastic, papier-mâché and spray foam insulation to evoke the tail fins and chrome of a classic 1950s Plymouth sedan.
---
'Noor Reverie' | 2012 | Rebecca Maxwell, New Zealand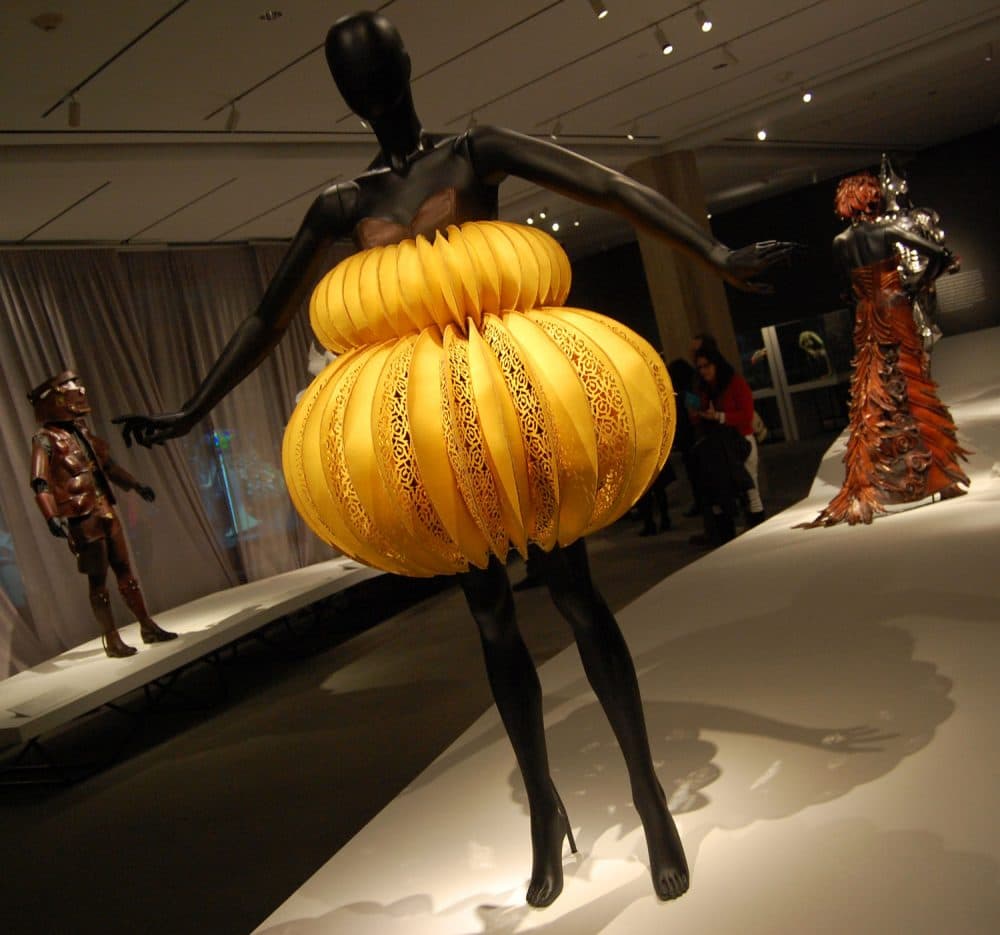 Inspired by Moroccan lanterns, the design student fashioned a polyester and vinyl dress with patterns laser-cut into panels to evoke the perforated metal lamps — and the designs they project.
---
'Delight Of Light' | 2012 | Mengyue Wu and Yuru Ma, China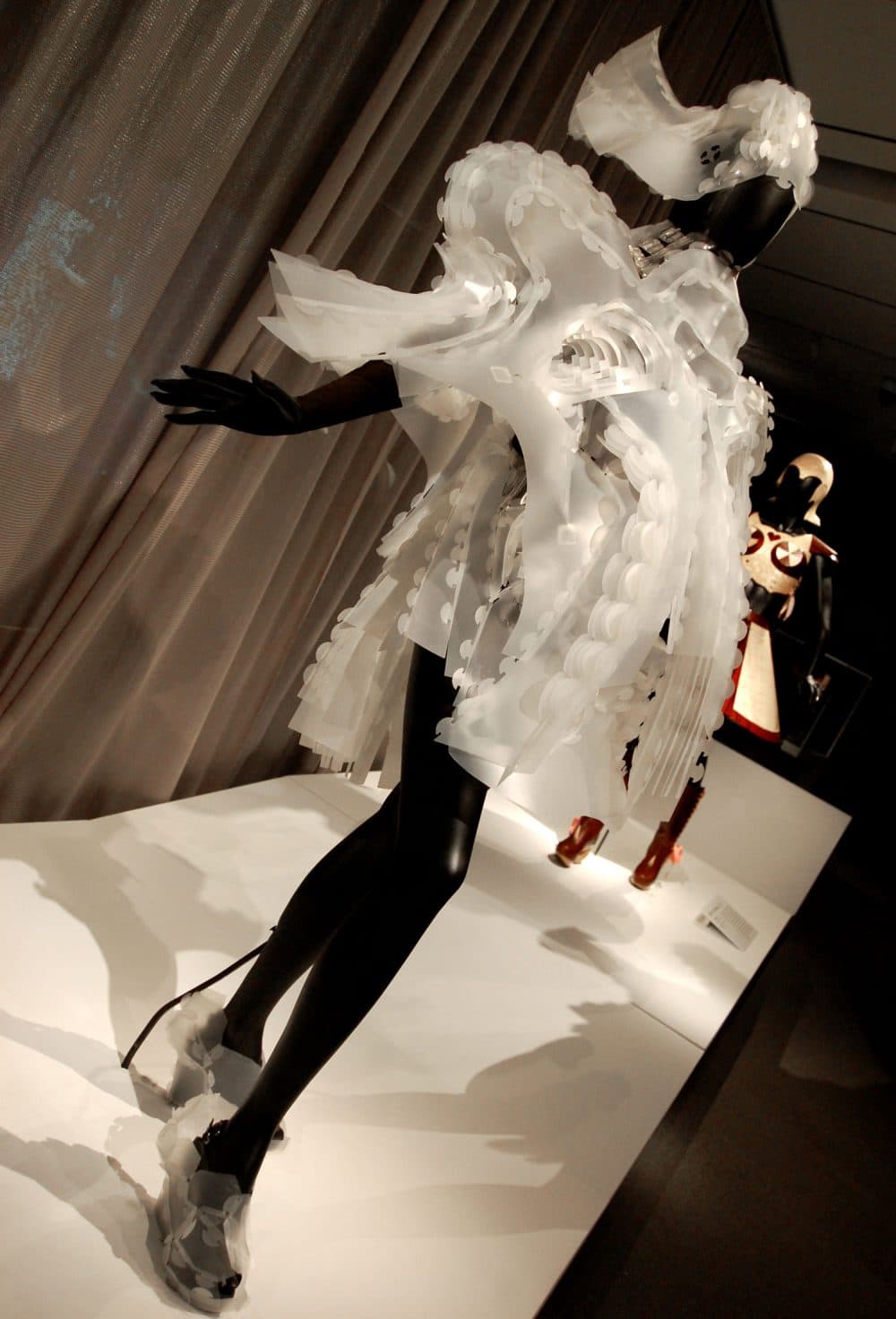 Inspired by the mortise and tenon building techniques of traditional Chinese architecture that required no nails, this pair of fashion design students avoided buttons, hooks and other traditional fasteners in the plastic ensemble. Instead, the outfit is held together by slotting the pieces together.
---
'Totally Sheepish' | 2012 | Sarah Peacock, New Zealand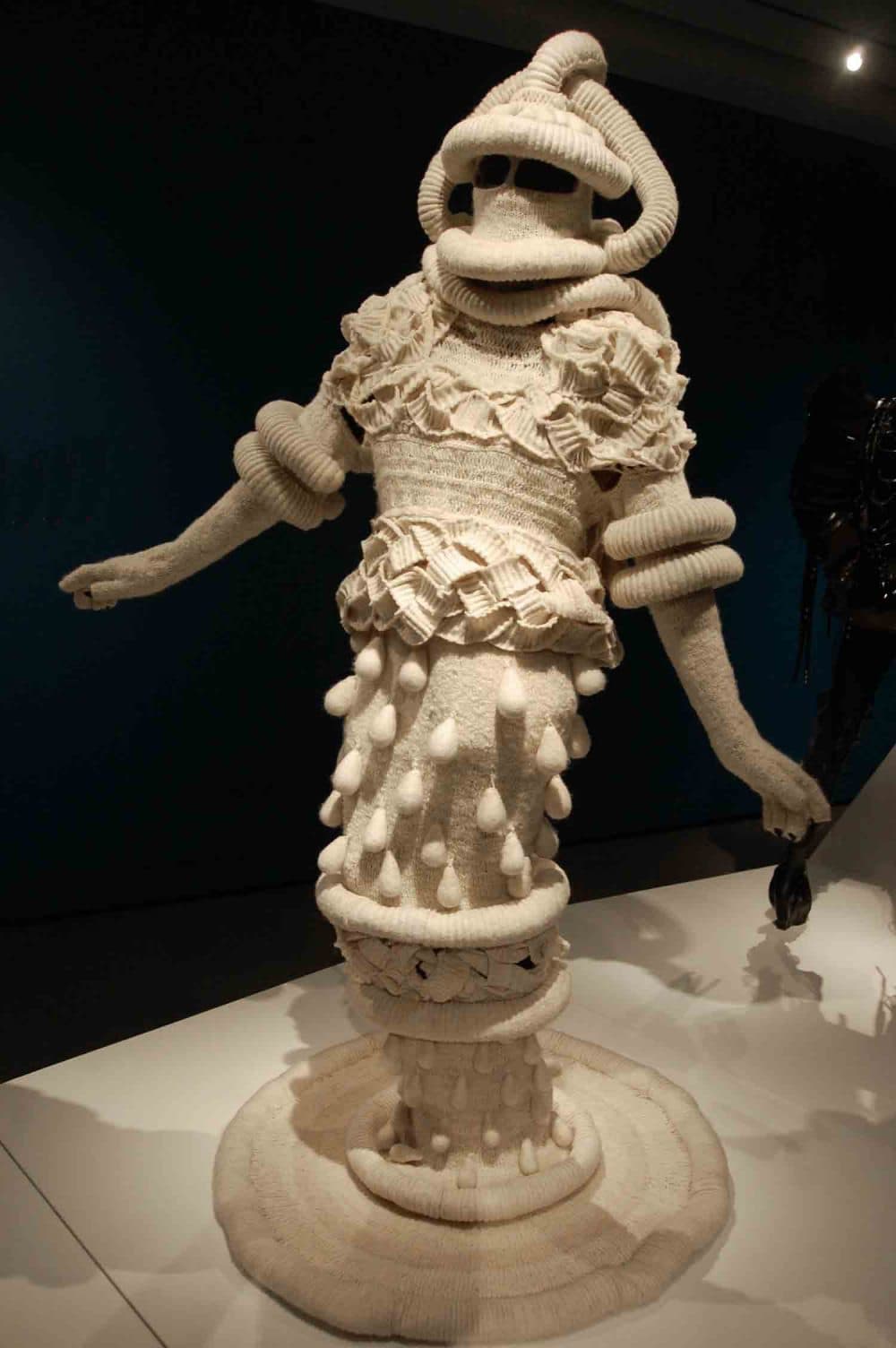 Peacock began with raw fleece from her pet sheep, High Jump, for this outfit that is a tour de force of spinning, knitting, crocheting, hot molding, and needle and wet felting.
---
'In the Op' | 2012 | Lai Kit Ling, Hong Kong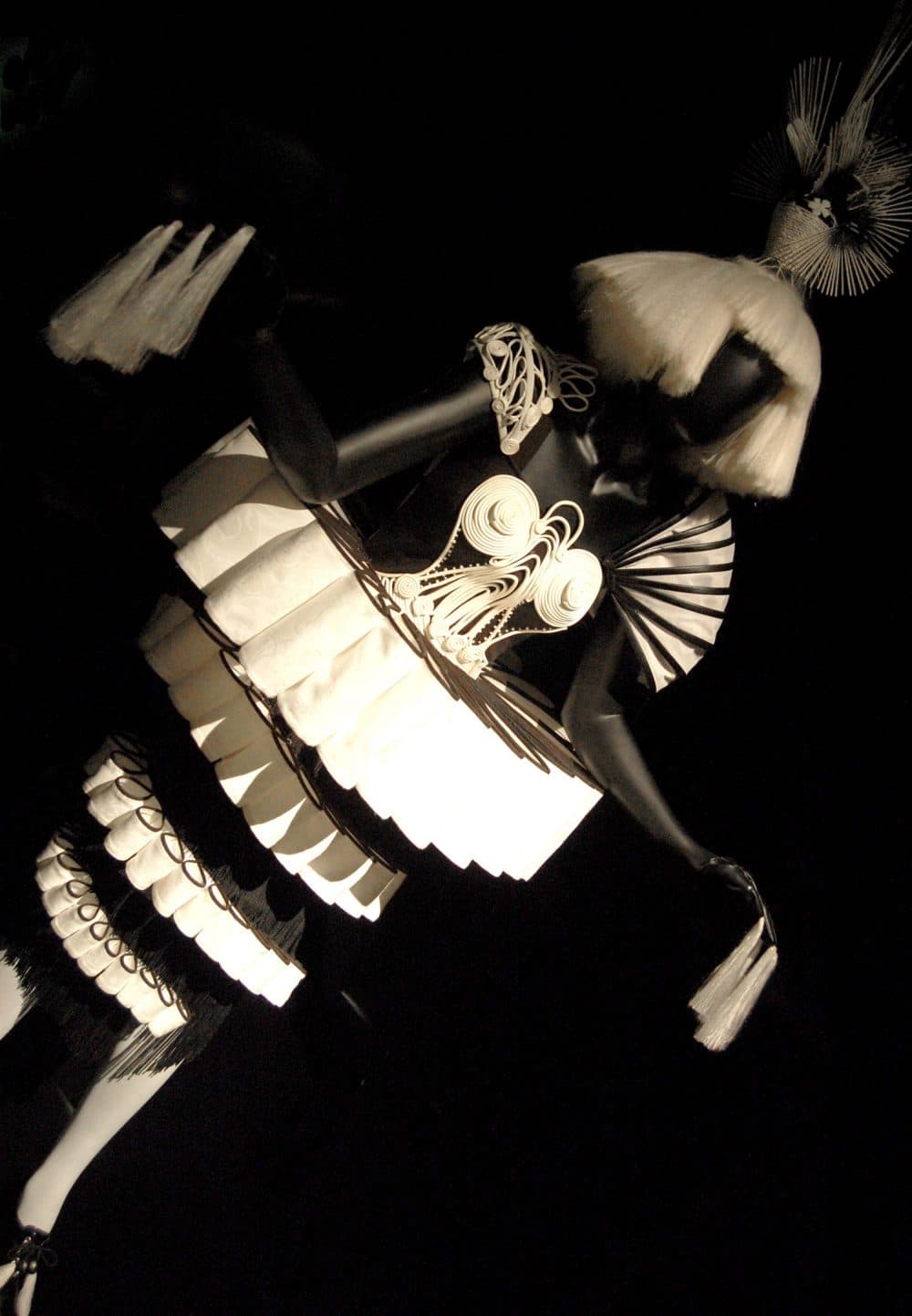 "When you look at optical art, it feels like you are falling into the vortex," Lai Kit Ling has said of this ensemble made from curtain, boning, leather and tassels. "I wish to illustrate that life is like being in a vortex, it is easily confused, vague and fluctuating. Sometimes it is difficult for us to find the right direction."
---
'Hylonome' | 2011 | Mary Wing To, United Kingdom
Drawing on her training with the Queen of England's master saddler and harness-maker, To finely worked leather to evoke Hylonome, the centaur of Greek mythology who took her own life by throwing herself on her husband's spear after he died.
---
'Second Skin' | 2009 | Hayley May and Fiona Christie, New Zealand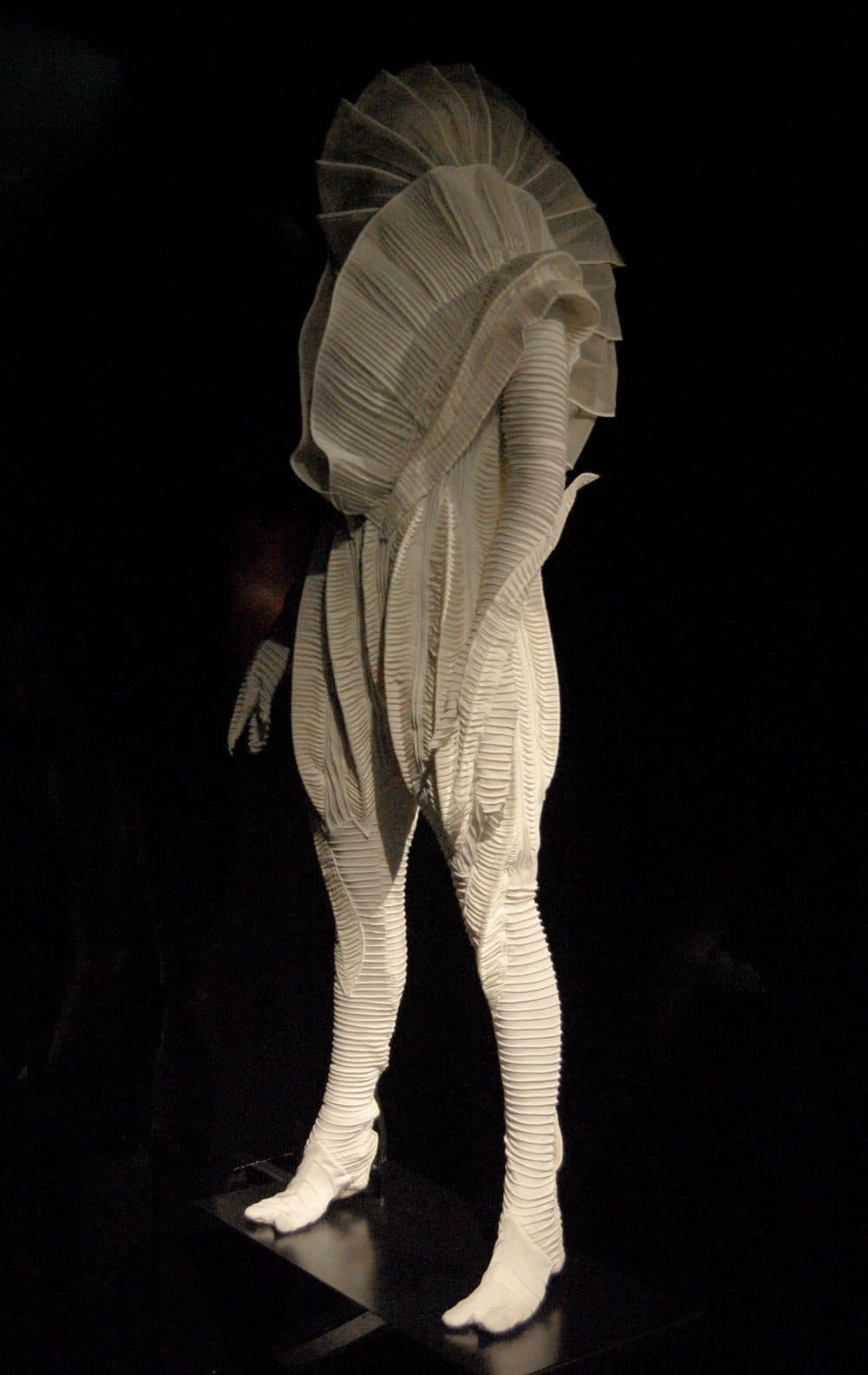 May, an architect, and Christie, who makes costumes for films, folded Lycra, tulle, nylon and sheepskin to create this white outfit inspired by they ways reptiles shed their skins.