A Deadly First: Carfentanil, An Opioid 100 Times More Potent Than Fentanyl, Traced In Mass.
Play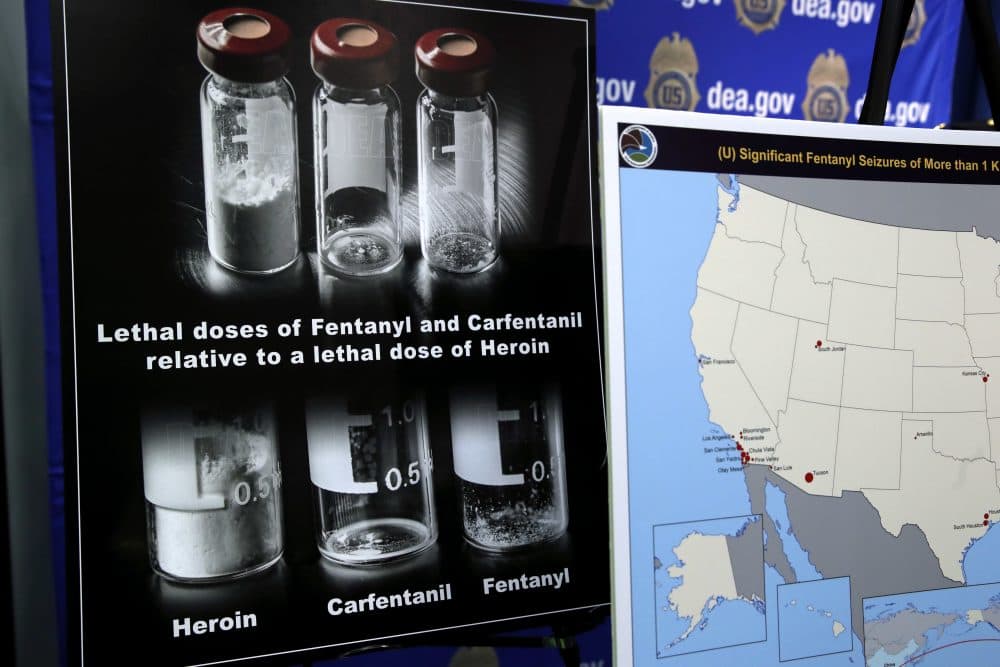 This article is more than 5 years old.
The opioid epidemic in Massachusetts is taking a treacherous turn. State police crime lab tests have, for the first time, confirmed the presence of carfentanil in drugs seized within Massachusetts.
This opioid, roughly 100 times more powerful than fentanyl, was never meant to be consumed by humans. Carfentanil is used to tranquilize large animals. Even then, you don't need much of it.
"You only need a couple of milligrams of carfentanil in order to put down an elephant," said Dr. Melisa Lai-Becker, a medical toxicologist with the Regional Center for Poison Control and Prevention in Boston. "You can imagine then that a couple of milligrams of carfentanil could knock out who knows how many tens of adult humans."
A couple of milligrams, as in a tiny pinch of salt. Lai-Becker worries about what might happen to a family member or EMT who gets some of the fine white powder on their hands, or to a nurse who inhales while rolling up a patient's sleeve.
"People should actually be even more afraid that there's something even deadlier out there."

Melisa Lai-Becker, a toxicologist
"Everyone needs to be far more vigilant, far more ready to use naloxone very liberally," Lai-Becker, who is also the president of the Massachusetts College of Emergency Physicians, said. "People should actually be even more afraid that there's something even deadlier out there."
Lai-Becker says naloxone, brand name Narcan, can be used to reverse a carfentanil overdose, but it will take a higher dose than EMTs, doctors and friends are using now, and no one is sure exactly how much more.
That threat of accidental exposure from carfentanil — and fentanyl as well — has many police officers, firefighters and EMTs on edge.
"In fact, we put out an alert today to all the officers about it, to be more leery of any suspect powder and so forth," said Quincy Police Lieutenant Detective Patrick Glynn said.
Glynn put out that alert with the DEA on Wednesday before hearing that drugs seized by transit police contained carfentanil. Glynn, who leads the narcotics unit for the department, says he doesn't think carfentanil is being sold widely, but he's suggesting officers begin wearing masks in addition to the gloves that have become standard issue.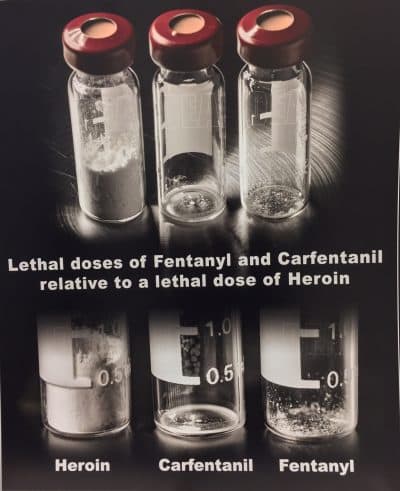 "Officer safety issues are going to be ratcheted up," he said. "We do not want any accidental contamination or overdoses during an arrest or just seizing evidence."
Carfentanil is so dangerous, doctors say it might warrant hazmat suits. There's no call for EMTs or police to increase precautions to that level, but DEA spokesman Russell Baer says trying to stop the flow of illegal opioids while keeping investigators safe is becoming more and more difficult.
"It's a delicate balance. It's definitely a draining of state, federal, local law enforcement resources in terms of trying to combat the dangers of these fentanyl powders," he said.
Baer says carfentanil, like fentanyl, is produced in China and Mexico. Most of it comes into the U.S. through the mail. In one sample state police tested, it was mixed with cocaine. Two others were pure carfentanil. Two of the samples that tested positive were submitted to the state police lab by Brockton police, while the other was submitted by transit police who found the drug in the Quincy area.
New Hampshire recently confirmed several carfentanil overdose deaths. State police say there are no reports of carfentanil deaths in Massachusetts yet.
This segment aired on June 8, 2017.