Rediscovering A Curious Cemetery Fad From The Years Following The Civil War
From across Medford's Oak Grove Cemetery, we could see the gravestone, perched halfway up a grassy hill. The face of Bertie Wasley seems to stare out from the square column — sad-eyed, with wavy hair, and a large bow tie.
"That's his portrait. He's a hero," comments Dee Morris, one of three members of the city Cemetery Division's board of trustees. Though the title trustee makes her uncomfortable, as if she's putting on airs. She prefers to be described as a freelance historian. She frequents cemeteries across the region, for research and to give tours, because, she says, that's where the people are.
In this case, it's little Bertie J., who according to the monument, died March 8, 1890, "aged 10 y'rs 2 mo's 28 days. Sacrifised (sic) his life to save a companion from drowning." He rescued a friend who'd fallen through ice into a freezing pond, but in the process fell in himself.
It's a heartbreaking tale. The monument itself is remarkable too. The column is carved with arches and a spray of lilies of the valley, while patches of rough stone are left here and there.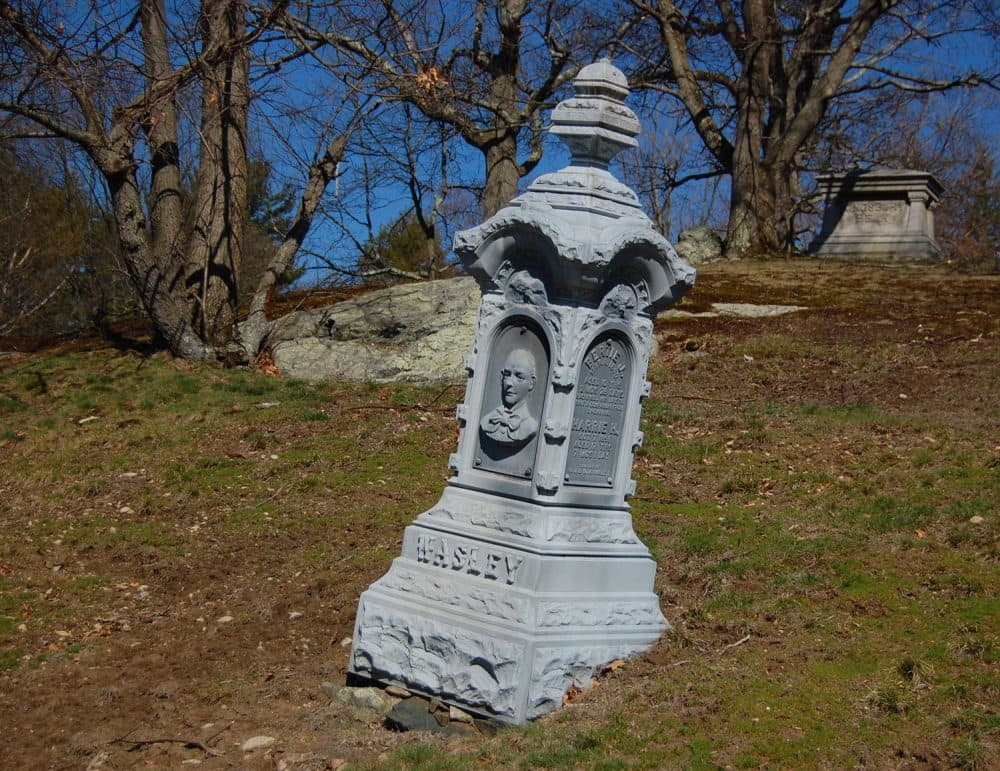 Except, none of it's stone. The monument is actually made from what was sometimes marketed as "white bronze" and in fact is zinc cast so as to trick the eyes into thinking it's granite.
It's a remnant of a curious fad for faux "stone" monuments made from zinc that began appearing in cemeteries in the 1870s, and in some places continuing into the mid-20th century.
"They never became that popular," Morris explains. Connecticut's Monumental Bronze Company was a leading manufacturer, casting the metal, then sandblasting the surface to give it a rougher texture to imitate stone. They often have panels of rough "stone" left throughout. All of this adds to their disguise, which can make them tricky to spot, even if you know what you're looking for.
The monument castings could be customized with scrollwork, wreaths of roses, family names seemingly carved from tree branches. Plaques could be bolted on and taken off to be updated over time. The company also manufactured zinc Civil War soldier memorials.
"Most Victorian cemeteries have a couple at least," Morris says. For example, at the southwest end of Boston's Forest Hills Cemetery, toward Walk Hill Street, you can find a zinc obelisk "In memory of my husband and children" Chester, John, Edward and Walter Brown.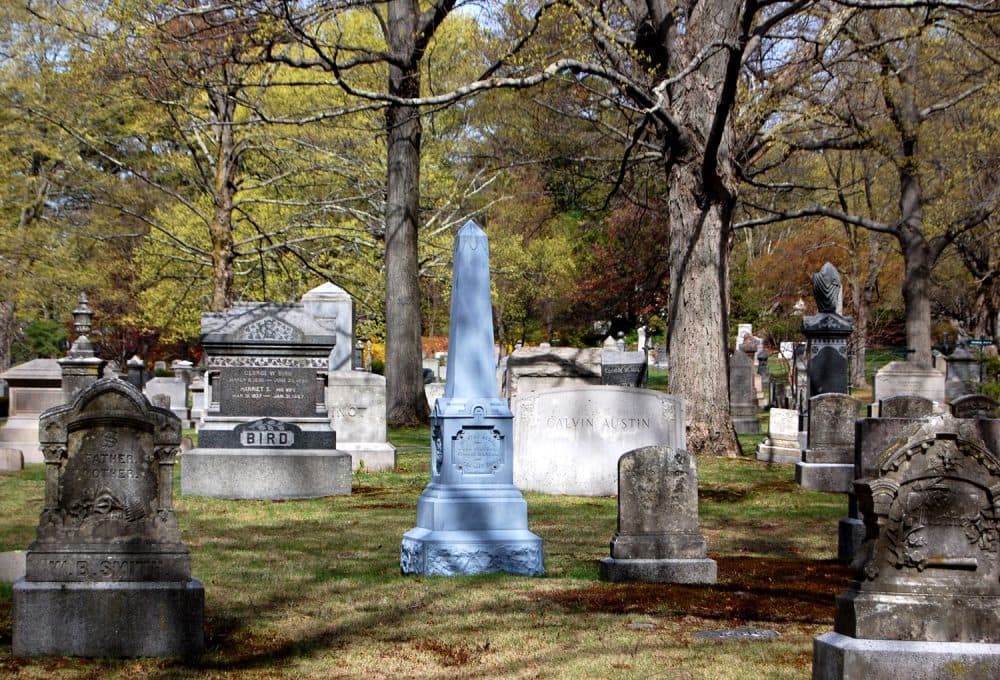 Zinc monuments were priced more cheaply than stone and advertised as more durable. The cost savings seem to have allowed buyers to commission larger, more elaborate monuments — which means they often stand out among the neighboring graves because of their size. They've certainly outlasted the marble monuments that were popular in the late 19th century. The marble often seems to have melted away due to exposure to the elements and pollution. Zinc monuments don't seem to change color as dramatically as bronze, which oxidizes from brown to green. And they don't become freckled with green lichen like granite. Their surfaces are usually pristine, their details crisp, which helps makes them identifiable among fields of granite markers. And the gray of the faux "stone" also tends to have a bluish hue.
"I think the coloring was a little off putting. That's my guess," Morris had told me a couple weeks earlier when we'd chatted on the phone. "I don't think people cottoned to the color. I think it was a little cold."
Now on a crisp spring day, Morris and I are tooling around Medford's Oak Grove Cemetery in her car, hunting out zinc monuments. We'd come in the Playstead Road entrance, past the World War II memorial (a bronze "Angel of Victory and Peace" standing atop granite boulders piled amidst a reflecting pool), then went to the right and uphill.
We find the zinc grave for the Newhall family: Elva, who died in 1879 on her eighth birthday and her parents Everett (1831-1882) and Octavia (1841-1892). It's a square column, with seeming rough "stone" left throughout. "It's very compact. It's got some lovely scrollwork. It's graceful and I love the way the shadows of the trees fall on it," Morris says. "Because zinc to me can sometimes seem very stark."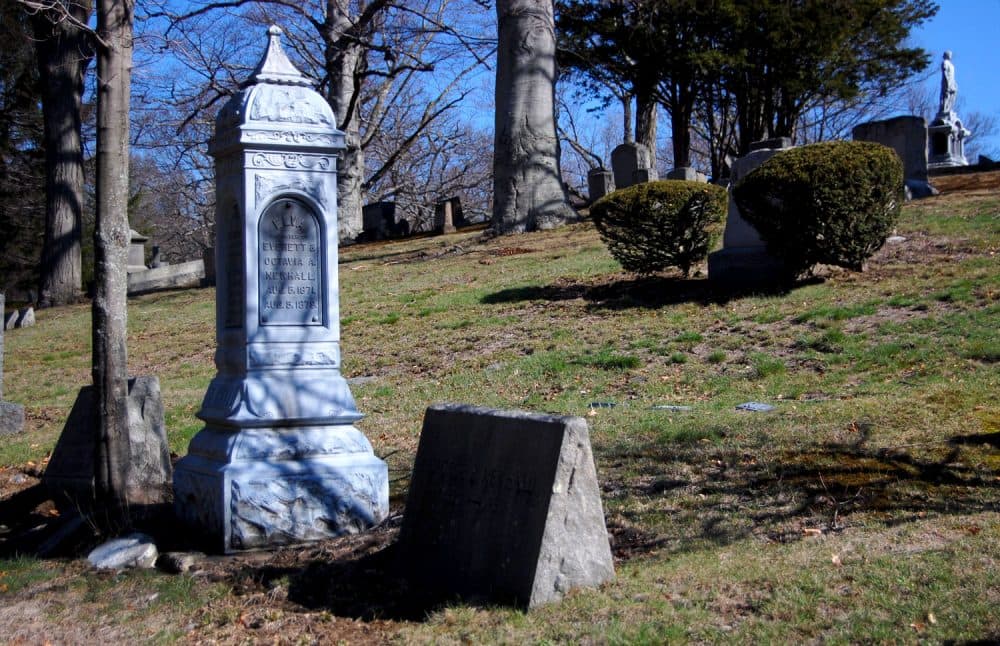 I ask Morris about her own plans for … afterward. "I'm not going to have a plot," she says. "Who's going to visit? Cremation is the way to go for me."
Up the hill from the Newhalls is a dramatic monument for the Jacobs family topped by a statue of a standing woman holding a garland of flowers and labeled "Charity."
Was it zinc? "I think she is," Morris says. The final test is usually to knock. Unlike the solid stone monuments they imitate, the zinc ones are hollow. Morris raps on the side and hears the signature dong. "Oh, yeah. This is the most elaborate one I've seen. The metal, it has the same [imitation] wood as the little one down there. I think they liked that it was going to be crisp. I think the factor of permanence was the big draw."
Though the zinc can become brittle. "Oh, she has a crack that got patched," Morris notes of Charity. "See there's a crack on her leg and her foot."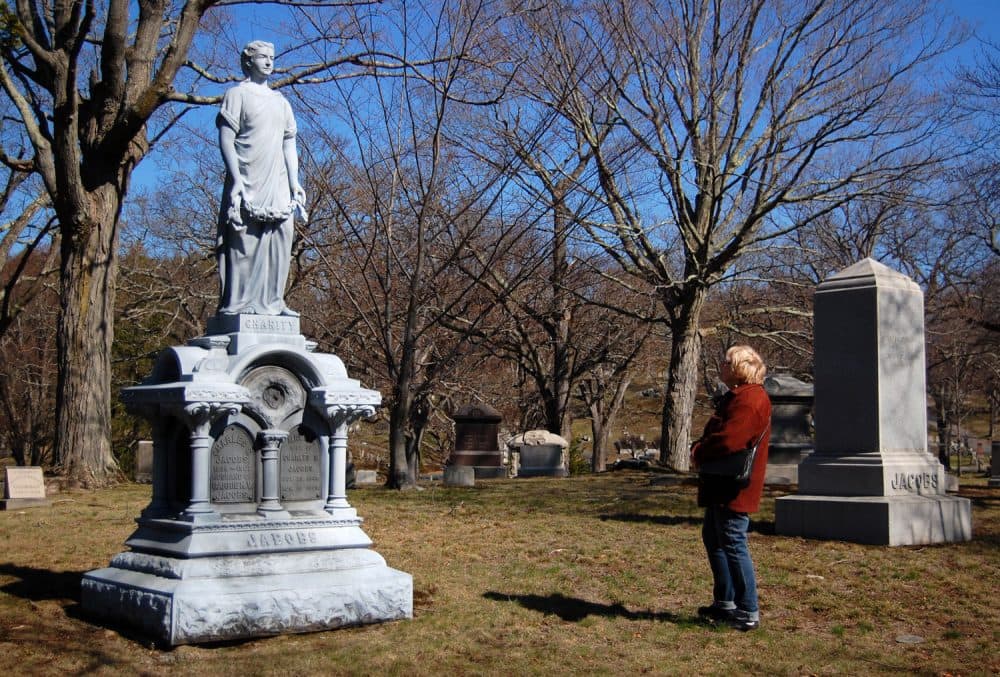 The base is seemingly carved with columns and arches that frame a rose, an anchor and plaques with the birth and death statistics. The letters of the family name are seemingly made from wood branches.
Charles Jacobs (1839-1907), Morris explained, "owned a fair amount of land in the east Medford area and he was very keen on horticulture." He grew orchards of pear and apple trees off Salem Street. "So you have this very pretty rose. I like the lily of the valley."
"A lot of the times if I'm doing a tour, people have no awareness. They just think it's stone of some sort," Morris says. She herself discovered the zinc monuments when she was exploring a cemetery and found a "stone" that looked somehow odd. "I think I went up and knocked on it and said, 'Oh, this is different.' I knocked on it and it's hollow. I said, 'What is this thing?'"
Morris and I find a modest "stone" with a curved top and columns on the sides for Julia Southworth, who died in 1886; simple "stones" for "Father" and "Mother" Thompson; a square column for the Anderson family; and obelisk for members of the Cook family (no relation) who served in and survived the "Mexican War."
"I'd not realized this one is here. You always find something new," Morris says. "Usually if the spirits want you to find something, you do. And if they don't want you to find something, they don't let you into the secret. Trust me."