Dogs Definitely Allowed: The Unique History Of A Boston Esplanade Fountain
Resume
For many years, the basin of the Lotta Fountain filled with debris and pools of rainwater. The stone cat that served as the fountain's faucet lost its snout. The dog atop the pillar, a schipperke, was dirty and chipped. Nearby trees stretched their branches over its patio, blocking out the sun and effectively hiding this historic statue from sight.
Last year, the Esplanade Association — a private, non-profit organization that partners with the Department of Conservation and Restoration (DCR) — began restoring this 1939 fountain. The refurbished fountain officially opened on Thursday, June 15.
The restoration tackled a number of issues, as detailed by the DCR, from repairing the fountain's art and functionality to making the structure compliant with the Americans with Disabilities Act. Water once again runs from the ground level spout designed for four-legged visitors — operated by a nearby button.
"You'll tap for water and the bowl will fill for the dogs," explains the association's executive director Tani Marinovich. "It'll then filter through the groundwater."
The Lotta Fountain was originally built using money from the trust of a wealthy actress named Lotta Crabtree, who retired to Boston in the late 19th century. She never married or had children, therefore left her fortune to charity.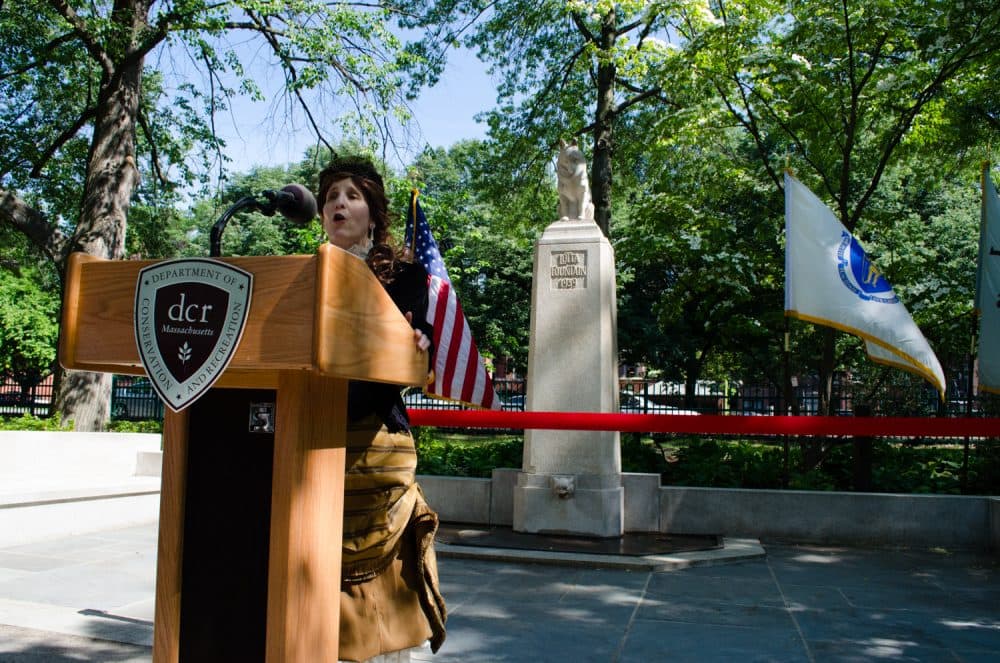 "[Crabtree] was really before her time — taking care of animals," said Marinovich.
The fountain has been located on the Esplanade, midway between the Arlington and Dartmouth Street footbridges, since 1949. It was relocated from its original spot, near where the Hatch Shell is now, to make way for Storrow Drive.
The statue at the top was designed by Katharine Lane Weems — a name familiar to the Boston art scene. She also designed the rhinoceros sculptures outside the Harvard Biological Laboratories and "Dolphins of the Sea" outside the New England Aquarium.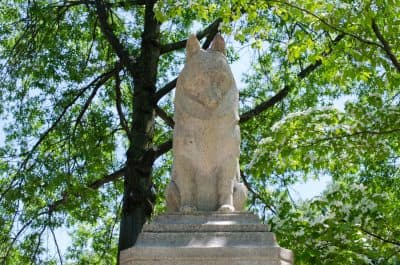 According to the Esplanade Association, restoring the fountain cost around $358,000. All funds were raised privately throughout the year, and at events such as the Esplanade 5K Sunset Run, the Esplanade Summer Dock Party, and the annual Canine Promenade.
Marinovich says the association had been wanting to do the project for a while. Its restoration falls into the group's larger plan for the park, called Esplanade 2020, which has included bigger projects like the Hatch Shell lawn's renovation in 2015.
Besides the restoration of a uniquely designed fountain, Marinovich says providing a cool place for pets and their owners is something that was needed.
"The park is for everyone, and we have done playgrounds. We've done seating areas. We've done the lawns. And so I'm really pleased that this will be a place for the dogs — a place to come and rest and take a drink."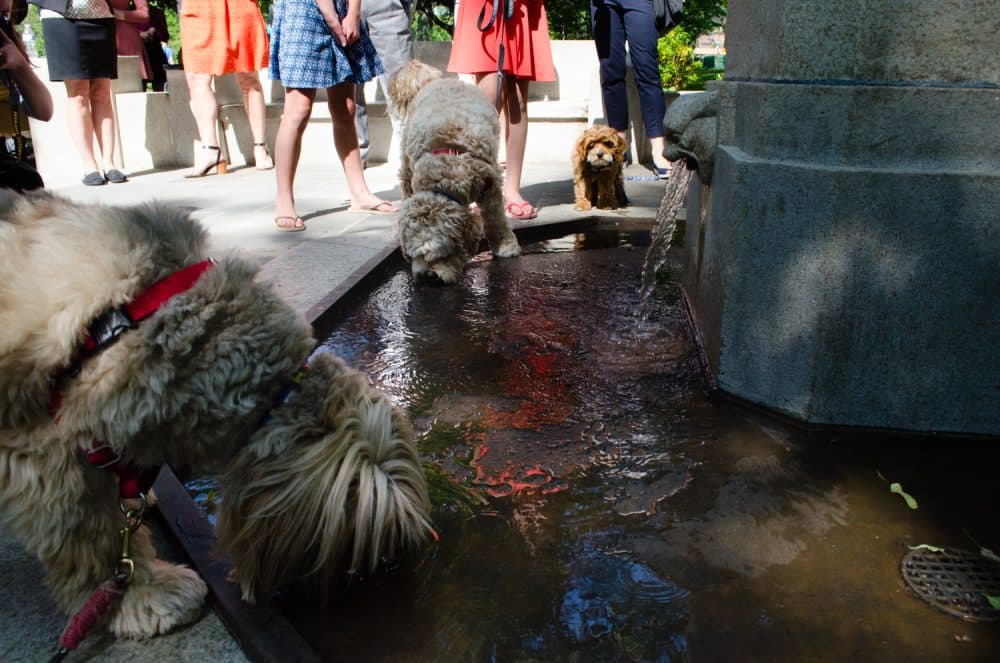 This article was originally published on June 15, 2017.
This segment aired on June 18, 2017.