JetBlue Experiments With Using Your Face As A Boarding Pass
Resume
Travelers at Logan Airport's Terminal C were surfing their phones and drinking coffee, waiting to board a flight to Aruba, when suddenly a JetBlue agent popped up on the loudspeaker with an announcement.
"Today, we do have a unique way of boarding the aircraft," the agent explained. "We'll be using a new self-boarding process that takes a quick photo capture so you can board without presenting your boarding pass, passport or other travel documents."
The agent was referring to a facial recognition pilot program on daily JetBlue flights between Boston and Aruba. It's the first trial between an airline and U.S. Customs and Border Protection (CBP) to use facial recognition in place of boarding passes.
Officials with JetBlue insist this new boarding method is about customer convenience. But JetBlue isn't the only party involved. CBP is sifting through facial data on the back-end, verifying the identity of travelers. And for the federal government, this new boarding method is about national security more than ease.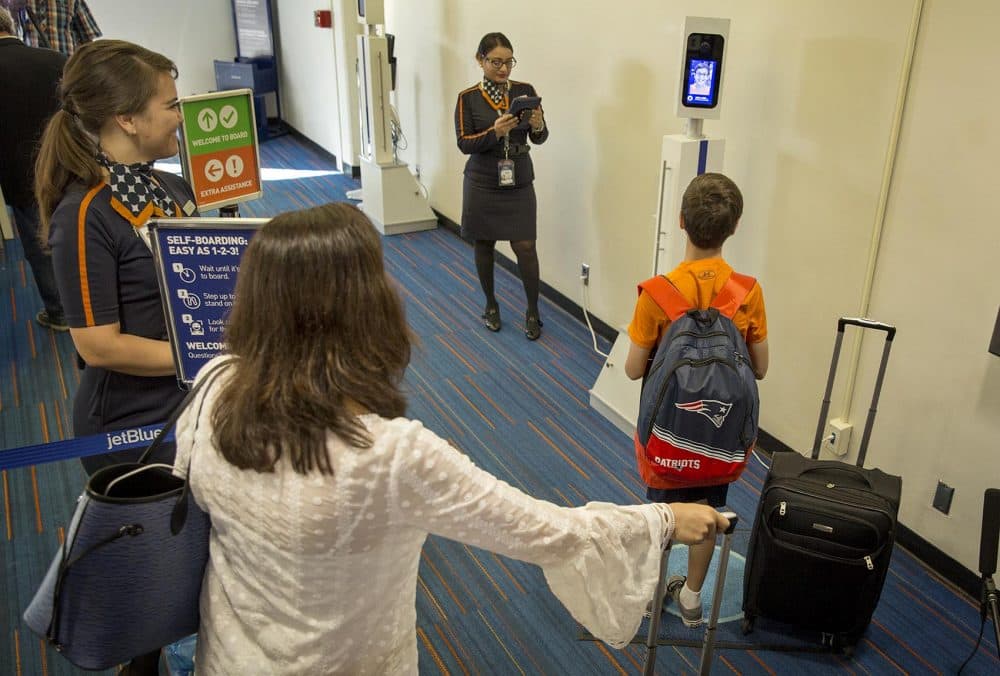 Regardless of the motive, on a recent morning, many Logan travelers seemed eager to try the new technology. Most people were choosing to use their face in lieu of a barcode, even though, for now, the facial recognition system is voluntary.
"Typically, when I travel I have my three kids with me, and I travel alone with them," said Michelle Moynihan, from Cape Cod, who was en route to a wedding in Aruba. "They're all under age 10, so flipping through multiple boarding passes on my phone, making sure I have all the kids, all the backpacks, all the suitcases can be cumbersome and frustrating." She said facial recognition would make traveling easier for her.
Moynihan lined up, as if she were going through the normal boarding process. But instead of showing her ticket as she was about to walk onto the jet bridge, she stepped up to a camera about the size of a shoebox on a stand.
It took her photo, comparing her picture to a preloaded photo databased of all the passengers with tickets on this flight, and then she got a check mark, indicating she was cleared to board.
The whole process took about five to six seconds.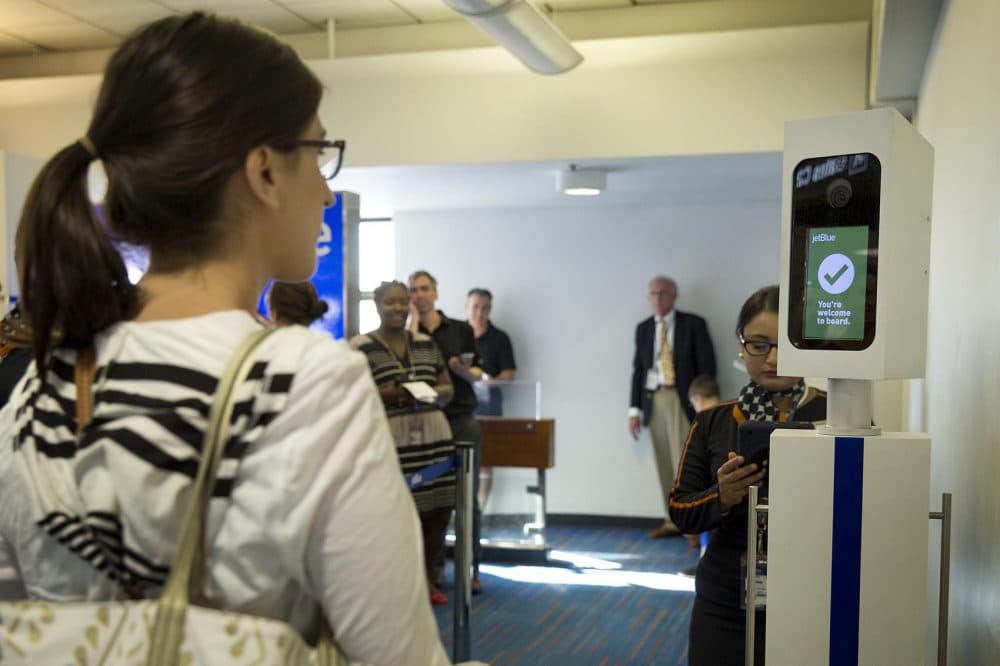 "Our initial tests are showing about a five-second process, but we're pretty confident that as the technology gets better and as we learn through this trial, that it will get faster," said Joanna Geraghty, JetBlue's VP of customer experience.
The Aruba experiment is expected to last somewhere between 45 and 90 days.
JetBlue is pitching this idea of facial recognition as a matter of convenience for travelers.
"You will not need to take your passport out when you board a flight at the gate because your face will be essentially your boarding pass," Geraghty said.
But it's also part of a broader push by Customs and Border Protection.
"This is really a trial to prove a way of doing biometric exit as part of the airline boarding process," said Sean Farrell, portfolio director for government solutions at SITA, the technology company that's running the experiment.
SITA is an airline IT cooperative that's responsible for much of the airport tech you see, such as the customs kiosks travelers use when they reenter the country.
"We're basically capturing that picture at the boarding gate, providing it to U.S. Customs and Border Protection. They're identifying the traveler," Farrell said. "It's actually the U.S. government that's implementing the biometric matching system that does all the hard analysis and crunching of the data."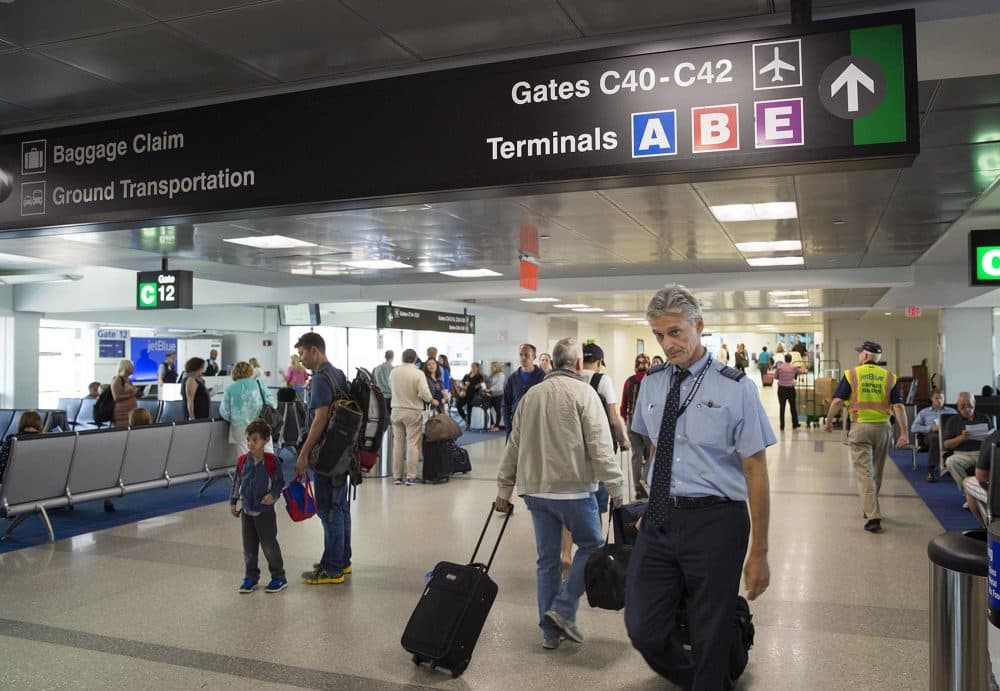 A biometric exit system to track non-U.S. citizens using their faces or fingerprints has long been a congressional mandate, particularly after 9/11, to improve border security and identify people who've overstayed their visas. But in 2001, the technology and the computing power wasn't powerful enough. Now, both the technology and the politics are ripe. Facial recognition experts say we've reached a point where the algorithms are more accurate. And the Trump administration has called for an expedited implementation of the national biometric exit system.
When it comes to security and ease, Farrell sees a future — not too far off — where our faces could become our IDs.
"The endgame is that, you know, in a few years time you'll be able to go through the airport basically just using your face," he said. "If you have bags to drop off you'll be able to use the self-service system and just have your face captured and matched. You'll then go to security, the same thing. And then you go to the boarding gate, and again just use your biometric."
"The endgame is that ... in a few years time you'll be able to go through the airport basically just using your face."

Sean Farrell, of SITA
In fact, at Reagan Airport in Washington, D.C., Delta Airlines has already begun experimenting with using fingerprints in place of a boarding pass from the bag drop to the gate.
That's a future that worries people like Kade Crockford, director of the Technology for Liberty Program at the ACLU of Massachusetts. She's particularly concerned by the JetBlue program because of the government's role.
"The biometric databases that the government is amassing are simply another tool, and a very powerful tool of government control," she said.
Crockford says people don't know how CBP might share that data with local police.
CBP insists it'll discard photos taken of citizens, and only keep a database of non-citizens.
But still Crockford is troubled from a privacy perspective.
"You can change your name; people do it all the time when they get married. You can change your Social Security number if it's stolen," Crockford said. "It is not easy to change your fingerprint or your face. And the federal government for that reason is dedicated to collecting biometrics on hundreds of millions of people not just here in the United States but all over the world."
But at Logan Airport, hardly any passengers voiced privacy concerns.
"I'm not concerned about privacy because I'm a firm believer that if you're not hiding anything, you shouldn't be afraid of anything," said Yeimy Quezada, who was flying to Aruba for her wedding anniversary.
Quezada said she thinks facial recognition is the way of the future.
"Even your cellphone recognizes selfies and recognizes faces, so I'm used to that technology already," she said.
Logan Airport is not the only experiment. Customs and Border Protection has been piloting similar biometric tests at airports in Atlanta, New York and the D.C. area. And, according to a customs official, the goal is to deploy facial recognition tech widely by early next year.
This segment aired on June 21, 2017.