Celtics Pick Jayson Tatum With No. 3 Pick In NBA Draft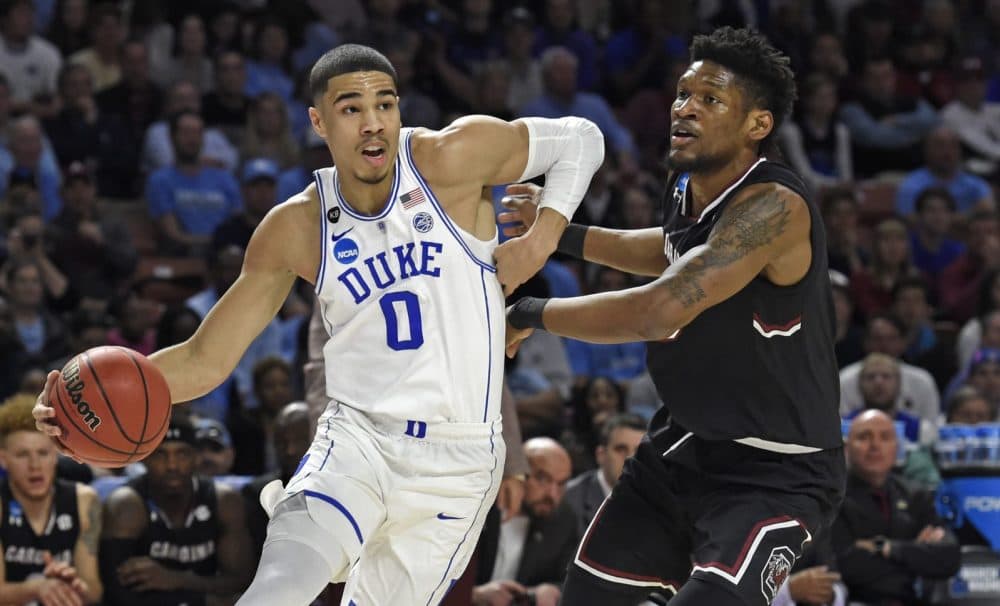 This article is more than 3 years old.
The Boston Celtics made the first move of this year's NBA draft days before it began when they traded the No. 1 overall pick to Philadelphia to build on an already rich cache of future selections.
On draft night, they still grabbed one of the most NBA-ready players available.
Boston selected Jayson Tatum with the No. 3 pick Thursday, adding a 6-foot-8 small forward who was a polished scoring threat during his lone season at Duke. The 19-year-old was a third-team All-ACC selection, averaging 16.8 points while shooting 45.2 percent from the field.
In the second round, the Celtics picked up forward Semi Ojeleye from SMU at No. 37, Arizona guard Kadeem Allen at No. 53 and Cal's Jabari Bird at No. 56.
It was the second straight year the Celtics have chosen third overall. Boston selected Jaylen Brown with its first-round pick in 2016.
Tatum said he feels fortunate to be joining a contender immediately.
"It's great," he said. "I think that I get to learn that much more, especially from a veteran team that knows what it takes to get there. I can't wait to go and learn from coach (Brad) Stevens and Isaiah Thomas and just everybody on that roster."
Celtics president of basketball operations Danny Ainge said he ultimately felt comfortable trading the top pick to the 76ers because he thought the player he planned to take at No. 1 would still be around at No. 3.
He turned out to be correct.
"The draft was very even we felt at the top," Ainge said.
He wouldn't comment on any of the potential trades the Celtics were rumored to have been offered Thursday, but did say "It was a little blown out of proportion; I'll leave it at that."
That won't preclude him from revisiting some of those discussions once free agency opens next month, though.
"I think July is the busiest time of the year," Ainge said. "We anticipate being very active to try to improve our roster."
Ojeleye looks like the most promising of the second-round picks, and is another versatile offensive threat at 6-7 who has shown an ability to score both outside and in the paint.
As part of the deal with Philadelphia, Boston will also receive a first-round draft pick in either 2018 or 2019 - giving it even more bargaining chips to bolster its roster.
Tatum gives the Celtics some immediate rotation flexibility, with the ability to play both forward spots and defend as many as four positions.
"I think that, in this kind of position-less league, those guys are really valuable," Stevens said.
It's probably the biggest reason they have been high on Tatum throughout the draft process and brought him in for a private workout late last week.
Tatum said he stayed in contact with Duke coach Mike Krzyzewski throughout the draft process, and it was Coach K who encouraged him to take the Celtics up on their last-minute invitation.
"He was just ranting about how great of a person Brad Stevens is," Tatum said. "He really wanted me to go up there and work out for them. I was all for it. It worked out."
Boston also brought in No. 1 pick Markelle Fultz, but drafting the Washington product would have likely meant a move from point guard to shooting guard, with an All-Star in Thomas already on the roster.
Josh Jackson, who was selected No. 4 by Phoenix, cancelled a workout in Sacramento for Ainge, Stevens and assistant general manager Mike Zarren over the weekend. Ainge said he was upset about the last-minute cancellation, but that they didn't hold it against him.
It made Tatum not the compromise, but the best fit for a team that's still in position to be a big player in free agency this summer.
"I think that he's a guy that we thought really highly of from Day One," Stevens said. "When I kind of got reintegrated into this process, right after the season was over, he was one of the guys that it was clear that we were targeting."
Tatum said he appreciated the faith Boston showed in taking him.
"That's a great compliment, especially with all the great guys in this class. The two guys that went ahead of me, they're great players, but I'm glad at how it worked out, so I'm happy," Tatum said of Fultz and Lonzo Ball.
This article was originally published on June 22, 2017.