'David Ortiz Drive': Big Papi Gets A Fenway Road Named In His Honor
It's our effing city, and this is Big Papi's road.
Former Red Sox slugger David Ortiz has officially scored his very own road right near Fenway Park.
At a ceremony Thursday to rename Yawkey Way Extension to David Ortiz Drive, Boston Mayor Marty Walsh called Ortiz a "legend on and off the field."
Ortiz called it an honor because "this city means a lot to me -- this city got me to where I am."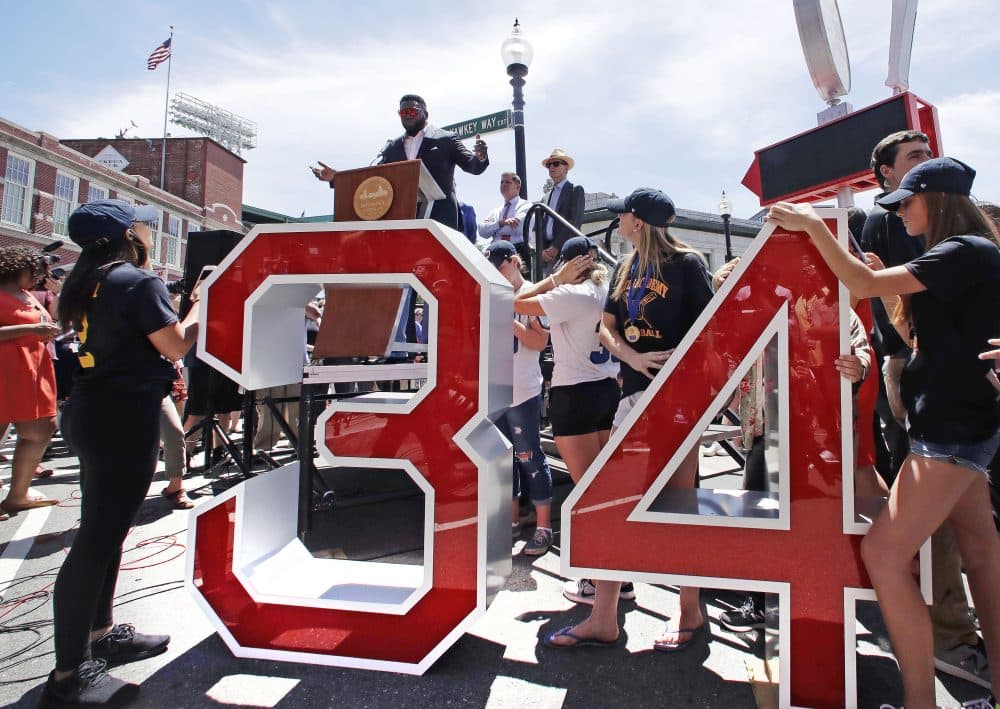 Ortiz retired last season after a 20-year major league career, including 14 years in Boston. The designated hitter helped the Red Sox win three World Series championships, including their first in 86 years in 2004.
Since his retirement, the legendary player has been living large and staying busy: going on a book tour for his memoir; securing honorary degrees from Boston University and the New England Institute of Technology in Providence; and participating in charitable events for the David Ortiz Children's Foundation.
And long before he got his ballpark byway, it was announced last October that the Boston bridge that carries Brookline Avenue over the Massachusetts Turnpike toward Fenway would be renamed in his honor, too.
The Red Sox plan to retire Ortiz's No. 34 on Friday night.
With reporting by The Associated Press and WBUR's Lisa Creamer