Shortage Of Visas For Seasonal Workers Hits Cape Cod Hospitality Industry Hard
Resume
For months now a perfect storm has been brewing on Cape Cod and other summer vacation spots around New England.
Low unemployment, a booming regional economy and the lack of visas for seasonal foreign workers has hit the state's hospitality industry hard.
The Most Highly Regulated Visa In The U.S.
About four million tourists a year escape to Cape Cod. To keep them fed, housed and happy requires an estimated 20,000 temporary workers.
"Our son, he went out one day, he got five jobs in the same day. One day. It is not difficult to get a job here," says Jane Nichols Bishop. She should know: She's president of Peak Season Workforce. Her Cape Cod company helps restaurants, resorts and hotels navigate the complex and expensive federal process to obtain temporary work visas for foreigners.
"We simply do not have enough Americans in our area to do temporary jobs," Nichols Bishop says. "Americans want a year-round job, but many of our businesses are seasonal."
Thirty years ago, to help alleviate the seasonal worker shortage, Congress established a special guest worker program that allowed companies to hire foreigners to perform temporary, non-agricultural jobs. And every year since lawmakers have set annual quotas on the number of so-called H-2B visas.
Employers seeking H-2B visas for workers have to prove to the Department of Labor they're a seasonal business, they have to advertise for local workers first, and they must pay the prevailing wage. The Department of Labor, Homeland Security, and the State Department all have a hand in the H-2B visa program.
Nichols Bishop says the H-2B visa is the most highly regulated visa in the U.S.
"H-2B visas are temporary work visas for a very specific period of time, for a very specific employer, for very specific duties," she says. "It does not displace an American. They cannot lead to citizenship. And without H-2Bs this season the Cape will survive, but it will not thrive."
Scrambling To Find Workers
Tourism is $1 billion a year business on the Cape. The season now runs eight months a year, and every year companies eagerly await the annual determination from Congress that sets a cap on the number of H-2Bs that are available. It's become an annual mad dash competition.
"We simply don't have enough people to operate our business. We wouldn't be able to operate our business without them," says Mike Potenza, spokesman for the Lobster Pot in Provincetown.
"We simply don't have enough people to operate our business. We wouldn't be able to operate our business without them."

Mike Potenza, spokesman for the Lobster Pot in Provincetown
Potenza says the restaurant applied for visas the first day applications were accepted and got all of the H-2Bs it needed.
"But it was a very difficult, very contentious battle. We file our paperwork exactly as we should, exactly on time. Then we're literally at the mercy of the government to clear, to process those applications to put them to work for our season."
In recent past, Congress has made 66,000 H-2B visas available nationwide, while allowing workers who previously had such visas to return without being counted toward that limit.
Lawmakers failed to pass that exemption for 2017. Then Congress decided to nearly double the cap while eliminating the exemption for past visa holders, but they left it up to Department of Homeland Security to decide just how many H-2Bs to authorize and no action has been taken since.
So now, amid uncertainty and confusion, and with the tourist season in full swing, Cape Cod employers have been scrambling to find workers.
The Invisible Workforce
"They're usually behind the scenes," Nichols Bishop says of the typical H-2B worker. "They're the housekeepers you don't see. They're the folks doing the dishes in the kitchen, prepping the food. They might be the cook that you just never see. It's the invisible workforce that supplements the American workforce. That's what H-2B is."
They're people like Anthony Anglin, a line chef from Jamaica.This is Anglin's second year working the fryers at Moby Dick's in Wellfleet. He was already in the U.S. when the new rules went into effect and had many seasonal job offers. But with the H-2B visa limit still in limbo, some of his fellow Jamaican visa holders weren't as fortunate.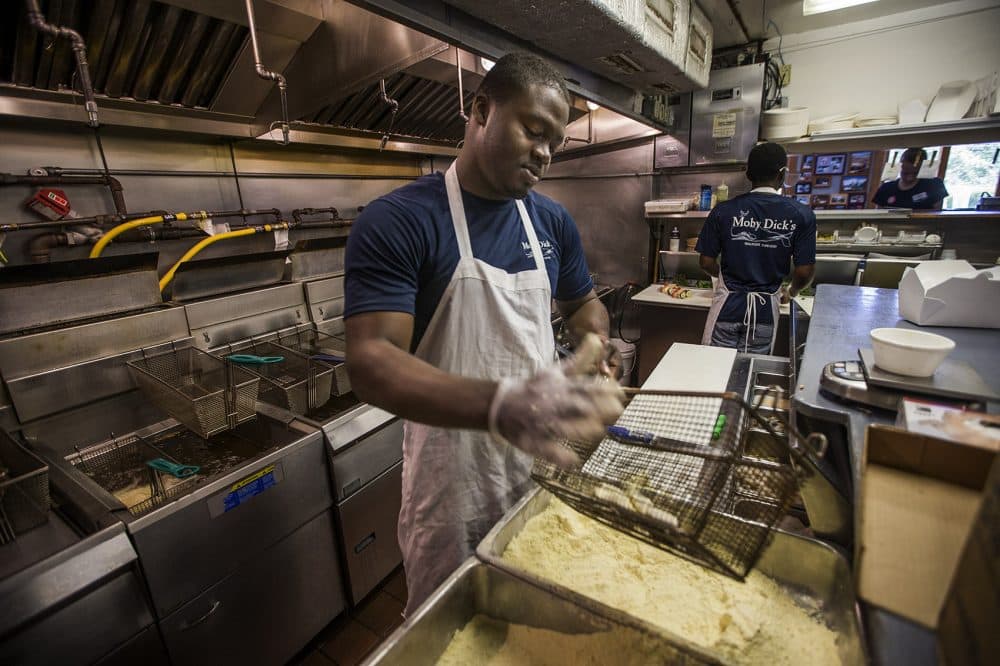 "It's very, very hard because some of my friends went back home and they couldn't come back on the H-2B visa," Anglin says. "I hope things change."
Todd Barry, the owner of Moby Dick's, was lucky because he offered Anglin his old job while Anglin was still in the U.S. on a H-2B visa.
"We're really fortunate here," Barry says. "I had asked for nine H-2B visas for people that worked for me last year and I got four."
But faced with a shortage of seasonal workers, Barry hired other foreigners: students.
Twenty-year-old Bojana Savanovic, of Serbia, has a student J-1 visa. The cultural-educational exchange visa allows her to work and travel in the U.S. for up to five months. She's now working as a waitress at Moby Dick's
"I wanted to visit America to meet the country and the culture and to improve my English skills also," Savanovic says.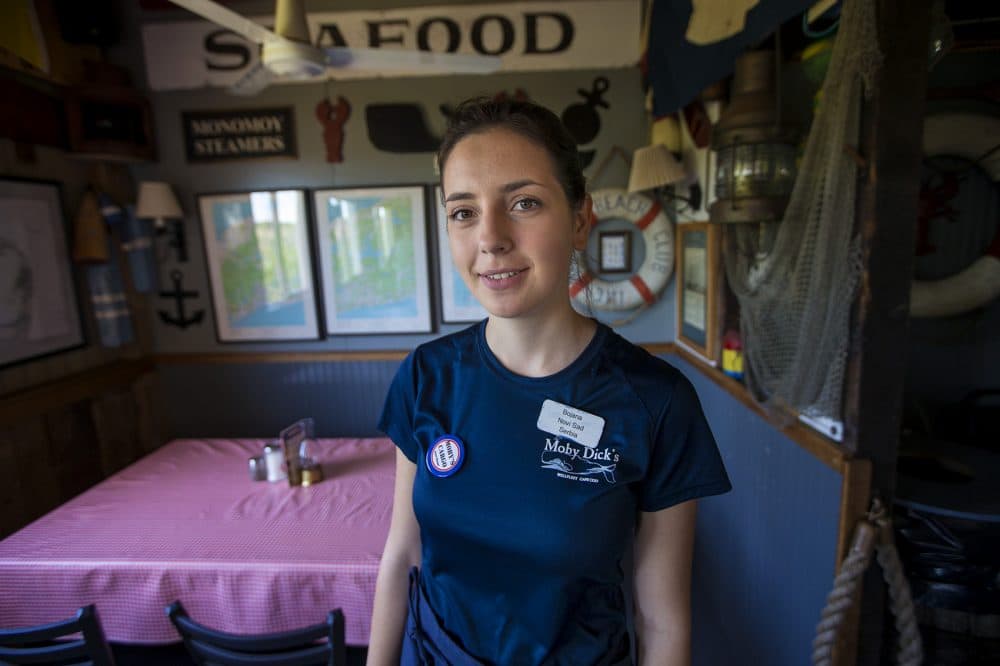 J-1 workers are a short-term fix to a longer term problem. Students have go back to school at the end of August, but the Cape season runs from April through mid-October. That's why Barry says he prefers experienced H-2B visa holders. They can work from the beginning of the season to the end.
"You try and put the pieces together," Barry says. "You know, I'm hearing horror stories in P-town about businesses getting no one. It's just so intense."
'The Basis Of Our Economy'
Provincetown, at the end of the cape, is where the worker shortage is most acute
During the winter, the P-town population shrinks to about 1,000. In the summer it swells to nearly 90,000. Paul Melanson, co-owner of Tin Pan Alley restaurant, says rather then go through the expense and bureaucracy to qualify for H-2B visas and the anxiety waiting for Congress to decide how many to issue, he hires foreign undergrads who visit the states on J-1 visas.
"As far as our labor shortage this year, I worried about it in winter and the spring. But I sponsored 17 J-1 students and they all got their visas and all got here," Melanson says. "And I'm completely, 100 percent staffed — and maybe overstaffed by one or two people."
But the downside: Compared to J-1 student workers, H-2B visa holders are usually older, more mature and experienced.
"J-1s are students so you're not getting a real skilled workforce," Melanson says. "You're training them on the job for the most part."
The Lobster Pot, a landmark Provincetown restaurant, is P-towns largest private employer. Forty percent of the workforce — 60 employees — are on H-2B visas.
Potenza, the Lobster Pot's spokesman, says to attract seasonal foreign workers it pays more than the prevailing wage, and provides low cost housing. While Potenza says the Lobster Pot got all the H-B2 visas it requested, the uncertainty meant they had to open a month late.
"So that's a whole month that we're not buying a fish from our vendors and we're not buying napkins and all the ancillary products that support our business," Potenza says. "Therefore we're negatively impacting the businesses around us."
Provincetown Town Manager David Panagore says the economic fallout has hit P-town hard — and there are social and political impacts as well. Residents recently decided not to make Provincetown a sanctuary city for immigrants. Panagore says people were afraid of retribution by the Trump administration.
"Here in Provincetown, if we wind up in the crosshairs of the federal authorities, we'd lose our J-1, H-2B visa holders, which is really the basis of our economy," Panagore says. "So we'd be removing the ability of our businesses to pay taxes."
From Town Hall you can hear musicians play for tourists on Commercial Street, and see, just beyond, Provincetown Harbor. It's where the nation's first immigrants, the Pilgrims, first stepped ashore on a foreign land seeking sanctuary from religious violence in Europe.
Now, nearly 400 years later, faced with a shortage of workers, P-town would welcome an influx of foreigners seeking temporary jobs that Americans don't want — but has to leave many stranded on distant shores.
This segment aired on June 23, 2017.