Baker Nominates Appeals Court Chief Justice Kafker To State's Highest Court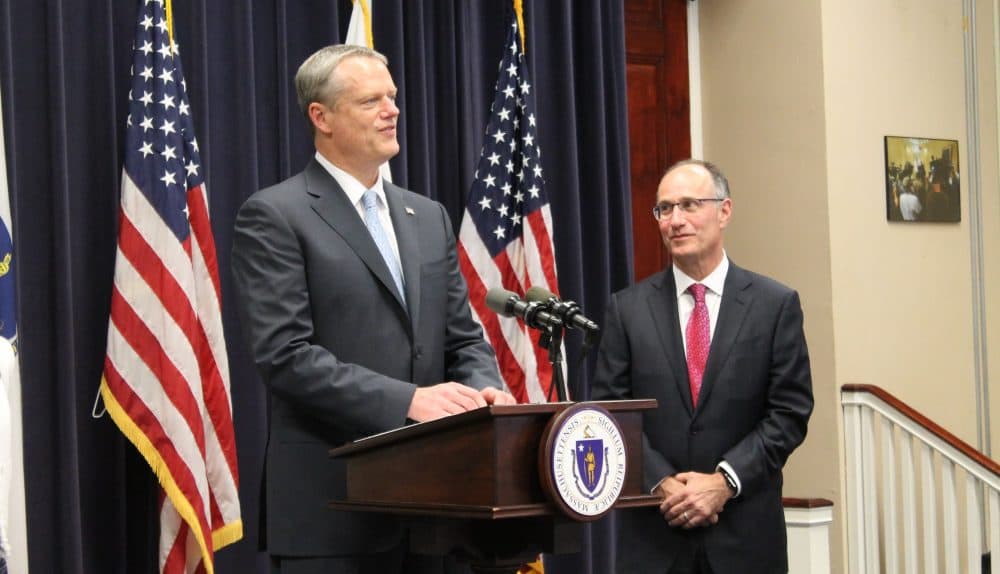 This article is more than 3 years old.
Gov. Charlie Baker's time served in the Weld administration was a formative period, and the governor for the second time has reached back into Weld's former legal office for an appointee to the state's highest court.
Baker on Monday nominated Appeals Court Chief Justice Scott Kafker to fill the high court seat Geraldine Hines will relinquish later this year when she hits the mandatory retirement age of 70. In his first judicial nomination, Baker in 2015 picked Kafker, who joined the Appeals Court in 2001, to serve as its chief justice and he was confirmed on a 7-1 vote by the Governor's Council, which will now vet his nomination to serve on the Supreme Judicial Court.
After working as deputy chief legal counsel under former Gov. William Weld, Kafker went to work at the Massachusetts Port Authority, where he was chief legal counsel before Gov. Paul Cellucci put him on the state's second highest court in 2001. Early in his career, Kafker, a graduate of Amherst College and the University of Chicago Law School, clerked for U.S. District Court Judge Mark Wolf.
Baker introduced Kafker Monday as a "distinguished and highly experienced jurist" and referenced their time together in the Weld administration, where Baker served as health and human services secretary.
"There were many very late nights spent in this building with Scott and various members of the Legislature working our way through a variety of things and while some of us — well, let's just suffice it that some of us ended up with beatdowns that left marks, Scott was never one of them," Baker said.
Supreme Judicial Court Justice David Lowy also worked in Weld's legal office as did Robert Cordy, who served on the Supreme Judicial Court for more than 15 years before departing last year to work at McDermott, Will & Emery. Cordy left the court at 67, three years before the mandatory retirement age.
At a hearing in March, Kafker described former Appeals Court Judge Elspeth "Ellie" Cypher as his "most trusted advisor." Cypher was subsequently confirmed by the council to serve on the SJC.
In July 2015, Councilor Robert Jubinville cast the lone dissenting vote aftern Kafker's nomination, telling the News Service after the meeting that he was disappointed by Kafker's admission during his confirmation hearing that he knows little about drug addiction. Jubinville was at the press conference Monday where Baker announced his nomination.
Kafker said Monday that he "dedicated himself to the mission of state government" since recovering from cancer in 1990 and in his 16 years on the Appeals Court has tried "to decide every case fairly and impartially and treat every person in the judicial system with fairness and dignity and respect." He called the SJC the "ultimate guardian of individual liberties and rights."
The Massachusetts Bar Association issued a statement "strongly" voicing support for Kafker's nomination, with its chief legal counsel Martin Healy saying Baker has "forged an independent, modern Supreme Judicial Court" with his five nominations.
Baker and Kafker both live in Swampscott.
Last month, 19 lawmakers from Western Massachusetts wrote to Baker, asking him to pick a jurist from their part of the state to fill Hines' seat and highlighting a lack of representation for the region.
"A qualified jurist from western Massachusetts will bring a perspective on life and circumstances in our rural region, which will assist in balanced decision making by the SJC," the delegation, including Senate President Stanley Rosenberg, wrote on May 6. "Certainly, the day-to-day experiences, challenges and opportunities of residents in western Massachusetts differ greatly from those of their urban neighbors to the east."
The 19 lawmakers pointed to "the need to respect regional diversity ... especially on the Commonwealth's highest judicial body" and said the bar associations of Berkshire, Franklin Hampden and Hampshire counties had already urged Baker to pick a western Massachusetts resident to fill the next SJC vacancy.
Asked about the push for geographical diversity on the bench, Baker said his administration has made 11 judicial nominations from western Massachusetts and cited Cypher's status as the first SJC justice from Bristol County in over a century.
"In this particular case, we weighed many of the facts before us and eventually came to the conclusion that Chief Justice Kafker was the best person at this point and time to appoint to the court, or to nominate to be appointed to the court, and obviously we'll continue to take our obligation and our responsibility to ensure that the court remains diverse both geographically and in terms of ethnicity and point of view as a key element of our decision-making process going forward," he said.
If confirmed, Kafker's departure from the Appeals Court would open up the chief justice slot on that court.
Colin A. Young contributed reporting
This article was originally published on June 26, 2017.