With Basketball Court Mural And Handmade Nets, Boston Artist Unites Art And Sports
"Basketball is the most creatively expressive sport. And a lot of that is attributed to black culture and this free-form thing, practicing out on the street, instead of in an institution like the YMCA," Maria Molteni told me. "I also think of it as the most resourceful sport in a lot of ways. All you need is a ball and a thing to throw it in. One of the reasons it's been such an urban sport is because you don't need a big open field. It's very vertical, as cities are more vertical."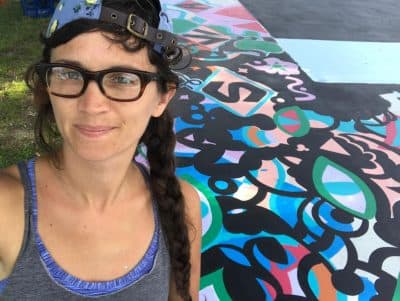 The 33-year-old Boston artist and friends recently finished up two weeks of painting a boldly patterned mural across the concrete surface of two side-by-side basketball courts outside the Perkins Community Center in Harambee Park of Boston's Dorchester neighborhood. The design is all wiggles and stars, clovers and raindrops, jellyfish and rainbows and basketballs. Words are woven into the pattern: confidence, friends, talent, pride, nghe thuat (Vietnamese for "art"), liri (Albanian for "freedom"), poder (Spanish for "power"). Hopscotch games run up the middle. A four-square court decorates a corner.
The mural, titled "Hard in the Paint" — as in "driving hard to the basket" to score in basketball — is the capstone to Molteni's eight-month term as one of the city's 10 artists-in-residence. Beginning last October, for the city's second year of the Boston AIR program, each artist was partnered with one of the Boston Centers for Youth and Families. Molteni was connected with Perkins "because they're really into basketball. They have a huge basketball program here and they thought it would pair nicely with my work."
Molteni's work stands at the intersection of art and craft and athletics. Sometimes she calls it "craftletics." And it all goes back to her childhood in Nashville, Tennessee.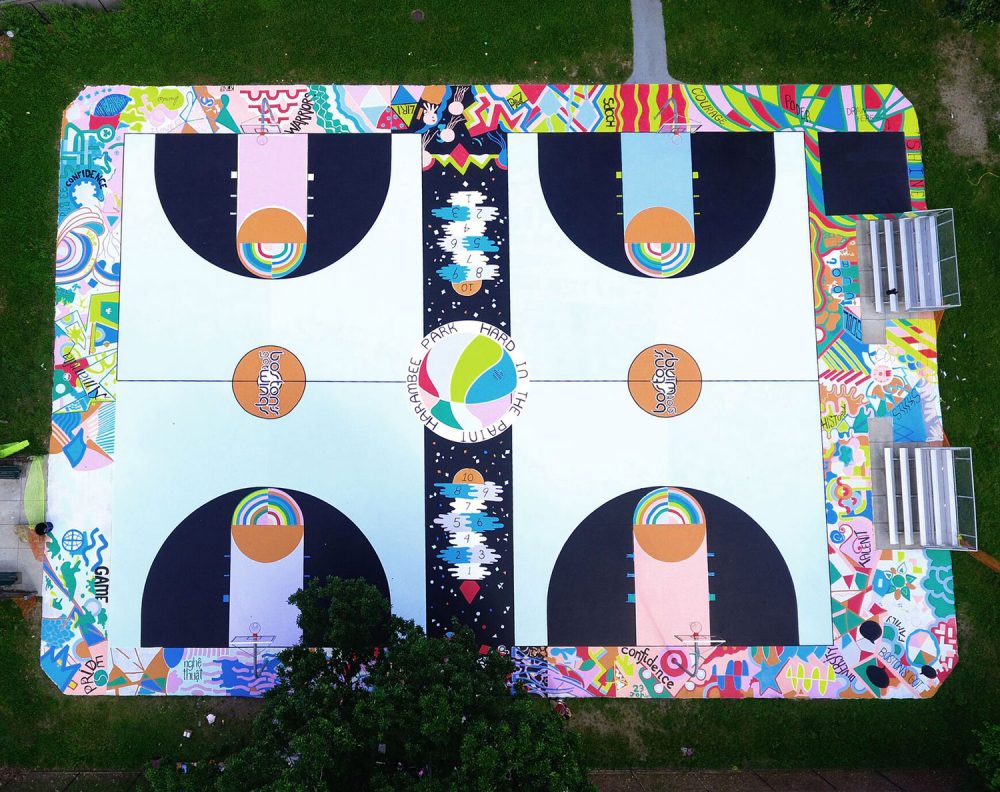 "I played a ton of sports growing up. I played basketball for 10 years," Molteni says. "I was Daddy's little girl. It's a huge deal in the South."
Though, she notes, "I was totally done with it by college. I had always been interested in art, but didn't have any art to look at. We didn't have a museum in Nashville."
She wound up studying painting at Boston University, which is known for its rigorous old-school technical approach — as well as its macho bent. After graduating in 2006, she pondered what art to make. She continued painting pictures of people and went outside to paint homes in her neighborhood. (She was then living in lower Allston; she's now based in Fort Point.) "I was looking for personal subject matter," Molteni says. "So I went back to sports."
She started teaching herself to knit and crochet — and found a basketball rim in the garbage. "I was kind of daunted by making a garment. Because I don't know how to follow a pattern. So I crocheted a basketball net," Molteni says.
"I just started kind of drawing with a crochet needle off of it until I got the shape I wanted," Molteni says. Then she thought, "The hoop that I play with down the street doesn't have a net. Maybe I'll put my net on it."
It was her own take on yarn-bombing — a spinoff of graffiti that involves wrapping or draping outdoor structures with knitting. "A net is already an example of a piece of public fiber art that's in the world," Molteni says. "You could insert yourself into that. It disrupts it enough, but it's not causing anyone a problem."
It was her way of using what have often been seen as female crafts to challenge the way American sports are gendered — often devaluing or excluding women and girls all together.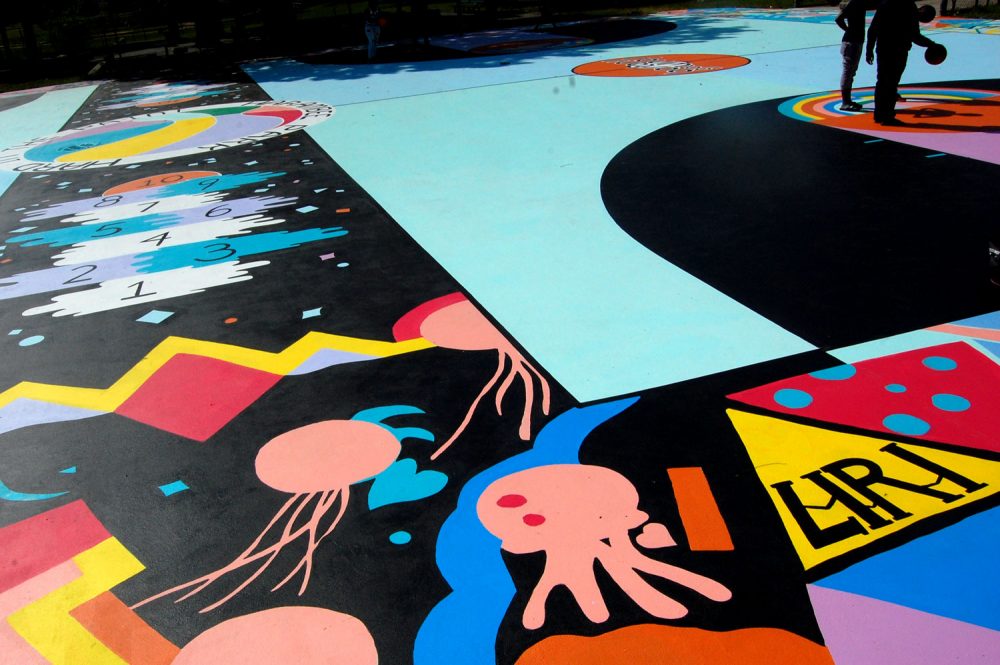 Her hand-crocheted basketball net led her to launch Net Works in 2010, a loose group of basketball net knitters and crocheters that included Boston artists Samantha Fields, Taylor McVay, Andrea Evans and Cara Kuball.
The group became New Craft Artists in Action — punning on the National Collegiate Athletic Association (NCAA). They self-published an instructional manual of how to craft homemade nets for empty basketball hoops in your neighborhood. It was "tactical and tactile," Molteni says. "How can we use traditional craft techniques to respond to needs in real time." Their nets — often brightly hued, thickly and elaborately stringed, and sometimes studded with pom-poms — have graced hoops in the Philippines, Hungary, Australia, South Africa, Germany and all across the United States.
"When we have put up a net, you can see little girls, they're excited and floored and run right over to it," Molteni says. "You see the girls feel like they belong when there's something colorful."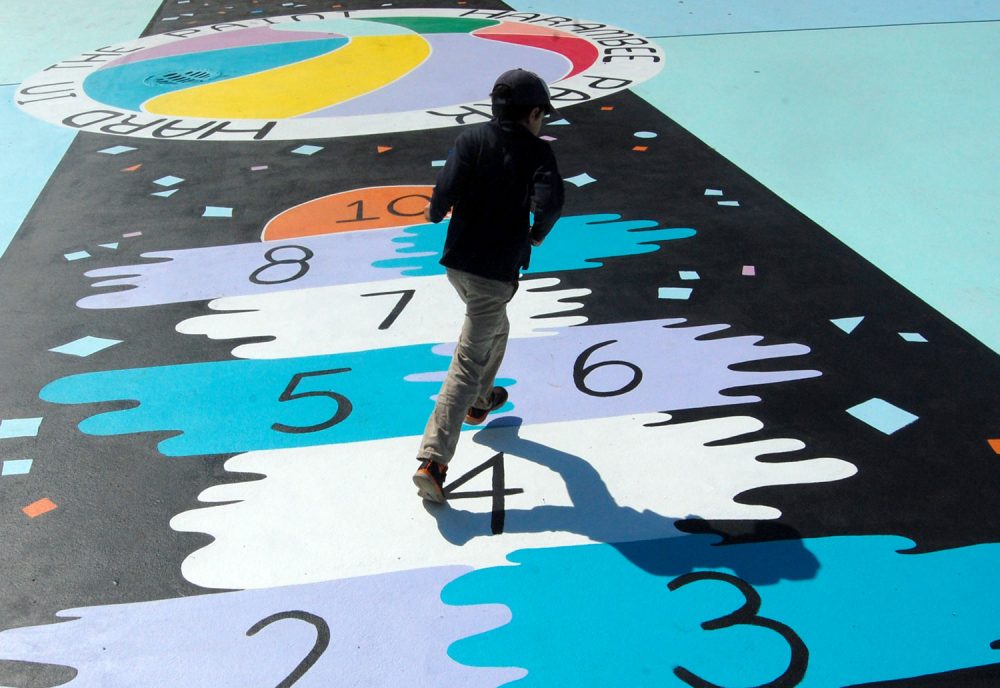 As a city artist-in-residence, Molteni offered art workshops and drop-in programming at the Perkins Community Center — including during weekend basketball games for 7- and 8-year-olds. She invited kids to draw basketball courts, make nets, write zines (asking "What do we think Boston's got?"), and create sports cards featuring themselves and their dreams.
Molteni promotes do-it-yourself projects as an alternative to social oppression. "Making things DIY gives you power because you can do this for yourself and you're not relying on this system," she says.
Similarly, she says, basketball doesn't have to be just a sport you watch, but can be something you play yourself. "Rewrite the rules of the game. Basketball. Own it. Take it back," Molteni says. "You see racism and, dare I say, slavery in athletics. All the institutions that rely on young black and brown people to put money in the hands of rich white men. Be critical of that structure.
"There would be as much of a commercial demand if women were given a chance. Women [athletes] should be paid the same amount of money," Molteni adds. "There are femme and trans and gay people in these communities that need to be supported as well."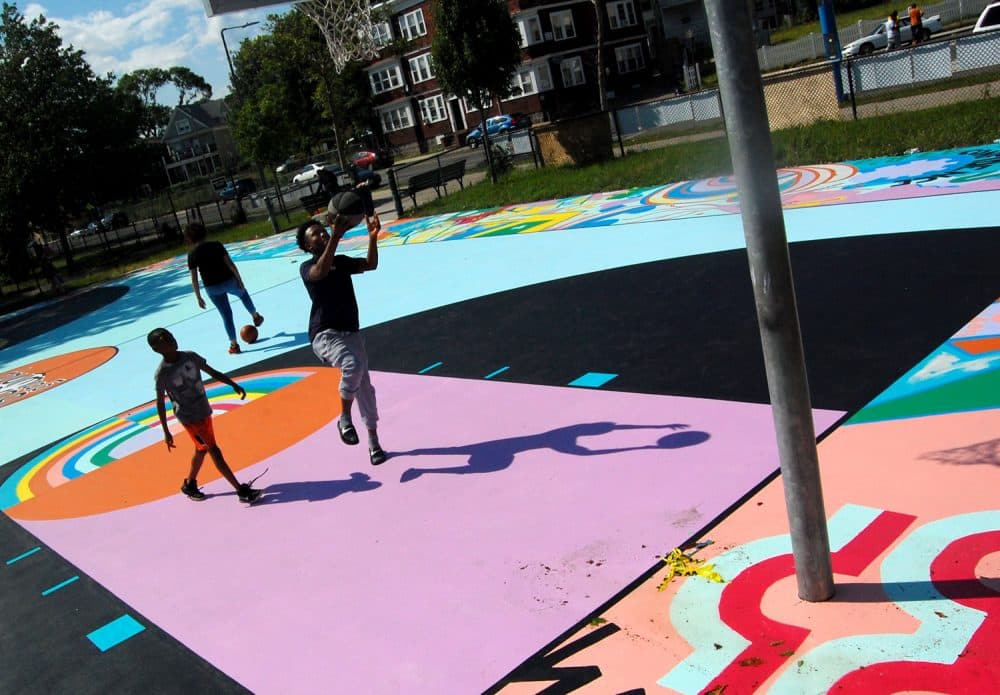 For the Harambee Park basketball court mural, Molteni hired a team of teen girls to prime the court and do preparatory work beginning in mid-June. Then she brought in adult artists to do much of the painting. Community members dropped by and joined in. "People kind of painted with us the entire time," she says.
The mural design pulls imagery from the kids' drawings (displayed on surrounding fencing) and texts from zines they made over the residency. "I intentionally didn't want to pre-design it too much. I wanted it to be organized and respond to things in real time," Molteni says.
This is her second outdoor basketball court mural, after painting one last spring at the temporary culture and sports "Clubhouse" in a former auto body shop at 471 Somerville Ave. in Somerville. She expects more will come.
"Art is not just for some people," Molteni says. "Just like basketball is not only for some people."