How One Boston Man Climbed To The Top Of Festival Betances' Greased Pole Tournament
This article is more than 4 years old.
"I've been walking through the neighborhood this whole month and everybody's like, 'You're doing it? You're doing it? You're doing it?' " José Rodriguez tells me. "And I'm like, 'Yeah, yeah, yeah.' "
Many days of the week, Rodriguez is a hotel maintenance engineer ("basically I fix anything in the hotel that breaks"). But when the Greased Pole Tournament at Villa Victoria's annual Festival Betances rolls around in Boston's South End (this year, it's on Sunday, July 16, from 1 to 2 p.m.), he's a champion, one of the Boricua All Stars.
"I've been the champ now for 12 years. I'm usually the one who goes all the way to the top and grabs the flag." Well, one year they got beat by their arch rivals from Cathedral Projects — but let's not talk about that.
The competition held adjacent to the O'Day Playground, between Aguadilla and San Juan streets, involves a tall metal utility pole, slicked with grease, with Puerto Rican flags at the top. It used to be that the first team of people — standing on each other's shoulders — to grab the flag won. Teams of men, of women, of youths attempt to reach a flag. In recent years, "They put five flags up at the top. So each team gets a chance to get it. Now, it's the team that gets it fastest."
Festival Betances, the at least three-decade-old Latino cultural festival, runs this Saturday and Sunday, July 15 and 16. It's all organized by Inquilinos Boricuas en Acción, the nonprofit and community development corporation that grew out of South End residents — the majority Puerto Rican immigrants — successfully fighting threatened displacement from urban renewal in the late 1960s. They won the right to control and develop what became Villa Victoria (Victory Village) there, which now offers 521 units of affordable housing plus education and arts programs.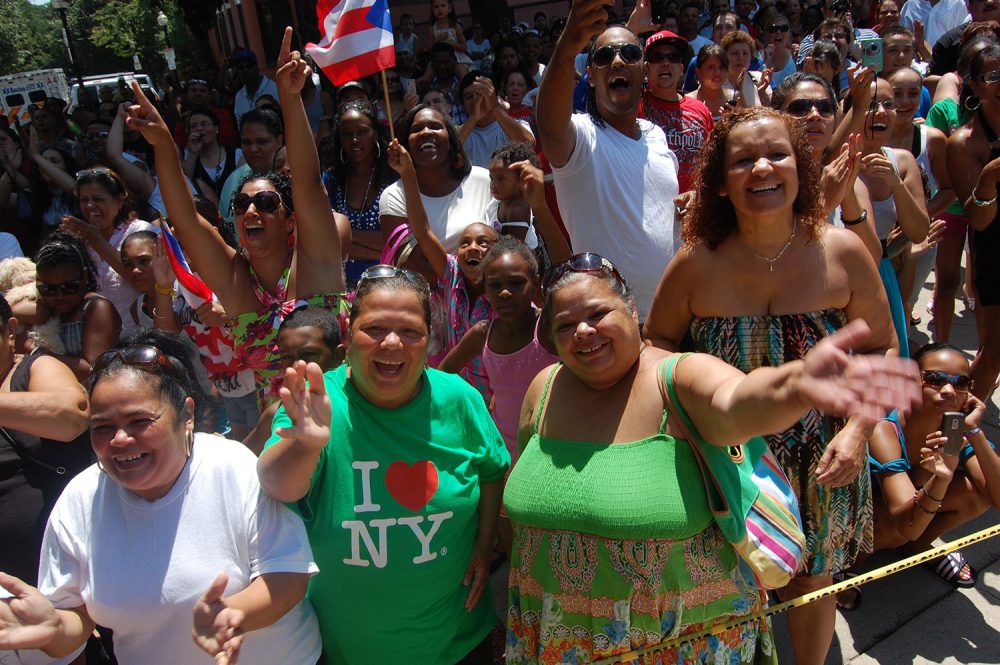 Inquilinos Boricuas en Acción believes greased pole competitions originated in Europe and then were brought to the Americas. Locally, St. Peter's Fiesta, the annual Sicilian-American festival in Gloucester, holds its own "Greasy Pole" competition, which they imported from Italy. In the waters off a downtown Gloucester beach, they've built a platform with a wooden pole sticking out from it horizontally that they slather with grease. To win the competition, you have to be the first to walk its whole length and grab a flag off the far end.
The Festival Betances version — with a vertical pole and teams of people climbing up onto each other's shoulders, then hugging the pole, as another person climbs on top, and another, until one is able to grab the flags — is based on competitions held in Puerto Rico.
"Puerto Rico does it very differently from here," Rodriguez notes. "Out there they put the flag out at the top, they grease up the pole like we do it, but it's a smaller pole. And there's just one guy who's got to climb to the top. No ropes. No nothing. ... It's almost impossible. But these guys, they do it."
Rodriguez first competed in 2005. Right in the middle of the tournament, one team was short a person to reach the top. So the announcer called out, "Anybody in the crowd willing to try it? They need one more guy."
Rodriguez recalls, "My dad looked at me. 'You want to do it?' " He was wearing new clothes and reluctant to get them dirtied with grease. But someone in the crowd loaned him some shorts. "I took off my shirt, my socks, my pants and put on the shorts." And he clambered right up and grabbed the flag — becoming a champion.
So he became part of the Boricua All Stars. (Boricua is a traditional name for Puerto Rico.) Rodriguez grew up in Boston's South End, in Villa Victoria, where his grandmother was one of the first teachers in the early childhood program there, and he still lives in the neighborhood. The festival and competition have been part of his whole life.
What is the Boricua All Stars' winning technique? "In the old days, [teams] used to practice," Rodriguez says. But their team doesn't. "We go [to the pole] the day before and look at where they put the flags." They they count how many guys they'll need to stack up on each other's shoulders to reach them. They show up at the competition the next day "and we just go."
"It usually takes five or six guys," Rodriguez says. The Boricua All Stars is six-person team, but "one of the guys, he hasn't gone up for like 10 years. We usually do it with five guys because we're all tall."
Under the old tournament rules, when the first team to grab the flag won, the Boricua All Stars angled to go first or as close to first as they could. Because once any team took the flag, it was over, no matter how fast you could be. But now that the competition is decided by time, Rodriguez says, "our strategy is to let everyone go first. Because it doesn't matter if you go first. We let them go first because they take off all the grease for us. We go last."
The Boricua All Stars maintain a set order for which guy climbs when, dictated by how many people each guy can support on top of him. The person at the bottom, supporting everyone else's weight, is called the "tronco" or trunk, Rodriguez says. "Like the bark of a tree. Because you're basically building a tree to go up. That's what's holding everything."
Rodriguez is nearly the youngest member of the team at age 31 — a brother on the team is just a few months younger — and one of the lightest at 6-feet-tall and about 160 pounds (admittedly, a tad heavier than previous years). "This is the crazy part about everything: The oldest man in our group is the man holding us all up. He's about 54 years old. He holds about 700 pounds, easily," Rodriguez says. "The guy at the bottom, he's a normal guy. But he's got very strong legs. He's used to it. He doesn't shake. He doesn't move."
Then, Rodriguez explains, "We all make sure we have belts on. We have these big gym belts, to support your back." They use the belts like a ladder. He grabs the belt of the guy above him and puts his foot on the belt of the guy below him, repeating until he reaches the top. "I go up pretty fast. Our record is 37 seconds."
Many competitors like to wear hoodies: "It helps you because if you touch the grease with your bare skin, it's more slippery than if you touch it with clothes," Rodriguez says. "Once you put that hoodie on, you put your face right on the pole and you get stuck right on it. Some people do it for safety, so you don't get [the grease] in your eye."
---
A team climbing the pole in 2012:
---
And then ... victory. "We basically get bragging rights for the whole year. We get the money," Rodriguez says. The prize money increased last year from $500 for the winning team to $750, and may be even more this year. Sometimes there are plaques or trophies. "We aren't doing it for the money. We're doing it for the tradition, to grab [the flag] for the neighborhood. If they don't grab it, it stays up all year," he says. "I do it mainly to see the glory in the people's faces."
"You go around all day and everyone is just thanking you. Everyone is just coming up and wants to take a picture with me. I carry the flag around in a bag and I take it out," Rodriguez says. Victory has also been known to, shall we say, increase the winners' attractiveness. "I get a lot of love. My girl's always on my back every year because of that," Rodriguez acknowledges. Members of the Boricua All Stars mainly have long-term, significant others, so "we can't do much with the ladies. But the attention is nice."