How The Coolidge Corner Theatre Brings Its Mission To The Greenway
Join WBUR Arts Insiders, a free group for arts lovers in Boston and beyond.
---
Back in the pre-Big Dig days of sitting in traffic jams on the Central Artery in Boston, one never could've imagined someday having a picnic there while watching a movie under the stars. But now for the third year in a row, the Coolidge Corner Theatre has partnered with the Rose Fitzgerald Kennedy Greenway Conservancy and Boston Light & Sound for a free outdoor film series.
A lot of cities and towns hold outdoor screenings during the summer, most plagued by shoddy sound, a dim picture and seemingly random movie selections. But "Coolidge at the Greenway" is distinguished by the same thoughtful film programming and fierce commitment to presentation standards that have made the Brookline movie theater one of our area's cinematic crown jewels.
I spoke with the Coolidge Corner Theatre Foundation's program manager Mark Anastasio about the challenges of pulling off a series that satisfies family audiences and film buffs, as well as sticklers for sound and picture quality — even earning a thumbs up from picky former projectionists like yours truly.
"During the first site visit we did at the location, the lawn was covered with seagulls," Anastasio remembers back to three years ago when the series began. "I instantly knew 'The Birds' would be the first film we'd show down there. If just one seagull landed next to someone's blanket during the film, the reaction would be worth all of the work that goes into these outdoor shows."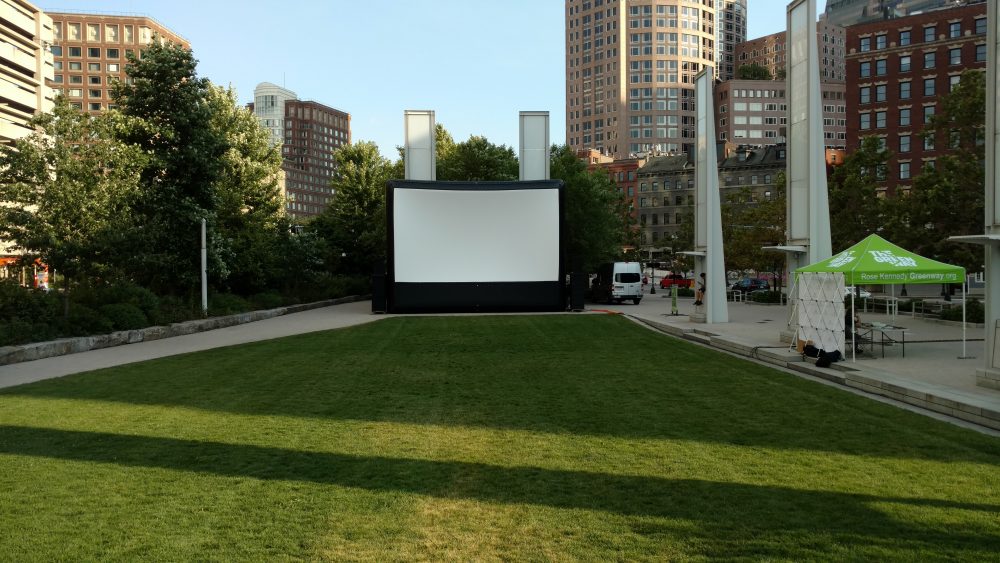 Anastasio says the setting often inspires his movie selection. "After battling rain and thunder while trying to put these shows on the last couple years," he said, "we figured we'd start this year by screening a print of 'Twister.' "
But booking an ode to bad weather proved prophetic when last month's screening had to be postponed to the following evening thanks to some nasty thunderstorms. No flying cows, though.
"Back to the Future," screening on Tuesday, July 18, remains the weirdest family blockbuster of the 1980s — a crackerjack comedy about a time-travelling teen dodging the advances of his horny young mom while trying to fix her up with the dad who was nearly killed falling out of a tree while spying on her getting undressed. Robert Zemeckis' propulsive direction and some endearingly sweet performances from Michael J. Fox, Crispin Glover and Lea Thompson miraculously keep the icky Oedipal undercurrents at bay.
But for Anastasio, incentive to program the film was more obvious. In fact, it was in plain sight.
"There's a great clock tower visible from the Wharf District Park, so 'Back to the Future' seemed appropriate." The programmer's selections are often smartly complemented by the surroundings, as when he chose "American Graffiti" — a film that takes place almost entirely outdoors on a beautiful summer night. "We're wrapping things up in August with 'King Kong,' which I figured would be a blast to see while surrounded by tall buildings."
"Coolidge at the Greenway" is unique among local outdoor series in its insistence on screening 35mm film for the highest quality presentation.
"Once we had the location, we knew we'd have to involve the best in the business for theatrical exhibition," Anastasio acknowledges.
Boston Light & Sound donated the equipment to make the screenings happen. "They knew that what would set these shows apart from all of the other outdoor summer films would be the fact that we're actually running film from the back of a truck," he says.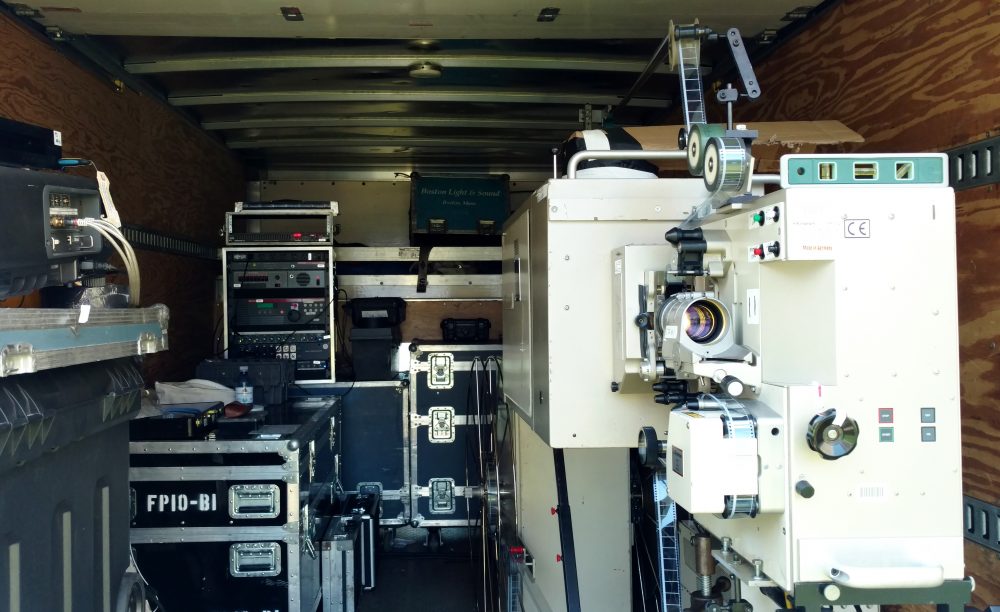 Inside that truck is a Kinoton FP-10 35mm projector. "We are using it with what is known as a spool tower, which is essentially a vertical platter system. All two-plus miles of film are on this huge reel," explains the Coolidge's head projectionist Nick Lazzaro. From there a 4,000 watt Xenon bulb throws the image to an approximately 30-foot screen, mounted on an inflatable frame.
"It's a good 20 hours of work," Lazzaro says. "Setting up the rigging, power, positioning the truck and building a projector booth from scratch. Then tearing it all down. It all has to be safe and low impact to the grounds."
So why go to all this trouble when easier, albeit inferior, digital cinema options are available?
"We do the Lord's work. That's why," the projectionist quips. "It's a superior experience. And it's really cool to look back from the lawn and see this contraption zipping film all around and making a movie go. It's part of our brand and our mission."
"Back to the Future" screens Tuesday, July 18, with a rain date of Wednesday, July 19. "King Kong" screens on Tuesday, Aug. 8 with a rain date of Wednesday, Aug. 9. All shows begin at sundown.