How The Problem Of Mass Incarceration Inspired A New South End Mural
This article is more than 5 years old.
Ann Lewis had been checking her phone to keep an eye on the weather forecast for the day. A storm was due around mid afternoon. And the artist, visiting Boston from her home in Detroit, needed to make sure the polyurethane she was using to seal a four-story mural would have a couple hours to dry before the rain hit.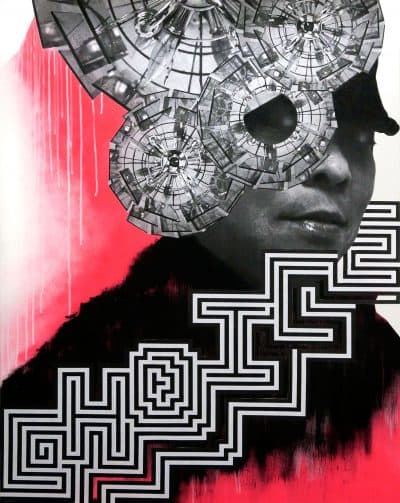 The mural, called "See Her" at 808 Tremont St. in Boston's South End, is a portrait of a woman with curious mechanical-looking rings hiding one eye. A maze of lines runs diagonally up from the bottom. Decode it and it spells out the word "Choice." Lewis' inspiration behind the mural is the mass incarceration of African-Americans, many for minor drug charges.
"Mass incarceration is the over-incarceration of our communities, which is often fueled by over-policing, broken windows policing and excessive mandatory sentencing minimums. I think those are the big contributing factors," Lewis explained as we rode the boom lift up the side of the building so she could continue painting. "When you see people going away for 10 years for personal drug use, it's like, why aren't they putting them in rehab?"
Lewis' art has addressed killings by police, the rape of women, neighborhood gentrification (she moved to Detroit in February after a dozen years in New York City because the rent got too expensive) and feminism. She came here to do the mural and community project supported by Kate Gilbert's Boston-area public art producing nonprofit Now + There. And she had come with mass incarceration on her mind.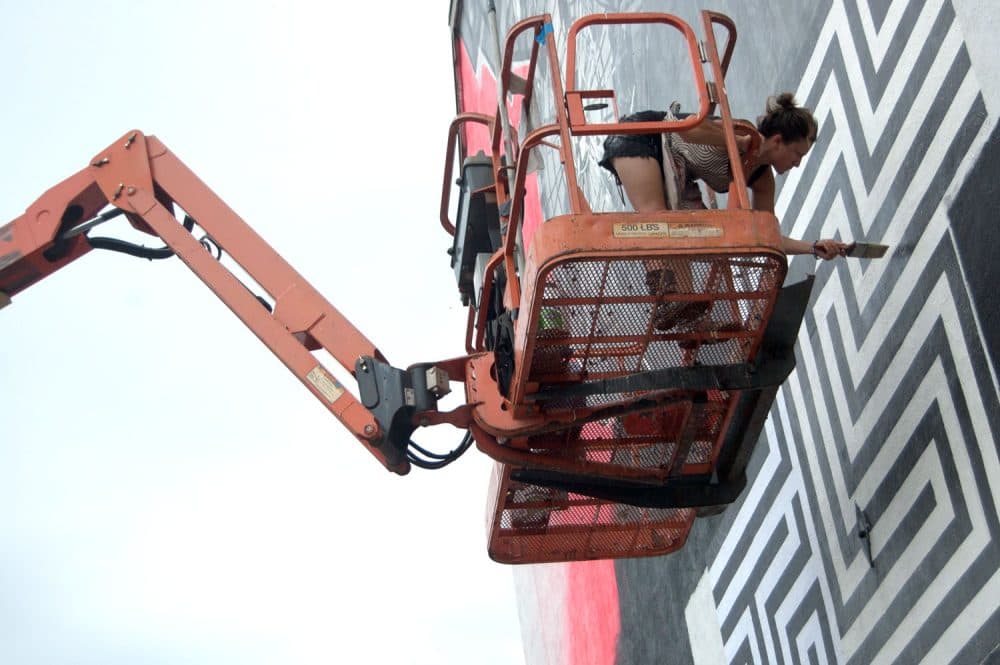 Lewis connected with McGrath House, a 30-bed facility run by the Boston nonprofit Community Resources for Justice that aims to help women who have been incarcerated to have a "successful reentry to their home communities." At the facility, she says she led a two-day art workshop with about a dozen women, addressing "self-care and self-love and what it means to succeed." Then she took collages the participants had made from cut-up magazines back to her temporary studio here. "I created a piece based on their ideas and their wants and desires for themselves. And now we're translating that onto a four-story building."
The mural is a mix of giant printouts — the woman, the text — wheat-pasted to the wall plus spray paint and house paint. It's expected to stay on view until around October 2018.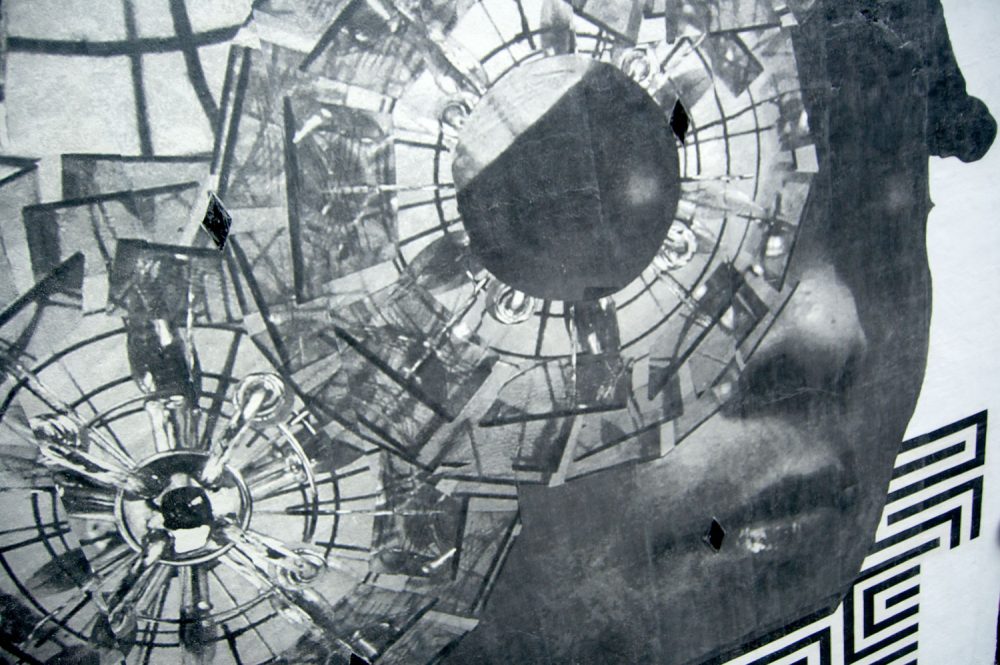 Lewis says she included the word "Choice" in her mural because it "popped up at least twice" in the women's collages. "While often times, people will focus on their choices, whether they're good choices or bad choices. There's so much judging around incarceration," Lewis said. But there's also the question of the choices communities have made. "Do we as a society choose to support or not support these people?"
Their art, their discussions, Lewis said, "a lot of it centered around making good choices, being in a community that supports them. A lot of them feel their community now won't support them." The women also talked about "taking responsibility for their choices" and pursuing financial success. "A lot of the women in prison are there because of drug use or fraud," Lewis said. Leaving prison, they wonder, "How do I succeed now that I have an even larger roadblock in front of me? A lot of them are felons. So that makes it even harder for them to get a job."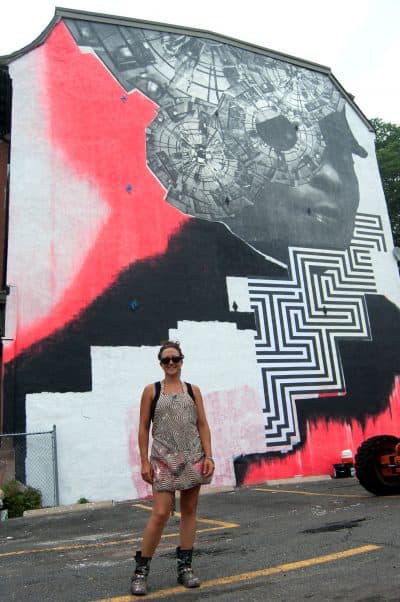 The woman depicted in Lewis' mural is Laura Minot, "one of the residents," the artist said. "This is actually one of the ladies I worked with. I photographed all the women who would allow me to photograph them." Her face is hidden, somewhat, by mechanical-looking rings — actually a chandelier at McGrath House that Lewis photographed from the bottom. "There's a bit of privacy to covering up a bit of her face."
Minot was one of the first people Lewis met when she visited McGrath House. "The first thing she said to me was, 'Wow, you're making a mural. Do you need an assistant? I need a job.' " Lewis said Minot was motivated by a "sense of her responsibility to take care of her family," including a son she had to leave behind when she was imprisoned.
Lewis wants her work to give people a sense of the real people who go through the justice system and prompt "conversations about things the average person isn't thinking about. ... I like to bring these conversations into the public space. Because it's very easy to forget and very easy to ignore. We have a very big problem with mass incarceration. And if we're not talking about it in the public space, it's harder to fix."