'Skeleton Architecture' Will Perform A Dance At The ICA They've Never Rehearsed
Sometimes, less is more. With Skeleton Architecture — a multi-generational, interdisciplinary dance collective — sometimes less structure and fewer rules make room for magic.
The new dance collective, hailing from New York, is in Boston for a week-long residency at the Institute of Contemporary Art. The group of black women and gender non-conforming dancers got its start this past October when writer Eva Yaa Asantewaa organized a performance focused on the rituals of healing — a two hour show that was entirely improvised.
"I selected people I knew and people I didn't know so well," she says. "So, I threw in this possibility of chance." The gamble paid off and the performance at Danspace Project earned them a Bessie Award nomination.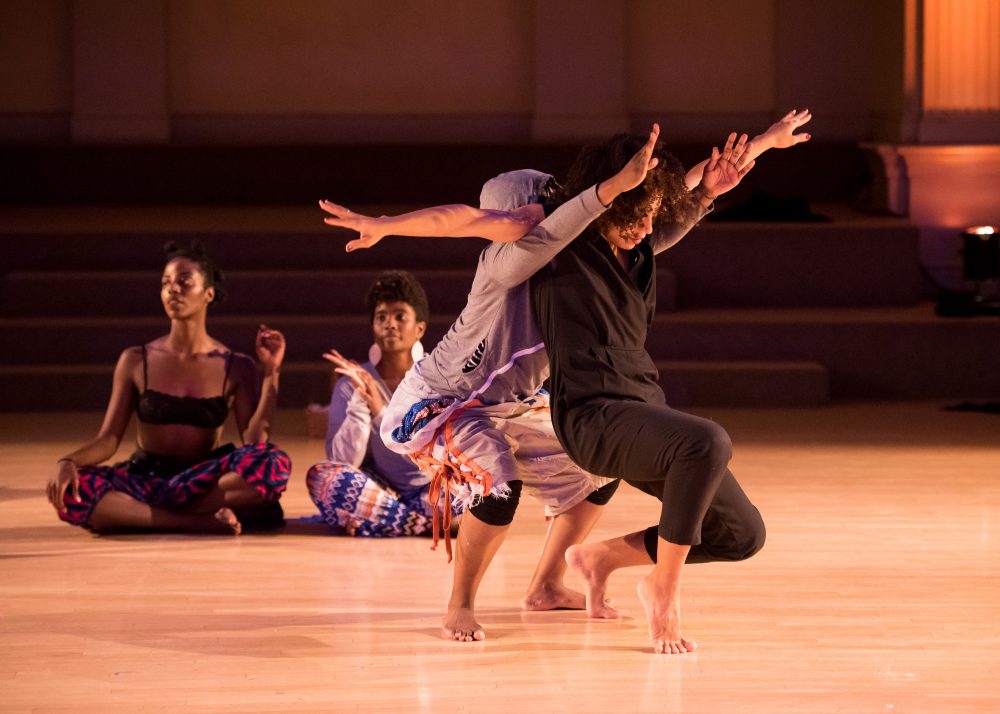 That improvisational, collaborative process is what the collective is working on with a group of black artists from Boston during their residency here. It will culminate in an informal performance titled "the future of our worlds" with 13 Boston artists and 8 members of the collective on Sunday, July 23.
Over the course of the week, Skeleton Architecture members have been spending time getting to know the local artists and their work.
"We want to get to know [the Boston artists] as movers and as people," says Davalois Fearon, a member of the ensemble and the founder of Fearon Dance. "The workshops we're doing leading up to the performance are exploratory workshops where we share — sharing of ourselves and sharing of our practices with each other so that we can kind of, possibly, explore ideas of being and moving as a collective as opposed to a dance company."
"As an audience member, you are seeing people respond and exist in real time and make decisions in real time."

Edisa Weeks
Other than that, the performance on Sunday will be entirely improvised, says Skeleton Architecture's Edisa Weeks.
"We're still figuring it out, but we have some loose structures," says Weeks, a choreographer, movement artist and founder of Delirious Dances.
"As an audience member, you are seeing people respond and exist in real time and make decisions in real time. That to me, is really fascinating to watch. It also runs the risk of being complete chaos and madness and totally boring," Weeks laughs.
Whatever happens, she feels that improvisation can allow for "happy accidents."
The group is invested in "untamed, feral, black creativity," says multi-instrumentalist Grace Osborne, a member of the collective who focuses her energy on "creating atmospheres," and leans on hand percussion.
The group hopes that through their work, they can "empower communities and engage other people and bring them along," says Weeks.
Although the project is centered around spontaneity, Weeks says she tried to provide improvisational structures.
"It allows for the performer to fully be in the moment and to respond in movement, and to sort of, bring your truth to the moment," she says. "So, you can't hide and go on automatic, because there's not a set pathway."
"You can't hide and go on automatic, because there's not a set pathway."

Edisa Weeks
Fearon explains further with a quote from Wayne Shorter, American jazz saxophonist and composer: "Composition is just improvisation slowed down, and improvisation is just composition sped up."
There is no maxim or easy way to predict what will occur when a group of gifted artists come together to present all of their experiences together in one place. But each of them has committed to being present, to sharing all that they embody and to working with one another inside of the sound environment provided.
What manifests between them cannot be described because it hasn't happened yet.
"Be in the room," says Skeleton Architecture member Charmaine Warren, founder and artistic director of Montclair, New Jersey's Dance on the Lawn festival. "The power lies in the moment."
---
Skeleton Architecture's "we (been) here" workshops will be held at the ICA on Saturday, July 22 and Sunday, July 23. The performance of "the future of our worlds" takes place on Sunday, July 23, at 3 p.m.