Activists To ICA: 'Pull The Show' Of New York Artist Behind Controversial Emmett Till Painting
This article is more than 5 years old.
"Please pull the show," a group of eight artists and activists write in a public letter to Boston's Institute of Contemporary Art about its exhibition of Dana Schutz, which is scheduled to open to the public on Wednesday and run through Nov. 26.
Their objections stem from the white New York artist's controversial painting "Open Casket," which she based on a 1955 photo of the mutilated body of the black 14-year-old Emmett Till after he was tortured and murdered by white men, one of the most infamous racist crimes of the 20th century.
"We question whether this exhibition is appropriate or responsible in the context of the sacrifice of Black bodies that is still exerting trauma on urban streets and in urban neighborhoods across the country," the artists and activists — Megan Smith, Allison Disher, Stephanie Houten, Pampi, Vonds DuBuisson, Dr. Barbara Lewis, Chrislene DeJean, Mallory Hanora — write in open letter titled "A Community Response to ICA, Boston: Re: upcoming Dana Schutz exhibition," dated July 25.
"Open Casket" is not included in the exhibition, but the group writes that the show still "would continue and in fact capitalize on the notoriety of said painter, not only directly benefiting her access and future opportunities, but also the institution's. The people this is harming are of the very communities who are compelling this conversation. Meanwhile, the Till family's courage continues to be defiled."
After meeting with the group last week, the ICA is moving forward with the exhibition.
"We welcome the opportunity for debate and reflection on the issues of representation and responsibility, sympathy and empathy, art and social justice," ICA director Jill Medvedow said in a statement Tuesday. "…We have designed our programs — panels, lectures, gallery talks, as well as exhibitions and performances — to offer a broad range of artistic voices and a creative space for experimentation, and we look forward to audiences having the opportunity to see for themselves the range of Schutz's art and engaging in the art and issues of our time."
Schultz was generally a noncontroversial artist until New York's Whitney Museum of American Art opened its 2017 "Biennial" exhibition, its preeminent roundup of American talent, on March 17. Included in the show was "Open Casket," which seems to look down into Till's casket to see his body dressed in a suit and his face a mess of brown paint.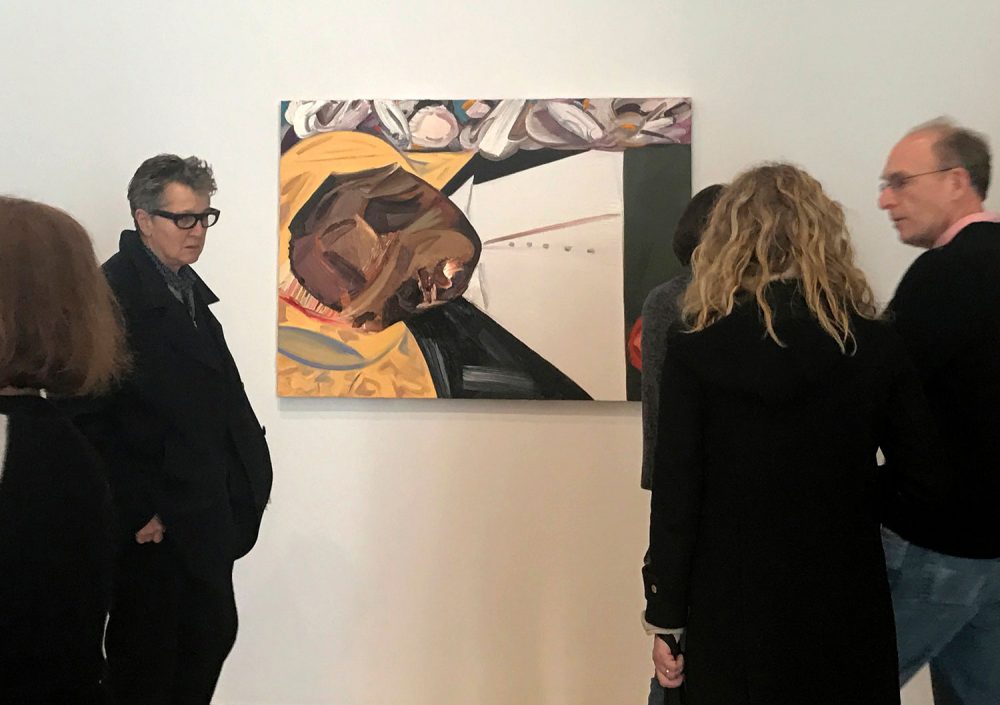 It immediately attracted protests. Artist Parker Bright, wearing a shirt reading "Black Death Spectacle" across the back, stood for hours in front of the painting to block the view. Another artist, Hannah Black, wrote that "non-Black artists who sincerely wish to highlight the shameful nature of white violence should first of all stop treating Black pain as raw material" and issued an "urgent recommendation that the painting be destroyed."
"I made this painting in August of 2016," Schutz told Artnet in March, "after a summer that felt like a state of emergency — there were constant mass shootings, racist rallies filled with hate speech, and an escalating number of camera-phone videos of innocent black men being shot by police. The photograph of Emmett Till felt analogous to the time."
Schutz also issued a statement: "I don't know what it is like to be black in America but I do know what it is like to be a mother. … My engagement with this image was through empathy with his mother."
The painting remained in the Whitney exhibition for the run of the show.
Meanwhile, on March 15, two days before the Whitney Biennial opened, Boston's ICA emailed promotions of its upcoming exhibition, "Dana Schutz: People at Odds" (the subtitle was subsequently dropped), featuring "one of the most accomplished and daring painters of her generation." But the Whitney protests left the Boston museum with the problem of what to do with its show of an artist who was now one of the most controversial in the country.
"The 'Open Casket' painting was never in our show," ICA Chief Curator Eva Respini says. "Our show was about the hypothetical, the imagined. … We chose to focus on the more recent works, of these imagined scenarios — compression, vulnerability and struggle — that resonated most in our curatorial decision making."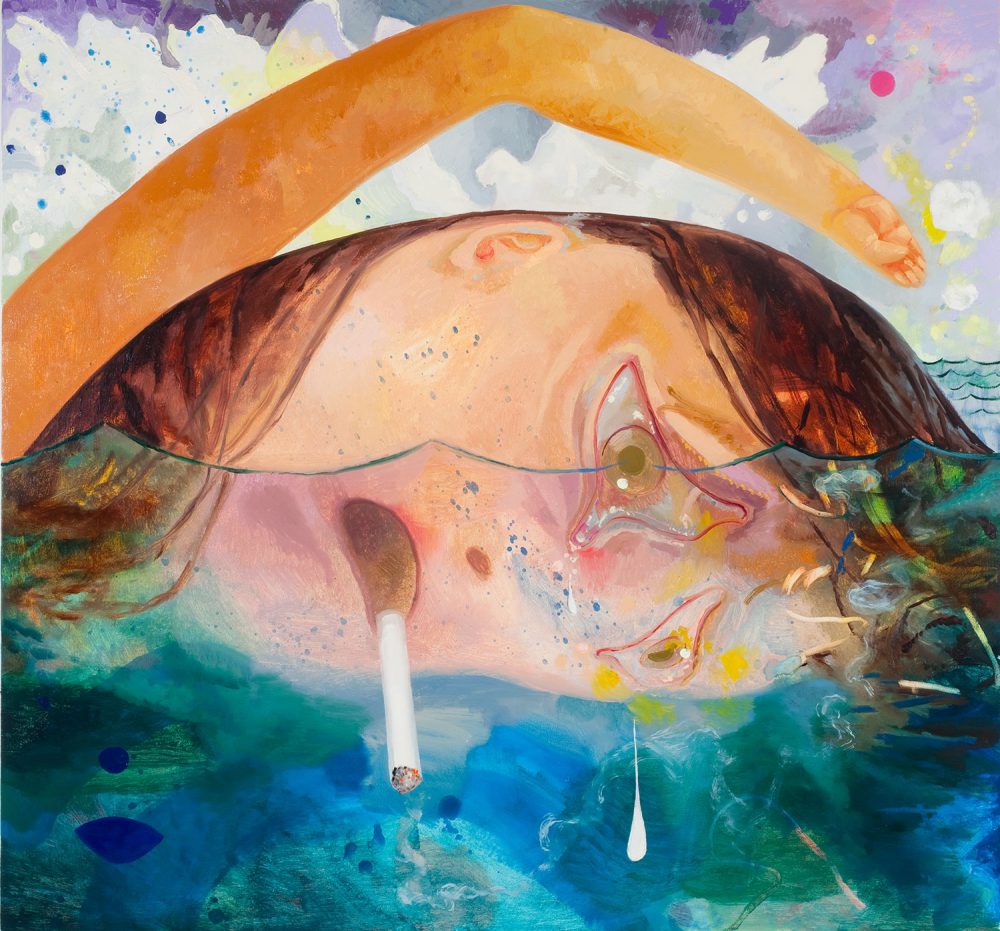 The show offers 21 cartoony-cubist paintings and drawings dating back to 2009. They often depict people in strange, absurd circumstances to which they seem somewhat oblivious — a person with their ear on fire, a bunch of art historical figures crowded aboard a makeshift raft, a woman playing piano in the rain, people fighting in an elevator crawling with bugs, two people making a sandcastle on a beach about to be hit by a massive wave.
"Two years ago, we invited Dana Schutz for an exhibition; she is one of the leading painters of her generation, and we wanted to share the exuberance, skill, and vibrancy of her work with Boston audiences," Medvedow said in Tuesday's statement. "This past March when her painting 'Open Casket' was shown at the Whitney Biennial, there were a range of responses, including many who felt that the painting embodied privilege and had caused them pain. Art often exposes the fault lines in our culture, and 'Open Casket' raised difficult questions about cultural appropriation, race, and representation. … Complex, challenging, sensitive, and urgent, these are issues deserving of thoughtful discourse, and museums are one of the few places where the artist's voice is central to the conversation."
When the ICA promoted the Dana Schutz exhibit on its Facebook page on July 11, one of the comments was from an "Allison Dish," who wrote, "Ohhhh the woman who made a spectacle out of Black Death (Emmett Till)." In response, the ICA reached out and proposed a meeting that took place on July 20.
"We invited them in to hear their concerns," Respini says. "I feel we had a really productive meeting with eight artists and activists and community leaders here in Boston. … Through that meeting, there was a really great exchange of ideas.
"This is a conversation we're all having internally, that we've been having for a long time. The issue of race, representation, cultural appropriation and responsibility is the issue of the day."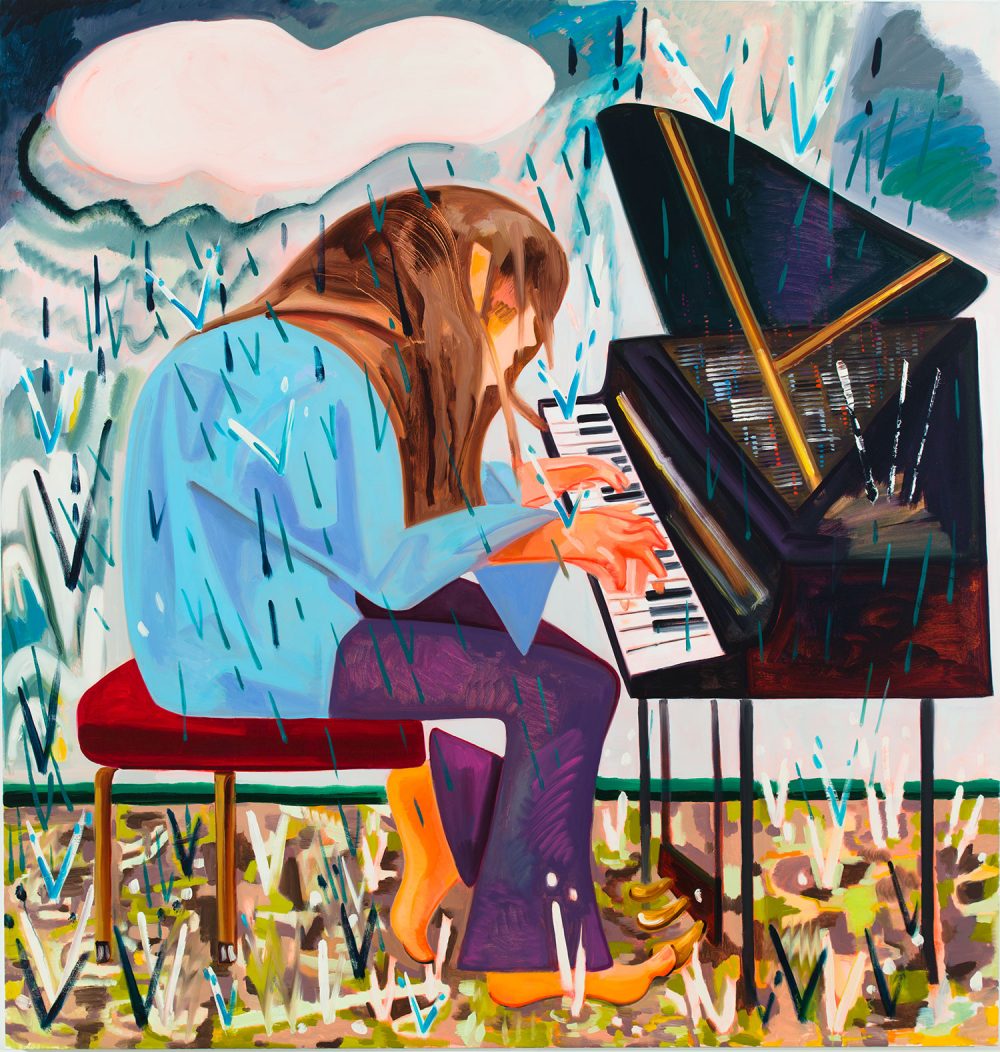 A sign opening the ICA exhibition addresses the controversy thusly: "This year [Schutz] was included in the Whitney Biennial, where one of her paintings ignited a vigorous debate around the role of art, artists, and institutions in the representation of race, a conversation that resonates with larger issues in our current political and cultural landscape. At its best, art has the potential to illuminate aspects of our humanity, expose fault lines in the culture, engage experiences both personal and universal, and inspire inquiry and dialogue."
The artists and activists who authored the open letter to the ICA write that the "ICA itself does excellent programming for communities and artists alike who negotiate marginalized identities." And they thank the ICA for meeting with them for three hours: "Such meetings are rare and require personal integrity and a tremendous dedication to the democratic principles of representation on the part of an institution's head staff."
But still they call on the ICA to do more to address artists' roles in contributing to "social and cultural amnesia" and to acknowledge that Schutz's painting "tampered" with the intentions of Till's mother, who publicized his murder by having an open-casket funeral, and obscures the long history of "genocide of black and indigenous peoples." They say the museum should host a public "accountable community dialogue" with Schutz and the curator. They call on the museum to "please pull the show."
"This is not about censorship," they write. "This is about institutional accountability, as the institutions working with the artist are even now not acknowledging that this nation is not an even playing field. During this violent climate, to show true accountability, we need institutions to go bold. We need them to move from side panels to action."