3 Movies You Should Catch At The Woods Hole Film Fest
Once again, Cape Cod will become the center of New England's cinematic universe as the 26th Annual Woods Hole Film Festival revs up (Saturday, July 29 to Saturday, Aug. 5).
In the middle of the flood of franchise-fatigued summer blockbusters, this annual film fest is a life raft of diverse and provocative fare featuring over 130 movies (including 81 shorts) from around the world — Mashpee to Maine, South Africa to Sri Lanka — with a special focus on independent New England films and filmmakers.
Here's a few you should see:
'Chasing Coral'
Day 1 (Saturday, July 29) opens with a mind-blowing documentary about a tragedy unfolding just beneath our view but within our grasp: "Chasing Coral." Director Jeff Orlowski ("Chasing Ice") takes us underwater with teams of photographers and scientists to document the stunning facts now becoming apparent: 50 percent of the world's coral reefs have died in the last 30 years, and will continue at that rate — unless we do something.
The documentary makes clear that the loss of these "sophisticated animals" is a "mortality event on a massive scale," and that the demise of this enormous ecosystem (especially pronounced on the Great Barrier Reef but documented all over the planet) is the result of global warming. The loss of these reefs will have untold impact not only on the ocean's inhabitants but also on millions of people. Time lapse photography shows thousands of miles of these living creatures slowly dying — first bleaching then fluorescing, and finally crumbling into algae-covered brown skeletons. The images are breathtaking and heartbreaking.
---
'Diani & Devine Meet the Apocalypse'
For a lighter approach to the "end of days" scenario check out the comedic feature "Diani & Devine Meet the Apocalypse" (also showing on Saturday, July 29). An existential, apocalyptic road movie, the film is funny from the first frame. It's smart and original, written and directed by romantic and comedy partners Etta Devine and Gabriel Diani who play themselves trying to make it in show biz against all odds — in this case, the end of the world.
Updating the comedic riffs of Burns and Allen by way of Beckett's Didi and Gogo, the duo crisscrosses a barren landscape mining comedy gold, from country club cannibals to closeted psycho homophobes. Look out for a slew of familiar faces from film and TV.
---
'California Typewriter'
And don't miss a documentary love letter to yet another type of extinction: "California Typewriter" (screening on Friday, Aug. 4). The film zeros in on folks obsessed with typewriters — those who collect, repair and create on this artifact displaced by the PC in the early '80s. That group includes actor Tom Hanks, musician John Mayer, playwright Sam Shepard and historian David McCullough.
They talk about the tangibility of flying ink on paper, and the unleashing of the creative process through the almost living organism of the typewriter. Collectors and repairers let you into their fascination; one artist reassembles spare typewriter parts into extraordinary mechanistic sculptures; but perhaps the most unusual expression of the machine finds itself in the Boston Typewriter Orchestra. By the end we agree: "The revolution will be typewritten."
---
Local Selections
This year, there are 18 films focused on New England including the world premiere of "Off Season," a horror thriller shot on Martha's Vineyard with a performance by Sosie Bacon (Kevin Bacon and Kyra Sedgwick's daughter), and "Saving Sea Turtles: Preventing Extinction," focusing on the thrilling rescue of 1,200 endangered ridley sea turtles in a record-breaking stranding on Cape Cod in 2014. (You could also see that film at the New England Aquarium's Simon's IMAX Theatre in Boston throughout the summer.)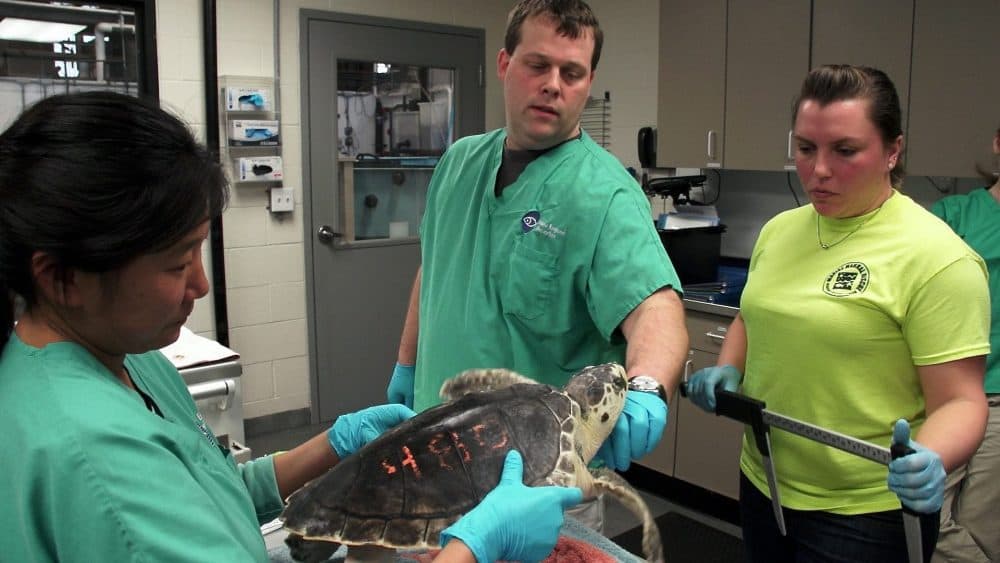 Film festivals are of course about more than just the films; they're about ideas, conversation and networking. Woods Hole Film Festival — of which WBUR is a media sponsor — fleshes out its screening schedule with panel discussions, workshops, masterclasses and post-screening Q&As with over 100 filmmakers in attendance. And it wouldn't be a festival without live music and activities for children if you want to take the family — this year, Woods Hole is celebrating its 10th annual kids day on Sunday, July 30.