Blondie Didn't Expect To Be Making Music More Than 40 Years On
We all know how fascinating urban legends can be, and rock 'n' roll has its share of them.
Consider Blondie, the punk-pop band which emerged from the gritty New York scene of the mid-1970s. There are stories circulating that Blondie took its moniker not from the blond locks and alluring look of singer Debbie Harry, but from what Adolf Hitler named his pet dog.
Blondie's co-founding guitarist-songwriter and Harry's former paramour Chris Stein says it ain't so.
"It was just from what people yelled at Debbie," says Stein. "Debbie came home one day with her hair dyed blonde and then told me within a week or so truck drivers were yelling, 'Hey, Blondie!' at her all the time. The Hitler's dog thing? I don't know if I knew about that [then]. There's no 'e' on Hitler's dog's name; it was B-l-o-n-d-i."
But now the band Blondie has become a legend in its own right. More than 40 years after it emerged on the New York scene, they're still touring — and not only are they still touring, they're still touring with new music.
"The biggest question we get these days," says Stein, "is 'Did you think you'd be doing this in 40 years back then?' To which the answer is, 'Nobody thought about it.' It was always in the moment. Maybe I think of that stuff now, but we're in a different period. Maybe there's a little more cognizance and awareness of the historical aspect of everything now, but back then, no."
Forty years ago, as the Ramones blitzed through sets at the New York club CBGB and Television played bruised, twisting, artful music, Blondie played witty, hooky pop. They took the "girl group" pop sound of the mid-'60s and gave a knowing '70s twist.
"Everybody influenced each other in the New York scene," Stein says, on the phone from Santa Barbara, California, "and it was great. Television, the Ramones and Talking Heads, the people around us. There was a nice back-and-forth that went on for four or five years before there was any attention."
When Blondie first got rolling, to counter the misconception that the band was a solo act, their record company, Private Stock, rolled out a "Blondie is a Group" campaign.
Harry sang these punchy, sometimes risqué, pop songs. Private Stock forced them to change the title of their debut single, "Sex Offender," to "X Offender." (The song had the singer falling for the bad guy.)
Harry sang "Look Good in Blue" and "One Way or Another" with a mix of sass and diffidence. She was hot and enticing — yet just out of reach. An early advertisement posed a pouting Harry and the tagline "Wouldn't you like to rip her to shreds?" — playing off Blondie's song "Rip Her to Shreds," in which Harry's character fantasizes about demolishing a rival.
In the 1982 book "Making Tracks: The Rise of Blondie," Harry wrote: "The initial idea was to be desirable, feminine and vulnerable, but a resilient, tenacious wit at the same time, rather than a poor female sapped of her strength by a heartthrob and unrequited love. ... When Blondie did finally hop out on stage as a character she would try to be bisexual or asexual, and a lot of times she would see and do things from the point of view of a third person."
All this was pre-Madonna. It's no leap to say the young Madonna took what Harry forged and brought it to the mainstream.
Before she was a cover girl for national glossies, Harry was the cover girl for the iconic underground magazine Punk. She was the sex bomb in total control, the girl who accepted the position with a nod, a wink and maybe a middle finger. Still, there were some unwanted extras that came with the job.
"Being constantly asked 'How does it feel to be a sex symbol,' that kind of stuff," says Stein. "Now, I think she's a little more comfortable with the stuff that gets laid on her than she used to be. I think we just try and present the positive outlook and the fact that Debbie is two years older than the f------ president and still represents the youth culture and the fun outlook on life - [that] means something."
In the '80s, Stein suffered from pemphigus, a rare autoimmune skin disease that was life-threatening. He recovered, with Harry's nurturing aid. The group has gone on hiatus at various points and has been through various lineup changes. There are nine ex-members and their history is dotted with acrimonious exchanges and lawsuits from former members and management.
Now, the three original members are joined by bassist Leigh Foxx (who has been with Blondie 20-plus years), keyboardist Matt Katz-Bohen and guitarist Tommy Kessler, the latter two Stein calls "the younger guys and tremendous assets." The power of Blondie, Stein adds, "is a little more than the sum of its parts."
The downside to life on the road at this age — Harry is 72, Stein is 67 and co-founding drummer Clem Burke is 61 — "is just physical s---," says Stein, "getting older and having it be more tiring. But beyond that, I like it. I like the digital era and I like modern pop music. I don't know if I would trade all my experience necessarily for being 20 if it meant losing all the experience, but certainly if I could be 20 and have all this experience, it'd be really great."
But is Blondie still considered a key part of pop culture? Marvel Comics thinks so.
"In September," Stein says, "they're doing some of the Marvel characters based on legacy acts album covers — there's Nirvana's, Guns N' Roses and our 'Parallel Lines.' It's the X-Men [posing] as [we did on] the 'Parallel Lines' cover, which is awesome."
Blondie was a groundbreaking band. In 1978, they knocked the punk world for a loop with semi-disco songs "Heart of Glass" and "Call Me," two tunes Stein says are main staples of their set. Their sly "Rapture" was one of the first rap hits by a white act. And with 1980's "The Tide Is High," Blondie brought slinky Caribbean rhythms and untainted optimism.
Blondie headlines Blue Hills Pavilion on Sunday, July 30. Garbage is opening the show, and their singer, Shirley Manson, introduced Blondie for their Rock & Roll Hall of Fame induction in 2006.
In concert, Blondie won't just be bringing nostalgia. They released "Pollinator," their 11th studio album in May. It's a strong effort and Stein says they try to work four or five of those new songs into the set.
"We knew going into [it] we needed to do a more band-oriented record and [St. Vincent's 2014 Grammy-winning producer] John Congleton was exactly the right guy and had the good grasp of it. … By the way audiences are responding, the new songs seem to integrate well. In London at the Roundhouse, people were singing along with 'Fragments,' which kind of blew my mind."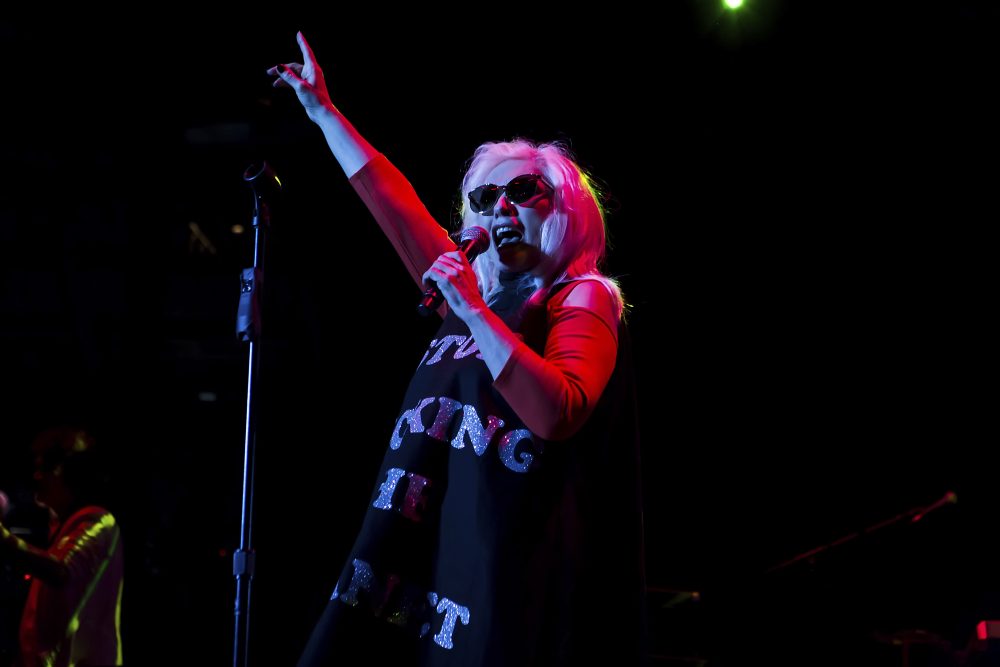 As for Harry on stage these days, "Debbie doesn't throw herself around as much, but she's still really selling it," Stein says. "I feel like a lot of our other abilities are better than ever, too."
When you consider a veteran band playing songs from their catalog in concert, you wonder if the songs mean as much as they once did.
"Somewhat," says Stein, candidly. "There's different aspects, figuring out the live versions of the songs. It's different than just trying to replicate what's on the record. It's a whole other animal. The live version of 'Heart of Glass' went through many different iterations before it ended up where it is. We were playing different things and little guitar riffs got replaced by sort of stadium-rock guitar chords, that Paul [Carbonara], our previous guitar player, invented.
"It's more of a relationship with the hit songs that everybody knows at this point. Every now and again, we drag up some older, deep album tracks, but at this point it's more about doing stuff people recognize, songs that they've been hearing their whole lives and then putting in the new material in a limited way. The set is always evolving, with us changing things around and seeing how people react. And there's disagreements about what works and doesn't work."
Consider the fact that Blondie still exists — makes records and tours — an unexpected pleasure. They didn't expect it and certainly most fans didn't. Blondie specialized in the ephemeral joy of pop music and they had their heyday, crawling out of clubland and into to the arenas.
If they're on the downslide of life as band, well, that makes sense. This thing started rolling 43 years ago. That they're not just playing out the string — and are playing Blue Hills Pavilion with another strong, female-fronted band in Garbage — is a reason to be cheerful.