5 Films From 1967 To See In The MFA's 'Summer Of Love' Series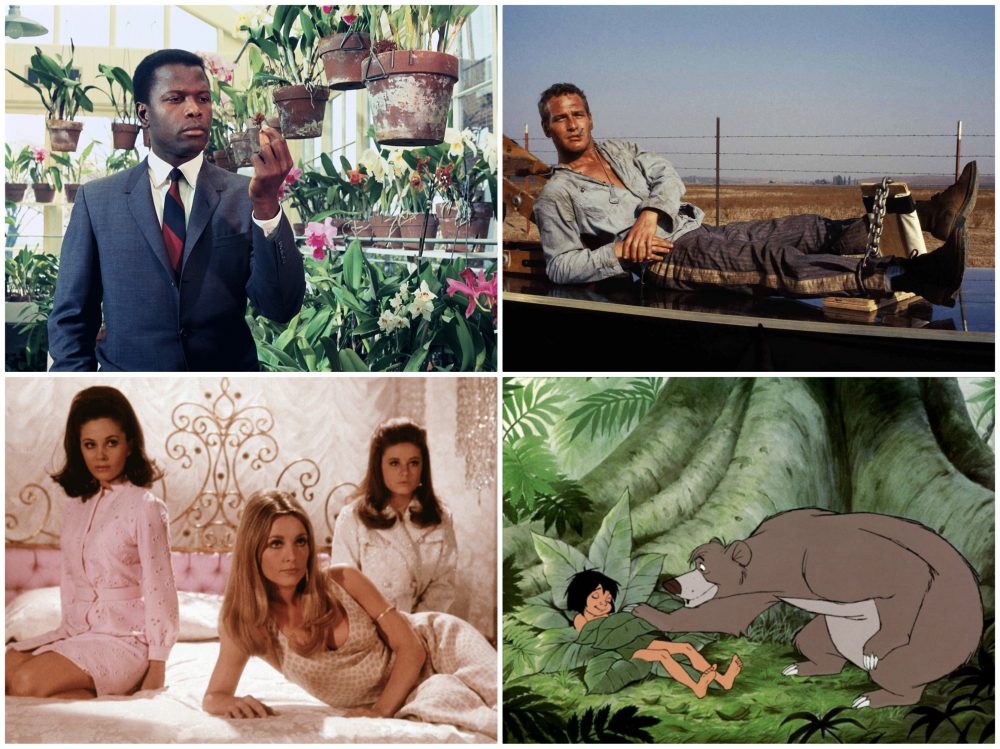 This article is more than 5 years old.
Fifty years ago, now-iconic films like "The Graduate," "In the Heat of the Night" and "Guess Who's Coming to Dinner" were just released into the world, obliquely reflecting the unrest and racial tensions of the times. Vietnam War protests were breaking out on college campuses and race riots were igniting in the streets — most notably in Detroit (now the subject of Kathryn Bigelow's excellent film, mostly shot here).
The mid-'60s marked a shift in American idealism as the "Ozzie and Harriet" period of prim moral perspective ceded to the civil rights movement fallout. It was also a time that predated the concept of a studio blockbuster — "Jaws" wasn't even a novel yet and "Star Wars" might have only been marinating in George Lucas' mind — when artistic idealism and risk wasn't actively corralled by bottom lines.
Such films are part of the Museum of Fine Arts "Feed Your Head: Films from 1967," which runs from Friday, Aug. 11, through Sept. 2. The program is intended as a loose accompaniment to its "Summer of Love" exhibition of posters, photographs, culture art and album covers (which runs until Oct. 22).
The 11 eclectic selections include three Best Picture nominees (one of which took the Oscar home), nine other Academy Award wins and popular mainstream staples like the fifth James Bond entry, "You Only Live Twice" (scripted by "Charlie and the Chocolate Factory" scribe Roald Dahl), the great misfit war mission "The Dirty Dozen," and the animated Rudyard Kipling classic "The Jungle Book," as well as the trashy era keepsake "Valley of the Dolls."
The series is a poignant reminder of the times and a showcase of timeless talents laboring onscreen and behind the camera. Here are five highlights:
Rightful winner of Best Picture in 1968, "In the Heat of the Night" sparked a mainstream conversation about the racial divide after the civil rights movement and remains hauntingly germane today. Adapted from John Ball's illuminating 1965 novel, the film was nominated in seven categories and took home five Oscars — including Best Actor for Rod Steiger, who was up against Paul Newman, Warren Beatty and Dustin Hoffman.
While he was not nominated, the film hangs squarely on Sidney Poitier, who portrayed black detective Mr. Tibbs investigating a murder in a racist Southern dorp. Though set in Mississippi, it was filmed in Illinois because Poitier insisted after an incident where he and Harry Belafonte were targeted by the Ku Klux Klan during a charity event. It was a busy year for Poitier, who also appeared alongside Spencer Tracy in the interracial marriage comedy "Guess Who's Coming to Dinner," and the tough-love teacher drama "To Sir, with Love."
---
Hard to say which is Paul Newman's best performance, but this one's high on the list along with "The Verdict," "The Hustler," "Butch Cassidy and the Sundance Kid" and "The Sting." The film is based on a novel of the same name by Donn Pearce, himself a convicted safecracker who spent time on a chain gang and learned of a legendarily cool guy named Luke through jailhouse lore. Allegedly, Pearce didn't think Newman was quite right to play Luke — clearly a miscalculation — and Jack Lemmon and Telly Savalas were considered for the part.
Luke maintains defiant resistance against "the man" and the system that was taking root at the time. Beyond Newman as the irrepressible convict with an iron will, the impressive cast included George Kennedy who won an Oscar for Best Supporting Actor, regular Sam Peckinpah player Strother Martin who issues the infamous line "What we've got here is a failure to communicate" with Southern authoritarian charm and Clifton James who would go on to score fame as the redneck cop in a handful of Roger Moore's James Bond films. Dennis Hopper and Harry Dean Stanton round out the cast.
The Thursday, Aug. 17, screening of "Cool Hand Luke" is the only one in the series that is free and will be held outside on the MFA's Huntington Avenue Lawn. A DJ will spin soul and blues tunes of the era before the movie starts, and beer, wine and snacks will be available for purchase.
---
Considering the 1968 Academy Awards marked the end of separate categories for color and monochrome cinematography, art direction and costume design, it was a bold choice to shoot the real-life murder confessional, "In Cold Blood," in black and white. But Conrad Hall, who also filmed "Cool Hand Luke," was nominated for his effort as director of photography. The famous and widely lauded scene where mass killer Perry Smith, played by Robert Blake, reflects upon his life as drops of rain cascade against a window pane was more a result of circumstance and weather than intentional artistic design.
The cold detachment of the killers gets brought to the screen chillingly by Blake (who would ironically go on trial for murder some 37 years later) and Scott Wilson in award-worthy turns. Newman and Steve McQueen were sought for the roles, but were otherwise engaged.
The film's intimate insight into the gruesome act and the psyches that perpetrated it comes from Truman Capote's book, which arguably defined the non-fiction narrative. Much has been said about the emotional toll interviewing Smith on death row — the focus of Bennett Miller's 2005 film "Capote" — had on Capote. The author would never complete another book after.
---
The defining film of director Jean-Pierre Melville's career packs it all in: suave French gangsters, trendy trench coats and fedoras and, of course, Alain Delon. Melville was born with the last name of Grumbach but changed it to reflect the "Moby Dick" author during his participation in the French Resistance during World War II. He influenced many of the great directors who were part of the French New Wave (he has a small part in Jean-Luc Godard's "Breathless"), though his work, while contemporary, didn't quite mesh with the movement's aesthetic context.
In "Samouraï," the handsome Delon plays a tacit hitman (there's no dialogue for almost the first 10 minutes of the film) who carries out a contract and gets caught between a diligent police effort and handlers trying to play him. The cinematography by Henri Decaë is a crisp, scrumptious palette that plays against the dark underworld Delon's "samurai" inhabits. Melville would only make 14 films — but they defined the French gangster genre and influenced the likes of Martin Scorsese, Quentin Tarantino and the Coen brothers. Besides "Samouraï," "Le Doulos" and  "Le Cercle Rouge" are must-see Melville gangster fare. Even Melville's bleak rendering of Joseph Kessel's novel about the French Resistance, "Army of Shadows" (1969), feels like an underworld saga, even if those operating in the shadows are on the side of the righteous.
---
This is the most psychedelic and Summer of Love-y of the lot. Directed by Roger Corman from a script by Jack Nicholson, "The Trip" is pretty much what it sounds like: an LSD ride by disaffected TV commercial director Paul Groves (Peter Fonda) looking for answers after his wife (Susan Strasberg) has an affair. Bruce Dern and Dennis Hopper play Paul's friends who try to set him up for a safe trip. Inside Paul's head, we get a medieval-attired midget and dark-cloaked figures on horseback charging after a beauty in a meadow. The trip is anything but smooth, underscored by Corman's effusive use of flash cutting and a mood emulating score by Electric Flag, which ranges from psychedelic cool to paranoid pulsing.
Nicholson, at Corman's behest, leveraged his own experiences taking acid. (He also happened to be going through a divorce at the time.) Fonda and Corman allegedly took acid to prep for the film, while Dern was quite against drug use at the time. "The Trip" was the only American film selected for Cannes that year and marked one of many Corman collaborations with Nicholson, Hopper and Fonda, whose careers he helped launch.