Future Of Commuter Rail Wi-Fi Improvements Uncertain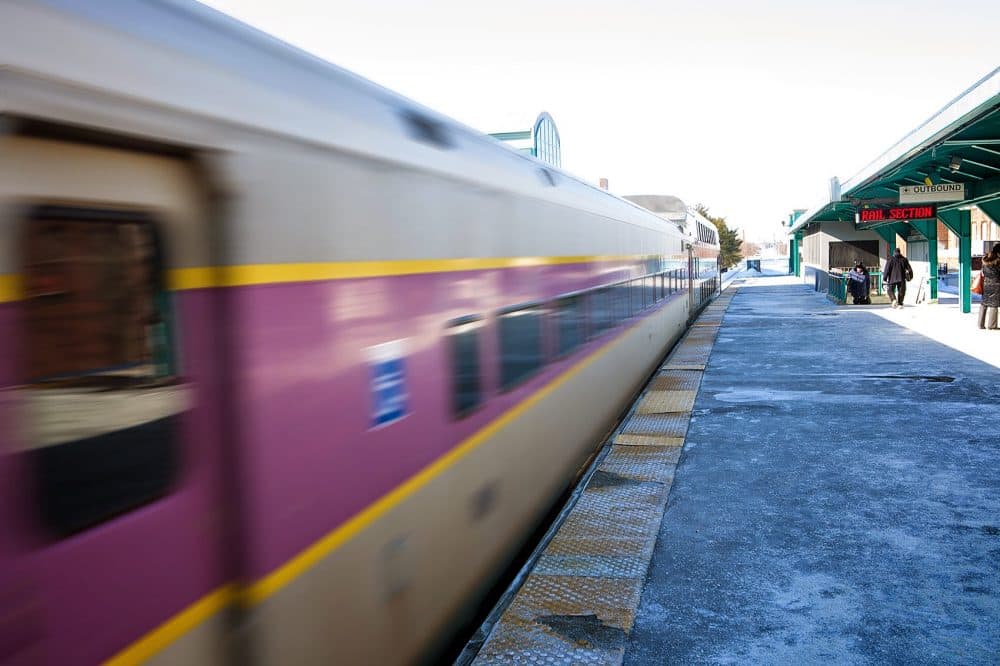 This article is more than 3 years old.
The long and so far fruitless effort to bring steady wireless service to tens of thousands of MBTA commuter rail riders took an uncertain turn on Thursday, but one that will likely appeal to some elected officials and rail system abutters.
The agency announced that it has notified its vendor, BAI Communications, that it will not approve its plans, citing public concerns over possible impacts of 320 monopoles planned along the rail line rights of way. The 70-foot monopoles are "not consistent with the license agreement," the T said.
In a letter Thursday to BAI Communications U.S. CEO Jerry Elliott, MBTA Interim General Manager Steve Poftak said concerns over the impacts of the monopoles on historic sites and community character were "valid."
Poftak also indicated that other major MBTA priorities may further delay the wi-fi project, since the license agreement permits work on the project to be stopped or delayed in response to transportation system or public safety needs.
"Implementation of the Wi-Fi project at this time cannot be undertaken consistent with the MBTA's transportation system and safety needs," Poftak wrote. "At present, the MBTA must necessarily focus on the federally-mandated and time-sensitive positive train control project as well as the Green Line extension project, and activities on the right of way in support of the License will be delayed accordingly."
The positive train control project involves installing equipment designed to prevent train crashes.
The MBTA has invited BAI to submit a new implementation plan, and the agency announced "it is no longer necessary" to discuss the project at an Aug. 14 meeting of its Fiscal and Management Control Board. "Therefore, the Board will not be accepting public comment on the project," the agency said.
The MBTA said the license anticipated "a more modest project involving the use of 'short monopoles' or 'existing light poles' to provide Wi-Fi, with only 'excess space' available for lease to third party communication providers. BAI's current proposal would double the size of every pole (and install an extensive fiber network) for the purpose of creating infrastructure to lease."
In July 2014, the MBTA announced plans to build a $5.6 million system to expand and improve wireless connectivity access on 14 commuter rail lines and boat lines and at South, North and Back Bay stations. Former MBTA General Manager Beverly Scott signed a 22-year licensing agreement with inMOTION Wireless Inc. and the T said at the time that it expected the state-of-the-art system to be in place within 18 months, or around the start of 2016.
"This is a very exciting time for our Commuter Rail system," Scott said in a statement at the time, asserting the system would be built "at no cost" to the MBTA or its customers. "While the introduction of new locomotives and new coaches will continue to improve on-time performance rates, customer service initiatives like WiFi and eTicketing make the overall commuting experience an even better one."
While fares have been raised since that announcement, the promise of smooth wi-fi service has remained unfulfilled, disappointing thousands of customers who experience spotty service on their daily commutes and are often frustrated in their attempts to conduct professional or personal business while traveling.
State officials on Thursday were unable to provide a new estimated completion date for the wi-fi project.
Australia-based BAI Communications announced in March 2017 that it had acquired inMOTION.
The MBTA has not made any payments to either BAI Communications or inMOTION, an MBTA spokesman said Thursday.
In July, members of the Massachusetts Congressional delegation urged the Federal Communications Commission to consider the impacts of monopoles rising above the tree lines on "the historic and cultural character of the involved cities and towns."
Also last month, Gloucester Sen. Bruce Tarr and Ipswich Rep. Brad Hill began circulating a letter to their colleagues who represent 60 communities scheduled for monopole installations. Tarr alleged that Scott had failed to inform communities about plans to install the "74 foot towers" that would be located near wetlands, residences and historic districts and which do not comply with local zoning bylaws.
"My colleagues and I know that once these towers are installed they will leave permanent and protuberant impacts on the landscape; if protections can't be secured from the existing terms then they should consider issuing requests for new proposals," Tarr said on July 26.
Andover Democrat Rep. Barbara L'Italien praised the MBTA's decision.
"This is a huge win for Andover and communities across the state," L'Italien said in a statement. "Since May, I have heard from hundreds of my constituents and have led a coalition of local, state, and federal partners to oppose this project. This decision will preserve property values, public health, and is a testament to the power of local activism."