State Officials 'Encouraged' By Drop In Overdose Deaths
Many public health experts in the United States say the opioid epidemic has not peaked, and they predict the number of deaths will continue to rise for at least three or four more years. But Massachusetts may be bucking the trend.
A quarterly report out Tuesday shows an estimated 5 percent drop in overdose fatalities in the first six months of this year, as compared with the same period in 2016. That would be 53 fewer deaths.

The Baker administration points to other signals the crisis that is killing nearly six Massachusetts residents a day is on the wane:
The number of 911 calls involving opioids has not increased in the last nine months.
Doctors wrote 204,000 fewer opioid prescriptions in the second quarter of this year, as compared to the beginning of 2015, a 28 percent decline.
And the death curve is still rising, but not as fast it did in 2015 (31 percent) or in 2014 (40 percent):

"We are encouraged by some of the signs of progress we see in this report," state Public Health Commissioner Monica Bharel says. "What keeps me hopeful is that never before in the commonwealth have we devoted so much time, effort and resources to addressing substance use disorder for the disease it is and I'm confident that this will pay off in the long run."
Some public health experts say the data suggests something different is happening in the state.
"I wouldn't be surprised if Massachusetts started to turn the curve first because we've also been one of the most aggressive states in pursing a wide range of policies as soon as possible," says Dr. Michael Barnett, an assistant professor at the Harvard T.H. Chan School of Public Health.
Barnett points to data, for example, that shows the decline in opioid prescribing is tied to use of the state's new Prescription Monitoring Program. The state reports a 46 percent decrease in the what's often called doctor-shopping.
Here it's defined as patients who received one or more opioid prescriptions from four or more doctors or pharmacies in one year: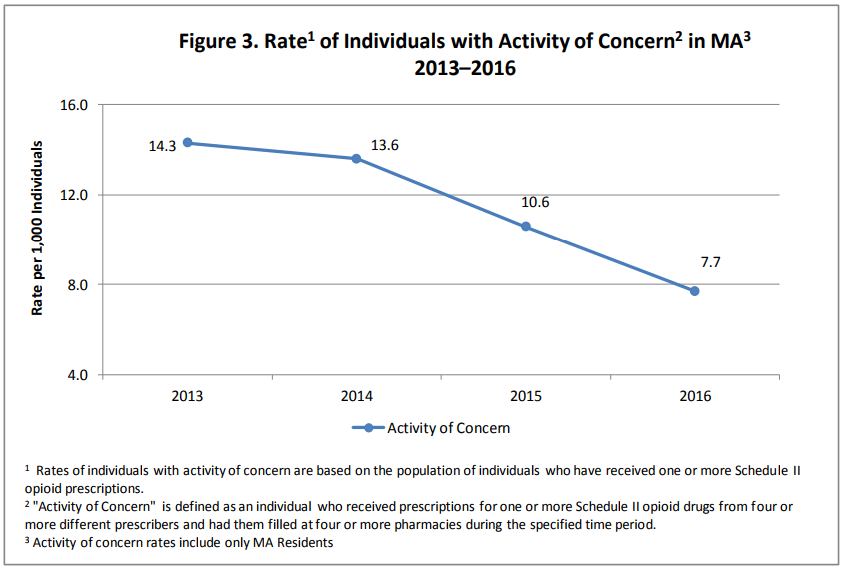 "[But] overdose death rates are still increasing," Barnett point outs. "There's no reason to start declaring victory or slow down our efforts. We don't know when the peak is going to come."
There are other reasons to worry.
The number of men and women who overdosed on fentanyl keeps going up. The synthetic opioid, often manufactured in illegal labs, was detected in 81 percent of deaths between January and March this year.
And a steady percentage of drug users who die take a benzodiazepine to prolong their high. Many public health experts say doctors need to be more careful about prescribing Xanax, Klonopin or Valium because these pills are often resold on the streets.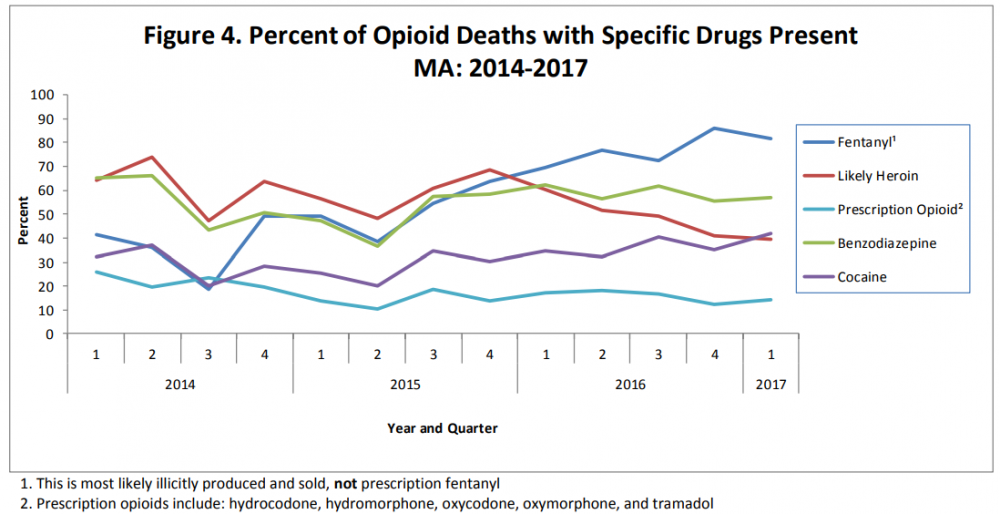 White residents in Massachusetts continue to die after an opioid overdose at a much higher rate than other groups (82 percent of all overdose deaths), but the death rate for Hispanic residents climbed 54 percent from 2015 to 2016.
The state expects to confirm 2,107 opioid overdose deaths last year. The Baker administration says it's the sharpest spike in any single category of deaths since the HIV/AIDS epidemic of the 1980s and '90s.