Mass. Lawmakers Debate Supervised Injection Facilities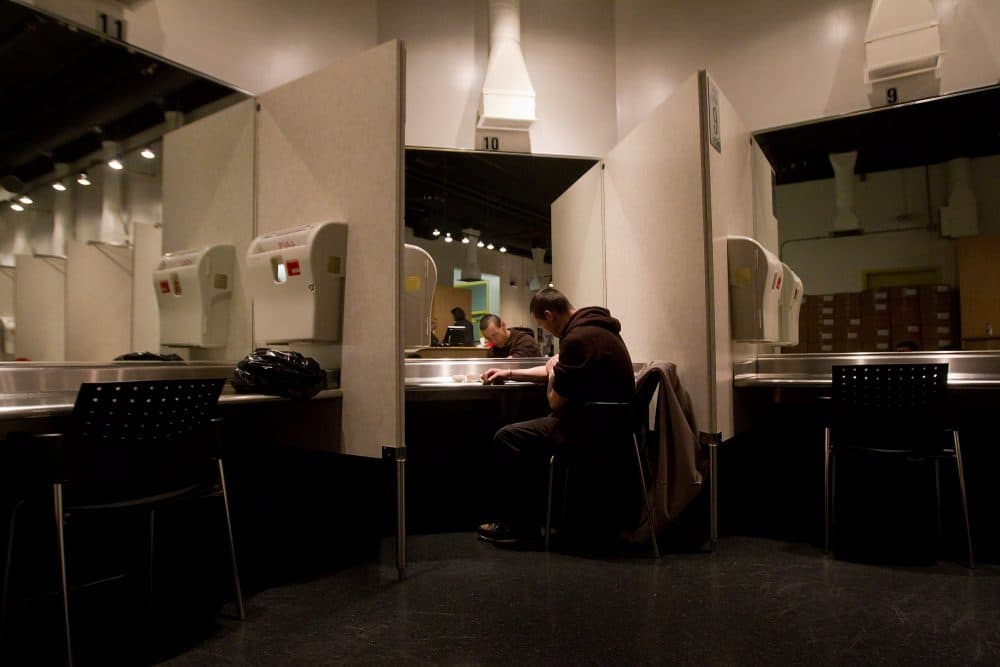 This article is more than 5 years old.
Lawmakers on Beacon Hill are considering a plan to curb opioid overdose deaths that many never thought they'd see discussed.
The bill would authorize places, sometimes called supervised injection facilities (SIFs), where drug users could swallow, snort or inject illegal substances while monitored by a doctor or nurse. There are no such clinics in the U.S., although a few cities, counties and states are reviewing proposals.
Here's what the bill says:
(a) A "safer drug consumption program" provides a space for people who use drugs to consume pre–obtained drugs under the supervision of healthcare professionals or other trained staff and may provide other related services including but not limited to needle exchange, overdose prevention, and referrals to treatment and other services.

(b) The Department of Public Health may approve the implementation of safer drug consumption programs in cities and towns. Prior to implementation of a of safer drug consumption program, approval shall be obtained from the Board of Health in the hosting city or town. The city or town shall, in a manner determined by the Department, provide notice of such approval to the Department.

(c) Not later than one year after the implementation of a safer drug consumption program, the Department shall report the results of the program and any recommendations by filing the same with the senate and house chairs of the joint committee on health care financing and the house and senate chairs of the joint committee on public safety and homeland security.
Supporters dominated the first public hearing Wednesday on the bill in Massachusetts, which lasted just over three hours. Mothers who've lost sons and daughters to an overdose told members of the Joint Committee on Mental Health, Substance Use and Recovery they believe their child would still be alive if Massachusetts allowed SIFs.
"Please show us that our children's lives matter," said Melanie Foster. "Please take this step to stand up and save our children's lives."
Some committee members said they were particularly moved by the testimony of active drug users.
"I used to use behind a closed door with no Narcan, no friend to call because stigma tells me people either want me sober or dead," said Andi-Mae Michelle, of Gloucester. She's not currently using heroin, but said, "if I did, wouldn't you want me to use safely? Wouldn't you want me to have a place where I could go and do that and not die?"
One nurse said SIFs are just wrong.
Brianne Fitzgerald, a nurse with 45 years experience treating patients with substance use disorders, says "no good ever comes from injecting heroin." She calls SIFs "end-stage care for addicts."
Fitzgerald says she's heartbroken that "the bar for treatment has become so low. Supervised injection is just a bad use of resources," Fitzgerald said. "It's paternalism at its worst."
Members of the Massachusetts Health & Hospital Association (MHA) testified in favor of the measure.
"MHA believes healthcare providers have a moral obligation to help patients remain alive and healthy until they can choose recovery," Steven Defossez, vice president of MHA's clinical integration, wrote in a statement. "SIFs can help accomplish this goal by reducing or eliminating the risk of overdose death and helping reduce transmission of viral diseases such as HIV and hepatitis."
Several Boston city councilors and state Sen. Linda Dorcena Forry told the committee that if they agree to allow SIFs in Massachusetts, Boston would not want to open one.
"Other cities and towns need to do their part, need to open more treatment programs and methadone clinics," said Dorcena Forry.
Business and neighborhood groups in the South End say their members are already overwhelmed by drug use near the intersection of Massachusetts Avenue and Melnea Cass Boulevard, where drug users can find a needle exchange program, a methadone clinic, a shelter and a recovery home within a few blocks. Needles litter the streets and some users inject and overdose on the sidewalks.
"Why are we not spending every single second on this?" asked an exasperated Sue Sullivan, director of the Newmarket Business Association.
Sullivan questions whether SIFs are successful. She points to data from a SIF in Vancouver that shows just 4 percent of clients completed treatment.
But supporters say 4 percent should not be dismissed, pointing out that a SIF is not a treatment facility. The goal is to stop overdose deaths. Almost six men and women are dying, on average, of an overdose in Massachusetts every day. The Vancouver clinic reversed 768 overdoses in 2015.
The bill's sponsor, Sen. Will Brownsberger, says the state has to consider new ways to keep drug users alive as ever-stronger forms of opioids hit the streets.
"The reality is that fentanyl has changed the equation fundamentally," Brownsberger said. "Now every time someone shoots up, they are taking great risks because no one knows what's in the drugs they buy."
Brownsberger says he's open to testing mobile SIFs in vans, or talking to hospitals about whether they would host a SIF.
"We need to explore all kinds of models," he said, "placing SIFs where they would be used."
Correction: An earlier version of this story used an incorrect pronoun for Andi-Mae Michelle. The story has been updated. We regret the error.
This article was originally published on September 07, 2017.