Another Mural Pops Up In Boston — This One Painted Almost Entirely By Women
This article is more than 5 years old.
With brushes and rollers, women stand on ladders and crouch near the ground to apply bright paints to a dreary concrete wall along the Esplanade. A lot of women, actually.
"Some people stopped to ask if it was an all-female construction crew," says local artist Silvia López Chavez.
It's not.
López Chavez and her crew of almost 40 assistants and volunteers, most of which were women, are creating a mural called "Patterned Behavior," the first commissioned public artwork on the Esplanade.
Located on the bike path underpass just west of the Mass. Ave. bridge, the mural was commissioned by the Esplanade Association, a nonprofit that works to revitalize the state park, in conjunction with Now + There, a nonprofit organization that finds opportunities for artists to create public works throughout the city. It was privately funded and will stay in place for at least a year, possibly three.
López Chavez, who has been painting murals for nearly seven years, is grateful for the opportunity to design such a public piece. But she's even more grateful that she can share the experience with other female artists.
"This is a great opportunity to showcase female artists who are doing this work," she says, "and to show everyone that, yes, there are really good artists here in Boston and beyond that are female doing really good work."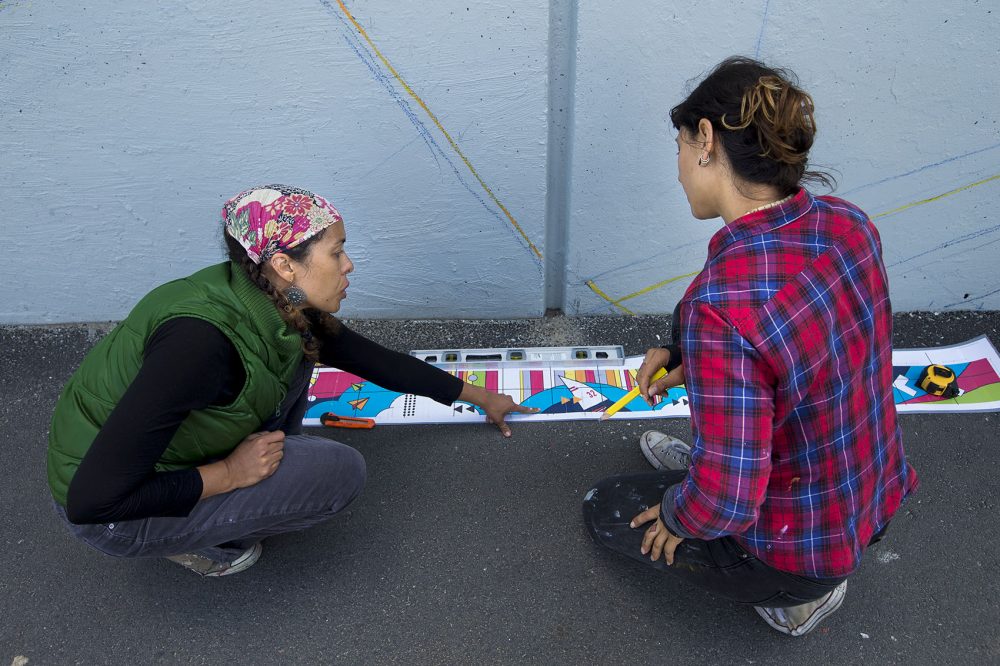 She has connected with other women who do similar work -- or want to. But it takes more than desire.
In López Chavez's experience, murals are often seen as a man's job. That's mostly because of the physical challenges involved, but also because women working on the streets can face harassment, factors that may discourage the organizations that commission work as well as the women themselves.
So women get less mural work, then find it hard to grow their portfolios, and so are overshadowed by their male counterparts, López Chavez says.
When opportunities do arrive, she says, they tend to be "given to the people who have that amazing big portfolio, which are mostly male."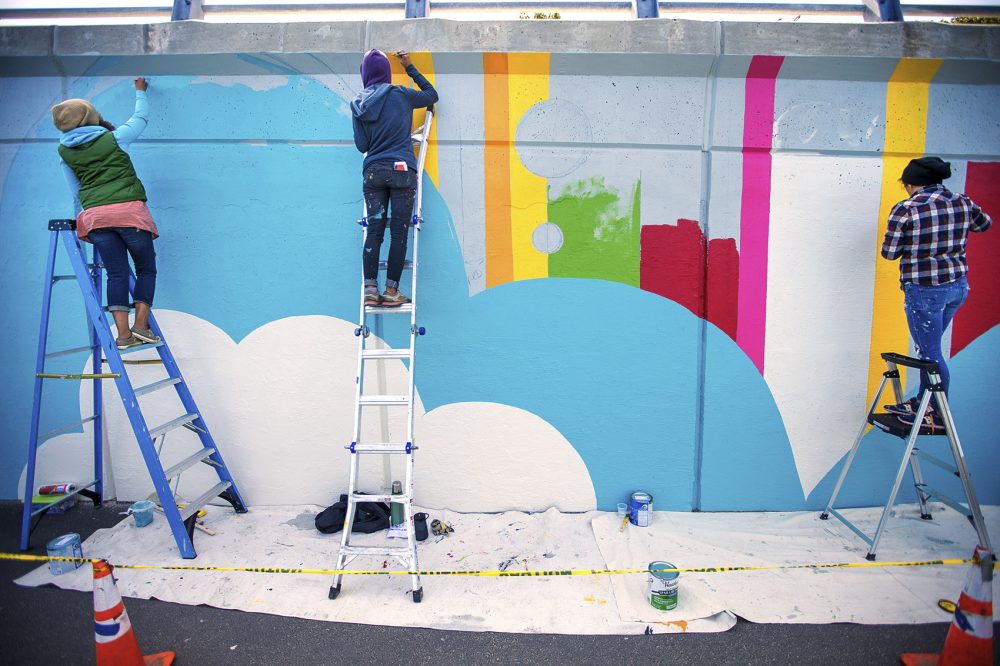 It's a cycle that's hard to change.
But Kate Gilbert, executive director of Now + There, wants to try.
She's bringing women to the forefront of the public arts sphere through Now + There's "Year of the Woman" program. López Chavez is the project's second featured artist; the first, Detroit-based Ann Lewis, created a mural in Boston's South End.
Gilbert says the idea was a reflexive response to the presidential election. She saw an opportunity, she says, to rekindle discussions about feminism and the gender imbalance of the public art world.
And Gilbert did it the best way she knew how: For a year, she would select only women to participate in commissioned works.
But it's not just about showcasing female artists; the "Year of the Woman" program is also about improving the environment for them.
"It's the idea of women supporting other women, especially women that have not been heard or are unrepresented," Gilbert says.
That resonates with López Chavez as she paints alongside Gilbert and some enthusiastic volunteers.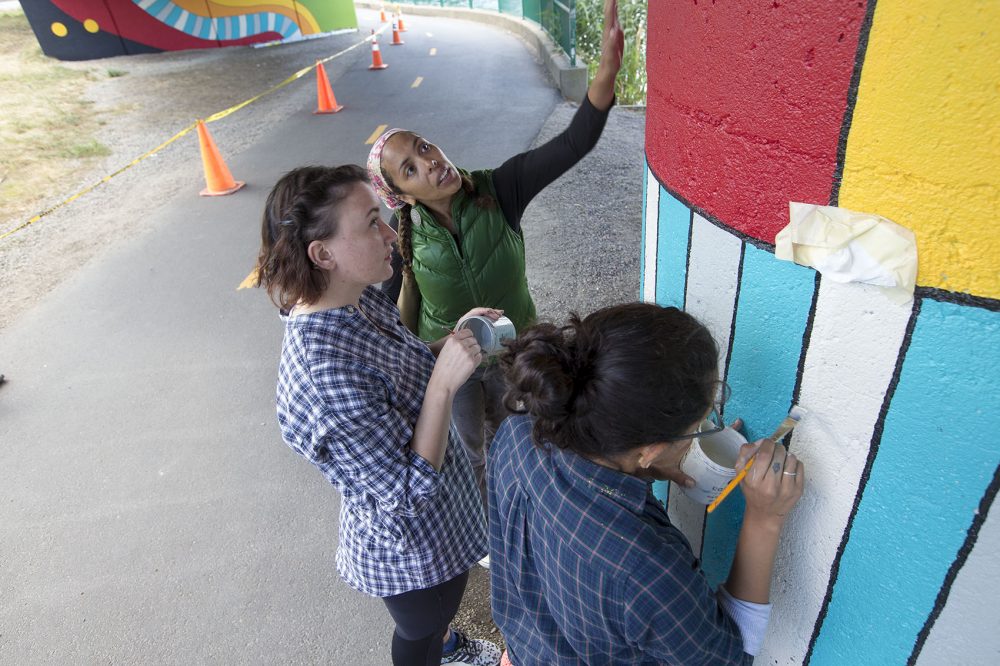 "Having this network of people around you, and then especially other women who are really pushing boundaries, who are questioning things, who are moving things towards a really positive good direction here in this city, it's empowering," says López Chavez.
And it's something López Chavez never takes for granted. She's grateful to the paid assistants-- including some curious passersby who wanted to take part -- for helping her finish the mural sooner than she'd expected. While the six paid assistants and most of the volunteers were women, there were a few men who wanted to help. She was putting the finishing touches on it on Monday and plans to return "a few times this week," she says, to add clear protective coats.
"One of the things that I love about this project," she adds, "is that it's inspiring other women and muralists to make more work."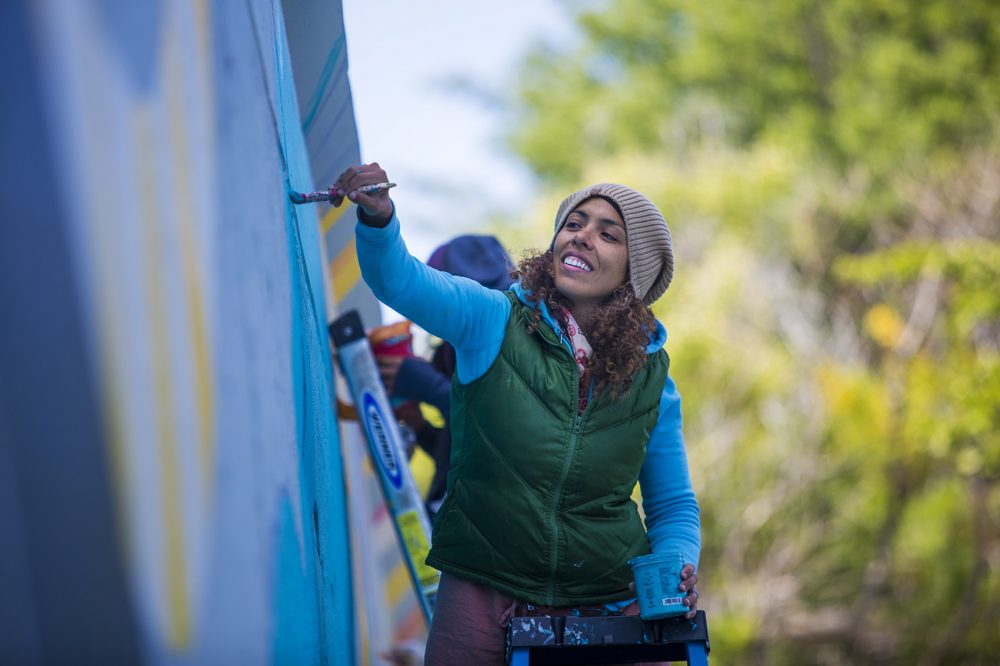 Born in the Dominican Republic, López Chavez came to Boston to finish her art education at the Massachusetts College of Art and Design. Soon after she graduated, she began working in the art world.
Her Dominican roots are evident in her color palette for the mural. Bright aquas, yellows and oranges make a strong contrast to the solemn grays and subdued browns she's observed throughout New England. And they bring a fresh look to this dark section of the bike path, often riddled with graffiti.
Jessica Crimmins, interim executive director of the Esplanade Association, hopes the mural will bring art and culture lovers to the spot.
And López Chavez hopes her work will inspire more women to create -- and build a connection to the mural for all Boston residents.
"Whether they're going super fast on their bikes coming from and to work, or they're going on their walks or runs over the weekend," she says, "I'm hoping people can enjoy it and feel that this is theirs."