Under Maria Friedman's Deft Direction, The Huntington 'Merrily' Rolls Along
From the opening chords of the overture, the Huntington Theatre Company's production of "Merrily We Roll Along" unfolds with a charisma that disarms, and then utterly delights.
All the baggage associated with the Stephen Sondheim-George Furth "problem musical" dissipates under the strength of Maria Friedman's direction, that lush score and the unadorned performances from this stunningly talented cast.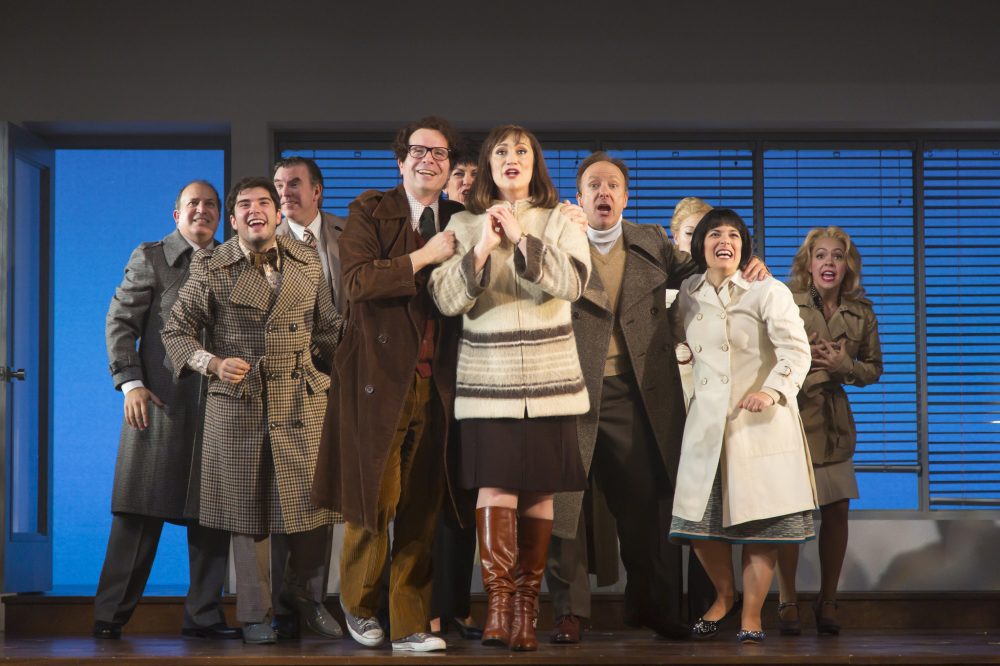 It should come as no surprise that Friedman comes to directing from a career as a much-celebrated musical theater performer in England. This production of "Merrily We Roll Along" recreates the award-winning revival she directed in London in 2012. She brings an actor's sensitivity to the emotions that drive a song. And drive she does, with each song and scene building on the next with increasing urgency until the final number feels like a communal catharsis and celebration of new beginnings.
That final uplift is even more extraordinary since the musical's plot spins backwards. Mary Flynn (Eden Espinosa) is a writer, Franklin Shepard (Mark Umbers) is a composer and Charles Kringas (Damian Humbley) is a lyricist and playwright. All three met in New York in 1957 at the start of their careers, starry-eyed and eager to change the world with their music and stories. But when we meet them at the top of the show in 1973, they are at a Hollywood party where Mary makes a drunken scene, Frank bemoans his empty life even as he betrays his second wife with a young starlet and Charles has been banished from the trio, going it alone in New York.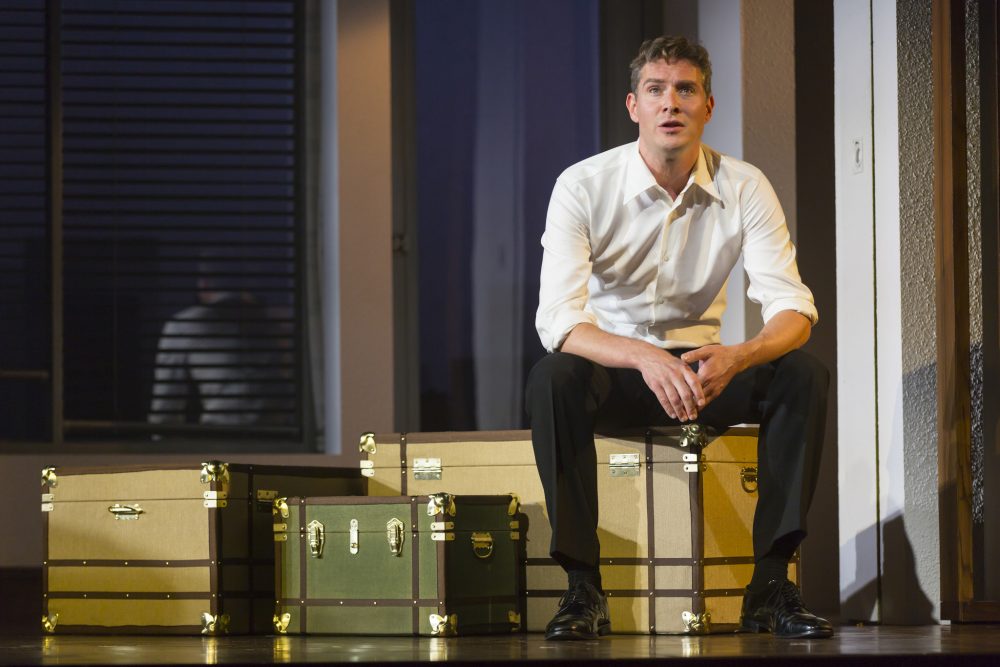 Opening a show with such a jaded tone can make it difficult for actors to dial back to softer, more innocent moments, but Friedman's gift is her ability to reveal the chink in each friend's armor. That glimmer of vulnerability widens with each scene, and these individuals expose their fragility, making us root for them despite their bad behavior.
Sondheim gives this trio some breathtaking songs to sing, both together and separately, including "Old Friends," "Good Thing Going" and "Opening Doors." Espinosa, Umbers and Humbley deliver some magical harmonies infused with sincere emotion. Umbers, in particular, manages to make Frank believable as he shifts from money-hungry Hollywood producer back to sweetly eager composer, while Espinosa layers Mary's disappointment with longing. And in "Franklin Shepard, Inc." Humbley exercises impressive control throughout the escalating craziness of Charley's meltdown.
But the beauty of this production is Friedman's attention to detail. The focus is not simply on the trio at the center of the story. Each of the friends' decisions radiate out to the people around them and every member of this 21-person ensemble is a stand out.
Jennifer Ellis, as Frank's first wife, Beth, becomes a fourth wheel to the trio for a while, contributing to a cleverly comic musical revue the composer and lyricist write early in their career about the Kennedy administration ("Bobbie and Jackie and Jack"), but Ellis nearly stops the show with her two versions of "Not a Day Goes By." Full disclosure, this is my all-time favorite Sondheim song, so forgive my bias. The first time we see Ellis it's 1967, Beth is in the midst of her nasty divorce from Frank, and as she asks him about his infidelity, she sings "Not a Day Goes By" with anguish that turns to fury and then despair. In the second act, she sings the song again, this time as her wedding vows to Frank. The song now is filled with such hope and love, it's even more heartbreaking, since we know where this marriage is headed.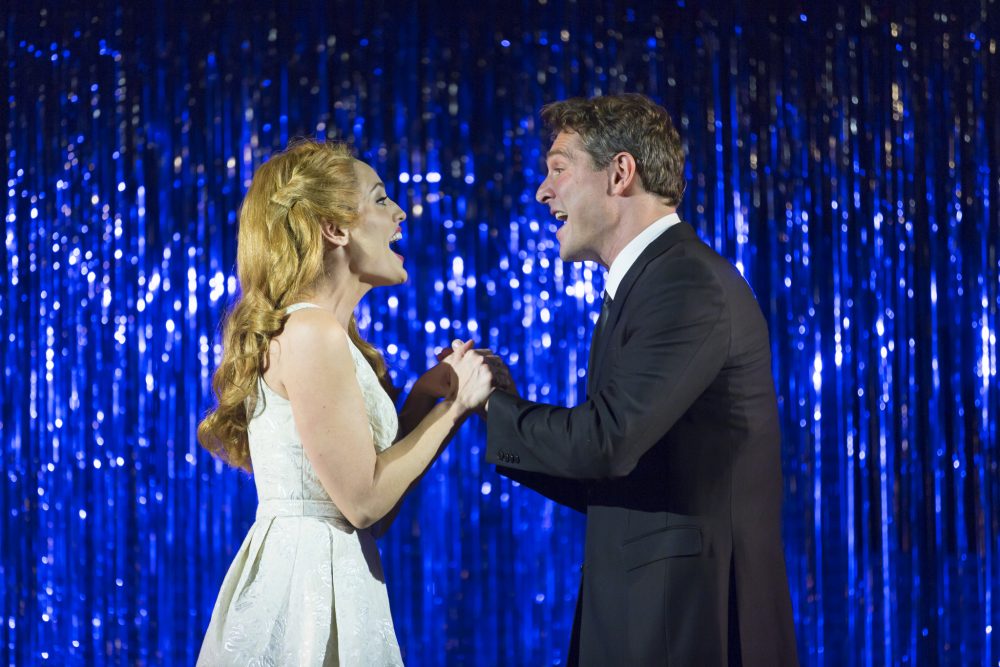 Aimee Doherty plays Frank's second wife, Gussie, with a sophisticated flair that barely masks her need for attention and affection. While she is sleek and seductive throughout, Doherty's slinky performance of the "Musical Husband's Finale" (Frank and Charley's hit Broadway show that made her a star) is nothing less than a jaw-dropping star turn.
Ellis and Doherty are just two of nearly a dozen Boston performers in the cast. The opportunity to see local favorites perform at the top of their game is a thrill, including Christopher Chew as Gussie's first husband and financial backer, and ensemble members Maurice Emmanuel Parent (a hilarious newscaster, among others), Amy Barker, Jessica Kundla, Carla Martinez, Robert Saoud, Pablo Torres, Patrick Varner and Ceit M. Zweil.
Forget all the sad stories you might have heard about "Merrily's" soaring songs and sour book. Everything in this production comes together, from Soutra Gilmour's crisp scenic and costume design, Tim Jackson's simple choreography (especially his brilliant use of the party crowds) and Matthew Stern's high-energy, 10-piece orchestra.
But the true triumph of this production of "Merrily We Roll Along" belongs to director Friedman, who has found a way to capture the synergy and yearning among this trio of friends and allow us to sympathize with their weaknesses and forgive them when they fail. And isn't that what "Old Friends" are for?
---
"Merrily We Roll Along" is at the Huntington through Oct. 15.