How One Woman Came To Photograph (Nearly) Every Mural Around Boston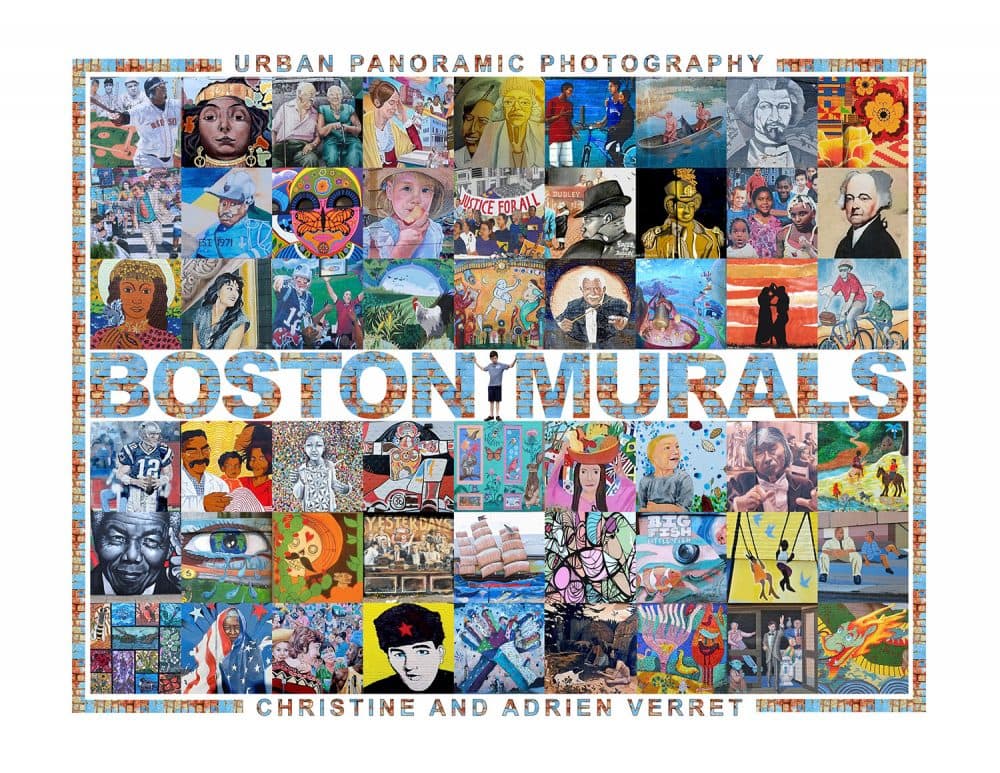 This article is more than 5 years old.
It was December 2012 and Christine Verret was driving to Boston's Arnold Arboretum when a wrong turn landed her in Roslindale. As she got herself turned back in the right direction, "I saw a beautiful mural on the wall of a convenience store. The sun glowed on it. I had the urge to photograph it with my new camera."
One of the distinguishing features of her new digital camera was that it could assemble 10 pictures into one high-resolution panoramic photo. "The format provided a perfect perspective of the mural's scenery and emphasized how well the mural correlated to its environment," Verret explains.
The fact that her new camera photographed murals beautifully combined with her interest in art and a desire to explore Boston. So the Arlington resident began a five-year-long odyssey to photograph (nearly) every mural around Boston.
Verret collects her panoramic photos of about 425 of them in the new book "Boston Murals." Her companion was her son Adrien, now age 15, who appears in nearly every photo (and is credited as co-author of the book). "When we started looking for murals," she says, "we started seeing them everywhere."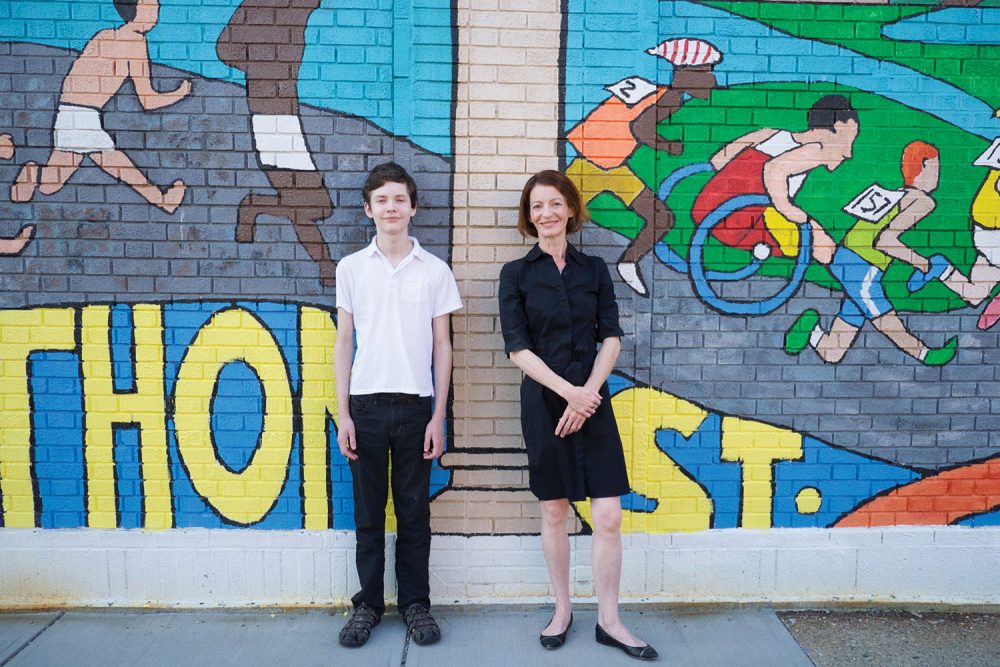 Verret would spend hours after dinner, searching the web, making connections, to track down murals. As weekends or holidays or vacations neared, she'd plug in the locations into Google maps to plot her route.
"We'd leave 5:30 or 6 a.m. We'd shower the night before," she says. "We'd always be back 9 or 9:30 a.m. We took all these pictures when everybody was sleeping. … In the wintertime, we'd leave and it would still be nighttime."
Their travels brought them all across Boston as well as from Somerville to Natick to Brockton. They recorded murals by as many as 250 artists, including the city-operated Mayor's Mural Crew, which has been led by Heidi Schork since it was founded in 1991; Gregg Bernstein; Jennifer Rydwansky; David Fichter; Rich "Deme5" Gomez; Victor "Marka27" Quiñonez; Nate Swain; Ge "GoFive" Ortega; Joshua Winer; Caleb Neelon; Tova Speter; Anyahlee Suderman; Rob "Problak" Gibbs; Alex Cook; Jameel Parker. Verret stresses that to her, all the artists are equally important.
The oldest surviving mural they documented is Gary Rickson's landmark 1969 Black Arts Movement mural "Africa Is the Beginning," which depicts a stark pyramid under an eclipsed sun. It's on the side of the Roxbury YMCA at 285 Martin Luther King Boulevard Jr. (It was repainted around 2002.)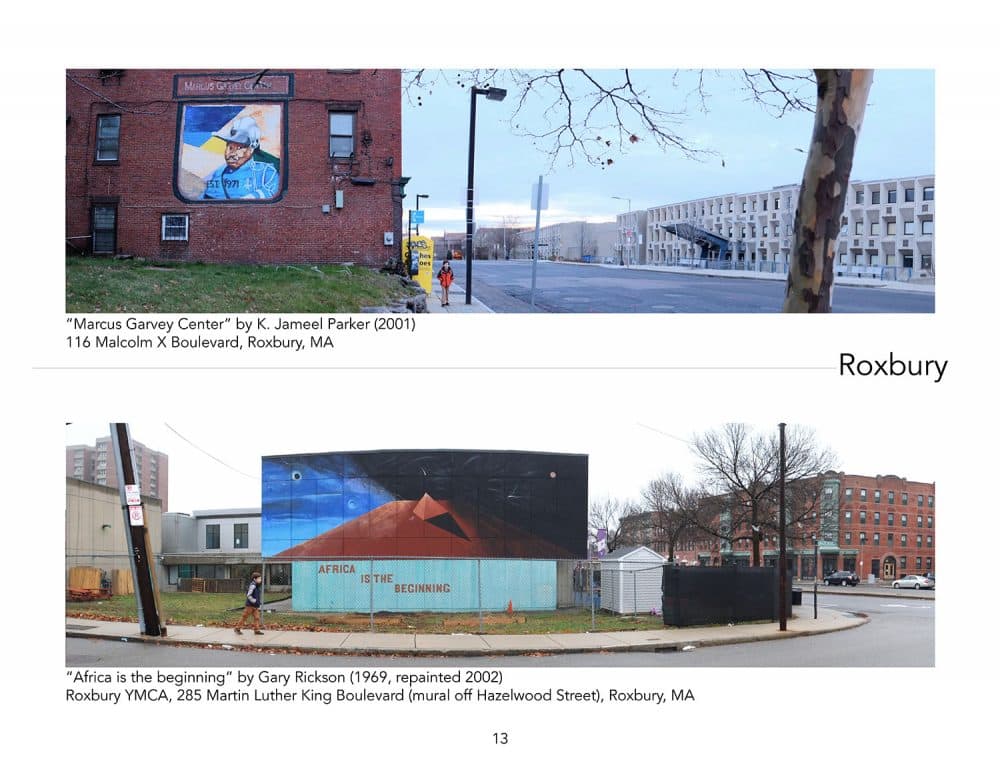 Most of the paintings they found date to the 1990s and 2000s. Murals tend to be temporary, the paint wearing out from the harsh New England weather. Verret figures about 25 of the murals documented in her book are already gone. Still, she says, "Some of them, like if you're looking downtown, they seem to stick around. Like 'Seiji's Dream,' that will be around in 20 years."
What does one learn about Boston from its murals? "It's very conservative. There's nothing provocative. You've got a couple from [Shepard] Fairey," Verret says of the famous Los Angeles street artist, best known for his Barack Obama "Hope" poster from the 2008 presidential campaign. "He's the most provocative of the whole book. So what does it tell me? I don't think people are even trying to. … Somehow none of them are political. So it's different from other mural collections in other cities you might see."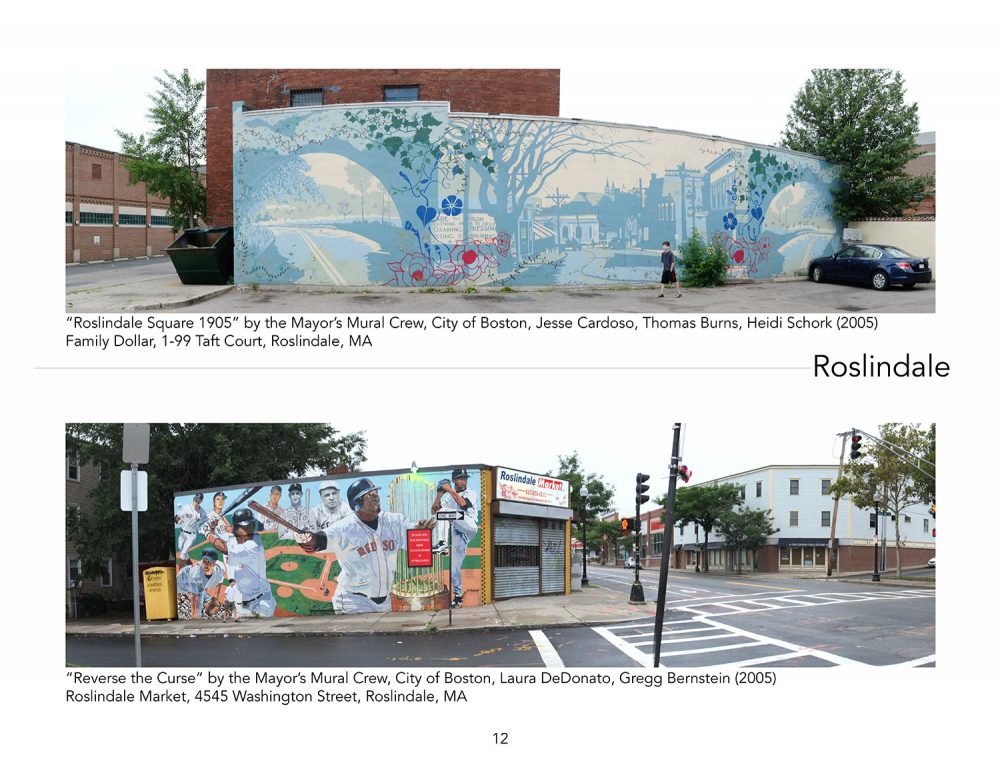 Most of the murals favor a realistic approach. Verret says, "It's all in relation to people, residents. It's scenery that's around us. Or activities, sports, baseball, football. Then you have the educational kind for children. Science, there's two. And animals, a lot of animals, from wild to domestic. You get scenics also, of where people come from." Paintings of longed for West Indian of Cape Verde locales. There are murals about peace and racial harmony. "There's a lot of food. There's local celebrities. And then there's abstract, the ones that are just beautiful paintings that have no specific meanings. … That's what Boston shows you."
Verret still finds herself drawn to the streets. Over the years, she's also documented graffiti. And there are always new murals to photograph. "I'm missing taking pictures. That was my whole thing. To sit down and put the whole thing together was a drag," she says. "I couldn't wait to go out and take pictures."