This Season, Andris Nelsons Wants To Take The Audience On A Journey With Him And The BSO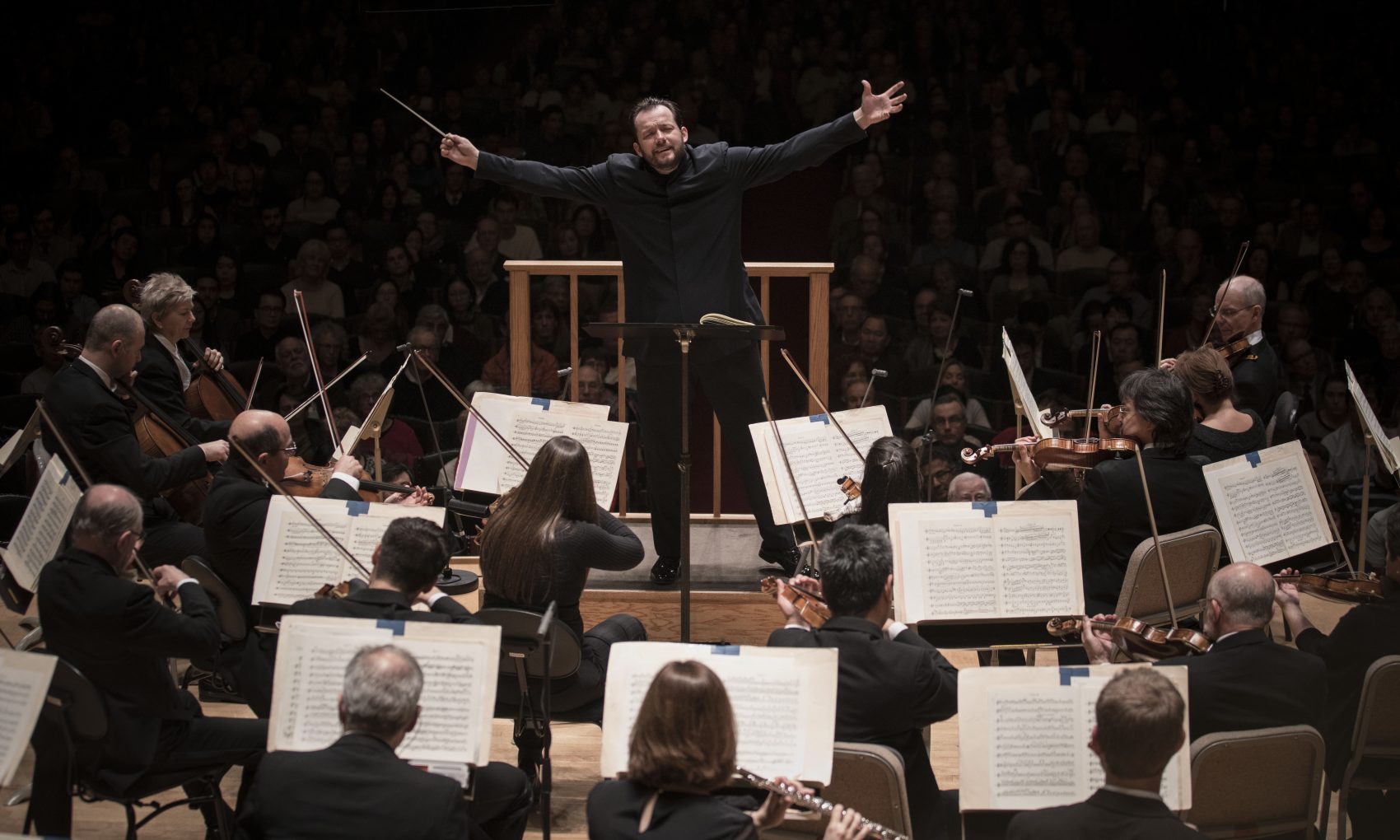 This article is more than 4 years old.
"I don't just wave my hands for two hours."
That would probably be the understatement of all time. For anyone who has seen Andris Nelsons conduct, waving his hands is only some of the action. He swoops, he crouches, he bends, he twists, he flings his arms apart with pleading emphasis.
The 38-year-old maestro begins his fourth season as BSO director on Friday, Sept. 22, conducting a program that pays tribute to Leonard Bernstein. Some season highlights include the continuing Shostakovich recording project, tours to Japan and to Carnegie Hall, and the beginning of the first-of-its-kind Boston/Leipzig collaboration, which begins this year as Nelsons assumes the directorship of Leipzig's Gewandhaus Orchestra.
Recording the Shostakovich symphonies has clearly made its mark on Nelsons -- with good reason.
"I don't know if there is a right way to record them," Nelsons says of the Shostakovich cycle, "but you want to be confident enough that you can express a certain attitude and passion.
"Shostakovich was one of the great symphonists of all time, and maybe the last great symphonist," he says, sounding almost surprised at himself for such an emphatic declaration. "All of them are masterpieces. They are colorful, and have different sides. The whole journey is very rich. And I feel that our audience is on this journey too, by how interested they are about hearing another, and another. They are taking the journey with us."
The first two installments on Deutsche Grammophon have each won Grammy Awards. That success inspired DG to expand the original project — originally to be just the symphonies written during the Stalin years — to include them all. It also led to DG recording contracts for Nelsons with Gewandhaus Orchestra (the complete Bruckner) and Vienna Philharmonic (the complete Beethoven).
To a casual observer, yet another recording of these symphonies — let alone the idea of re-recording all the Beethoven symphonies — might seem like a show of vanity, or excess. For Nelsons, it's personal expression.
"You kind of relive how he lived," Nelsons says of the composer. "You suffer together. You're happy together. The composer becomes your friend. You go into this knowing that the recording is not dogmatic — you're not saying, 'This is the way Shostakovich would want it,' or 'This is the latest idea about these symphonies.' You're expressing a subjective understanding of the music."
The BSO tackles three more of the symphonies in this upcoming season: No. 11 at the end of this month, No. 14 in February and No. 4 in March. They are the linchpins in a season that also celebrates the Bernstein centenary, and has world premieres from Sean Shepherd and Jörg Widmann (shared commissions with Gewandhaus). Composer/conductor/pianist Thomas Adès returns in his role as artist-in-association, and pianist Jean-Yves Thibaudet becomes the BSO's first ever artist-in-residence.
Nelsons never met Bernstein — the great American musician died in 1990 when Nelsons was only 12 years old. But Bernstein's influence was profound.
"When I was a young student — a young boy even — I admired him," he says. "Bernstein was everywhere — Vienna, London — and everyone admired him. Of course he loved Boston, and he did so many great things at Tanglewood. He was the best example of what a conductor should be."
For Nelsons, "conducting is about communication. You don't play any notes, but you communicate with the musicians. Bernstein is probably the biggest example of someone who did this brilliantly.
"On the podium, you can't dictate something. But you can influence. He made everyone feel that the music was composed for them."
The BSO season — Nelsons conducts for 12 separate programs — has to fit in with Nelsons's debut as the Gewandhaus director in February, and his tour of China with the Vienna Philharmonic. He spends two weeks in China with that orchestra in October, and then meets up with the BSO for a tour of Japan right afterward. There is also an 11-city canvasing of Europe with Gewandhaus, and a week at Carnegie Hall with the BSO — both in April.
"I think touring is an important part of the life of an orchestra," he says. "Not only sharing with other audiences, but bringing that sense of family that you get back home. The sense of growing deeper into the music, of making it all sound like chamber music — that comes from being together on tour."
---
The Boston Symphony Orchestra, Andris Nelsons conducting, begins its 2017-'18 season on Friday, Sept. 22 with an all-Bernstein program. Mezzo Frederica von Stade hosts the evening, which includes appearances by flutist Elizabeth Rowe and soprano Julia Bullock.