Who Has A Right To Any Given Faith? 'Faceless' Dives Into The Fiery Topic Without Hesitation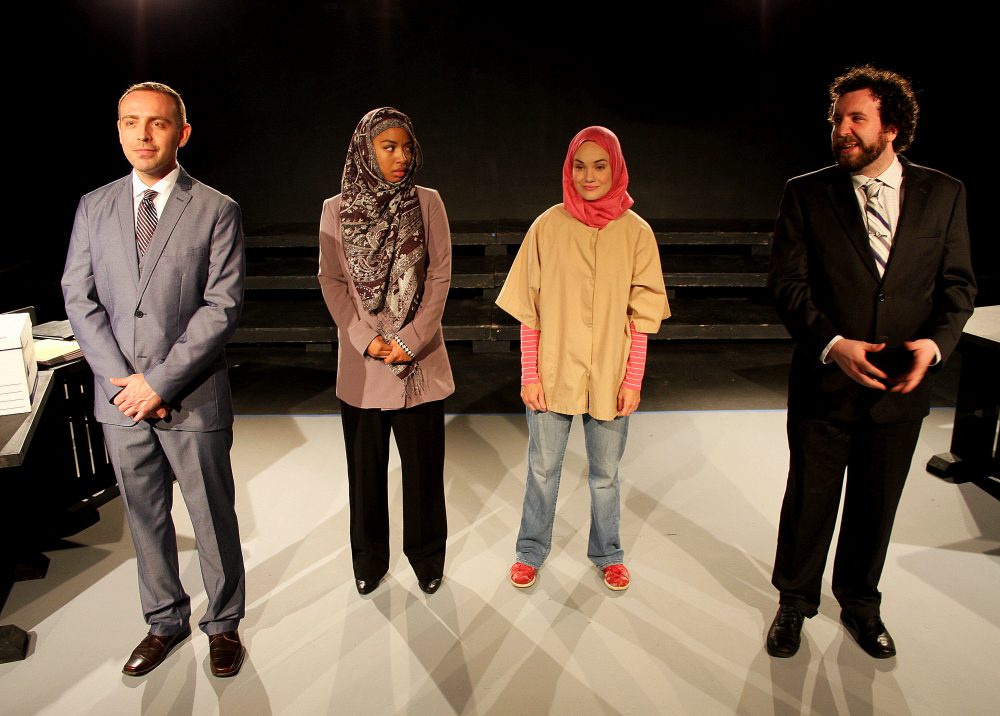 This article is more than 5 years old.
An equally apt title for Selina Fillinger's electrifying play "Faceless" might be "Face Off" since the play's structure presents mirroring, oppositional sides of the same story. It's a fitting approach given this is a courtroom drama in which the adversarial nature of our justice system syncs up nicely with the rivalries and conflicts between various characters.
Fillinger's script — in production at the Zeitgeist Stage Company through Saturday, Oct. 7 at the Boston Center for the Arts — is taut and intense, sprinkled with uneasy comedy but driven by a host of complex, tricky issues. The playwright plunges unhesitatingly into the thicket and then cuts a clean narrative line right through it, finding surprises all along the way.
The defendant is an 18-year-old woman named Susie (Ashley Risteen). Defiant and naïve in equal measures, Susie's way of kicking against the world's injustice (and acting out against her father while she's at it) is to engage in an online romance with a man named Reza (voiced by Rick Park) -- a man who, it turns out, is an ISIS soldier. Emotionally manipulated by Reza, Susie finds herself converting to Islam and agreeing to marry him. She also posts messages in support of ISIS, drawing the attention of anti-terrorism authorities and, eventually, getting herself arrested and charged.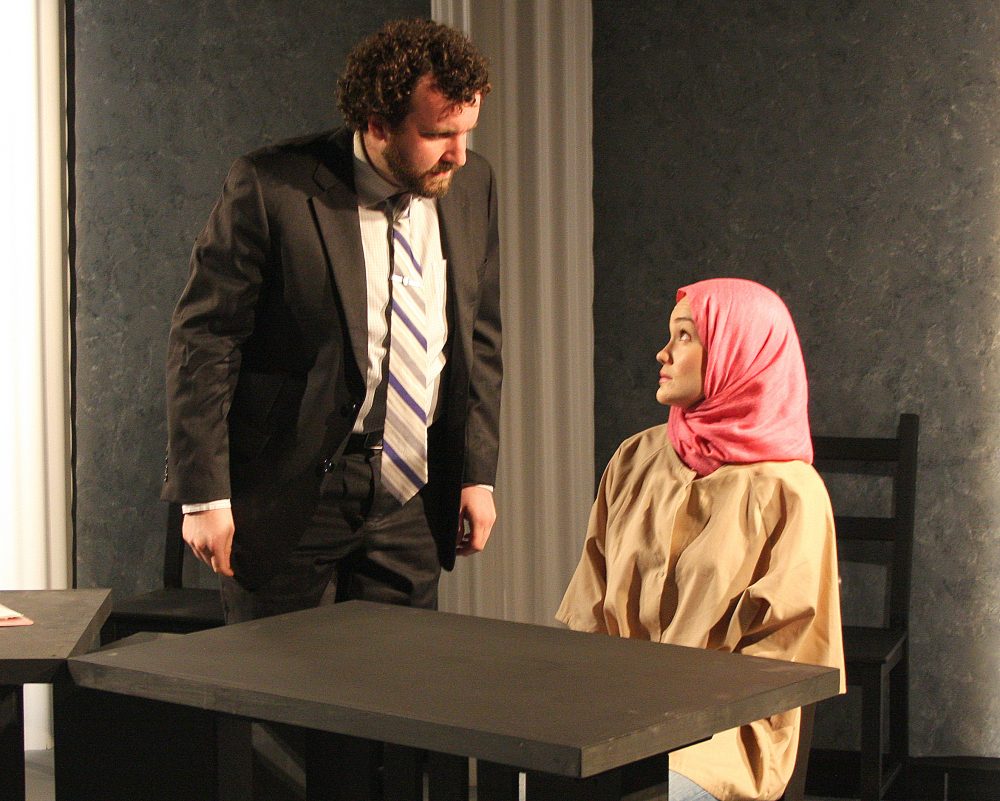 The prosecutor is also a Muslim. Claire (Aina Adler) is an American woman of French and Iranian descent who has struggled against racial and religious bigotry all her life. When she's tasked by her boss Scott (Victor Shopov) to lead the prosecution in Susie's trial, Claire has deep reservations. She doesn't want to be used by Scott for the sake of political optics. What's more, Claire doesn't buy into the idea that a young Caucasian woman with Susie's background is in for anything more than a slap on the wrist: Susie is, after all, the daughter of a first responder and a recently slain police officer — two true-blue heroes straight from America's contemporary mythos.
But Claire's view of the case, and of Susie, change dramatically the moment she catches sight of the young defendant during the arraignment. Both women wear the hijab, the traditional head scarf; seeing the scarf on Susie triggers rage and loathing in Claire. Viewing Susie as a kind of cultural tourist, dubbing her a "Muslim Barbie," and refusing to consider her to be a "real Muslim," Claire ignites with an incandescent passion to win the case and lock the younger woman away.
This, one suspects, is precisely what Scott was hoping for. He's as smooth and cutting in his strategic thinking as a shark fin cutting through water. But while Scott might have more experience, Claire has smarts to burn and a white-hot rage -- she's not going to be as easy to direct and control as he might hope. The courtroom scenes are viscerally gripping and absolutely brutal, but they pale in comparison to the sizzling dynamics that flare between Claire and Scott as they spend late nights preparing their case.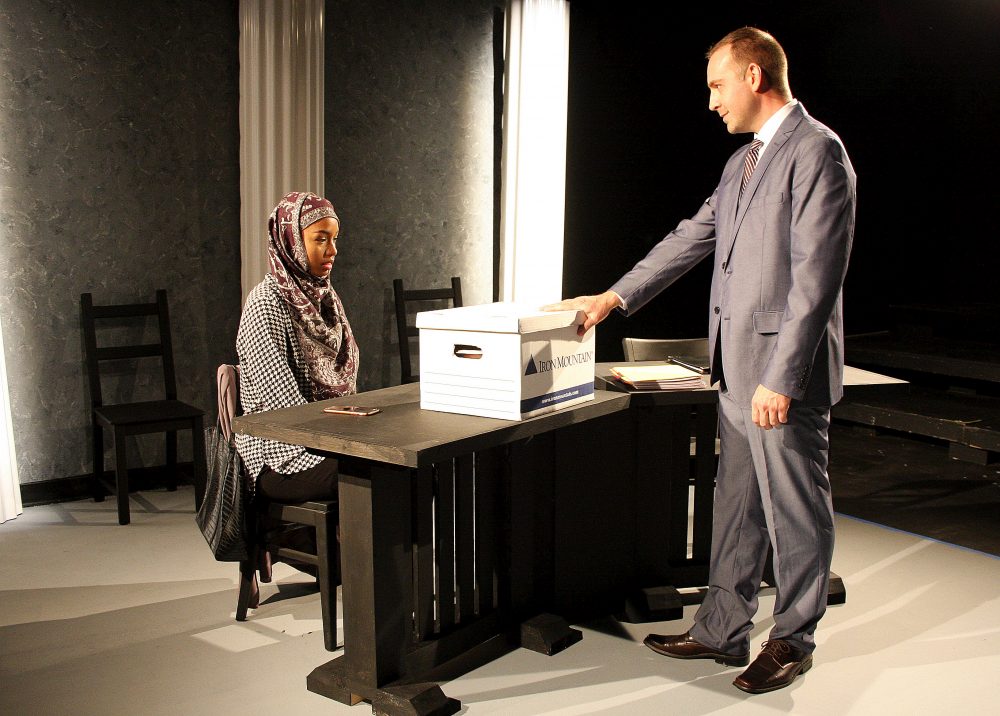 Playing out in parallel to Claire and Scott's volatile working relationship is the client-attorney dynamic that unfolds between Susie and her lawyer, Mark (Robert Orzalli), who struggles to understand Susie's faith. Similarly, Susie's father Alan (David Anderson) tries his best to comprehend what's going on with his daughter. He readily grasps the nature of her intransigence — he's cut of similar cloth, himself — but he has no ready explanation for the choices she's made.
Director David Miller's style tends toward the laissez-faire. He's not the sort who demands an absolute uniformity of tone and intensity from his cast. This allows the actors more freedom to play with styles and emotional colors and create more distinctly individual characters. It's not an approach that always works out well, but in this case -- thanks to the skills of the performers — it's absolutely right. Shopov is reliably excellent, and in Adler he has a strong, intelligent and synergistic scene partner; nowhere does the script's intensely honed writing come as fully alive as in the exchanges between them. Risteen strikes a precise, correct balance between Susie's misdirected anger and her youthful, easily exploitable incomprehension. Orzalli finds a weary, exasperated decency and subtle humor to explore in Mark. Anderson steals his scenes as Susie's father with a tour de force of hurt, anger and parental anguish.
But it's in the moments during which the two women pray — Claire in Farsi, and Susie in English — that the play most delicately and bravely probes the interesting questions. Who owns faith? Who has a right to any given vision of a higher power? How, exactly, do people professing an absolute belief in, and adherence to, the same religious tradition come to diverge so sharply when it comes to carrying out the tenets of their faith? There's an eerie beauty to the way Susie and Claire reflect one another's piety, but at the same time it's this very question that feels like the play's dangerous, fiery core.
No one emerges unscathed, least of all the audience. We become the jury, and we're judging ourselves. On the strength of the evidence presented here, we have much to be indicted for.
---
"Faceless" continues through Oct. 7 at the Boston Center for the Arts.