A Refuge Or A 'Warehouse'? Boston Opens A Day Center For Drug Users
Resume
By some accounts, there are more heroin users clustered near the Mass. Ave. exit off Interstate-93 in Boston than anywhere else in the state.
Within about a few blocks, there are two shelters, at least three recovery homes, two methadone clinics, doctors who specialize in care for people who are homeless and the city's largest safety net hospital.
But between appointments, clients spend much of their time in parking lots, along sidewalks or on a front stoop.
"My CFO had to come down 20 minutes ago; a guy passed out in front of my door," Gerry DiPierro, president of DiPierro Construction, said last week. "It's crazy."
And DiPierro's secretary had just quit.
"She will not come in here anymore [because] of addicts," he said. "I get it, they need to get help, but something better than what they're trying to do needs to happen."
Now in Boston something is happening. But community leaders, business owners, drug users and the city are divided over whether a new engagement center is the right something — whether it will relieve congestion, help people get off the streets, stay safe, and get into recovery.
The center isn't all that easy to find. Look for a gate in a fence behind the Southampton Street men's shelter. An asphalt path winds around to a patch of AstroTurf and a line of porta potties. Men and women lounge at picnic tables in front of a domed tent, roughly half the size of an Olympic pool, that glistens in the sun.
Inside, there are no walls. The space is loosely divided into 10 areas. A fridge and folding table with coffee urns, snack bars and instant oatmeal is right up front.
"We always have water and coffee flowing all day, that's really important," laughs Devin Larkin as she begins a tour. Larkin oversees the center as director of the Bureau of Recovery Services at the Boston Public Health Commission (BPHC).
Beyond the coffee, there's an office of sorts with computers, a small library of books and magazines, and a nurse's station staffed by the Boston Health Care for the Homeless Program. A shelf lined with a dozen phone chargers separates two large TVs. One broadcasts an English-language game show, the other a telenovela, in Spanish.
Larkin pauses at a space enclosed with seats, like a waiting room. In the middle, throne-like, is a somewhat-battered barber chair. A barber in recovery who frequents the center does about four cuts a day.
"This has been very popular," Larkin says. "Look good, feel good, you know. So we're working on doing something similar for the women."
As many as 600 guests visit the center between 7 a.m. and 7 p.m. daily. Some take on volunteer jobs: tending to waist-high house plants, organizing art supplies, and sweeping. There are plans to host an open mic night, smoking cessation classes and yoga.
The center has 12 employees, five on at any given time. They help guests with job applications, organize domino games, and chat. Drug use is not allowed at the center, but one staff member is assigned to the porta potties. The rule, in this era of fentanyl, is to knock after three minutes to make sure the person inside has not overdosed. No one has yet.
If a guest appears dangerously sedated, one of the center staff walks them about four blocks to the SPOT clinic or calls an ambulance. Larkin says it would be nice to be a little closer to medical services or other programs run by the BPHC. When a guest asks about or agrees to go into detox, staff connect them with the city's PAATHS program, which aims to be one-stop shopping for addiction treatment.
"We place up to 50 people a day in treatment all over the state," Larkin says. "We didn't feel the need to duplicate those services here."
Last week, with referrals from the engagement center, the PAATHS office tallied a new high for walk-ins, 327, and calls requesting information about detox and other services, 127.
There are some challenges Larkin and staff haven't resolved.
"A lot of people just want to sleep and that's been hard," says Larkin, looking at a man on a wooden bench, a rolled fleece jacket cushioning his head. He could be high or exhausted after a night on the streets, or both. The center does not have any couches or beds.
"We're learning every day and trying to best meet people's needs," she says. But guests tell her that "quality of life-wise, it's already been really helpful."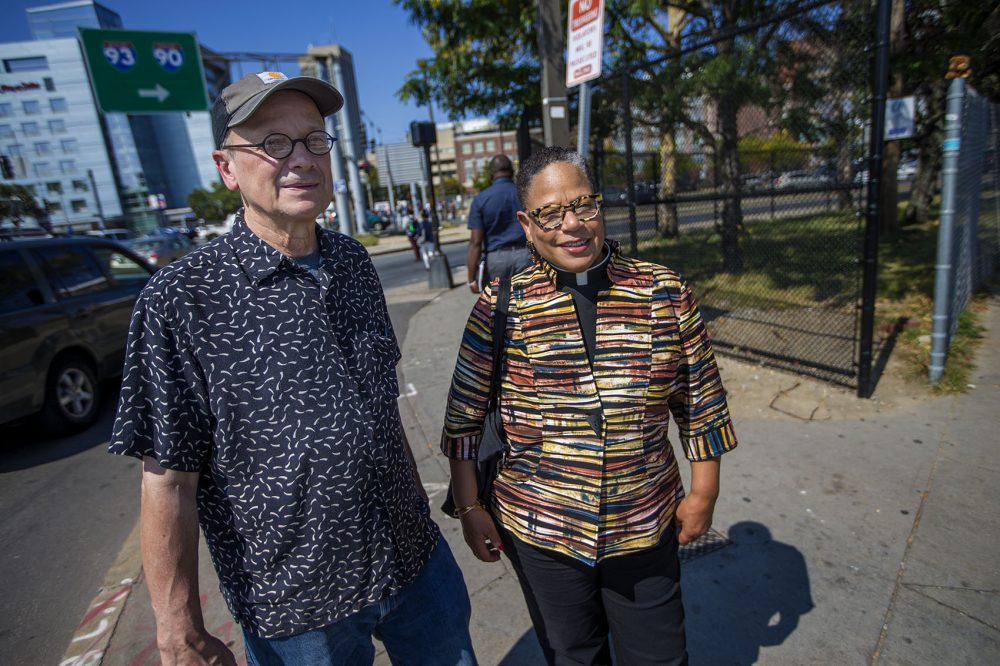 Some community activists, who met with the city to plan the center, disagree.
"This is not a community, this is just a band-aid," says the Rev. June Cooper, executive director at the anti-poverty group City Mission.
"It's an air-conditioned warehouse," says Jim Stewart, with the First Church shelter in Cambridge, jumping in. "You can AC a warehouse, but you'll still have a warehouse."
Cooper and Stewart argue the city's investment in the center as a way to address the opioid epidemic is misguided.
"If they can find $800,000 to herd some people up and keep them in an air-conditioned warehouse, why can't they find $800,000 to increase access to treatment?" Stewart asks.
Actually, the cost of setting up and running the engagement center as a six-month pilot project will be just over $1 million. It opened at the beginning of August. There's no decision yet about whether to keep the center open beyond February.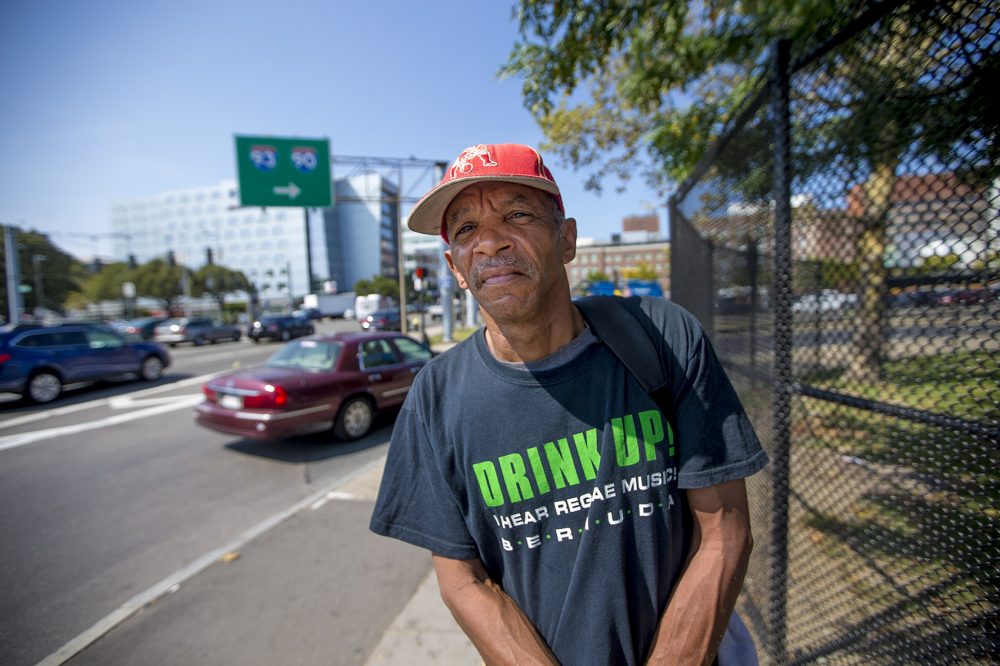 In 10 interviews with people who use the center, all said they are glad to have it.
"That place is not a waste of money; that place is trying to help people, you know, get off their feet," says Michael, a 57-year-old former laborer whose last name we're not using because it might hurt his job prospects.
A man named Joe and his partner Sonja stop panhandling on Melnea Cass Boulevard to applaud the center.
"Everybody likes it," Sonja says. "Anybody who doesn't hasn't been there."
The couple stop by most days to get a cup of coffee and watch the news.
"Before that opened, everyone was just congregating, and getting bothered by police all day long," Joe says.
There is a constant tension between police and drug users who move from a church parking lot, to McDonald's, to alleys all day long. The city recently fenced off a long swath of grass where people used to congregate. The idea, says Sue Sullivan, director of the Newmarket Business Association, is to encourage use of the center.
"I do think the engagement center is working," she says, "but we're fighting a rising tide. Every day there are more people coming in because there are so many services" in this area.
DiPierro, who is losing construction employees upset by drug use and dealing in the company parking lot, is not convinced that the center is helping.
"I haven't seen it work for me," DiPierro says. "It's sad, so sad. But it's gotten bad."
Bad here in Boston and in many communities around the country trying to figure out how to manage a health epidemic that is out of control on their streets.
Share your experiences, and follow along with our reporters as they cover opioid use and treatment, by joining our Facebook group, "Living The Opioid Epidemic."
This article was originally published on September 28, 2017.
This segment aired on September 28, 2017.