A Mural To Inspire Hope And Resilience For Those Struggling With Addiction
On a recent sunny Sunday morning, Tim McCool stands a few stories up in the air, attached by a safety harness to a lift, painting a mural across the side of the city of Boston's Finland Building at 774 Albany St.
The building houses a number of the Boston Public Health Commission's addiction recovery programs. In particular, the Mayor's Office of Recovery Services had put out a call this spring seeking public art to go on side of the building, art that would embody "the values of resiliency and hope of those in recovery."
Which is where McCool comes in.
"It's going to be a sunrise over the top of some apartment buildings and a hillside with a few clouds," the Boston artist says of the mural he's working on. "On one of the rooftops, someone has set up an easel and they're painting a sunrise — a sunrise because it's hopeful."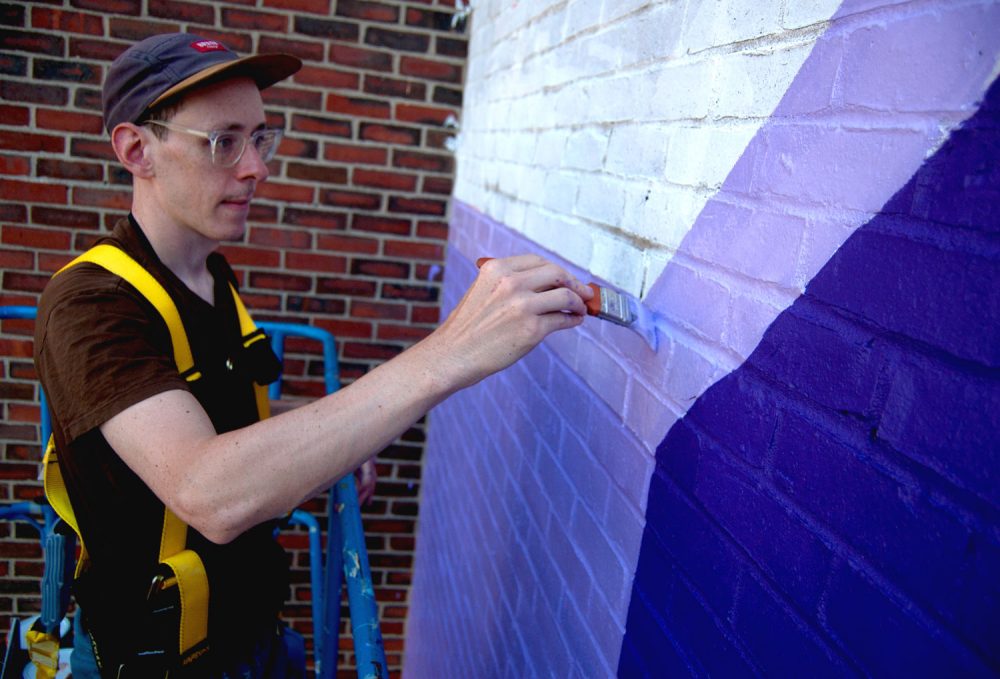 Which seems like a somewhat curious theme for McCool. Because the Bostonian's art is, well, not exactly known for optimism.
A couple of years back, he was offering funny greeting cards for sale that read: "Great job on the thing you did"; "Congrats or whatever"; "Best wishes, I guess." His exhibition at Montserrat College of Art in Beverly in July offered podiums to pose on to proclaim one's achievement of "Most Best-est," "Pretty Good-est" or "Okay-est."
So humor, yes, but hope?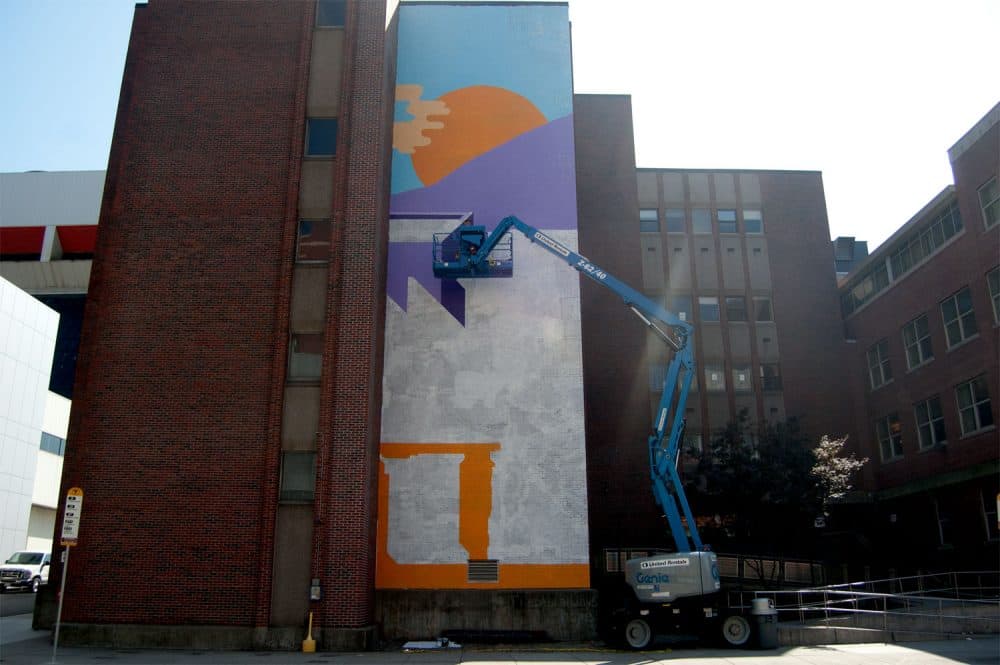 His flat, graphic mural in orange, purple and blue is part of a larger effort by the city government to "to improve the neighborhood around the intersection of Melnea Cass Boulevard and Massachusetts Avenue, an area of the city with a large concentration of services for homeless individuals and individuals recovering from addiction," the city says. McCool says part of his motivation to apply to do the mural is that he lives nearby and often used to commute through the area to get from his apartment to his studio.
McCool acknowledges that his cartoony art tends to be "tempered with a heavy dose of maybe not cynicism but skepticism."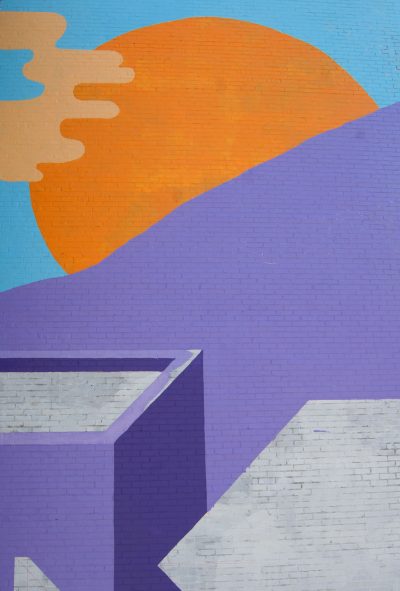 Last year, he helped Iranian artist Mehdi Ghadyanloo paint his mural on the Rose Kennedy Greenway at Dewey Square depicting a line of people climbing up stairs inside a building toward an opening in the roof where a giant red balloon floats. It's called "Spaces of Hope." McCool says, "Maybe I'm influenced by Mehdi's work, the Greenway mural -- that mural is optimistic."
Of his Albany Street mural, he says, "I think there's still some Tim McCool stuff in there. It's kind of meta — the painting of a painting in there."
He adds, "In this case, though, I wanted to follow the prompt and deliver them a hopeful, bright, colorful design."