History Casts A Long Shadow Over 'A Bright Room Called Day'
This article is more than 5 years old.
In tone and structure, Tony Kushner's 1985 play "A Bright Room Called Day" is like a series of postcards dispatched not just from the edge of an abyss, but throughout the long, terrifying plunge into the void below. That, plus the no-holds-barred investment in the material that the cast and crew put into Flat Earth Theatre's timely production, makes for an emotionally gripping and deeply unsettling two and a half hours, even if this frightening look at past (and future?) history lacks an essential narrative coherence.
The setting is a small, comfortable apartment. In the passages that take place in 1932 and 1933, this is the Berlin flat where Agnes (Lindsay Eagle) dwells; in the 1980s, it's a Long Island apartment occupied by Zillah (Kim Klasner). Whereas Zillah rails from the start against the Reagan administration with white-knuckle anxiety, it takes Agnes and her friends a couple of years to progress from incipient dread, to panic, and then to stunned resignation.
In that same space of time, Hitler and his supporters consolidate their power; once they have achieved a critical momentum, it takes the Nazis a mere six months to unravel centuries of progress and reconfigure German political and social institutions to suit themselves. The play's characters act as a mirror for how the Germans as a whole were swept away by these cataclysmic changes.
Agnes is an actress and a lukewarm member of the Communist party. Her clutch of friends, most of them artists of various sorts, are rather like the furnishings in her flat: They exude a slightly moth-eaten but essentially luxurious affect, not unlike the fading Weimar Republic itself.
Among them are the flamboyantly gay Baz (Noah Simes), rather disappointingly written as a sex addict whose chief concern seems to be the condition of his mascara; Hungarian filmmaker Husz (Isaiah Plovnick), living in exile after earlier upheavals in his home country; painter Annabella (Juliet Bowler), who is smarter and more pragmatic than the rest of the group, and thus relatively unflappable; and Paulinka (Nancy Finn), a fellow actress who is much more successful than Agnes.

Drifting in and out of the action is a secondary set of characters. Rosa (Alissa Cordeiro) and Emil (Eric McGowan) are a pair of Communist party functionaries whose tendency to bicker reflects the disarray into which the leftward wing of German politics has descended. An elderly interloper — or so we're given to understand from the way she's referenced, as "Die Alte," the German for "old woman" — appears sporadically in Agnes' apartment, looking for food and sometimes wailing loudly. She might be a squatter; she might be a ghost.
Indeed, she might even be an evil spirit, for among the play's various chapter titles there are references to "demonic" apparitions and investigations. The Devil himself drops by to interrogate, and fascinate, the group; he goes by the name Herr Gottfried Swetts (Matt Arnold).
Kushner's feverish play sustains a sense of roller-coaster alarm, even though its text is very much a product of its time and not entirely convincing. Equating the shameful silence of the Reagan administration in the face of the AIDS crisis, unconscionable as it was, with the rise of the Nazis and their carefully calibrated campaign of oppression and genocide feels more than a little like crying wolf.
What makes the play resonant in 2017, however, is that times have changed in America, and not for the better; with cool precision, offering dates and a series of crisp précis of significant events in Germany during the early 1930s, Kushner recalls how efficiently the Nazis dismantled Germany's democracy and brought its populace to heel. We today, struggling with a rapidly changing new normal, can easily overlook the play's dated and hyperbolic aspects and focus on the very real sense of disorientation and terror that Kushner evokes.
That evocation is helped along tremendously by director Dori A. Robinson, who is Jewish and who shares her own feelings of dread in a director's note printed in the program. The cast members offer powerfully felt, nuanced performances, especially Finn, whose reading has a clean, specific, and hard-edged feel about it, and Bowler, who summons a deep and slightly jaded equanimity and melds it to her character's unsentimentally clear-eyed perspective.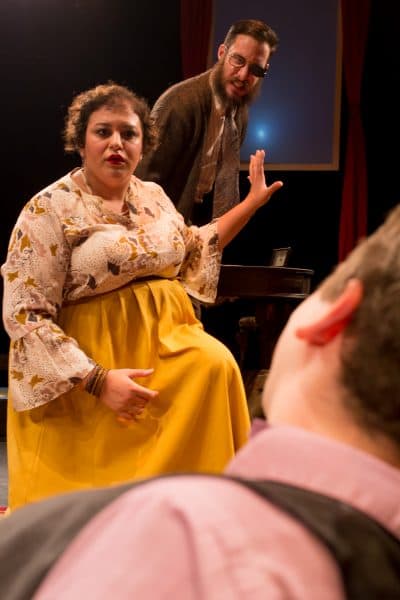 Eagle, as the increasingly jittery Agnes, anchors the proceedings; her core concern boils down to the basics. All she really wants is to cling to her hard-won job and her living space, which is both cheap and well located. It's understandable. Who doesn't want to shelter in place when the wider world is going crazy?
Yet even here, peace and security are slipping away. Darkness steadily encroaches on Agnes' bright, snug little room. Who knows if survival is a realistic expectation during the coming night? The Devil's visitation might be real enough in the context of the story, but the haunting presence of "Die Alte" seems at least partly hallucinatory, a sort of Ghost of Horrors Past whose manifestation could be Agnes' own subconscious working on her.
Set designer Tracy Ewing creates a sharply limited space within which the drama unfolds. Bordered by ornate and definite boundaries, the square performance area is flanked on all sides by windows through which we glimpse the national mood and history's unpitying progression. Projectors turn these windows into movie screens where chapter titles and explanatory captions appear, along with simple but striking animations (the Reichstag burning, shadow puppets flickering into view, a German flag appearing in a moment of profound irony). Sound designer Monica Giordano lets us know what we're in for from the first; during the pre-show interval a throbbing drone builds, abruptly ends, and then begins anew on continuous loop.
That recurring noise would be the sound of history cycling over and over again, relentless as the tides. Watching this play, you can feel the icy waters rising.
---
"A Bright Room Called Day" continues through Oct. 14 at the Mosesian Center for the Arts in Watertown.