How Should We Honor Our Dead? 'From Here To Eternity' Imagines A Better Way
Mortician, activist and self-proclaimed "funeral industry rabble-rouser" Caitlin Doughty laments that death has become a nasty business in the U.S. To see how our interactions with mortality might be different, Doughty traveled the world observing funerary customs: from ancient mummification rites in Indonesia to skull collections in Bolivia to high-tech "death hotels" in Japan.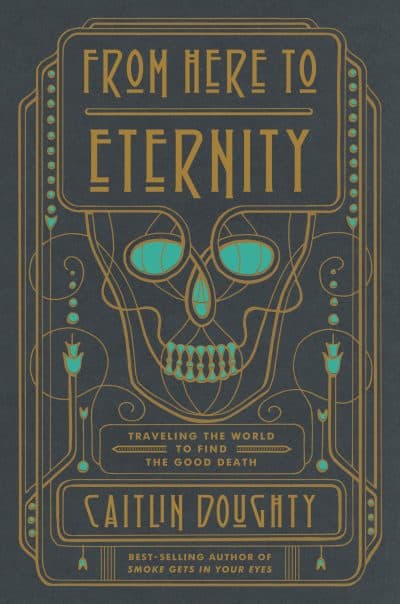 The resulting narrative, "From Here to Eternity: Traveling the World to Find the Good Death," provides a fascinating, diverse portrait of how people honor their dead and suggests paths toward more engaged and accessible funeral practices.
Doughty knows the industry from the inside. Her training and work (the early days of which she recounted in her best selling memoir "Smoke Gets In Your Eyes") exposed her to what are, for her, the most gruesome aspects of how we deal with death in the U.S. — a culture of fear around mortality and strictly regulated practices that extract cash from mourners and keep them distant from their deceased loved ones.
She now runs an alternative, nonprofit funeral home in Los Angeles and advocates the "death positive movement" through an organization called The Order of the Good Death. According to its website: "The Order is about making death a part of your life. That means committing to staring down your death fears ... Accepting that death itself is natural, but the death anxiety of modern culture is not."
Doughty will likely find a receptive audience for her upcoming reading and Q&A session (on Wednesday, Oct. 11) at Mount Auburn Cemetery in Cambridge, which has been known since its consecration in 1831 as a place of repose for the living and the dead, and hosts thousands of visitors every year. With its mission to "inspire all who visit, comfort the bereaved, and commemorate the dead in a landscape of exceptional beauty," Mount Auburn seems to fit the bill of the "safe," accessible spaces for mourning and celebrating the deceased that Doughty seeks.
Doughty's book gets much closer to bodies than most Mount Auburn visitors do, however. She believes Americans have become forcibly or willingly distanced from them by more than 6 feet of dirt. Her travels bear witness to the customs of those who are much closer to the physical presence of the deceased, both at the time of death and, in some cases, long afterward. In Tana Toraja, Indonesia, families mummify, clothe, speak to and sometimes sleep beside their deceased loved ones for months or years until the burial rites take place. While that might give an American reader goosebumps, for Torajans, Doughty writes, the border between life and death is porous, and speaking to a corpse is a way of connecting with the spirit of the person.
The Torajan rites draw on ancient traditions, but technology and social trends of the 21st century feature in many of the practices she observes. She enters the Ruriden columbarium in Tokyo, and beholds the spectacle of 2,000 LED-lit Buddha statues, each of which marks a storage space for cremated remains. The show, with rotating seasonal themes, "could have been a Disney production," writes Doughty, "but there was something in the sophisticated design of the lights that made it feel as though I were being swaddled in a Technicolor womb." This ultra-modern "death hotel," equipped with luxurious spaces for visiting before and after cremation, is partly a response to the demographics in Japan. An aging population is living longer and far outnumbers the younger generations. At the same time, younger people are growing distant from funerary customs and are, according to one man, "helpless" when it comes to knowing how to handle the last rites.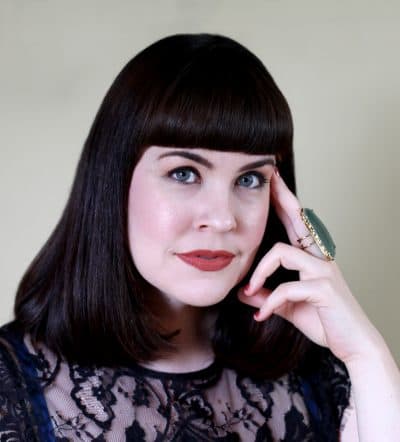 Readers might recognize that feeling of ignorance, reluctance or squeamishness when it comes to confronting the physical and emotional realities of mortality. For them, Doughty is a charismatic and gentle guide. She infuses her descriptions with sensitivity and humor. (Fans of her "Ask a Mortician" web series may recognize the blend of even-handed authority and campy humor.) And while she writes confidently and carefully about what she sees, she also exposes her own vulnerability. For example, she confesses that even for a professional, seeing corpses lying in mounds of dirt at a decomposition research site — instead of on a gurney or in a casket as she might be accustomed — "makes you uneasy ... like seeing your chemistry teacher at the supermarket."
Whether in a high-tech columbarium or a candle-lit cemetery in Mexico, Doughty returns to the concept that mourners need spaces and rituals in which they are "held" in their grief. They should be allowed and invited to confront and engage directly with their losses, she says, without the obstacles and awkwardness that health care and funeral systems in the U.S. often impose. She also highlights the importance of giving mourners a task that they can perform as part of the final rites, "even if it is just brushing your mother's hair as she lies in her casket."
Doughty's book itself offers what she prescribes. She opens a door that many readers may have only dared to peek through, toward a closer look at what happens to our bodies when we die, and how our loved ones are involved in that process. Even for readers who aren't ready to bunk with mummies or chat with skulls, these pages are a space where one can safely explore new ways to engage with mortality.
---
Caitlin Doughty will be at the Story Chapel at Mount Auburn Cemetery in Cambridge for a reading and Q&A on Wednesday, Oct. 11, 2017 from 6 to 7:30 p.m.