Just 'Baby Blues' Or Postpartum Depression? New App Screens New Mothers
This article is more than 5 years old.
Massachusetts General Hospital researchers are offering a new free app to help new mothers determine whether they have run-of-the-mill "baby blues" or something more serious: postpartum depression.
Among the questions it asks:
• How often during the past two weeks have you felt bothered by not being able to stop or control worrying?
• Please indicate the current severity of your insomnia problems: Difficulty falling asleep/Difficulty staying asleep/Problems waking up too early
• Have you re-experienced traumatic events in a distressing way (i.e. dreams, intense recollections, flashbacks, intense recollections)?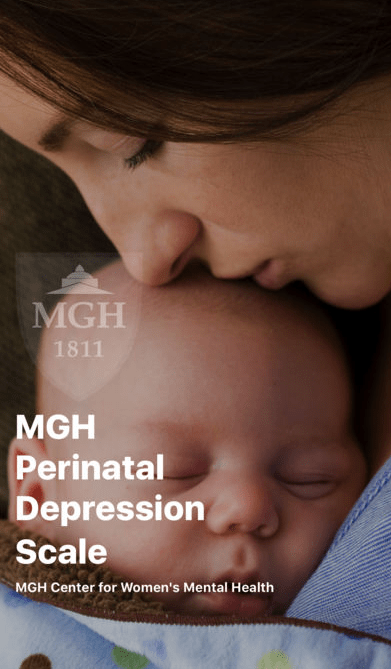 MGH's Center for Women's Mental Health has developed the app to screen women for symptoms of postpartum depression, which affects 10 to 20 percent of new mothers. And it's using the app to gather data to develop a smarter app that can screen women more quickly.
I spoke to Dr. Lee S. Cohen, the director of the center and a professor at Harvard Medical School. Here is the interview, lightly edited:
Why did you develop this app?
We have had tools in the field for screening postpartum depression, but it was my hope that with the advances in digital health, we could improve on what was available. We started working with the hospital and with a developer, and over an 18-month period we came up with the MGH Perinatal Depression Scale.
When should someone download the app?
It is designed in a way that patients can download it both during pregnancy and during the postpartum period. There is no absolute consensus as to when is the best time to screen, so patients can screen during the pregnancy or during the postpartum period.
When can someone experience postpartum depression?
We typically refer to postpartum depression as depression that has arisen no later than three months postpartum. The length of postpartum depression is variable. We know that, unfortunately, the majority of patients who have postpartum depression do not get referred to treatment, and if they do get referred, they don't necessarily get better, which can lead to chronic depression.
What red flags is the app looking for?
The app uses a very widely used depression screen, as well as other screens for symptoms such as anxiety, sleep disturbance and perceived stress.
What are the benefits of having an app-based screening test?
The standard screening has most often been with paper and pencil. It's required someone to navigate the screening, and it also requires it to be scored. The accuracy of the digital platform is obvious: There are no human errors in terms of scoring. The user is also provided with guidance in terms of the meaning of the scores.
Why develop an app instead of having women go to the doctor's office?
The first goal was to make a tool that could be used in any number of settings, from community clinics to private offices, that was easy to use.
Over the last 10 to 20 years, a growing number of states require or suggest that screening take place. Postpartum depression is now on the clinical map, for both patients and clinicians. The app affords the opportunity for patients to get treatment for depression during pregnancy and limit the risk for postpartum depression. Depression during pregnancy is one of the strongest predictors for depression after pregnancy.
Other patients will simply use the app to screen at some point during the postpartum period. It can also be used to monitor improvement during treatment.
Can only mothers who have recently given birth experience postpartum depression?
Women who have infertility are at risk for depression, but because they have not gotten pregnant, it is not postpartum depression. There is separate literature that speaks for risk of depression after miscarriage. When we talk about postpartum depression, we are typically talking about women who have carried to term.
What happens when a mother does not get treatment?
Not being treated for postpartum depression is very common. For some women, an episode may spontaneously remit over the course of a year. For other patients, they may not remit. These patients are at risk for chronic depression if the depression is not treated.
If someone has had children before and never experienced postpartum depression, should they still get screened?
Yes. Even if you have not had an episode of depression in the past, it doesn't necessarily protect you from a new episode.
We know that women who have had an episode have a 50 percent risk of having postpartum depression and subsequent episode. Those are two very important points: Even if you haven't had it in the past, you're still at risk; and if you have had it, your risk goes up.
What are the long term goals of the app?
A long term goal is to gather information from thousands of women and really identify the very few items that are the strongest predictors of postpartum depression. We aim to develop an even more user-friendly and abbreviated version that will be released in a year.
I downloaded the application and selected the most concerning items. At the end of the screening, a window popped up that read, "Please call your healthcare provider or go to the emergency room now to ensure your own safety and that of your baby." What are you concerned about when a woman prompts this window?
The most concerning answers are the ones that suggest the possibility of self harm. If the patient endorses that, the app immediately encourages the patient to seek medical attention.
So what's next for the app?
The long term goal is to have a screening coupled with a digital treatment tool that could, for example, deliver psychotherapy through the smartphone, because it can be very challenging for women with postpartum depression to get into doctor's offices.
New mothers with depression may also turn to resources like the National Suicide Prevention Hotline at 1-800-273-8255, or texting HOME to the Crisis Text Line at 741741.
Cynthia Fernandez is a CommonHealth intern.