It's Deadline Day For Amazon Bids
06:42
Play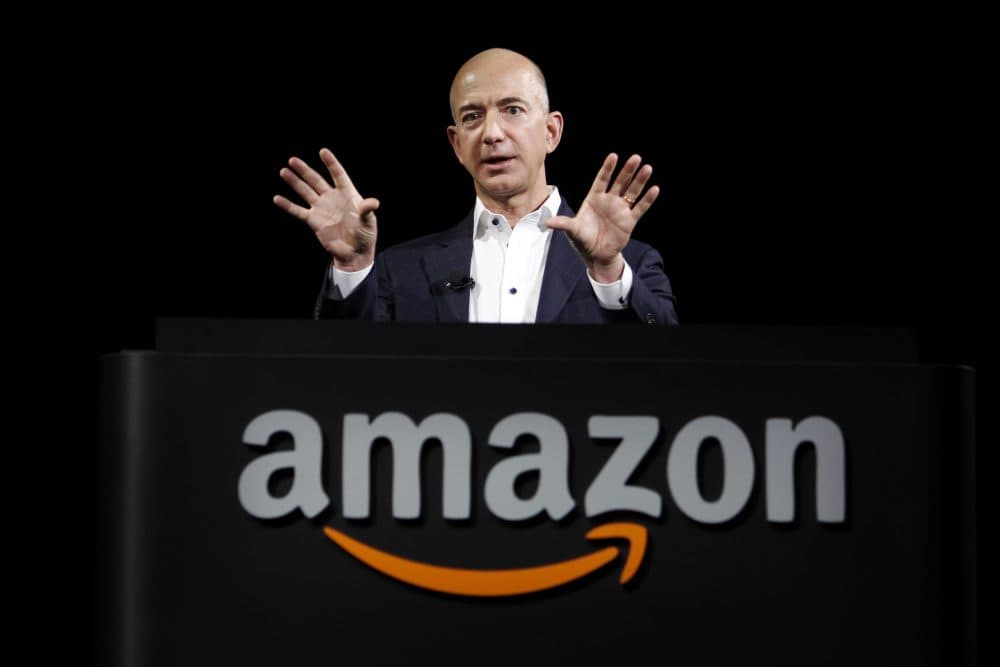 This article is more than 3 years old.
It's deadline day for Amazon HQ2. The retail giant is on a quest to find a second headquarters, and bids are due Thursday.
Cities and states across the country are trying to one-up one another in some strange ways -- sending a cactus to the company as a gift, or buying an ad in The New York Times. It's all an effort to convince the company's CEO, Jeff Bezos, to pay attention to them.
Now, you can argue over whether an Amazon HQ2 would be a blessing or a curse for these cities, and whether it's worth the millions in tax incentives some regions are willing to offer, but the fact remains about a dozen cities around Massachusetts are bidding.
Here's a bit of what we've compiled on a number of those bids:
Boston
Mayor Marty Walsh told WBUR's Radio Boston on Wednesday that the bid will focus primarily on East Boston. Walsh added to WBZ-TV Thursday that the bid will also include a nod to sites in Allston, the South Boston Waterfront and Widett Circle.
The Boston bid is not yet public. The mayor told WBUR it will be available online Friday.
He discussed the city's efforts to woo Amazon in depth with Radio Boston. You can find that interview here.
Boston is seen as the clear front-runner in Massachusetts. In fact, Bloomberg reported that "several senior Amazon.com Inc executives advocate" for Boston.
New Bedford
New Bedford is offering up a 114-acre site that's currently a golf course. (You can read the bid here.)
It emphasizes New Bedford's quality of life and affordability:
Today, housing in New Bedford is significantly more affordable than housing elsewhere within eastern Massachusetts. In August 2017, the median sale price for a house in the Commonwealth was $372,500, in Boston: $987,000, and in New Bedford: $200,000.
Fall River
Fall River, which is home to a massive Amazon distribution center roughly the size of 28 football fields, is submitting a bid that highlights a specific site adjacent to that existing Amazon facility: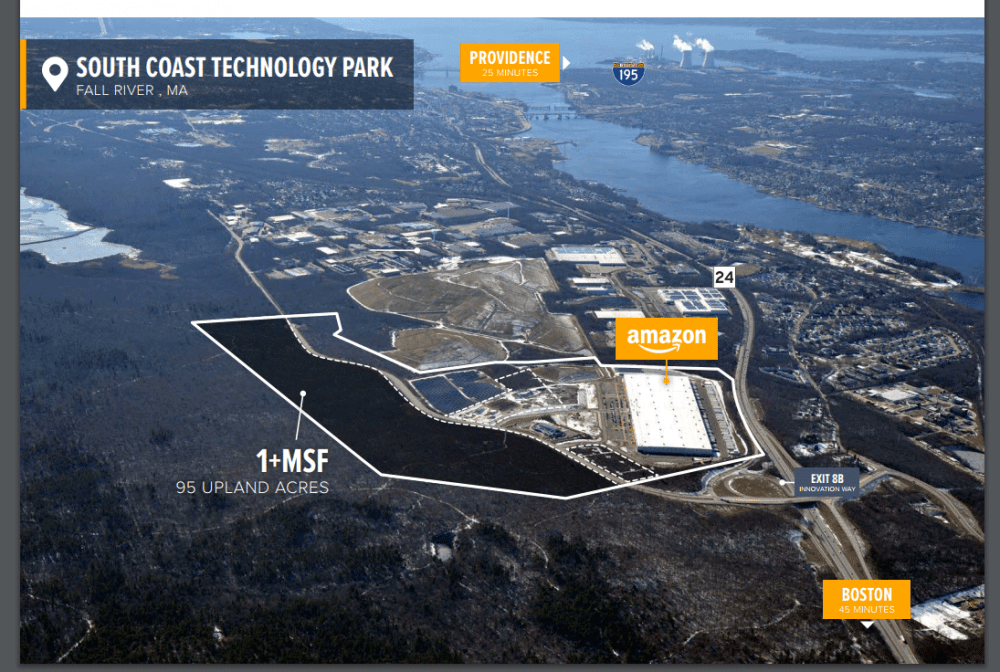 The Fall River/Freetown proposal highlights the region's proximity not just to Boston, but also to Providence and says it's a "Proven Amazon Location."
But the current Fall River Amazon center is home to a very different workforce than what Amazon suggests it's looking for with HQ2. The distribution center employs many blue-collar workers — forklift drivers, pickers and packers. You can read more about it here.
Worcester
While Boston's Mayor Walsh says it's too early in the process to discuss specific tax incentives, Worcester is prepared to offer at least half a billion dollars in tax incentives. Now, these would not come directly from the local municipality, but in partnership with the state through the Economic Development Incentive Program.
Still, by outlining specific dollar amounts, it's a sign that Massachusetts second-largest city is trying to make a competitive bid.
You can read more about the city's offer, with a link to the entire 60-page bid, here.
Lowell, Billerica, Tewksbury And More
Westford, Chelmsford, Tyngsborough, Bedford, Burlington and Lexington are also part of this collective bid that aims to unite Middlesex County by offering multiple sites along the Concord River. The bid — you can read it here — includes letters of support from a dozen politicians across the region.
Like many of the non-Boston bids, this one highlights the region's highly educated workforce (which is, no doubt, a factor of Boston/Cambridge), but then argues that it can offer more affordable housing than Boston/Cambridge:
Weymouth, Abington, Rockland
LStar Ventures -- the developers of Union Point, a new urban development at the site of the former South Weymouth Naval Air Station -- is offering a bid with the help of Weymouth, Abington and Rockland.
The proposal offers Amazon "100 acres of pad-ready land -- valued at $400 million -- at a deeply discounted, potentially free cost."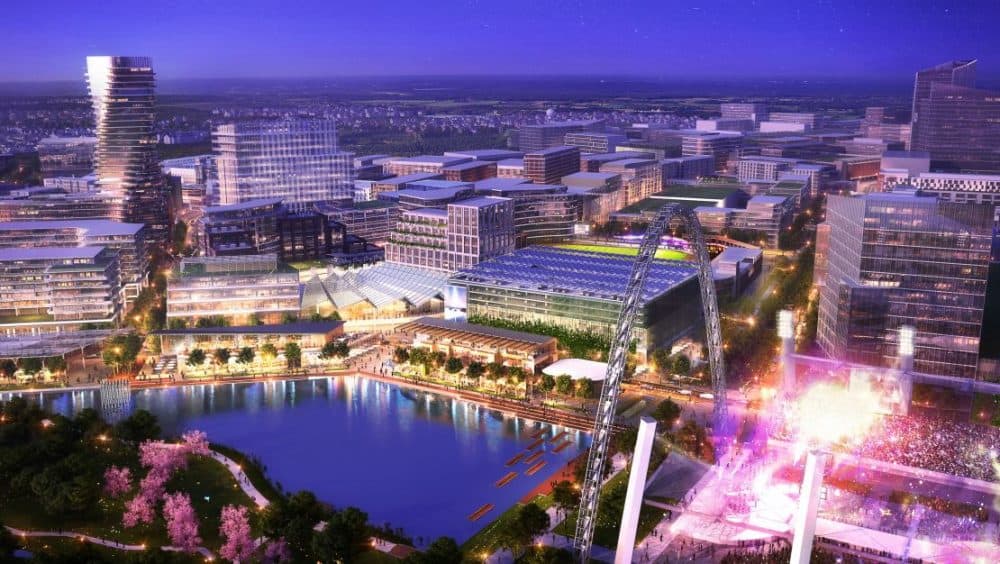 The bid outlines a specific plan for this exchange: "For every dollar Amazon pledges over the next decade to organizations serving the region's vulnerable populations, LStar Ventures will credit two dollars toward the purchase price of the land at Union Point."
The Union Point bid also suggests the region is willing to offer significant property tax discounts valued at approximately $288 million. In total, the incentive package could exceed half a billion dollars.
North Andover, Lawrence, Haverhill And More
The Merrimack Valley communities of North Andover, Andover, Haverhill, Lawrence and Methuen submitted a joint bid dubbed "Let's Get Merri'd" that plays on the idea of creating a partnership, or more candidly, a "marriage" with Amazon. You can read it here.
The primary suggested location for Amazon HQ2 is Osgood Landing in North Andover -- also known as the site of former Lucent Technologies facility.
New Hampshire
Our neighbor to the north took quite a few jabs at Boston in its 78-page proposal. In a nutshell it advertises itself a region that offers all the "benefits of Boston without all the headaches."
As WBUR's Zeninjor Enwemeka reported here:

Choose Boston and next year when you leave your tiny $4,000-a-month apartment only to sit in 2 hours of traffic trying to make your way to an overburdened airport, you'll be wishing you were in New Hampshire. Or ... choose New Hampshire and invest in your high-growth future.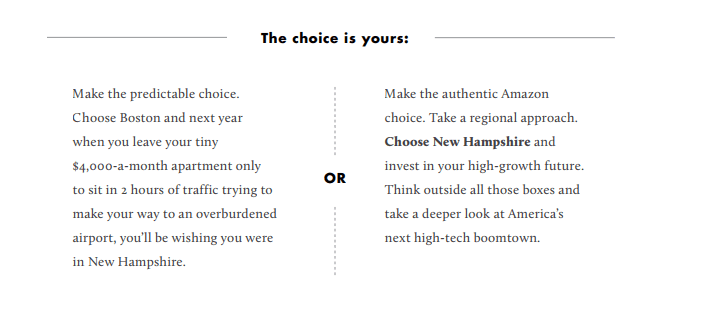 This article was originally published on October 19, 2017.
This segment aired on October 19, 2017.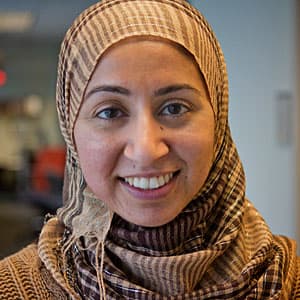 Asma Khalid Reporter
Asma Khalid formerly led WBUR's BostonomiX, a biz/tech team covering the innovation economy.