Fires That 'Suddenly Erupted From The Ground': California Wildfires Bring To Mind A Maine Disaster
Resume
For some in New England, the deadly fires in California are a reminder of when fires overtook much of Maine around this time of year, 70 years ago. Wildfires in 1947 simultaneously burned over hundreds of miles for 10 days, wiping out towns, and forever changing the landscape.
At the Brick Store Museum in the center of Kennebunk, Maine, a painting hangs inside the front hallway, showing a night sky in the distance, filled with fire.
Steve Spofford, the town historian, said it shows an accurate depiction of the 1947 fires that swept around the state.
"That is correct about how the sky looked," he said. "You could hear the roar of the fire. She depicts it well, here."
In the painting by Edith Cleves Barry, who founded the Brick Store Museum in the 1930s, trucks that might have been used for crops or hay rides are piled high with furniture and the belongings of families evacuating.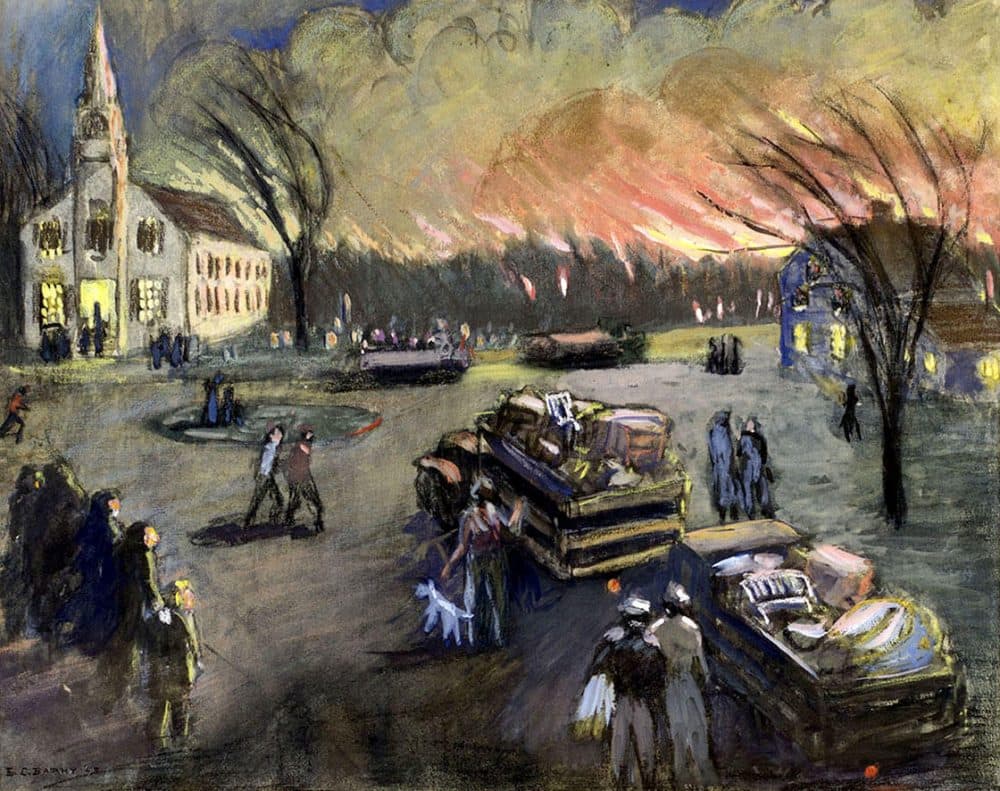 Another image on the canvas is a church, illuminated. Spofford said the church and others were open 24/7 for firefighters. It's where they ate and slept.
"The firehouse, which [is] just around the corner from us here, was the headquarters for the Maine Forest Service," he said. "And for the firefighting — to tell people that were coming in from all over where they needed to go to fight the fire."
Just a few miles away, in Kennebunkport's Goose Rocks Beach, three generations of Spofford family members escaped with their lives.
Among them was Spofford's 70-year-old great grand-aunt Olive Emmons, who at first refused to leave her home because it was hard to imagine how the fires could touch her — she lived right on the water, next to a river and the ocean.
"She left the morning of the fire," Spofford said. "By six o'clock that night, the fire had rolled into Goose Rocks and completely destroyed it."
Over 10 days, more than 200,000 acres of Maine burned, including about half the acreage of Acadia National Park. About 2,500 people were left homeless. Nine towns were gone.
Remarkably, Spofford said, only 15 people died.
"In the coastal areas, a lot of people had already left for the winter," he said. "If this had happened in July or August, there would have been more deaths."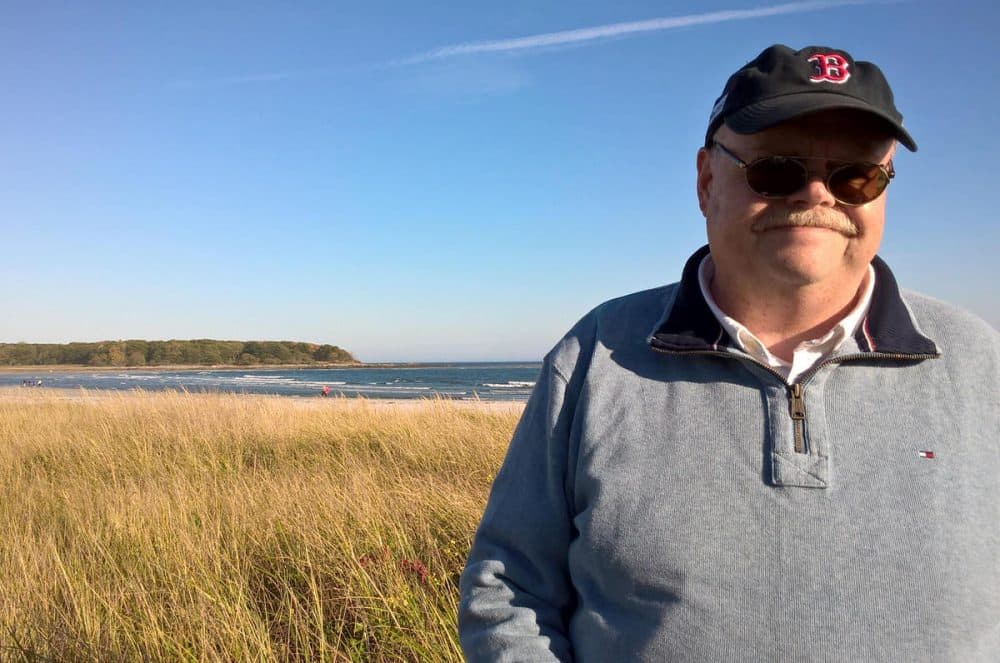 Maine was experiencing a serious drought in the months leading up to October 1947.
No one was unduly alarmed. The crops were good. The summer tourism season had been great, and everyone assumed the autumn rains would come, just like they did every year.
Then, in the first week of that month, the Maine Forest Service began to get calls about some small fires not far from Kennebunk, in York and Cumberland counties.
They were put out. Other small fires were reported, and months of drought made tinder out of a state that was — and still is — almost 90 percent forest.
In the late 1970s, historian Joyce Butler — whose book "Wildfire Loose: The Week Maine Burned" is seen as the definitive account of the 1947 fires — taped interviews with numerous fire survivors, including Charlotte Stewart of Bar Harbor. Her interview is archived at the Raymond H. Folder Library at the University of Maine in Orono.
Stewart was a telephone operator who stayed in town as the fires approached.
She described to Butler that the fire "suddenly erupted from the ground. And everybody thought, well, it's just a forest fire. But the trees were so dry that it just — there was no stopping it. And the fire department at that time was not equal to it. They did not know how to handle underground fires. They've learned since, believe me."
The fire would seem to die down, Stewart went on to say. Then it would cross the road and pop up somewhere else.
A live cinder hit the roof of her brother-in-law's dairy barn.
"My brother was working with him at the time," she said. "And he — everybody yelled, 'Run for your lives!' "
The barn burned to the ground.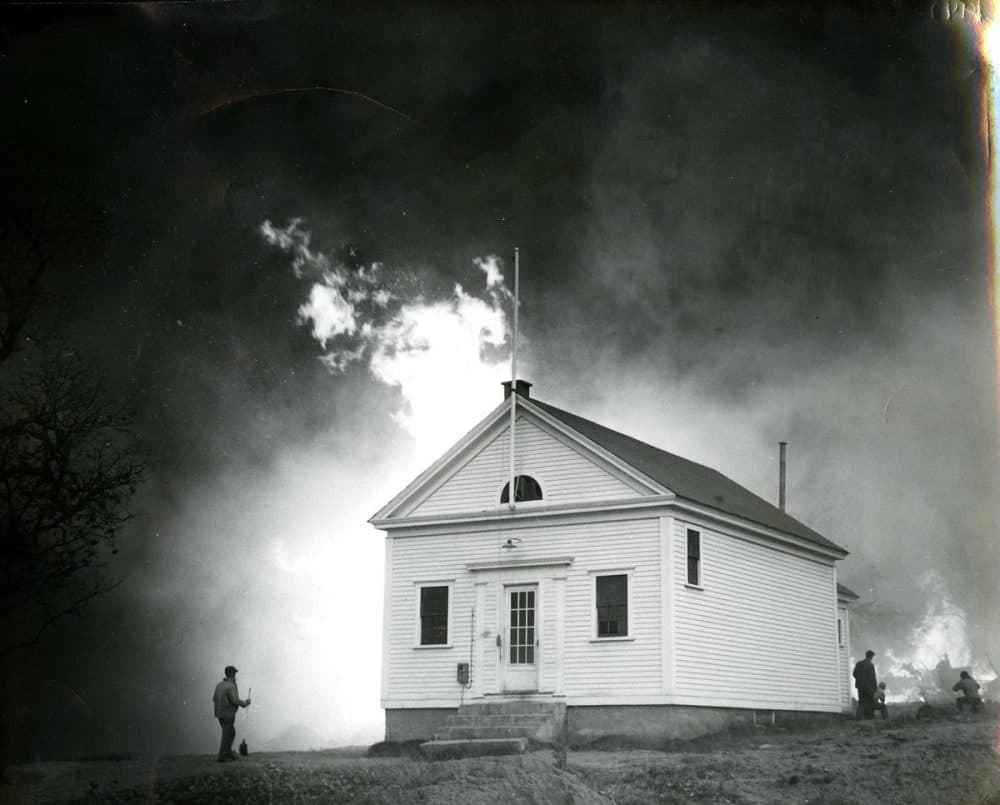 Butler's book inspired popular novelist Anita Shreve to write her most recent novel, "The Stars Are Fire."
"There was a detail that stuck in my mind about how some of the women and men had to go into the sea to save themselves," Shreve told New Hampshire Public Radio earlier this year.
It was not only men and women, Spofford said.
"The scary part: All the rats that were running to get to the ocean," he said. "And they came under the blankets with [survivors], as they were sitting in the surf."
Spofford's mother-in-law gave him Shreve's book. He said he hasn't read it yet. With the anniversary, and speaking engagements this month, he doesn't want mix up fact with fiction.
People spent years rebuilding their lives and cleaning up debris, Spofford said, himself included. He was born about 20 years after the fires.
As he drove back toward town, Spofford pointed to a stand of trees.
"Where this stake is right there," he said, "my father owned all this land."
What's grown up in place of the acres of Maine pine that burned down to ash are mostly birch and aspen trees.
Spofford pulled over and looked through the windshield. He got out and peered around — and within a few minutes, he found what he was looking for.
"We're in luck," he said.
He'd found a piece of wood, about 3 feet long, left over from the 1947 fires. It went into the trunk of his car, another artifact for the museum.
He said the fires could happen again, like they do out west.
And his remark came just weeks before the deadliest fire in California's history began, not that far from the Pacific Ocean.
This report comes from the New England News Collaborative. It was originally published by New England Public Radio.
This segment aired on October 24, 2017.