Breaking From Trump-Bashing, Matt Taibbi Examines Eric Garner's Death In 'I Can't Breathe'
Matt Taibbi is a scorched-earth journalist, as readers of his work in Rolling Stone on the financial meltdown of the George W. Bush era and the ongoing escapades of Donald Trump can attest. Or as financial writer and editor Felix Salmon puts it: Taibbi is "the best polemic journalist in America."
In his new book, "I Can't Breathe: A Killing on Bay Street," Taibbi shifts his attention to Eric Garner, the Staten Island man whose death at the hands of police in July 2014, captured on video, led to a national uproar.
The most frequent targets of Taibbi's laser-focused wrath are generally right-wing politicians or institutions, though he can be withering about the mainstream media, as well. Taibbi, who grew up on Boston's South Shore and once covered crime in pro sports for the Boston Phoenix, can turn a phrase and zing a poison dart like few others can. One memorable knife-twister was, when, in writing about Goldman Sachs and the financial meltdown, he described the company as "a great vampire squid wrapped around the face of humanity, relentlessly jamming its blood tunnel into anything that smells like money."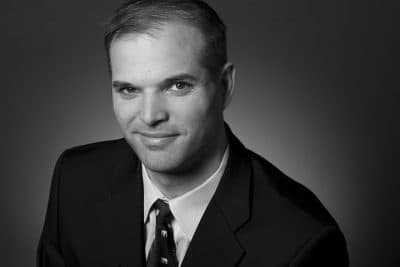 Last week, on the phone from Jersey City, Taibbi was on a roll: "How many countries are there in the world? 200? And it's almost like the majority of them are run by people who are in the bottom 10 percent of competency in their country. We now have a situation with Trump and Kim Jong Un where nuclear powers are run by insecure, narcissistic, impulsive people who don't listen to advice and we're all at the mercy of idiots. People just gravitate toward the stupidest possible resolution to problems they have."
One pronounced characteristic of Taibbi's writing is a grim sense of humor that winds its serpentine way through serious subject matter. Suddenly, you'll be reading the degrading, destructive acts of a politician or institution, and have a spit take or a giggle fit.
Here's an example from Rolling Stone earlier this month: "Trump spent much of the week expressing morbid excitement about Harvey, as though the sheer size of the storm somehow reflected upon him personally. 'HISTORIC rainfall,' he gushed. … Then, Trump went somewhere, fell asleep, woke up and decided the first thing to take a Twitter leak on nuclear belligerent Kim Jong-Un, who just days before had shot missiles over northern Japan."
In January, Taibbi published "Insane Clown President," mostly an annotated compendium of his Rolling Stone reports.
As might be expected, Taibbi has attracted many Twitter trolls.
"Nobody enjoys trolls," Taibbi says, "but I definitely don't block them. If you're going to write things about other people, which I have done … if you buy the ticket you've got to take the ride. Not to be too serious about this, but as a matter of principle I read all my hate mail. I think it's important to listen to people. But in the Twitter age I'm starting to lean toward listening less."
Taibbi, 47, is the son of Mike Taibbi, former reporter for NBC News and WCVB-TV in Boston.  He attended Concord Academy, graduated from Bard College in 1992 and lived in Russia for the better part of a dozen years. (He came home to Massachusetts one year, 1994, to work as an assistant in a private detective agency in West Roxbury.)
He credits various darkly comic Russian novelists for early inspiration, among them Mikhail Bulgakov, Sergei Dovlatov, Mikhail Zoschenko and, especially, Nikolai Gogol ("my hero growing up"). Also cited: Evelyn Waugh, Saki, Joseph Heller, H.L. Mencken, Hunter S. Thompson and the staff of MAD Magazine.
Taibbi's current career grew out of the market crash of 2008, according to Joe Hagan's just published book on Rolling Stone and its publisher. Fittingly, Hagan calls Taibbi "the heir to Hunter S. Thompson, whose attacks on the banking industry almost single-handedly revived the reputation of late-period Rolling Stone."
"When I grew up, all my heroes were funny writers." Taibbi says. "If you want to get Freudian about it, the reason I do what I do and take the approach I take probably has its roots in when I was really young I was kind of a depressive so I used to read funny books to cheer myself up. All people who become writers, they're an amalgam of all the people they steal from when they're young and so a lot of the people I stole from were comic writers. And probably as a result I have an absurdist view of the world in general. Consciously or unconsciously, I'm always looking for that angle."
"All people who become writers, they're an amalgam of all the people they steal from when they're young and so a lot of the people I stole from were comic writers."

Matt Taibbi
But you won't find that dark humor — not much of it anyway — in the deeply researched "I Can't Breathe" — and for good reason, as there aren't laughs to mine. (Taibbi is at First Parish Church in Cambridge on Wednesday, Oct. 25, in discussion with WBUR's Robin Young.)
In "I Can't Breathe" — the title lifted from Garner's last words, captured on video and seen around the world — Taibbi goes into the flaws of the so-called "broken windows" policy laid out by criminologist George Kelling, which links relatively minor offenses within a community to subsequent serious crime. That, Taibbi writes, was the cornerstone for the New York Police Department's stop-and-frisk campaign, which led to the harassment and threats to many of the city's people of color, creating an atmosphere of fear and paranoia.
Taibbi says he was first prompted to visit the scene of Garner's death after district attorney Dan Donovan failed to indict one of the officers accused of killing him, Daniel Pantaleo. (The other Justin Damico was granted immunity when he testified.)
"I never intended to write this book at all," says Taibbi. "I don't live that far from Staten Island, so I just drove out there to see what people were saying. I went out to there after the non-indictment came down and I was just curious to find out a little bit about Garner. I was interested in him as a personality. What happened after that was I found myself coming back a couple of days later and after that again and again and that's how the project happened.
"I had some interest in the community policing issue because of the previous book that I wrote," Taibbi says referring to his 2014 publication, "Divide: American Injustice in the Age of the Wealth Gap," "but what happened was I realized there was no way to objectively do that without wrapping in all this history and policy. To talk about the larger forces that ended up colliding in one place at one time."
In the book, Taibbi then went further than Garner's life and death, into the protests on both sides of the divide, the beginnings of Black Lives Matter and the resistance from the NYPD among others.
In Garner, Taibbi wasn't given a perfect victim as a subject. Garner, a former athlete who'd become obese and diabetic, had violent relationships with women. Slovenly and unkempt, he was a small-time career criminal who chose to deal smokes — selling anything from "onesies" to cartons — because the profit margin was high and the risk manageable. He knew even if he was busted it was small potatoes compared to the fate of a crack dealer. He had a ready customer base after Mayor Bloomberg had imposed a huge tax on cigarettes sold in New York in 2006, effectively pricing many lower income nicotine addicts out of the market.
Among the ironies of Garner's life and death, he wasn't selling cigarettes at the time he was confronted by police.
"Although my life couldn't possibly have been more different from Eric Garner's," Taibbi says, "I found some things that were the same: We were the same age, we have young kids, there were details about his life I felt like I understood, the thing where he couldn't buy himself new clothes because all his money went to his kids, I completely understand that. The fact that he doesn't take care of himself, that he thinks it's kind of over for him, but he can go out and do something for the next generation, I think that's pretty universal. People can appreciate that even though he had his foibles.
"If you don't describe people with all their pluses and minuses, if you don't describe them as three-dimensional human beings, you turn somebody into a symbol and reduce them to that..."

Matt Taibbi
"If you don't describe people with all their pluses and minuses, if you don't describe them as three-dimensional human beings, you turn somebody into a symbol and reduce them to that, you're going to fail to get people emotionally invested in their lives," he says.
Inevitably for Taibbi, there was a Trump tie-in. Noting the beginnings of Black Lives Matter, Taibbi says, "Trump successfully positioned himself as a leader of the reaction to that movement and I think some of the energy for his campaign came from a reaction to the public outrage over those cases. Dan Donovan, the DA who got elected to Congress, is the direct beneficiary, but Trump in a larger sense was elected in that way."
We are, many people think, in the midst of grim times. But if you ask Taibbi where he stands on the pessimism/optimism scale regarding life in America today, he throws an unexpected curve ball: "This is going to sound really strange because just about everything I write is really, really negative and dark and never offers solutions, but I think we're probably in a better place than most people think."
"I'm relatively optimistic. I lived in Russia for 10 years and we have so far to fall before we can be that dysfunctional as a society. I think a lot of people who grow up in this country don't realize all the things that we have that are good starting points, like running water and electricity and a court system that doesn't include open bribery. We're a relatively high functioning society; we're well-educated. It doesn't look good and it doesn't look like we're headed in the right direction culturally, but I do think we have a lot to build on and be a thankful for."
---
Matt Taibbi joins WBUR's Robin Young at First Parish Church in Cambridge on Wednesday, Oct. 25, for a discussion of "I Can't Breathe."