Some Mainers Fault N.H. For Not Doing More To Support New England Rail
05:59
Play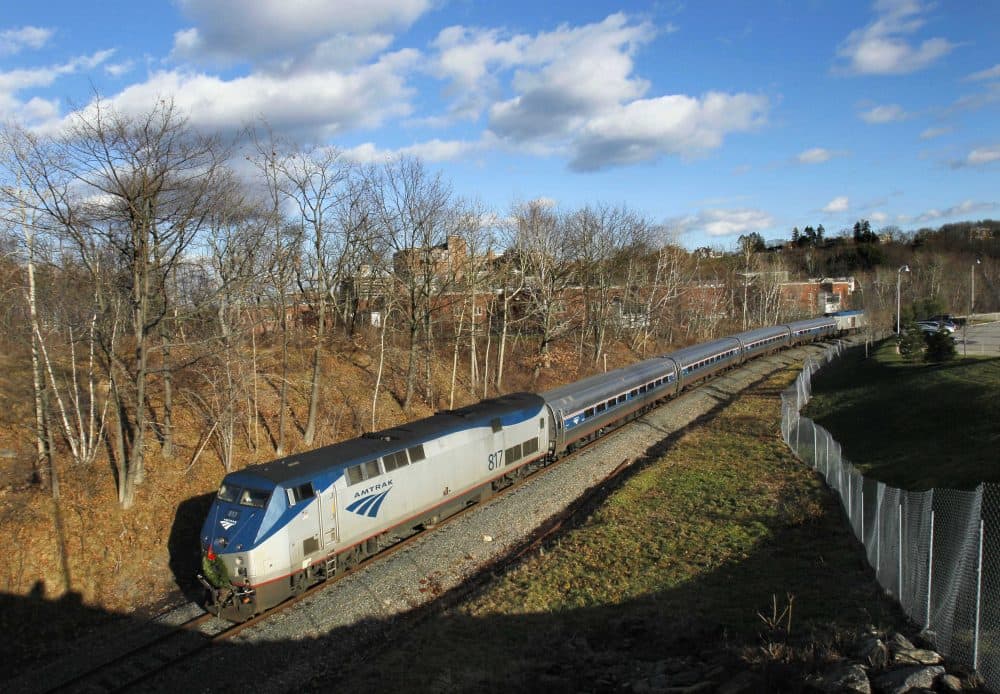 This article is more than 4 years old.
A private train company is offering to connect Nashua and Bedford, New Hampshire, to Lowell, Massachusetts, with the promise that the towns won't be on the hook beyond the costs of station maintenance.
If you've been following commuter rail issues in New England for the past two decades, this funding scenario may jog some memories.
Thirty years ago, lawmakers in Maine made a decision. They said, "We want a commuter train that will connect Portland with Boston, and we're willing to spend the money to build it."
New Hampshire lawmakers, perhaps not unexpectedly, said, "Sure, you want a train, you can have it. It can pass through our state, it can make stops in our towns, but don't expect us to fund the thing."
Maine forged ahead, and after decades of planning and fundraising and delays, the Amtrak Downeaster was christened into service in December 2001.
On hand to break some champagne was former Massachusetts Gov. Michael Dukakis, who was, at the time, on Amtrak's Board of Directors.
"Boston is going to benefit enormously, Maine is going to benefit enormously. New England is going to benefit enormously," he told the crowd during a ceremonial ride. "New Hampshire is going to have rail service. At long last, New Hampshire is being dragged into the 21st century."
Dukakis just couldn't resist ribbing New Hampshire. Sixteen years later, there are still plenty of people who want to poke a finger in the state's eye for not funding the Downeaster.
"[There's] a lot of frustration within the state of Maine about that," said Patricia Quinn, executive director of the Northern New England Passenger Rail Authority, which oversees operations of the Downeaster.
To balance the train's books, Quinn relies on a mix of ticket revenue, approximately $10 million in annual federal subsidies, as well as about $2.5 million from the taxpayers in Maine.
The train, though, doesn't just carry Mainers. New Hampshire's three stops — Durham, Dover and Exeter — are popular, accounting for about one-third of all riders.
Quinn and many others in Maine are of the opinion that if New Hampshire citizens are benefiting from the Downeaster, the state's government should kick in a few bucks, too, to cover its costs.
"Hopefully, the policymakers in New Hampshire will see the value of the service to its citizens, and agree to participate with us," Quinn said.
Despite record ridership, earlier this summer, fare prices on the Downeaster were raised for the first time in five years. While most rides were increased by a dollar, the popular Boston-to-Exeter evening commuter train saw a steeper jump — up to $4 more per ticket — citing New Hampshire's lack of support.
A 'Boondoggle'?
Despite what Dukakis and the folks in Maine would have you believe, it's not like New Hampshire has completely ignored the train. In 2006, the state chipped in $1.6 million to help the Downeaster add a fifth daily round trip. But lawmakers in the state, especially Republicans, argue there are simply smarter mass transit investments out there.
Then-candidate Chris Sununu, during a debate in the lead-up to the 2016 gubernatorial election, gave this response to a question about rail: "When you have 153 red listed bridges in this state, 2,000 miles of poorly to very poorly paved roads. We haven't finished I-93, the Sarah Long Bridge just broke a couple of months ago. To spend $350 million on a boondoggle project as rail, we could fix every red listed bridge for that amount of money."
The "boondoggle" Sununu was referring to is the much debated Capital Corridor train line that would connect Boston with Manchester and Concord. Even spending money to study its feasibility has been contentious.
Another example of the state's resistance to commuter rail is the 10-year State Transportation Plan, which details how New Hampshire intends to spend its federal and state transportation money during the next decade.
The current plan has no money slated for the Downeaster, and no other significant investment in commuter rail. But it does have nearly $20 million set aside for a different form of mass transit: commuter buses.
N.H. Puts Its Seal On Buses
For the past 49 years, C&J, a privately owned company, has provided inner-city bus service in the Seacoast region, with routes from Portsmouth and Dover to Boston, Logan Airport and New York City.
If you've been a passenger on C&J, you may have noticed something above the rear left wheels: the seal of the state of New Hampshire, painted right there on a few of its buses.
That's because the state has purchased nine buses over the years, to the tune of $5 million, that C&J then operates on routes that would otherwise be unprofitable. (Seven of those buses remain in C&J's fleet.)
You can think of that seal as New Hampshire saying to Maine: You can have your trains, we're going to get there by bus.
Jim Jalbert, owner and president of C&J, says it's a smart investment. He argues that buses are a more efficient way to move people between cities in this part of the state, and that while the Downeaster only gets about 50 percent of its revenues from the fare box, his company more than breaks even on ticket sales.
"The numbers speak for themselves," Jalbert said.
He admits, though, that it's not easy to rally support for buses. Compared to trains, there's simply a branding problem.
"They do a great job at pushing their brand. ... it's just that we live in a world that is based on economics right now," Jalbert said.
On a train platform in Exeter, I found Debbie Barns of Old Orchard Beach, Maine, who agrees that buses are in an uphill image fight with rail.
"Trains are romantic," she said with a laugh.
Barns, who doesn't drive, relies on the Amtrak Downeaster to see her family.
"I visit my daughter in Greenville, New Hampshire ... we meet in Exeter, she picks me up, and we get to visit," Barns said.
For her, it doesn't matter that New Hampshire supports buses and Maine chooses the train. She's just trying to get where she's going, and the more options, the better.
If you are commuter in Nashua or Bedford, and a private company wants to bring a train your way, you may be thinking the same thing: Sure, why not? Especially if someone else is going to pick up the tab.
This story comes via the New England News Collaborative and was first published by New Hampshire Public Radio.
This segment aired on October 24, 2017.