Boston Is A Luxury Utopia That No One Can Afford In Pat Falco's Satirical Art Show
"Luxury Waters: Sales Office" reads the gold sandwich board inviting you in to 201 South St., near Boston's South Station. The storefront windows display hard hats and shovels and signs announcing: "Housing is a / fortune / indulgence." And "Privilege / Power / Comfort." And "#Live #Laugh / #Luxury."
Inside the building lobby are (what appear to be) real estate sales videos and framed architectural renderings and a model of a 62-story-tall glass condo tower spearing right out of the waters of Boston's Fort Point Channel. The model skyscraper is so tall that it rises right through the top of the display case. A framed poster reads: "Tower above the city with the largest income inequality gap in the country. Pre-selling fall 2017."
A bit further along, across from a desk, a neon sign invites us to "Enjoy / Concierge / Parking / Economic Diversity / Glass / Racial Equality / Pet Spa / Rooftop / 24 Hours / Views / National Leading Income Inequality / Fitness Center."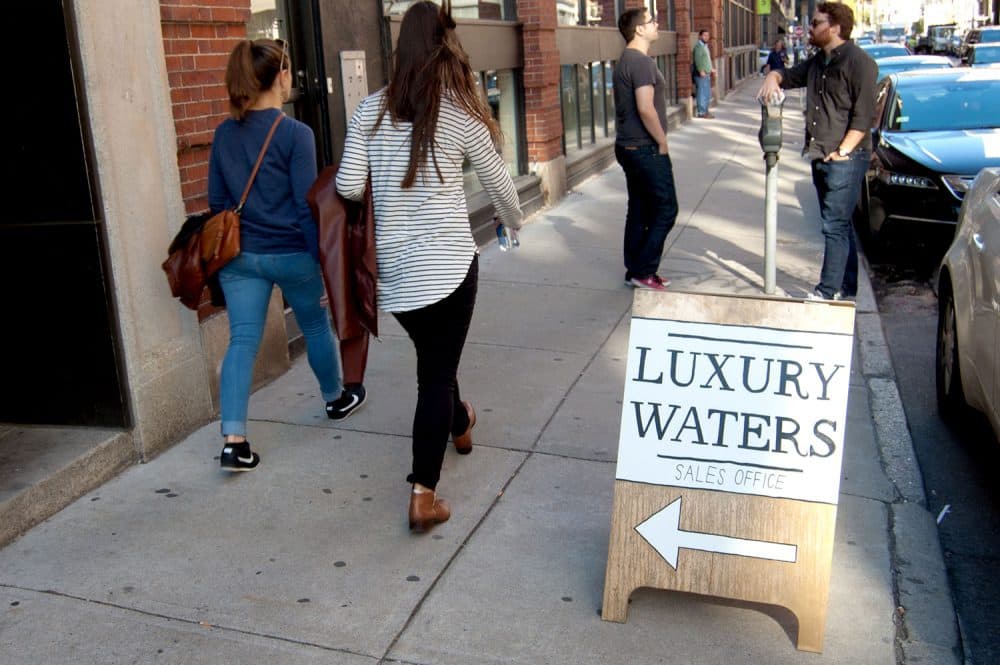 If you've not figured it out already, what appears to be a sleek sales office is actually a sharp satire, a political cartoon you can walk into. The proposed "Luxury Waters" residential tower stacks a seemingly endless number of three-deckers atop each other. "The three-decker is such an iconic Boston home. This one is made out of glass. It's taking the iconic-ness of it without the poverty," explains Pat Falco, the fellow behind the installation.
"I actually applied for a building permit. Which has not been approved yet," he deadpans.
On view at Open Gallery for drop-ins through Saturday, Oct. 28, then by appointment only through Nov. 3, the "Luxury Waters" art installation savages the folks reimagining Boston as a utopia of happy, wealthy white folks living in a downtown condo paradise of glass and sun, city and harbor, entertainment and plenty. It's a timely show about our era of ballooning income inequality, gentrification, ongoing racial segregation and luxury most of us can't afford.
"The original idea was I would draw people in who were actually interested in these buildings," Falco says. "There definitely are people who come in confused, but it's more about getting the information out."
In particular, the South Boston artist says, "I really want to know what is happening, who these people are, why this is happening. I feel like 90 percent of the show was research into housing policy."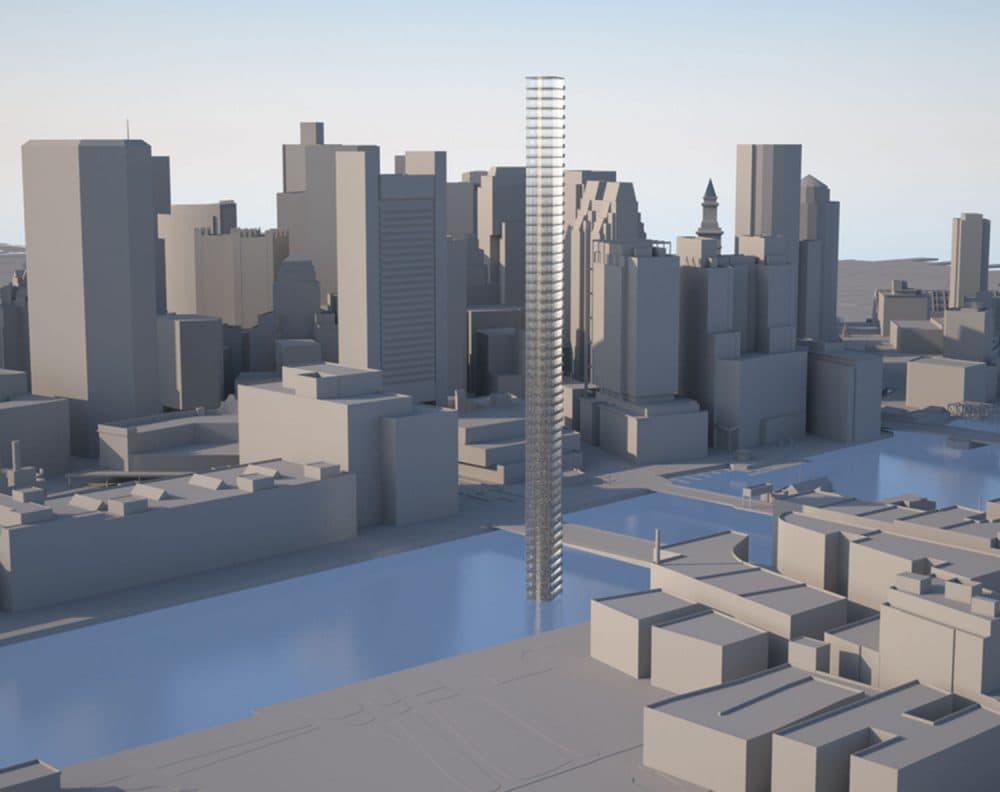 For example: "Three — The number of full-time jobs needed to afford an apartment in Boston at minimum wage," explains a broadside Falco penned. He tells me, "It's stressful how much you have to pay to live somewhere. It's not even a choice."
Another broadside provides statistics about developers failing to meet city requirements for inclusive hiring for construction workers — but facing no repercussions. Falco says, "I called the [Boston Planning and Development Agency] to try to find out what the consequences were. It took me like two weeks and the person told me they're just goals."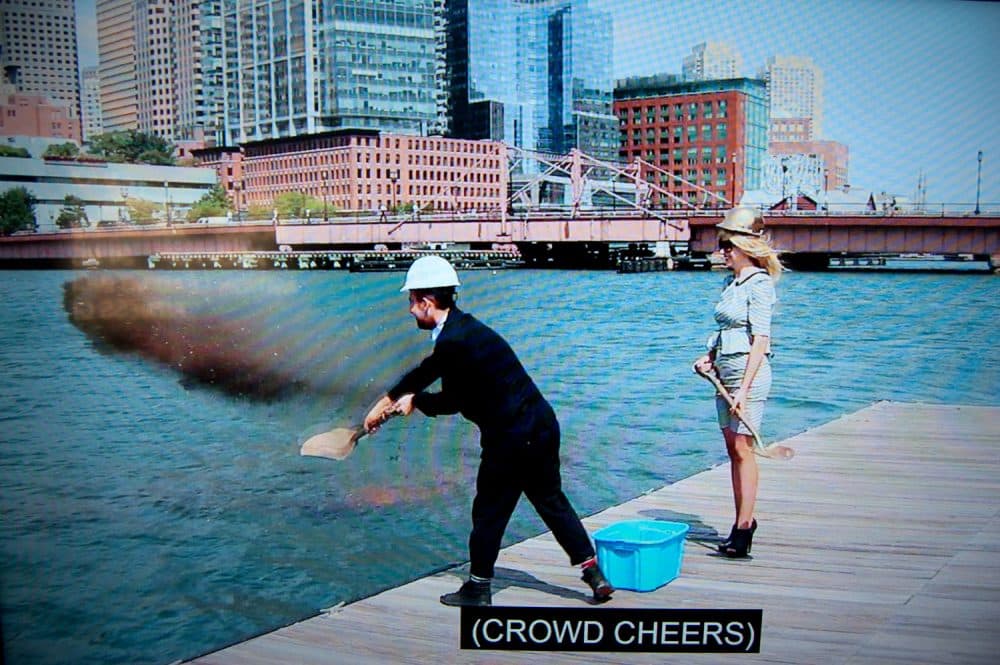 Falco is the artist behind last summer's funny, fake campaign office at Faneuil Hall. On the door, hand-painted lettering read: "Welcome to Boston Campaign Headquarters. U.S.A. Land of the free and 200 million other people." That project seemed to speak of a feeling of disappointment and helplessness. "Vote for nothing," one sign read. "Nothing will care. / Nothing works for you. / Nothing will change."
The gentrification of Boston and the city's growing income inequality are subjects Falco has been circling for a while. In 2014, on the city's sign reading "Welcome to Fort Point: New England's Largest and Oldest Artist Community," he crossed out "Artist" and inserted the words "Luxury Condo" instead. As a guy with family ties to the North End and Southie, the subject seems more personal to him. This time, there's an undercurrent of anger running through the jokes.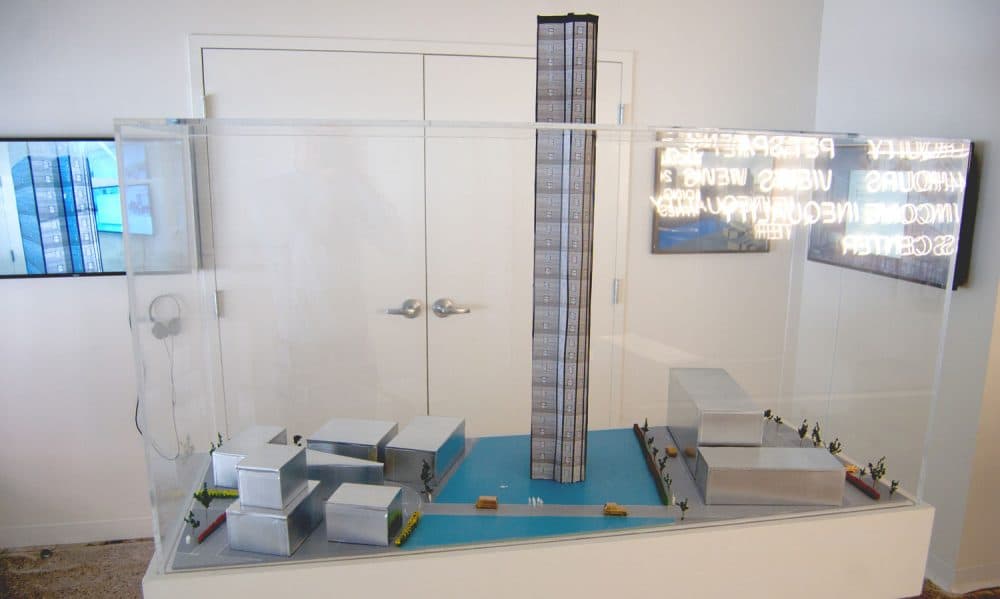 Tory Bullock — a Boston artist who has also been pointedly criticizing the gentrification, inequality and racism of Boston — contributed a satirical video to the project. In the production, he pretends to be a fast-talking real estate salesman touting the 62-story "Luxury Waters" building that would sit right in the middle of the waves of the Fort Point Channel. "Take a look at all the splendor that is this beautiful waterfront, the lush trees, the beautiful grass," Bullock says in the video. "All this will be completely demolished, but it will be replaced with a beautiful building."
The affordable units, Bullock says on the television, will literally be under the water. (A flier in the exhibit reads: "As sea levels rise, we will be able to add even more affordable (70-120 percent area median income) units underwater, in addition to the nearly eight we have already planned.") The building's proposed amenities include high-end grocery stores and coffee shops, armed security, "one way windows so you can see them, but they can't see you," and "shuttle service to and from the parking lot so you won't have to walk in the neighborhood you're living in."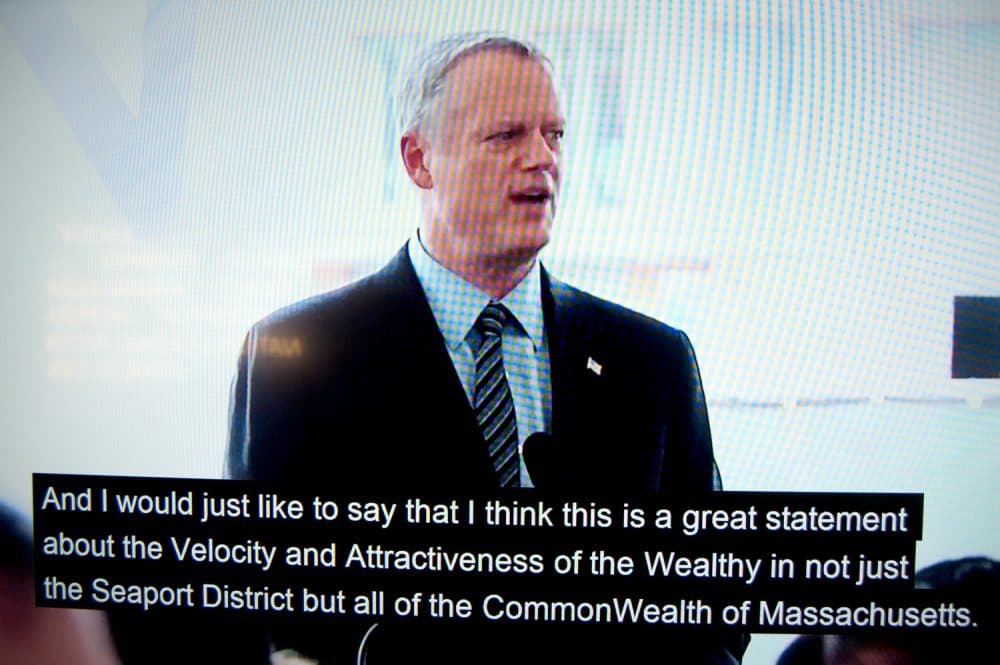 A video by Falco purports to show the groundbreaking for the imagined "Luxury Waters" tower. Because the building will be in the middle of the channel, Falco and a woman, both sporting hardhats (of course), shovel dirt right into the water. In doctored clips, Massachusetts Gov. Charlie Baker and Boston Mayor Marty Walsh seem to praise the project for giving the city a "really terrific economic push" and turning Boston's Seaport into the "next generation of great business neighborhoods."
"I would just like to say that I think this is a great statement about the Velocity and Attractiveness of the Wealthy," Falco has Baker say, "in not just the Seaport District but all of the CommonWealth of Massachusetts."
"We are committed in the city to create more wealthy home ownership opportunities in every neighborhood in our city," Falco has Walsh say.
Are there solutions here? The exhibit offers fliers listing contacts for various affordable housing advocates and city agencies, but Falco says, "No. It just gets worse. It really seems like you have to run for mayor and have a lot of money or something."
He adds, "Part of this is to really highlight the absurdity. … I think awareness is a big thing. A lot of people are oblivious."