Art Prof, A Website, Wants To Do More Than Teach Art — It Wants To Help You Find Mental Flow
Play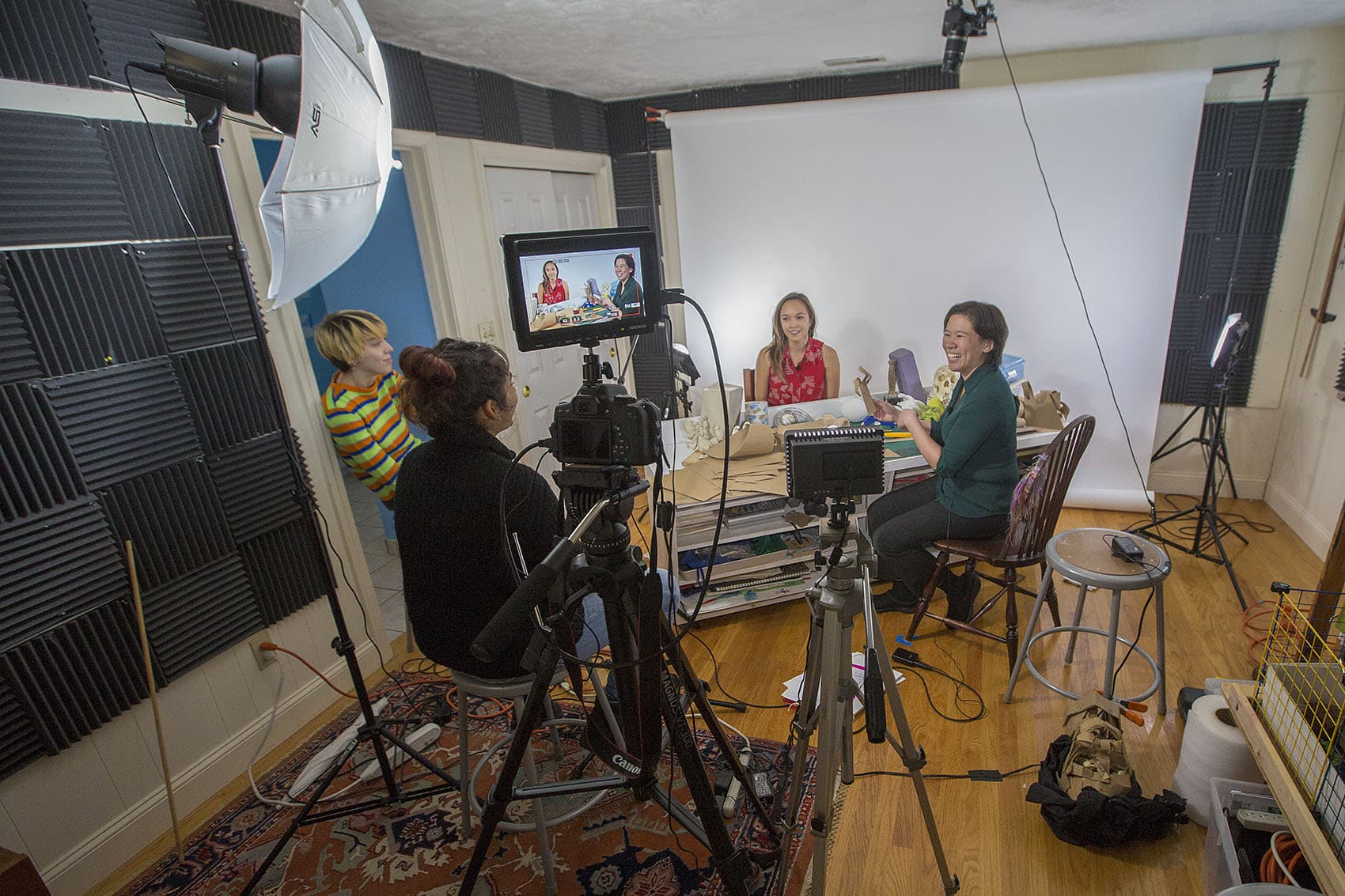 This article is more than 5 years old.
In a makeshift studio that used to be her children's playroom, Clara Lieu tries to explain how to make a sculpture from chipboard. Lights, cameras, lots of art supplies and her pet guinea pigs surround her.
Lieu, an adjunct professor at Rhode Island School of Design, doesn't have a big home in West Newton, so the guinea pigs share the studio where she films instruction videos for her art teaching website, Art Prof. Lieu raised $30,000 through a Kickstarter campaign in the summer of 2016 that pays for materials and teaching assistants, but the website is still in a punk rock phase. The setup looks super DIY in person, but somehow really professional on camera.
The online platform, which provides free arts classes and personalized critiques, aims for a deeper exploration on how we connect emotionally with the process of creating something.
"The way I think about Art Prof is it's a little bit Khan Academy, a little bit Antiques Roadshow and a little bit of Bob Ross. That's why we are great," Lieu says as she laughs. Khan Academy because of the free online courses, Antiques Roadshow because of the personalized critiques of user artwork and iconic public TV painter Bob Ross because of the intimate teaching style.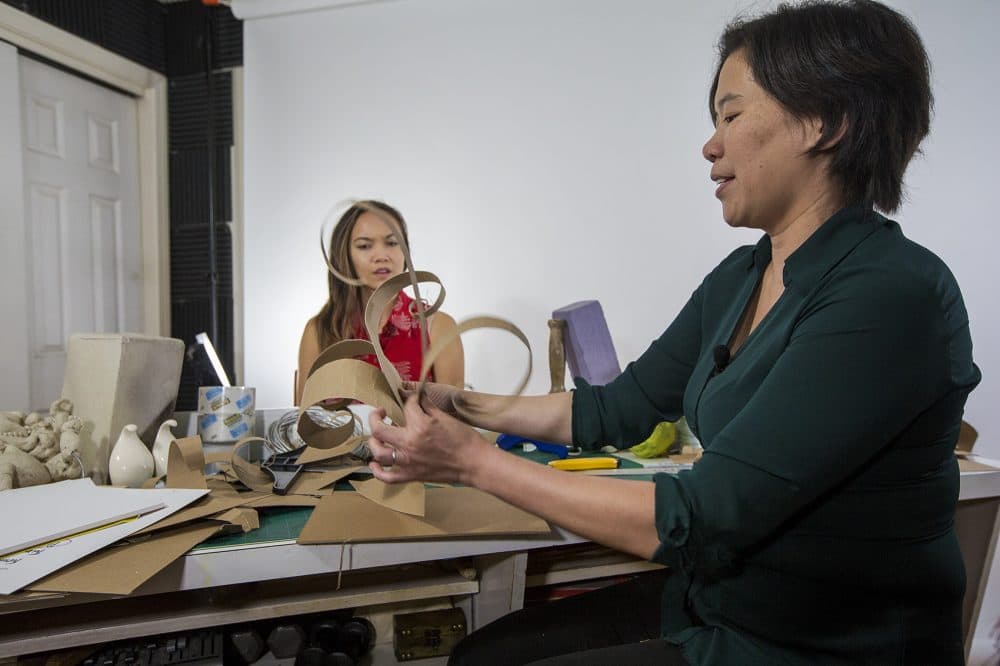 There's no doubt that Art Prof exists in a crowded online space. But Lieu is convinced that Art Prof, which right now gets about 1,500 unique visitors a week, will stand out, in part because it also offers professional development advice for artists.
"We really, really feel strongly that artprof.org has to stay free. We could charge for it the way a lot of websites do, but I just know that the second there is any paywall, even if it's a dollar, that's a barrier for some people," says Lieu, who got the idea for Art Prof after teaching at RISD's Project Open Door, a free weekly art program for inner city teens in Providence.
To understand her inspiration, I join her one Saturday at an Open Door class.
About two dozen teens sculpt a soft wood into an abstract shape — their gaze uninterrupted, their hands moving in a constant, seemingly inspired flow, Lieu gently instructing.
"You get something a little bit smoother, a little bit more organic like that. OK try that," she tells a student as she leans on a desk, her voice reaffirming and encouraging. "That looks good."
Seeing these teens get lost in sculpting made me realize what Lieu is trying to give to people — that rare mental flow that comes from the process of creating. It's an elusive, satisfying absorption so many of us crave.
Hungarian psychologist Mihaly Csikszentmihalyi, who coined the idea of mental flow, described it as the intense emotional involvement when you're deeply focused and lose sense of time. It's the secret to happiness, he says. Being enveloped in repetitive motion or deep concentration releases serotonin in your brain and can create a profound a sense of contentment.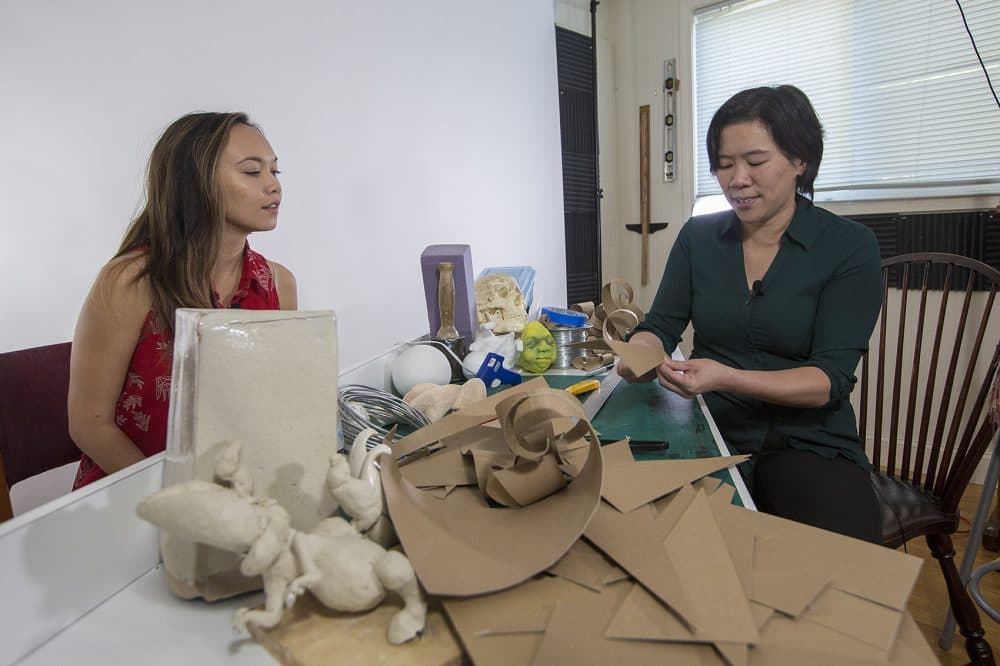 "That physicality -- with all the shapes and the colors and the, you know, the materials — that's really the part that is like the core to all of this," says Lauryn Welch, one of Art Prof's teaching assistants.
That's it: the physicality of art. We pay a lot of attention to the non-tangible qualities of art: meaning, impact, power. But sometimes the physical, tangible part of art and creating art is enough.
Back in that guinea pig room, Lieu is finishing the sculpture. It may seem like teaching people how to create chipboard sculpture is a trivial pursuit. But it's more than that — it's about teaching people how to connect with materials, how to find that coveted flow. Because everyone deserves that, says Lieu.
"There is this huge population of the world that is starving for visual art education," she says. "And I want to be the one to give them access to that."
This segment aired on October 30, 2017.