From A Robotic Cat To Virtual Reality: How Tech Is Assisting Seniors And Caregivers
Resume
This story is part of a BostonomiX series called "The Future Of Work" that examines the jobs of the future and the skills needed for those jobs.
Milo, a robotic cat, is a hit with residents at the Brookdale Senior Living Community in Danvers.
One resident in particular, Lillian "Bunny" Hall, is 92 and afflicted with dementia, but she lights up as she strokes Milo, who meows, purrs and tilts her head back in pleasure when you pet her.
"His eyes are so big and pretty," Hall says. "Such a pretty kitty."
Mirlene Desrosiers, a program manager at Brookdale's memory unit, says she uses this robotic cat, made by the toy company Hasbro, to help improve Hall's moods, especially at mealtimes.
"She will introduce Milo to the other ladies at the table ... if Milo is hungry, she will give Milo milk," Desrosiers says. "She's calmer; her anxiety level is really next to none at all compared to what she was before."
A robotic cat isn't the most high-tech device around, but it may be a sign of things to come.
Entrepreneurs and researchers are rushing to develop new technologies to support the fast-growing population of seniors — and those who care for them. As the U.S. population ages into their 80s, 90s and beyond, this new technology is emerging to augment the work of human caregivers, and also improve seniors' quality of life.
Traveling Abroad -- And To The Past -- With Technology
At the Wingate Residences, an assisted living center in Needham, 83-year-old Janice Bornstein wears a virtual reality headset, a device developed by Rendever, a startup spun off from research at MIT. Its aim is to help seniors experience adventures — like virtual hiking in Iceland, for instance, or rafting through the Grand Canyon — and also remember and revisit places from their past.
For Bornstein, the virtual reality device puts her right in front of her childhood home in Syracuse.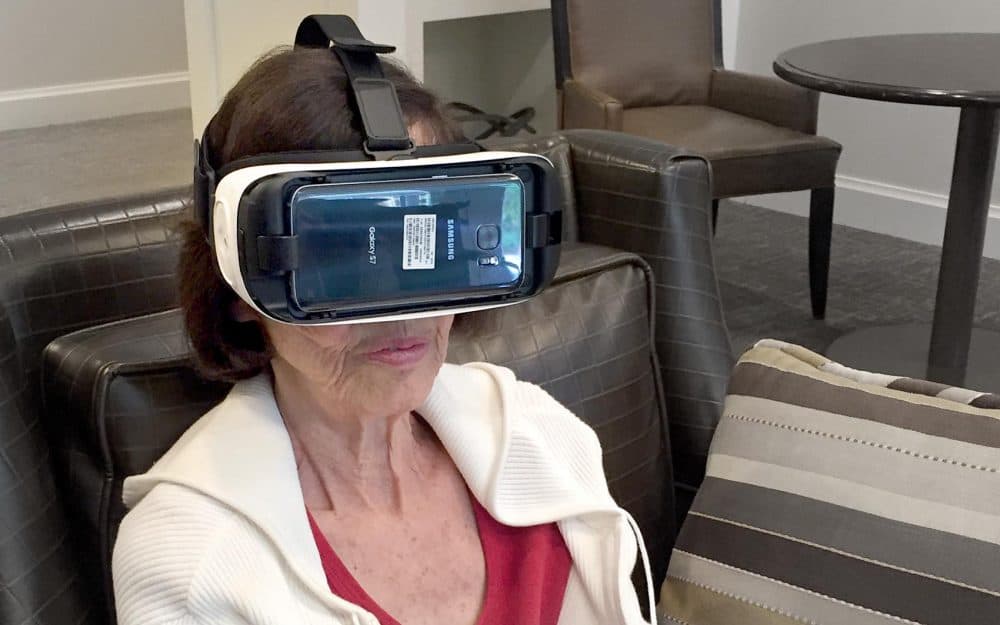 "Oh yeah, oh my God, yeah, that must be it," Bornstein says on a recent afternoon. "That is the most amazing thing I've ever seen. ... That was the porch ... way in back of these trees, over there ... we used to pick the cherries from the trees."
Much of the new technology for seniors is still being tested and developed, and engineering and ethical hurdles remain. Safeguarding privacy when sharing personal and medical data is one concern. Another is who should actually be in control of the technology.
Helping Caregivers 'Navigate An Unfamiliar World'
"We think it's very difficult, and somewhat fruitless, to put technology into the hands of elders and so that was one reason we selected the caregiver market," says Jeet Singh, a Cambridge-based entrepreneur and CEO of Redstar Ventures.
After years of analyzing the market potential around aging baby boomers, Singh's company launched Kinto earlier this year. It's an app intended to help unpaid caregivers, often family members, as they navigate an unfamiliar world.
"We looked at all these types of things caregivers have to do," he says. "Communicate with their siblings, communicate with paid caregivers, manage medications, legal documents, doctor visits, and essentially have sort of a central place where you could do all these things."
MIT professor Dina Katabi agrees that seniors are probably not the best ones to manage the new technology meant to help them. That's why she's building devices to create what she calls "health aware homes."
Her team is developing WiGait, a wireless system that tracks changes in a person's gait, which can be an important indicator of health.
"The device itself is very simple," Katabi says. "You just hang it on the wall like a picture frame and turn it on and it just works."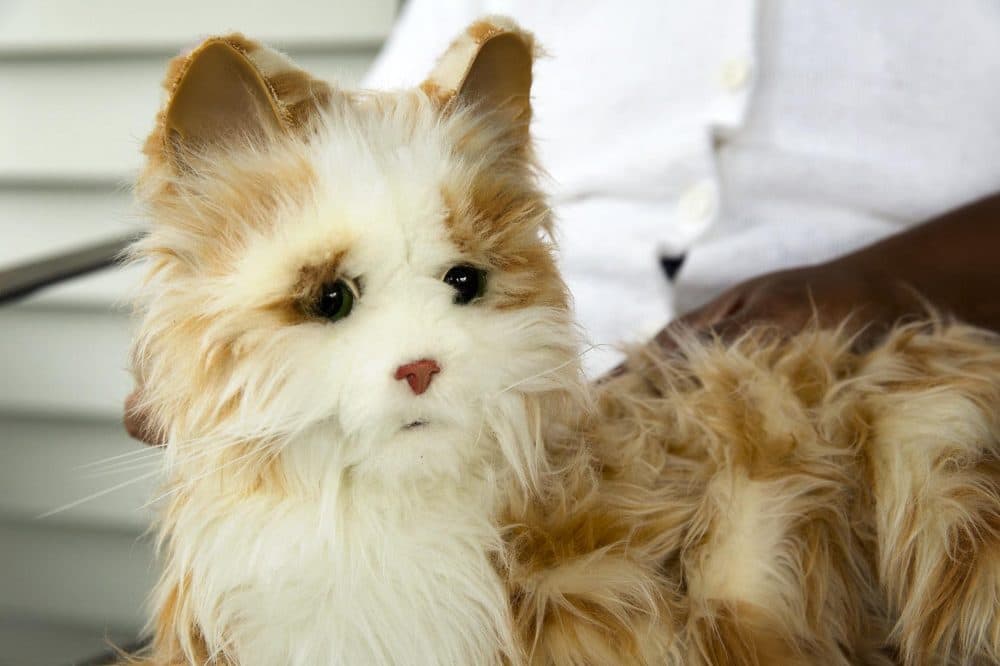 The WiGait device senses people's movements throughout the home. It then sends notifications back to the caregiver if, for instance, mom falls in the bathroom and can't get up. If the caregiver doesn't respond, WiGait calls for an ambulance.
The beauty of such "invisible" technologies, Katabi says, is that unlike wearable devices, seniors don't have to think about them.
"The idea is to have devices that will disappear into the background and will not ask us to change our behavior in any way," she says, "but [it will] be there monitoring for any health related emergency as well as collecting data that will help to ... intervene early on before ... they end up in the emergency room at the hospital."
Experts say investors are flocking to support a slew of tech-enabled home care ventures — with funding exceeding $200 million through 2016, according to a report on seniors aging in their homes.
How Do We Age Well? By 'Thinking Across Systems'
But Joseph Coughlin, director of the MIT AgeLab, says that in order to make technology truly helpful, it needs to seamlessly connect all aspects of senior life.
"There is a great deal of technology that is under development, from robots to things that buzz and beep and glow," Coughlin says. "What I see mostly from the startup community ... is that it looks like we're trying to live longer, better and in an aging society one device, one pill reminder at a time. ... And the way that we age well is by thinking across systems."
What might that look like?
Coughlin says it's going to be a mix of smart devices and other personal services.
"It will be a long time before technology is a substitute for people in the home to any substantial degree."

MIT economist Paul Osterman
"So, yes, your refrigerator will be talking to your toaster and your toaster may even be talking to your toilet and God knows who your toilet will be talking to ensure that certain meals are delivered and that behaviors are being followed like your meds and the like," he says. "But also services that come to the home, whether something as simple as cleaning the house and changing those light bulbs as well as transportation that goes door to door."
Coughlin, the author of the forthcoming book, "The Longevity Economy," adds that the transportation needs of seniors are a major stimulus to the development of the self-driving car, one of the most anticipated of the new technologies.
"The future that we all have hope for is the autonomous vehicle, the driverless car," he says. "And so rather than having to worry how to take the keys, if that's ever necessary, from mom and dad ... hopefully, none of us will have to drive, and maybe none of us will ever own a car."
But even if that happens, the human caregiver will remain essential, says MIT economist Paul Osterman.
"This is fundamentally a personal care business in which one individual works with and helps another person," he says, adding that it's unlikely that a socially skilled elder care robot will be minding your aging mother anytime soon.
In the coming years, the shortage of caregivers for seniors could reach more than 350,000, Osterman argues in his new book, "Who Will Care for Us?" Other estimates put that number even higher. So the pressure to develop technology to help fill the gap — and support seniors and caregivers — will only intensify.
"It will be a long time," Osterman adds, "before technology is a substitute for people in the home to any substantial degree."
This segment aired on October 31, 2017.