'Old School' Manufacturing Meets The New 3D Revolution In Mass.
Play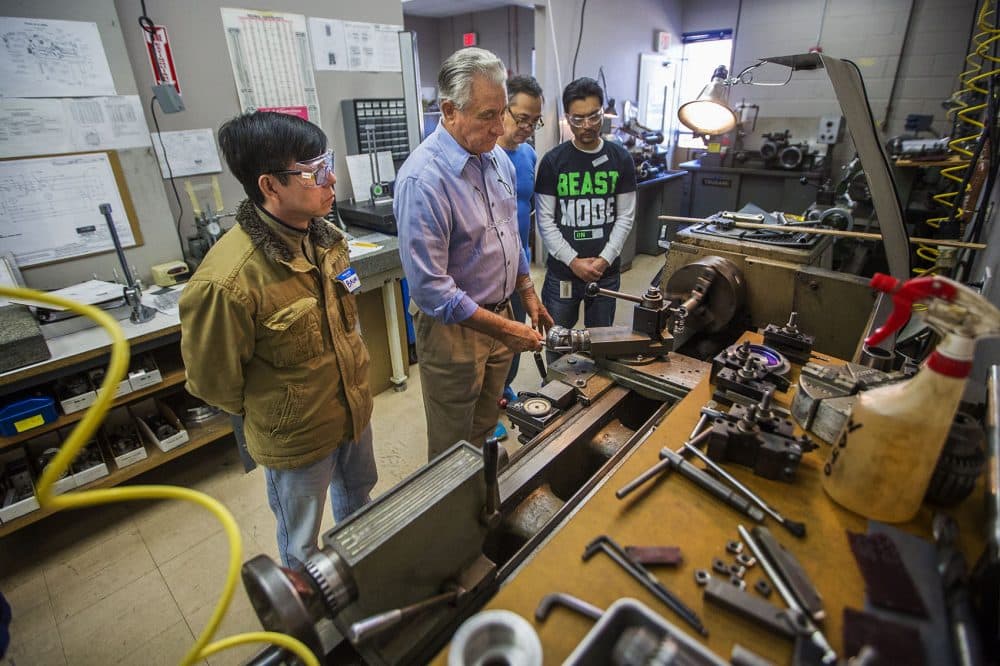 This article is more than 5 years old.
This story is part of a BostonomiX series called "The Future Of Work" that examines the jobs of the future and the skills needed for those jobs.
The factory floor at Custom Machine Group is filled with dozens of multimillion-dollar metal cutting machines, some the size of SUVs. The place is spotless.
"Yeah, it doesn't look like the old Rosie the Riveter machine shop, right?" says Carl Pasciuto, president of Woburn's Custom Machine, which mass-produces precision parts. "Every machine that you see here has a computer on it."
Pasciuto points to one of his machines. "That's a multi-axis horizontal milling machine. It's all automated."
A worker standing next to the machine looks like he's hardly working, but he's actually running it. "All he does is load the component in," Pasciuto says. "[He] hits a button and inspects as it comes out."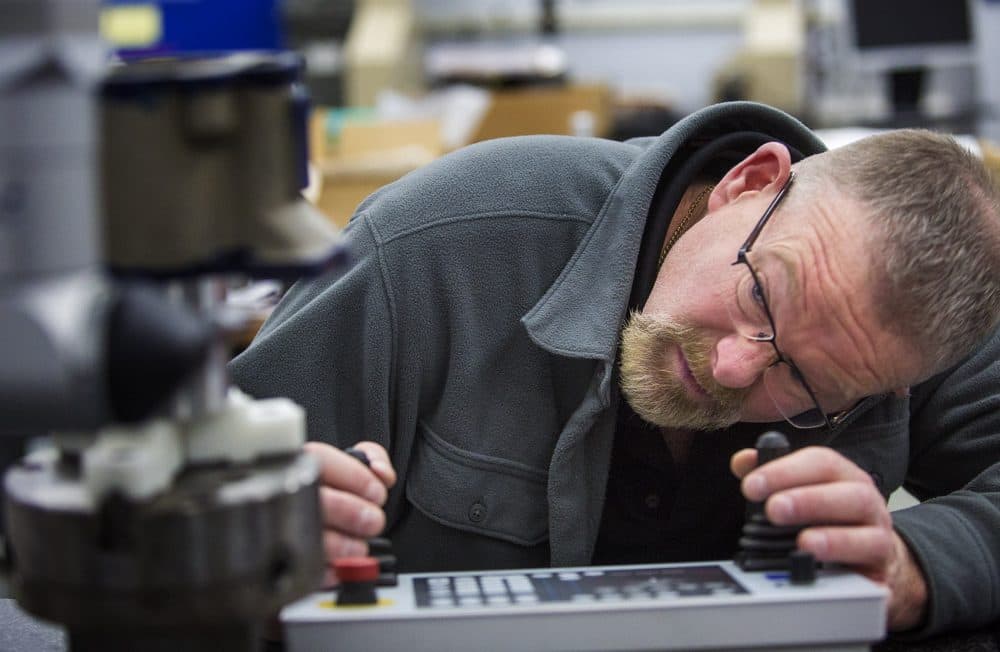 Welcome to the new Massachusetts industrial revolution, where workers, armed with computing power and automation, have made manufacturing a comeback story in the state.
You don't often see a "Made in Massachusetts" label these days, but manufacturing plays an outsized role in the state's economy. Ten percent of our economic output is produced by just 7 percent of our workforce, according to state labor statistics.
Today, companies in Massachusetts make everything, literally, from soup to nuts: $48 billion a year worth of golf balls, razor blades and jet engines; and everything from knee implants, missiles, even horseshoes.
"There is nothing that is produced from clothing to food, even the air in this room is processed by something," notes Pasciuto. "So this field is like the air in the room. Nobody notices it's there until it's gone."
Despite the heavy dose of factory automation, manufacturers like Pasciuto say there's a critical shortage of skilled machinists who program the computerized tools, cut precision dies, and manage the complex manufacturing processes.
The Pasciuto family started the state-certified school a decade ago when it couldn't find enough skilled machinists for its plant. 
Cosmo Pasciuto, Carl's father, founded the factory in the 1960s. Now he teaches a class in metal shop 101 to students -- mostly immigrants -- who start learning the machinist craft on an antique lathe that predates the company, and long before manufacturing jobs were lost to low-cost factories overseas during the 1970s and '80s.
"Yeah, this is old school and that's what we teach," says the elder Pasciuto. "We lost 40 years of old school and we need to bring it back. We were looking for people, and can't get them, so we have to train them."
State data show that today a quarter-million Massachusetts workers are employed in manufacturing, but less than 9,000 are skilled machinists. Carl Pasciuto says they're in high demand.
"We're not even playing catch-up, we're running way behind," Pasciuto adds. "They're gobbled up even before they're graduated. We have almost 100 percent placement."
Machinist salaries range from $15 an hour -- plus a lot of overtime for an inexperienced journeyman -- to as much as $150,000 a year for an expert, those craftsman who can mill a piece of metal with an artistic touch to within a few millionths of an inch.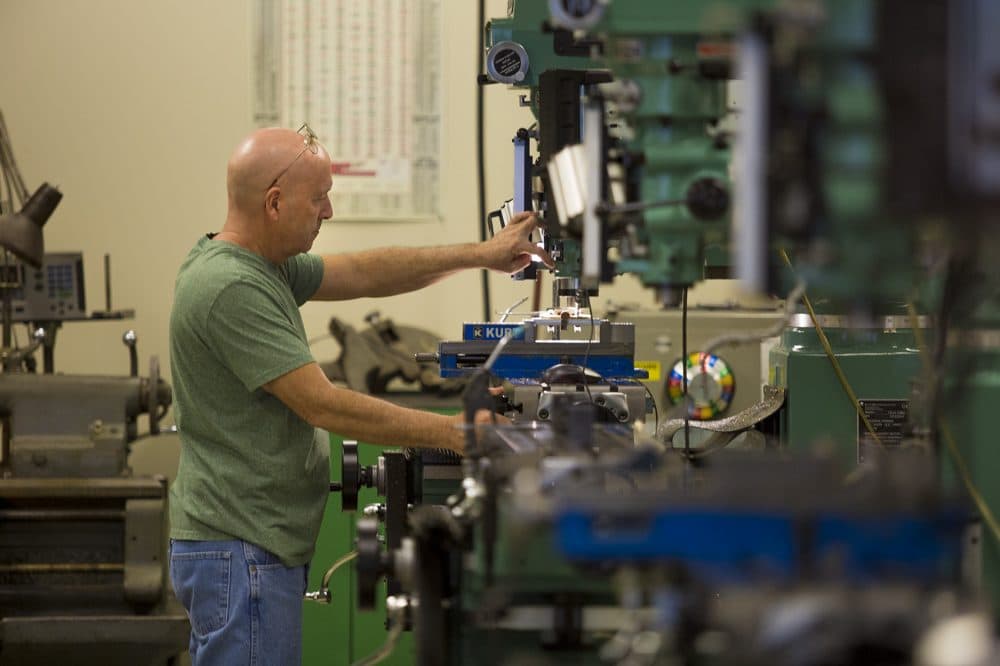 "It's really like watching a Picasso get done in real time here," says Chris DiBiasio, group leader for advanced manufacturing at Cambridge-based Draper. "We actually don't call them machinists at their highest classification here; we call them instrument makers."
Draper has its own in-house machine shop, where instrument makers turn computerized drawn art into precision parts: small sensors, pumps and components. These are devices that can be implanted into people to deliver medicine, used in weapon systems, or sent into space.
DiBiasio says a constant challenge is finding young machinists to replace retiring craftsmen.
"We bring them in and say, 'Do they have the chops to do the turning on the lathe or cutting with the mill?' " DiBiasio says. "If they have the hands-on skills, then you figure out [if] they can take the next step into precision instrument maker."
DiBiasio leads the way from the noisy machine shop floor at Draper, through a door that leads into a new machine age.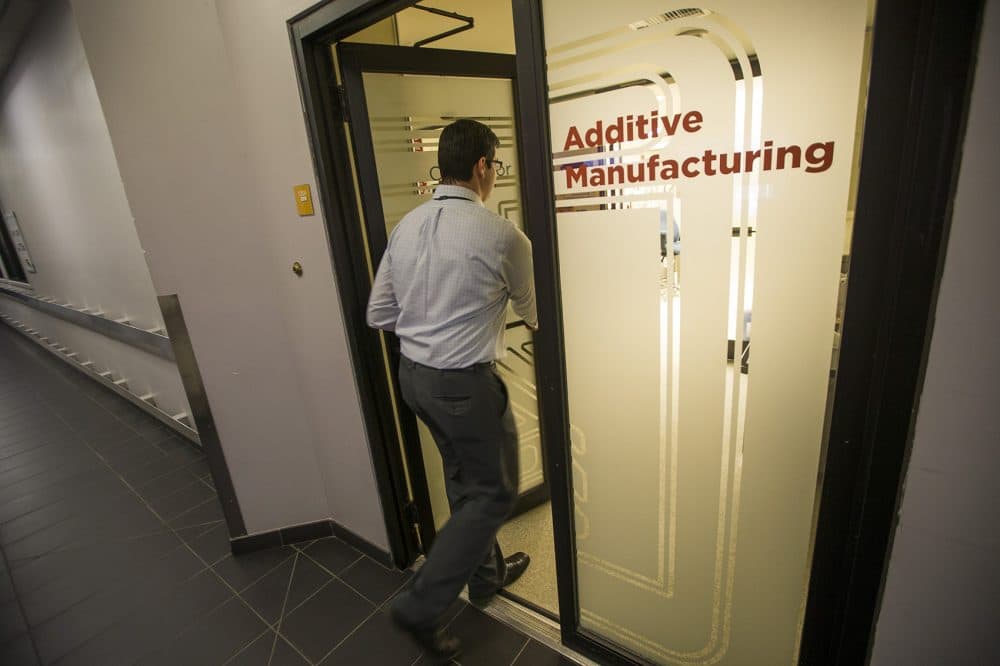 "This is the future of manufacturing now," he says. "This is our additive manufacturing facility. It's a lot quieter."
Instead of computerized milling machines and skilled machinists, here in this room advanced, whisper-quiet 3D printers add layer upon layer of materials building complex components.
"What we're doing with digital design and fabrication is rewriting the rules of the industrial revolution," says Carl Bass, CEO emeritus of Autodesk, a company that pioneered additive manufacturing software and 3D printing.
As the price of 3D printers drops rapidly, advanced materials, glass, metal and plastics are being developed. Although these new additive machines can't print as precisely as skilled machinists can mill, Bass says that's quickly changing.
"What we're now able to do with these new kinds of digital factories is make things in small quantities where you get the same kind of quality you get in the large thing but at the same low cost,'' Bass notes. "It also leads to mass customization and that's dramatically different."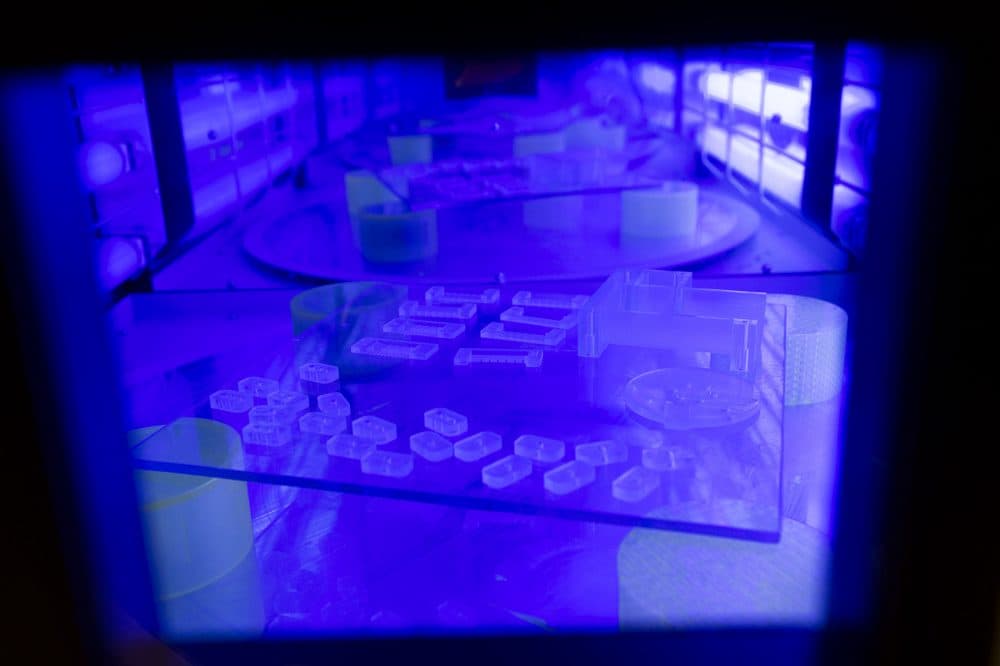 A digital 3D factory is already transforming manufacturing in Massachusetts. New Balance, the Boston-based shoe company, is using advanced 3D printers made by Somerville's Formlabs to produce custom made running shoes.
"We're actually able to get information from you -- either data or what your preferences are -- and make you that part on demand with printing and much better and shorter supply chain than we can with traditional techniques," says Katherine Petrecca, general manager for studio innovation at New Balance.
3D printers may never be able produce a Picasso the way a skilled instrument maker can precisely mill a piece of metal, but advanced printers can make instruments.   
Alexander Gumennik, assistant professor of engineering at Indiana University-Bloomington, worked at Formlabs while he was an MIT graduate student. At a recent MIT conference called, "The Digital Factory," he played a nylon violin produced on a 3D printer.
"In terms of design it looks like Stradivarius," says Gumennik. "But it doesn't sound like Stradivarius -- yet."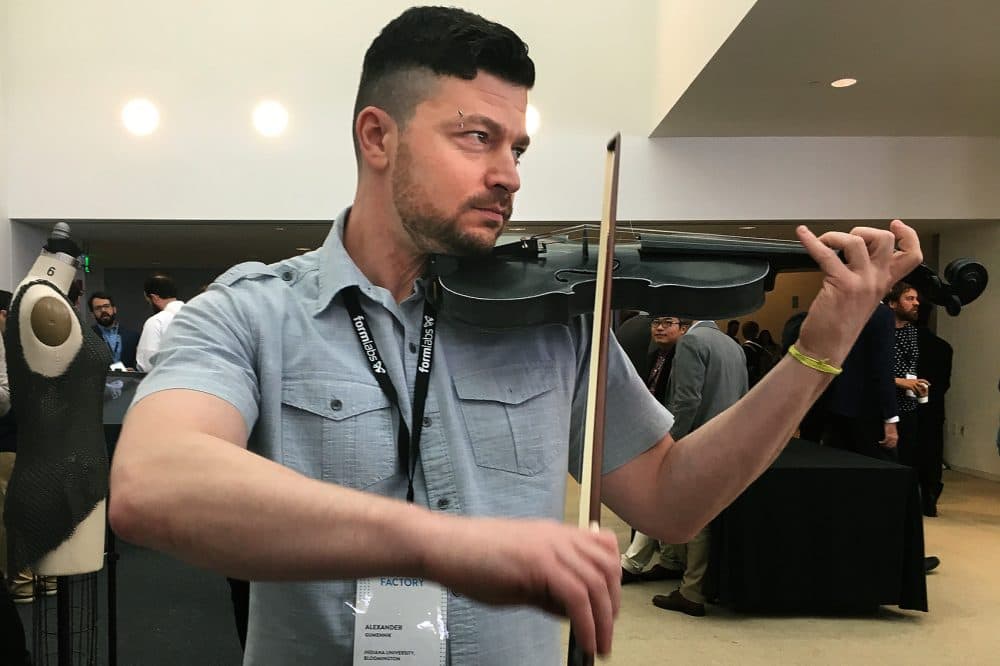 State labor officials predict the overall number of manufacturing jobs in Massachusetts will hold steady in the near future, but 3D printers are a work in progress. On the horizon are printers that can replicate and manufacture other 3D printers.
That's not possible -- not yet.
This segment aired on November 3, 2017.