Why Experts Are Excited About The New Shingles Vaccine
Play
This article is more than 5 years old.
This summer, Dr. Ben Kruskal learned firsthand about the famously hellish pain that comes with shingles, the blistering rash that afflicts one in three Americans, usually later in life.
"There was a sort of a baseline pain that is not easily described but very, very unpleasant," he said. And "an extreme sensitivity to touch, such that even a very light touch in certain areas of my face was exquisitely painful." Weeks later, "I'm back to normal," he said, "and that is something I'm devoutly grateful for."
He has extra reason to rejoice: Within weeks, a new vaccine against shingles called Shingrix will hit the market. "It's very exciting for all of us,"said Dr. Kruskal, who is the chief of infectious disease at Boston-based Atrius Health and an expert on vaccines.
And will he get it himself? "I will get it as soon as it's available and recommended by my primary care physician," he said.
He's far from alone in his excitement: Dr. Anne Louise Oaklander, director of the Nerve Unit at Massachusetts General Hospital, described the new vaccine's success rates in clinical trials as "astoundingly high." For older people, she said, the vaccine is "a huge deal."
As a neurologist, she sees the full panoply of horrors that shingles, which is a reawakening of the chicken-pox virus, can inflict: intractable pain, called "postherpetic neuralgia," which strikes one in five shingles patients. Strokes. Blindness. She published a famous case of a woman whose post-shingles itching was so unbearable that she scratched all the way through her scalp into her brain.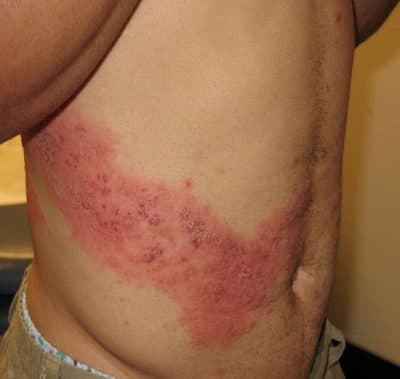 "The real problem with shingles is that it doesn't get any respect," Oaklander said. People tend to lump it in with poison ivy or psoriasis, "but in fact, it's a neurologic disease in which the virus is living in our nerve cells at the base of our brain and our spine. And when it reactivates, it infects and destroys these neurons that are deep in our body, to cause long-lasting damage."
It's a medical emergency if shingles erupts near the eyes, she said, but more broadly, it's a "public health emergency" in older people, because the older you are, the more likely the pain is to persist and cause disability. "It can be devastating," she said.
Let me admit here my own bias: A beloved family friend has suffered for many years from unrelenting post-shingles agony. Seeing even one such case up close is enough to take shingles seriously forever.
"[T]his [vaccine] looks awfully good. I think it's worth the praise that's being heaped on it."

Dr. Ben Kruskal
Still, I confessed to Dr. Kruskal, when my go-to experts use words like "astounding" and "exciting," I worry about sounding overly positive.
"You know I'm one of those people who speaks out without hesitation about things when they're bad as well as when they're good," he said. "And I have to say, this one looks awfully good. I think it's worth the praise that's being heaped on it."
Now, the new vaccine could turn out to have long-term or rare side effects that have not yet turned up in the big clinical trials, he said. But "I think the advantages of the vaccine are compelling enough that those unknowns are not things that should dissuade us."
The Who, Where, When And How Much
If you're saying "You had me at 'intractable pain.' Where do I sign up?" the answer is: You can't yet. But soon.
Here's the timeline: On Oct. 20, The Food and Drug Administration approved Shingrix for people over 50. Just five days later, the national panel on vaccines stamped its approval as well.
The panel recommended Shingrix over the previous shingles vaccine, Zostavax, and even recommended it for people who'd already been immunized with Zostavax. Final, published CDC approval is expected in early 2018.
Meanwhile, GlaxoSmithKline, or GSK, the company that makes Shingrix, expects that pharmacy refrigerator shelves will start stocking Shingrix next month, officials said. The two-dose regime is expected to cost $280.
Dr. Kruskal expressed concern that Shingrix demand may outstrip supply, but Dr. Thomas Breuer, chief medical officer of GSK Vaccines, said the company prepared for the recent approvals.
"We have produced vaccine which will cover the next two years of anticipated demand," he said. "We have proactively produced it, so you can expect there will be no shortage around this vaccine, based on our estimates."
The company will begin shipping to wholesalers in late November, he said. But because it will take time for health care plans to include Shingrix in their coverage, "I think the real pickup will only start in the first half of 2018," Breuer said.
The Key To A New Vaccine
About those "astoundingly high" success rates: A 2015 study in the New England Journal of Medicine found Shingrix to be 97 percent effective against shingles. Another last year found it 91 percent effective in people over 70.
The key to the vaccine's powerful effect, Dr. Breuer said, is its adjuvant — an added element that boosts the immune response it elicits, even in older people.
"We wanted to really develop a vaccine which overcomes the age-related decline in immunity," he said, "to have a highly efficacious vaccine whether you are 50 years old, 60, 70 or 80 years old."
Early on, when GSK tested the vaccine without the adjuvant, Breuer said, "we could not mount such a high response, and therefore the adjuvant is the major advancement in this new technology."
Another advantage: Shingrix appears to last longer than Zostavax. Studies found its effects stayed strong for at least four years.
So Will People Actually Get It?
Put it all together and Shingrix appears likely to prove far more popular than Zostavax — but that bar is not especially high. Among Americans over age 60, only 31 percent got Zostavax, the CDC reports.
Back in 2011, Dr. Richard Dupee, chief of geriatrics at Tufts Medical Center, shared a sheepish laugh with my esteemed colleague, Richard Knox, over the fact that neither of them had gotten their Zostavax, though both knew they should.
"Few Opt For Vaccine To Prevent Painful Shingles," the headline read.
Reached this week, Dr. Dupee confessed that he never did get around to getting his Zostavax shot. But he truly does intend to get Shingrix.
Even though, he said, Shingrix has been shown to cause side effects: "Not only the local pain, redness and swelling, but also systemic effects — that is, achy bones and feeling fatigue and headaches and other side effects. And they last for two or three days."
Dr. Kathleen Dooling of the CDC warns similarly that reactions to Shingrix may be more intense than to other vaccines.
"Side effects such as pain or swelling at the injection site, or muscle aches or fatigue were common in clinical trials," she said. "While not harmful to health, about 17 percent of people had symptoms that were severe enough to prevent their normal activities for one to two days."
Dr. Dupee expects the side effects may scare some people away. But the data showing how effective Shingrix is at preventing shingles "is a pretty compelling reason to get this," he said. "I think if we can get beyond the side effects, I think this is going to probably be a big deal."
Signs of rising demand have begun, he said: "We've already had a bunch of phone calls. I'm getting texts and emails from my patients saying, 'Well, should I get this thing?' "
So will he follow through and get his Shingrix shots? I'll check back in next year. Dr. Dooling of the CDC is not old enough for the vaccine, she said, "but I'll be in the camp of encouraging others."
For myself and my older family members, I've already asked our doctor to let us know when they're available. And I apologize in advance for all the nagging I plan to do in 2018.
This segment aired on November 24, 2017.