City Winery, A Club Where You Can Drink In Live Music And Wine, Finally To Open In Boston
Editor's Note: An earlier version of this post stated that City Winery would open on Wednesday, Nov. 15. The venue says the opening has been delayed, citing "unavoidable construction delays." The post has been updated accordingly.
---
City Winery is situated to become a key music club on the Boston circuit. Like the flagship club in New York City, Boston's downtown club will position itself to become a musical mecca for mostly veteran artists who wish to play more intimate, upscale venues — and for older audiences who don't mind a higher ticket price, don't want to stand and might enjoy a nosh or good wine during the concert.
With the cancellation of Ian Hunter and the Rant band Saturday and Willie Nile on Sunday, it is now slated to open Tuesday, Nov. 21. But it's been a long and frustrating run-up — for the club's management and staff, for musicians booked to play in September, October and the first part of November and for more than 5,000 ticket holders who've had to adjust plans as delays kept mounting.
The long-ballyhooed opening of the venue has been problematic. A planned mid-September opening had already been scrapped by mid-August, when City Winery co-founder and CEO Michael Dorf gave an informal presentation to a group of Boston music industry folks. Another delay pushed the opening back to mid-October. He fervently hopes the fourth postponement will be the final one.
Dorf says Boston's multiple rules and regulations — "There were so many barriers to getting the liquor license" — contributed to making this the longest stretch in terms of getting a City Winery up and running. But the various licenses have been approved. The latest delay concerns construction, not city sanctioning. The holdups are "unlike any other construction job I've ever participated in," Dorf said. "We deal with variables, of which there are dozens, not everything gets done and something new becomes a problem."
Boston will be the seventh City Winery facility, and its fifth city. (New York and Chicago have City Winery clubs and adjunct venues.)
"The functionality of the layout and space will be one of our best," says Dorf, looking into the near future in Boston. "The neighborhood is super-primed for us opening. But by far, this is the most challenging building in terms of what we could do and not do. The structural, mechanical and electrical engineering was elaborate to coordinate and we never anticipated that level of challenges."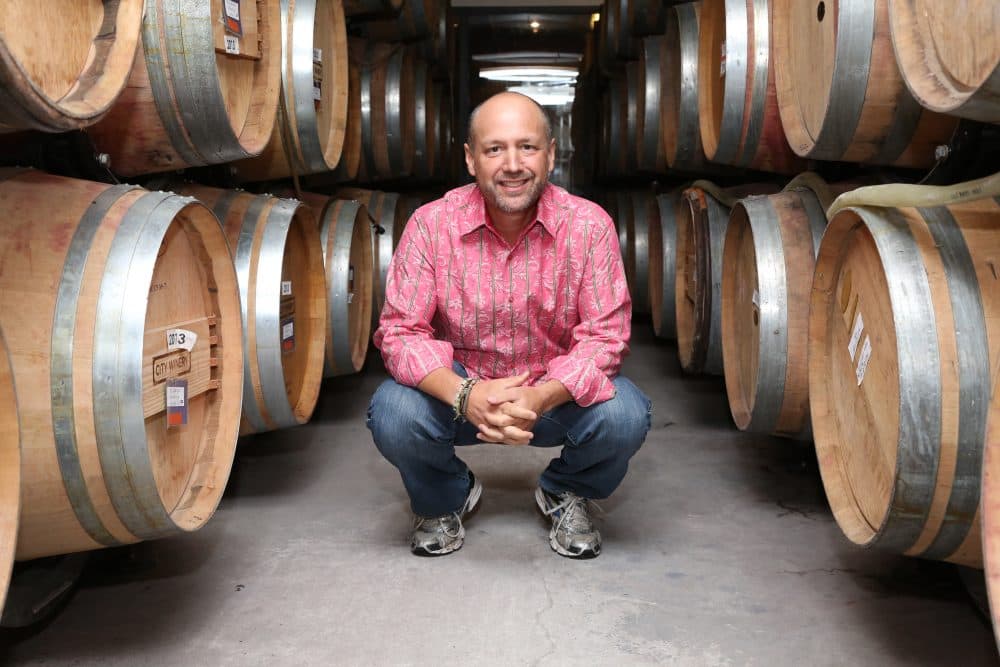 Surveying the cavernous, but cluttered, 32,000-square foot space at 1 Canal St. in Boston's West End during the August sneak peak, Dorf said, "We're not just building a stage in a room and making sure there's a bunch of outlets for the amps. We realize how important the details are in order to have the operation be what we want it to be. We want every musician to know they're going to have a great sound experience on the stage. The type of PA, the monitors we have, the choice of equipment and the design of the room. We put a lot of obsession into making that as great a room as possible."
A booking advantage City Winery has is that, with multiple clubs, it can offer artists a package tour, the convenience of setting up shop for several nights in each city, and moving on to another club that will feel familiar. For instance, this spring British singer-songwriter Joan Armatrading is doing just that, embarking on a tour consisting entirely of dates at City Winery clubs in the U.S.
"She has a number that she needs in order to leave the United Kingdom and do a tour," says Dorf, "so we're giving her four nights in each city over one month's time and that's her tour. We're the complete soup-to-nuts. She'll go back to the U.K. with half a million dollars or something, and she'll be a very happy person. And I think the thousands of people that are going to be able to see her in a small room are going to be very happy patrons as well."
Musicians who've played other City Winery spots seem to like the club and concept.
"I know the room and I've enjoyed playing there," said Loudon Wainwright III, of the New York venue, the company's flagship which opened in 2008. "The general vibe is good. All the employees are friendly, helpful and nice. And they give you free wine! Not only do you get free wine, but you get a bottle with your picture on it." (More on that later.)
Wainwright's Oct. 25 gig in Boston was rescheduled for Nov. 27, with his daughter Lucy Wainwright Roche opening. His son, Rufus Wainwright, plays Nov. 28 and 29.
Suzanne Vega, who says she has played City Winery "too many times to count," recently finished a three-day run in New York, playing the entirety of her "Solitude Standing" album (celebrating its 30th anniversary) and "99.9F" (celebrating its 25th.) She'll bring that show to Boston on Dec. 13 and 14.
Vega expects people will have a similar, welcoming experience in Boston. "People like to drink wine, and listen to music," Vega says. "It's a no-brainer, really. The rooms are very woody and have a nice friendly feel. They go out of their way to make me feel welcome."
Dorf says all the City Wineries share a similar capacity, around 300, but don't look exactly the same. "There are some overlapping design elements," he says. "Lots of oak, visibility through glass to see the barrels and tanks from the winery, and separation of the restaurant from the music and private event venues."
Over time, Dorf hopes to open 15 to 20 more City Wineries across North America, mentioning Philadelphia, Cleveland, Denver and Los Angeles as potential sites. Construction of a Washington D.C. venue is underway and expected to open in February or March. Dorf just sealed a deal in Toronto and hopes to open a club there by the end of 2018.
Where the New York club is in the first floor of a standalone two-story building, Boston's venue is carved out of a different piece of real estate. It's a large space, occupying the ground floor of a new, 12-story luxury apartment building at 1 Canal St., between TD Garden and the North End.
Among other details, Dorf says they have a state-of-the-art sound system. He hired Meyer Sound, the company which did the sound for Carnegie Hall and various arenas, to handle that end. Dorf and his team have paid special attention to the acoustics, on two fronts.
"We want to make sure we don't disturb anybody by what goes on inside there," he says, "but to be fully transparent, which I'm happy to be, it's also done selfishly because we don't want a bunch of rowdy Celtics fans on the street making noise that could disturb a very serious, quiet moment."
The club will have seated tables, as they all do. There will also be a 140-capacity main dining room, a smaller music room called Haymarket Lounge for between 75 (seated) and 125 (standing) patrons and a 14-capacity private event space, the Cellar Dining Room.
The City Winery demographic, for both artists and fans, skews toward the older end of the spectrum. But the chain's booker/vice president of programming, Shlomo Lipetz, said they're open to any genre, and "try to diversify as much as possible. We're providing such a high-end experience. Music that fits to a seated experience, an intimate experience to an artist you'd [usually] see in a much bigger room."
"There's no guessing as to the kind of music we program," adds Dorf, who opened New York's avant-garde-leaning Knitting Factory club in 1987. "The music industry has gone through a huge change over the last decade. Artists used to have to tour to support record sales; now there's no such thing as record sales and even the download world is not that substantial. Live performance has only become that much more valuable. The older artists, the ones who wrote hits and were financed to develop the brand in the '70s, '80s, '90s and early '00s, they need places to play. A lot of that audience doesn't want to stand for a show and would prefer not to be in big-seaters, so the idea of having intimacy with an act, they will pay a little extra for that intimacy. That's really what we build — an intimate facility."
What's unusual about City Winery is the dining-during-performance aspect. "Our staff knows when to shush when people are talking and they absolutely know when not to be walking over to a table and going, 'Hey, you want ketchup with that?' " Dorf says. He adds that there will be candelabras on every table that read "Please respect your neighbor and your artist. No talking during the show."
Dorf says nine out of 10 artists don't mind the arrangement. Art Garfunkel (whose October show was cancelled) has requested that dinner not be served during his sets and City Winery has complied.
Wainwright concurs with Garfunkel's mindset, saying, "It's one of my least favorite things. When I'm sitting there trying to get somebody to burst into tears or have a huge guffaw, and I see them eating their pizza or their cheeseburger in front of me, it really puts me off. I don't like the supper club concept. I like the attention to be on the show and not 'Is my burger cooked enough?' "
Suzzy Roche, Wainwright's ex-wife, performs as a solo artist and in a duo setting with her daughter Lucy. (She was 1/3 of the great, late lamented folk trio, the Roches.) Roche, now 61, has played City Winery many times.
"I feel that, especially at my age, people want to go out and have a good time," Roche says, "and they're going there because they like what happens there. Things have evolved. The concept is smart. They can sustain themselves with the restaurant part of it so the music is not going to go under. It's a different setting than a concert setting, a dinner thing with people drinking wine, relaxing."
About that wine … It is a particular passion of Dorf's, who confesses, "I've turned into a wine snob," and will happily reminisce about the days he used to share wine with one of his heroes, the late Lou Reed.
Dorf says at most clubs, liquor sales break down to 50 percent mixed drinks, 40 percent beer and 10 percent wine. At City Winery, 70 percent of the liquor sold is wine, either by the bottle or by the glass — and by glass he means in stemware, not in a plastic cup.
City Winery will be making their own wine on site, 20 varieties, and they will serve wine from producers all over the world, with 35 vineyards on contract.
And what about that artist wine Loudon Wainwright III mentioned?
"If the musician gives us permission," Dorf explains. "It's done when legally possible. We have not confirmed the legal logistics for Boston to do it yet."
But, fate willing, Bostonians can expect to purchase artist wine within a year.
This article was originally published on November 10, 2017.