'Last Flag Flying' And 'Three Billboards' Look Critically At America's Battered Institutions
With another mega-budget superhero spectacle crashing into theaters this weekend, get ready for a reprise of the familiar refrain that "nobody makes movies for grown-ups anymore" and "sophisticated drama is now the sole province of cable television."
As it happens, if you can direct your attention away from Bat-fleck and his Superfriends' billion-dollar marketing campaign and look up from the TV, this weekend brings to the Boston area two thoughtful, intelligent pictures from major filmmakers featuring big-name stars and stories directly engaged with the personal and political realities of our present moment. In short, the kind of movies that people who don't go to the movies like to say that they don't make anymore.
I saw Richard Linklater's "Last Flag Flying" and Martin McDonagh's "Three Billboards Outside Ebbing, Missouri" within a couple days of each other at last month's IFFBoston Fall Focus, and it's funny how seemingly unrelated films can sometimes speak to one another.
Though quite different in temperament and tone, when taken in tandem they present a bruised and battered state of the union — where rugged individuals who have been failed by our country's crumbling institutions come together for fleeting moments of grace. These are two troubling, ultimately optimistic movies about how all we really have left right now is each other.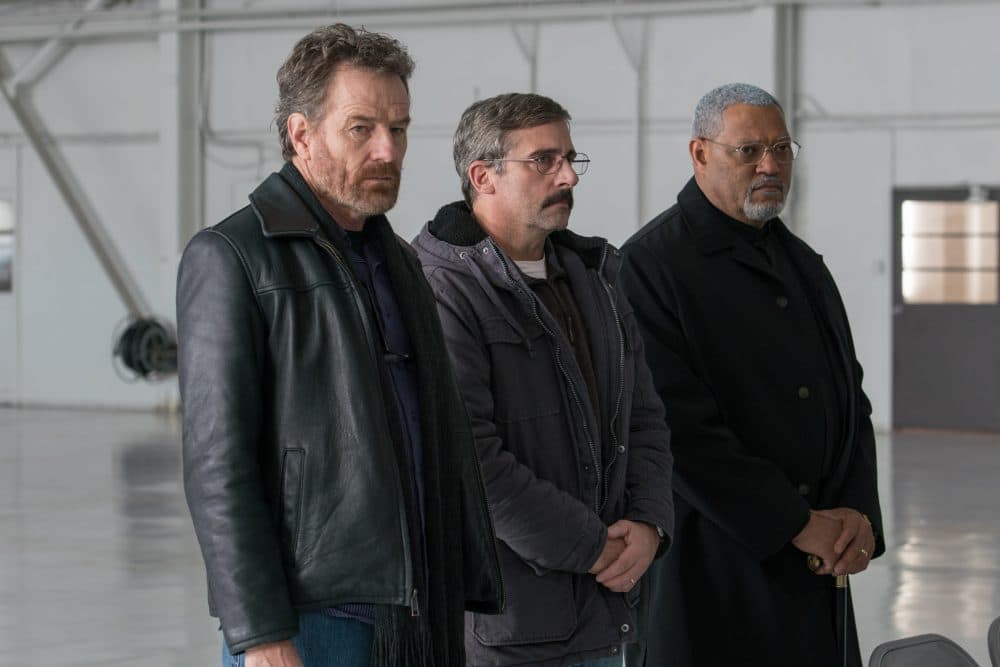 "Last Flag Flying" is based on co-screenwriter Darryl Ponicsan's 2004 novel, a sequel to his 1970 book "The Last Detail," which was itself the basis for a spectacularly profane 1973 film directed by Hal Ashby that features my all-time favorite Jack Nicholson performance. Linklater has wisely tried to write his way out of the previous picture's shadow, changing the names of the characters and switching up their backstories to a degree that is initially confusing, but eventually comes as a relief. "Last Flag Flying" is a very good movie, but "The Last Detail" is one of the greatest ever made, so the more the new film does to differentiate itself the less it suffers from inevitable comparisons.
Steve Carell, Bryan Cranston and Laurence Fishburne star as three long-estranged Vietnam buddies reunited in the winter of 2003 after Carell's son is killed in the early days of the Iraq War. Recently widowed, the grieving father approaches these friends he hasn't seen in decades, asking them to attend his boy's funeral at Arlington National Cemetery. It's a request that Cranston's basket-case drunkard and Fishburne's born-again Baptist preacher are ill-prepared to refuse, but one that grows more complicated when the actual circumstances of this soldier's death come to light.
What follows is a raggedy road trip replicating some of the original Ashby film's dynamics while replacing its sputtering rage with a weary — if still rather prickly — resignation. Thirty years later these guys haven't yet figured out why they were asked to give so much for their country, and they can't help but see reflections of their younger selves in the gung-ho Marines headed off to fight yet another war under false pretenses.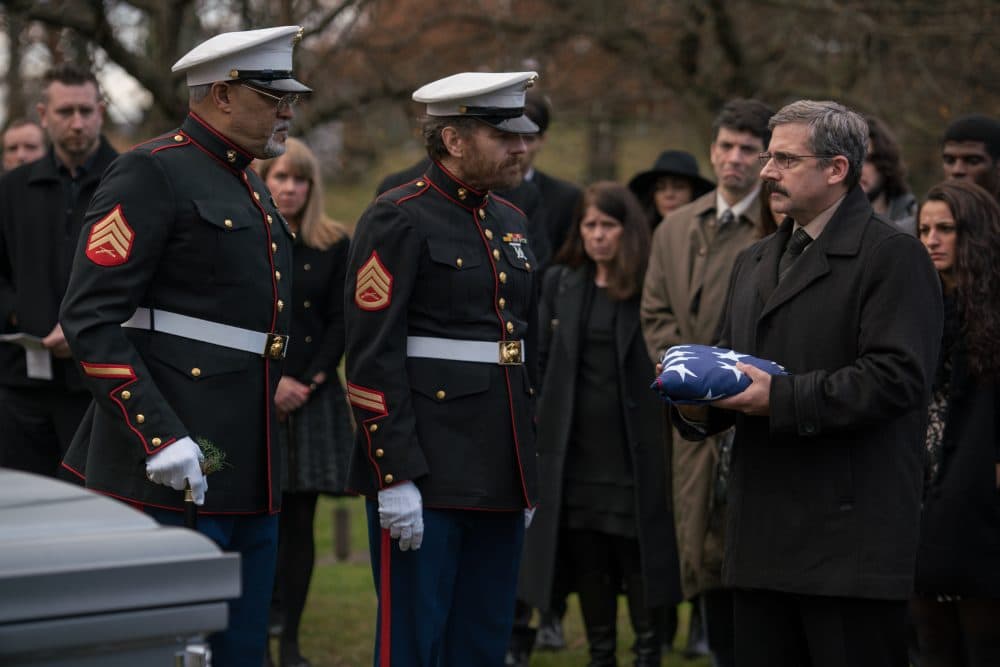 From "Slacker" to the "Before" trilogy, Linklater has always been the kind of filmmaker who likes to hang back and listen to his characters chew the fat, but there's an abrasiveness here that's missing from his more acclaimed movies, which are often a bit too laid-back and anodyne for my tastes. (I realized this one feels so jolting because after "Boyhood" and "Everybody Wants Some!!" I'd grown completely unaccustomed to Linklater protagonists expressing anger.)
Cranston and Fishburne have never been known for giving small performances, and Carell is a guy who can somehow manage to overact even while standing completely still. But it was inspired casting putting these three hams together, as they create a baseline theatricality that suits the long, stagy dialogue sequences, and they're boisterous enough to keep such a chatty film from feeling stilted.
Besides, these are productive conversations that feel depressingly necessary at a moment when patriotism is once again being conflated with blind obeisance by many who do not necessarily have our best interests in mind. The characters in "Last Flag Flying" love this country enough to question what they fought and bled for, demanding that we in the audience honor their sacrifice by doing the same.
Meanwhile, if I had to pick a movie for a time capsule that will sum up for future generations what it feels like to be alive at this particular moment in the benighted year of our Lord 2017, "Three Billboards Outside Ebbing, Missouri" is the only logical choice.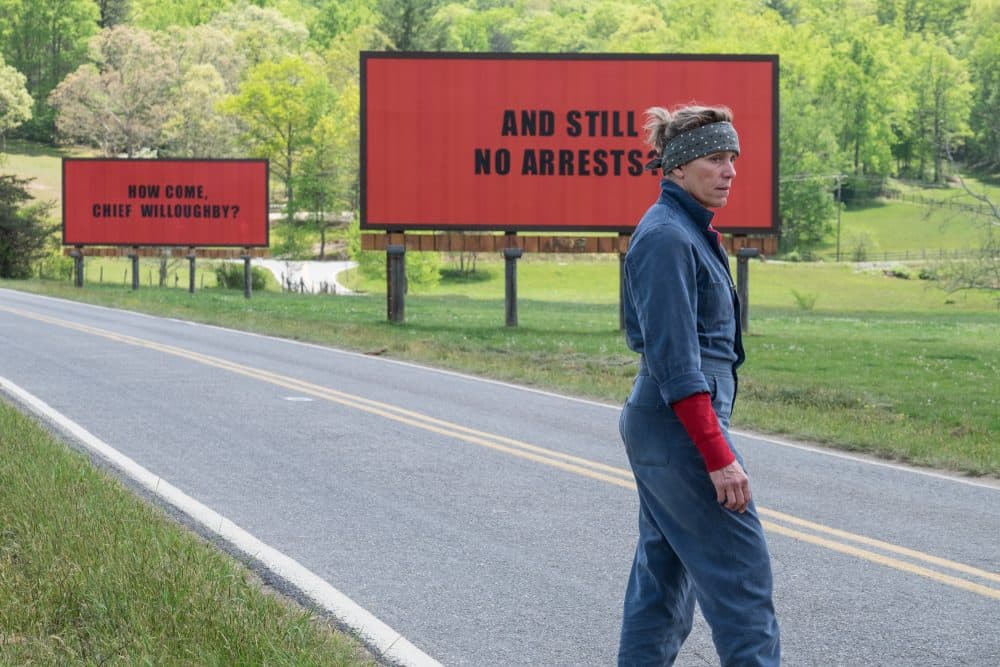 The third film written and directed by scabrously brilliant Anglo-Irish playwright Martin McDonagh is a splenetically funny and ultimately cathartic piece of work. It kicks around for a bit amid that free-floating, misdirected rage that's become part and parcel of most American interactions these days, before daring to find shreds of common humanity where you least imagined. It's the damnedest thing, a bitterly cynical picture filled with hope.
Scowly, sweary Frances McDormand stars as a grieving mother whose teenage daughter was brutally murdered 11 months before the film begins. Raped while dying, her body set aflame leaving no traces of evidence — the crime is far beyond the overtaxed investigative capabilities of the good ole boys in this local yokel police department. Fed up and finally taking matters into her own hands, McDormand purchases advertising space (the three billboards of the title), taunting Woody Harrelson's cancer-stricken police chief and igniting a national media circus in the process.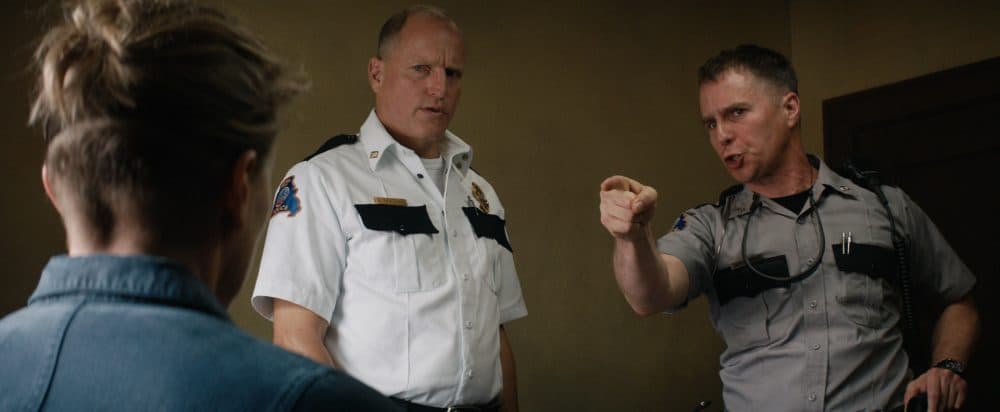 The fallout finds McDonagh poking around the racial and authoritarian fissures in contemporary American culture with a laddish gallows humor and unexpected bursts of empathy. Anyone who saw his debut feature "In Bruges" knows this guy can blaspheme to beat the band, his crackling cusses becoming beautiful arias of profanity when sung by old pros like McDormand and Harrelson. Yet the film is nearly stolen outright by Sam Rockwell's brutish, bigoted deputy — a seemingly irredeemable deplorable who just might be more than meets the eye.
"Three Billboards" is the most consistently surprising film I've seen this year, not because of its plot twists, but because these characters are constantly revealing unexpected sides of themselves. It's a movie full of furious folks acting out with moral certainty and righteous indignation, all of them only slowly learning just how little they know. Like "Last Flag Flying," it's the kind of movie that seeks to engage and challenge an audience instead of providing mere escapism.
Turns out they still do make 'em like they used to.