These High School Football Rivalries Date Back To The Late 1800s
While pro football dominates the airwaves on Thanksgiving Day, it's the hometown high school games that genuinely capture the spirit of the day.
Dating back to the beginning of football itself, some New England public school rivalries claim to be the oldest Thanksgiving Day game.
Since 1875: New London - Norwich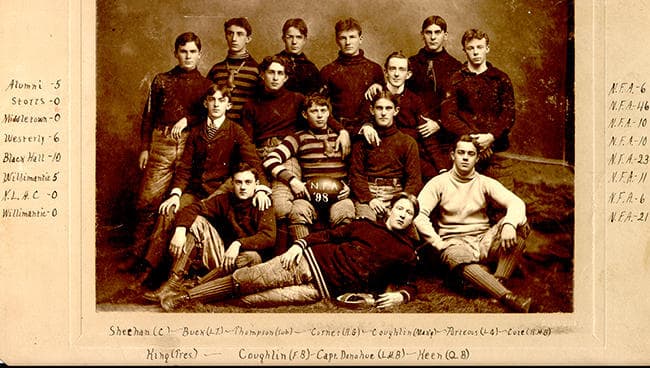 Let's start with an easy one. Without question, we know which schools have the oldest rivalry in the sport — just ask Norwich Free Academy football captain Malik Gibson, of Norwich, Connecticut.
"Us and New London, we have the oldest public high school rivalry in the country," said Gibson. "Everyone knows it's an important game. That's the game where everyone decides to show up."
And they've been showing up since 1875, the year the rivalry began. That was before the forward pass, before field goals, before football as we know it even existed, and was really more like soccer.
Some teams played where you could catch the ball, but couldn't actually run it. Still, that didn't stop the NFA Wildcats or the New London Whalers from improvising during those early years.
Digging through the archives while writing a history of the rivalry, NFA grad Brian Girasoli, class of '94, discovered quite a few skeletons in the locker room.
"There was one year where a team used faculty members," he said. "Norwich Free Academy once had a timekeeper who let his stopwatch go a little bit slower than it should have, allowed NFA to score the tying touchdown, and then he calls time."
So the game needed cleaning up, and legendary Yale football coach Walter Camp got the job done. It was Camp who added the concept of downs, tackling, the scoring system and other stuff like rules.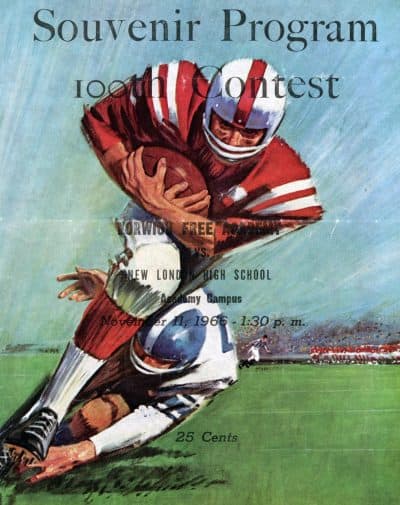 It was ready for prime time, and high school, said sports broadcaster Dave Revsine of the Big Ten Network, author of "The Opening Kickoff: The Tumultuous Birth of a Football Nation."
"It began as kind of a curiosity because people didn't really understand the sport and yet by the 1890s it just became this focal point of beginning the holiday season," he said.
U.S. Coast Guard Academy football coach Jay Driscoll played defensive end for New London High School back in the mid-1970s. He still remembers games against NFA like they were yesterday.
"It was definitely the biggest game of the year when I was a kid," he said. "We played 'em twice my senior year and they beat us twice, and NFA didn't beat New London very often. We lost at our place in a pouring rainstorm on basically the last play of the game, they beat us I think 12-7, and there was a brawl after that game — during handshakes. There was a little intensity."
Well, it could've been worse, like in 1902 when NFA scored 130 points on New London during the first half and officials called the game.
Yet despite this storied past, NFA and New London have only been playing on Thanksgiving since 2000. So it's America's oldest public high school rivalry, but not the oldest Thanksgiving Day game in New England.
Since 1882: Needham - Wellesley
For that match-up, you have to head to suburban Boston, where the Wellesley Raiders and Needham Rockets have been squaring off on Thanksgiving Day since 1882.
Bill Tracey's institutional memory doesn't stretch back quite that far, but in his 37 years of coaching football at Wellesley, some games remain unforgettable.
"2009 is a game that stands out for me. Wellesley won that game 28-27 in a last-minute comeback win," he said. "Certainly 1991 when the game was cancelled because of a bomb threat on the field. Turned out it was a couple of kids from Needham High School pulling a prank."
And that's not the first time the historic rivalry had to call a timeout. During the two World Wars, the series was halted because players from both schools had enlisted. And from 1950 to 1952, the game was cancelled when riots broke out between the opposing teams.
So that's a colorful, though not continuous Thanksgiving Day rivalry. But go a few miles east.
Since 1887: Boston Latin - Boston English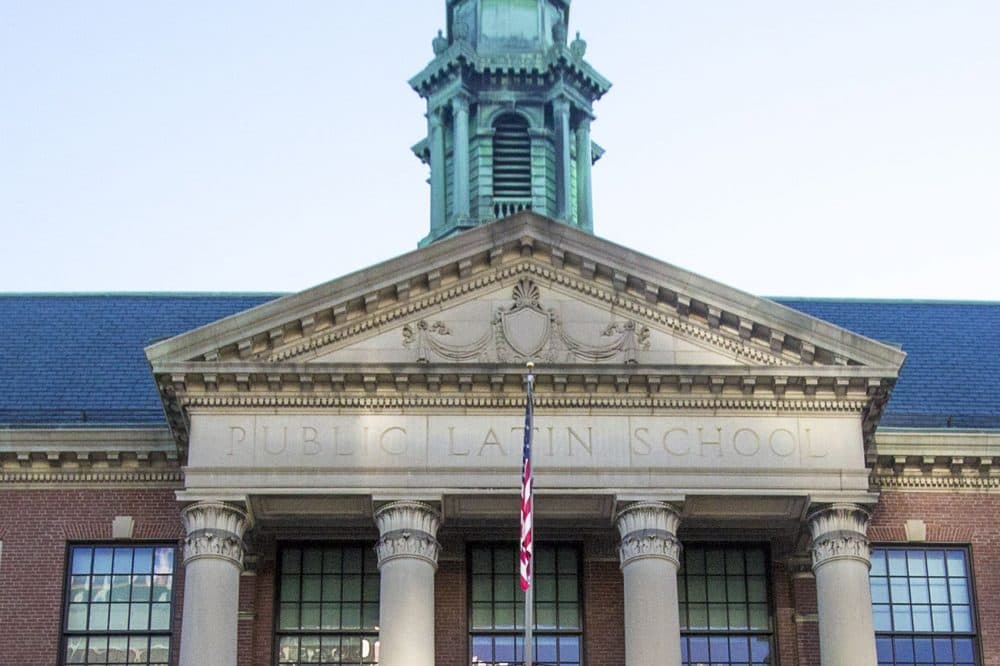 "The DNA of our sort of now-national pastime really did begin in Boston on Boston Common," said Richard Johnson, curator of the Boston Sports Museum. He's talking about the Oneida's, an informal club, not so much an organized team, that got together in 1861 to play that original soccer-like game of football.
"They were local Boston kids, many of whom were going to Latin and English high schools, and they played all comers," he said.
Latin, founded in 1635, is the nation's oldest public high school, while English ranks among the oldest. So it made sense that these two schools, that once stood right across the street from each other in the Fenway section of Boston, should eventually start playing on Thanksgiving Day.
The year of that opening kickoff: 1887.
"And ever since that, Boston Latin has competed against Boston English in the traditional Thanksgiving Day game," said Johnson.
And they played without interruption, said Charlie Maneikis, Boston Latin class of '76. Maneikis played quarterback, married a cheerleader, and continues to attend the Latin-English game, which for him remains one of the best days of the year.
"You're going from a wonderful day -- hopefully where we have won, and that happens more typically than not -- and then you're going home to be with your family," said Maneikis.
Latin, as Maneikis said, has dominated English since the 1960s. Wellesley-Needham are about even, as are NFA and New London. And while it's a day of nostalgia for alums, NFA team captain Gibson surely speaks for all high school teams playing on Thanksgiving when reflecting on what the day means to them.
"We both could be having losing seasons but whoever wins that game, he won a season right there," he said.
This story comes via the New England News Collaborative and was first published by WNPR in Connecticut.