Thoughts On Art And Life From The Sculptor Of Ducklings In Boston's Public Garden, Nancy Schön
Nancy Schön is best known for her 1987 sculpture of Mrs. Mallard and her bronze ducklings waddling through Boston's Public Garden — inspired by Robert McCloskey's beloved 1941 children's book "Make Way for Ducklings."
This fall, the West Newton artist published a memoir, "Make Way for Nancy," telling how she created the sculpture, which has itself become a beloved landmark of our city, with children riding the ducks daily and adults dressing them up for holidays and in sports jerseys when Boston teams make playoff runs.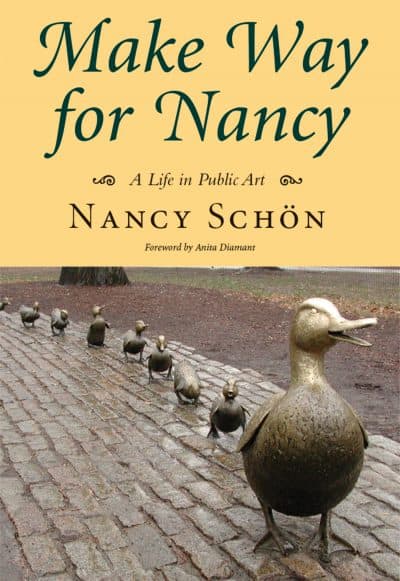 "I wanted my sculptures to be outdoors in parks, where people of all ages could touch and enjoy them," she writes.
In the book, the 89-year-old recalls growing up around Boston (her father had a flower and landscaping business: "I always dug in the dirt. So I was never afraid to be dirty. I was a terrible tomboy"). She talks about how she transitioned from making smaller sculptures sold in galleries into creating public art — like the ducklings, her "The Tortoise and the Hare" on Boston's Copley Plaza to commemorate the 100th anniversary of the Boston Marathon, a dragon at Dorchester's Nonquit Street Green and a bronze Winnie the Pooh and friends at Newton Free Library. There's also a bit about how she helped get the Lynch Family Skatepark built in the shadow of the Zakim Bridge in Cambridge.
We spoke about what she's learned from her life and art:
Why Make Public Art?
"It's there all the time. It's there for anybody. You don't have to buy a ticket. You don't have to have a television. All you have to do is walk through the parks. There's a message in everything I do. The ducks, it's about keeping promises," Schön says. "It's not complicated. It's not abstract. It's really real. It's straight forward and simple and powerful."
How To Be An Artist And A Parent
"One of the good things about being an artist is you're home. I could work at night. I could work any time of day. What happened is I learned something from my friend [and mentor, the artist] Edna Hibel. I complained that I didn't have a block of time. She said, 'You have plenty of time, you're just not applying it correctly. When the kid's in school, don't do the dishes, don't make the beds, don't do anything, go into the studio,' " Schön says. "I worked out a system and a momentum. You have to be pretty organized, but I had to be. I wanted to be. She was encouraging me. … This made a lot of sense to me because, first of all, I hate to do housework. Everybody does. I did it with the kids and we made it fun."
Make Your Own Opportunities
"I used to send slides into shows all the time and get rejected. So I gave that up. I started doing things on my own, looking for places that needed me," Schön says. "I did make my own opportunities as much as I could. I don't quite understand it myself. I somehow intuit how to make things happen. With 'The Tortoise and Hare,' for example, this was also a down time when I was thinking about what to do next. This was the beginning of this public art stuff. All my life I've been connected to the [Boston] Marathon. We had friends who lived on Heartbreak Hill … and I'm a runner. All of a sudden, I wondered what's going on in Hopkinton. … I went down there. I found there was just a stupid little white line. So I made a proposal. … That was very proactive of me. Where it came from I don't know. Then it took seven years to put that one in."
Schön adds, "If you're not out there you don't exist. You can't really expect anybody to come to you. … I'm not afraid to call somebody. And I call somebody twice or three times."
Be Sweet … And Tough
"When I don't have work that's bad," she says. "As an independent person, you go through hard times. Right now I'm overloaded if everything comes through. … When I didn't have work I cried. … It was my idea to do 'The Tortoise and the Hare' in Copley Square. I made it happen. … You have to fight. Though I think I'm sweet in a lot of ways, I'm tough. You have to be."
Be Ready To Fail
Schön's latest idea is a sculpture of a bird in a tree inspired by Emily Dickinson's poem " 'Hope' is the thing with feathers." She's sculpted a model and is hoping that folks connected with the planned Obama Presidential Library in Chicago might find it a wonderful addition to their project. "My heart was broken when I saw the Obamas going off in the plane, so I decided to do something. So I did this piece about birds and hope," she says. "One thing I know is public art has a lot of power. And I think that this sculpture I did called 'Hope' has a lot of power. I believe in it. And I believe in Obama's dignity and ethics and his wish for hope and peace and all those things we strive for. … I think I've got a lot of chutzpah to go after this 'Hope' sculpture. But somebody has to do it. It's OK to fail. I guess that's my motto: 'Be ready to fail. It's OK.' "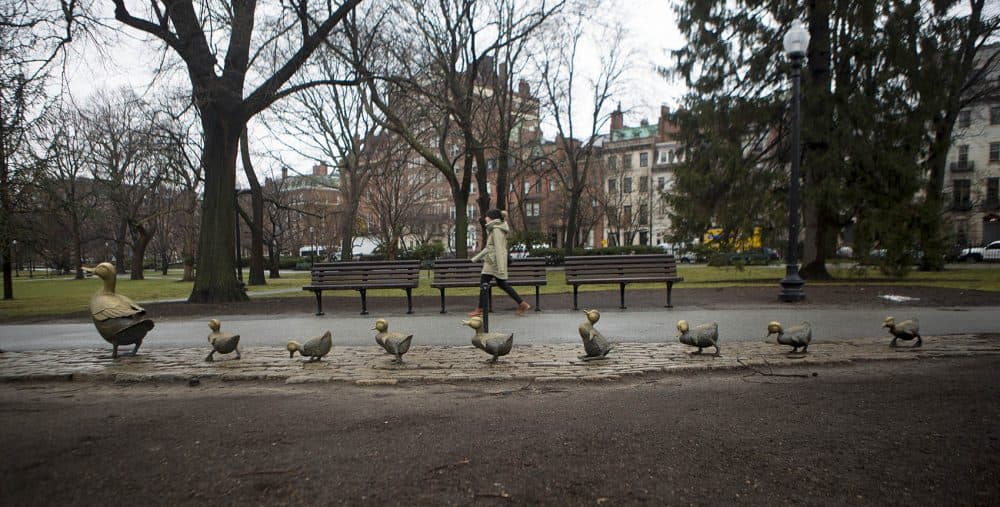 Have Many Things Going On
"I always try to have a lot of things going on. … I have a big life. I have a complicated life. These complications aren't as bad for me because I've got all these other things. In the bad times, there would be other things going on so I could get over the bad things more easily."
Keep Promises
When Schön sculpted the ducks based on Robert McCloskey's "Make Way for Ducklings," part of her agreement with the children's book creator was that she wouldn't make copies. (McCloskey granted an exception for a copy in Moscow as part of a U.S.-Soviet goodwill gesture in 1991.) So she's repeatedly found herself saying no to requests for more ducks — and getting commissions for other sculptures instead. "I swear the fact that I said no to doing the ducks for people was a very smart move on my part," Schön says. "I said no to people. It's hard. But it's important. It's hard because I could be a millionaire. I could do ducks all over the world. But I made a promise. What's more important a promise or money? The promise brought me money. I got all these commissions because I made that promise."