Curious Waters, Virtual Grass And Other Digital Apparitions To Play In At Peabody Essex Museum
Enter a darkened gallery filled with digital apparitions. One floor ripples like water, another shivers like tall grass in the wind. Letters seem to flow in and out of a bottle and vase. A swirl of confetti responds to your gestures.
The exhibition "XYZT: A Journey in 4 Dimensions" by French digital artists Adrien Mondot and Claire Bardainne features 10 digital installations created over the past six years or so. It's on view at Salem's Peabody Essex Museum through April 22. "XYZT" refers to the location of a point in space and time.
"We want our images to be danced on, played with and to react to the body," Bardainne has said. "We make immersive and interactive artwork, but we want you to forget that these are images."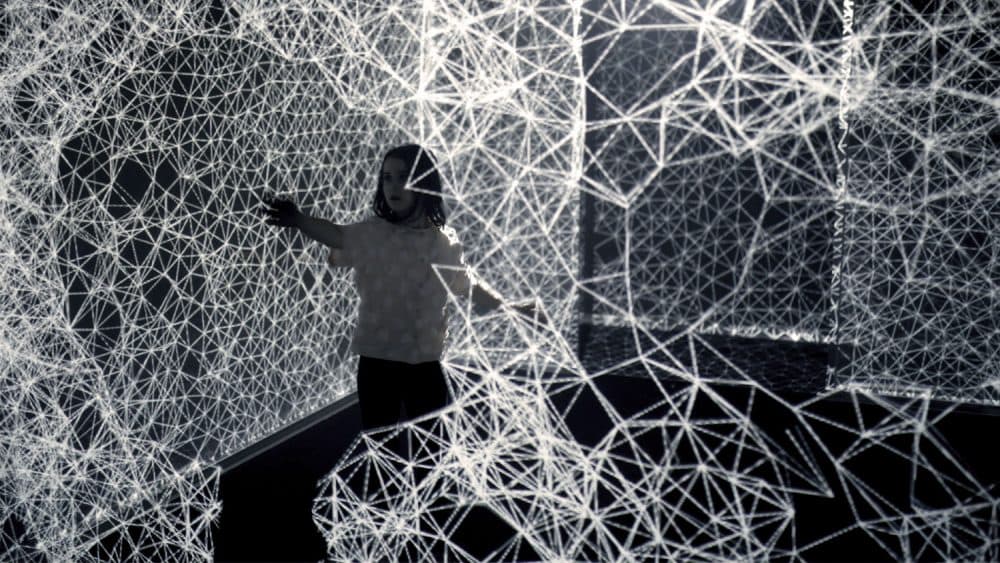 Jane Winchell, director of the museum's Art & Nature Center, who helped bring the show here, says she first came upon the couple's art during a visit to a Paris science museum two years ago. "I went in knowing nothing and just discovered this wonderfully immersive, surprising and personal experience with digital art," Winchell says. "For me what was so personal was the exploration and experimentation it drew out of me. … It felt like the works were playing with me instead of my responding to them."
Winchell adds, "I felt like the artists were there with me and the digital was their vehicle, it wasn't their final objective. I thought that that's so hard to do, to create something in an abstraction that had the feeling of the human touch in it."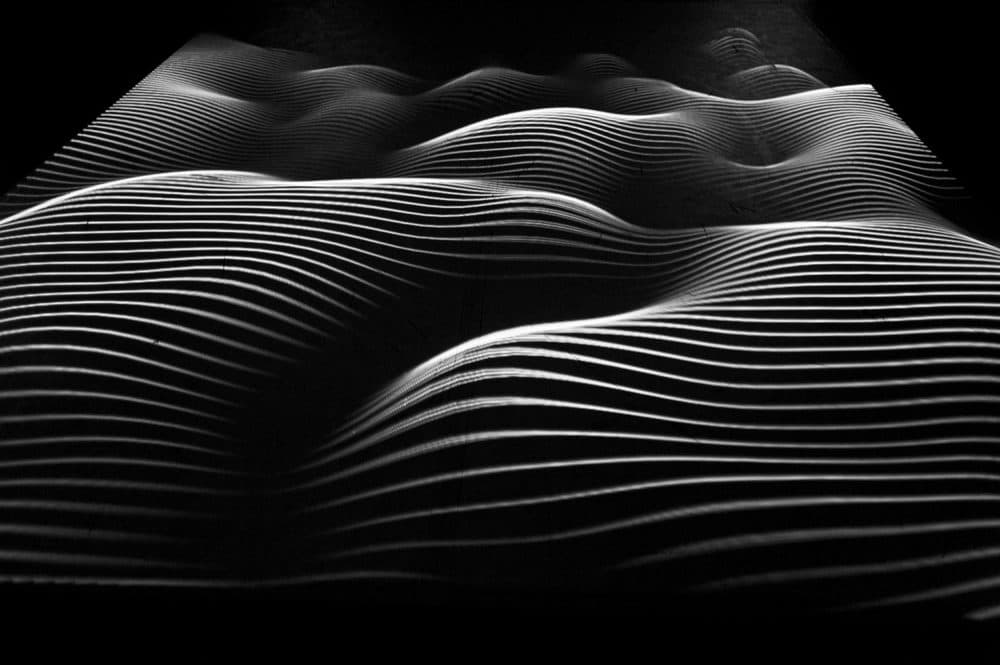 "Anamorphosis in Space" — that one with lines projected on the floor that ripple in response to you moving across them — "It's like a strange dream, a river might appear with these illuminated lines that are moonlight and ripples. When I start to cross and walk on it, it turns into this really different experience. Instead of just waves, spikes come out of the water," Winchell says. "It's an abstract experience of water … the combination of the very familiar, the organic, and then the surprise that's the virtual."
Projected onto one scrim-wall, "Letters Tree" depicts a tree shedding letters like leaves in autumn. Winchell says it's generated by an algorithm that models plant growth. "They're taking something that is digitally generated and rooted in math and physics," she says, "and yet they bring in these kind of poetical questions like: Can the wind write poems?"
"Field of Vectors," Winchell says, is "like walking through grass, but then it does these strange things. When you're walking through it, the vectors are accentuated. The question for this one is: Can you leave a footprint on a non-material?"
"Anamorphosis in Time" seems to reflect the people in the room — but with a momentary time delay. "People compare it to a funhouse mirror where you get that distortion and warping, but it's in time," Winchell says. "This is really about dance and the desire to explore the moving body in relationship to space and the digital. I love the question for this one being: Can we materialize time?"
---
"XYZT: A Journey in 4 Dimensions" is on view at Salem's Peabody Essex Museum through April 22.