BU Theater Program Gets A New Home — And A Different Experience For Students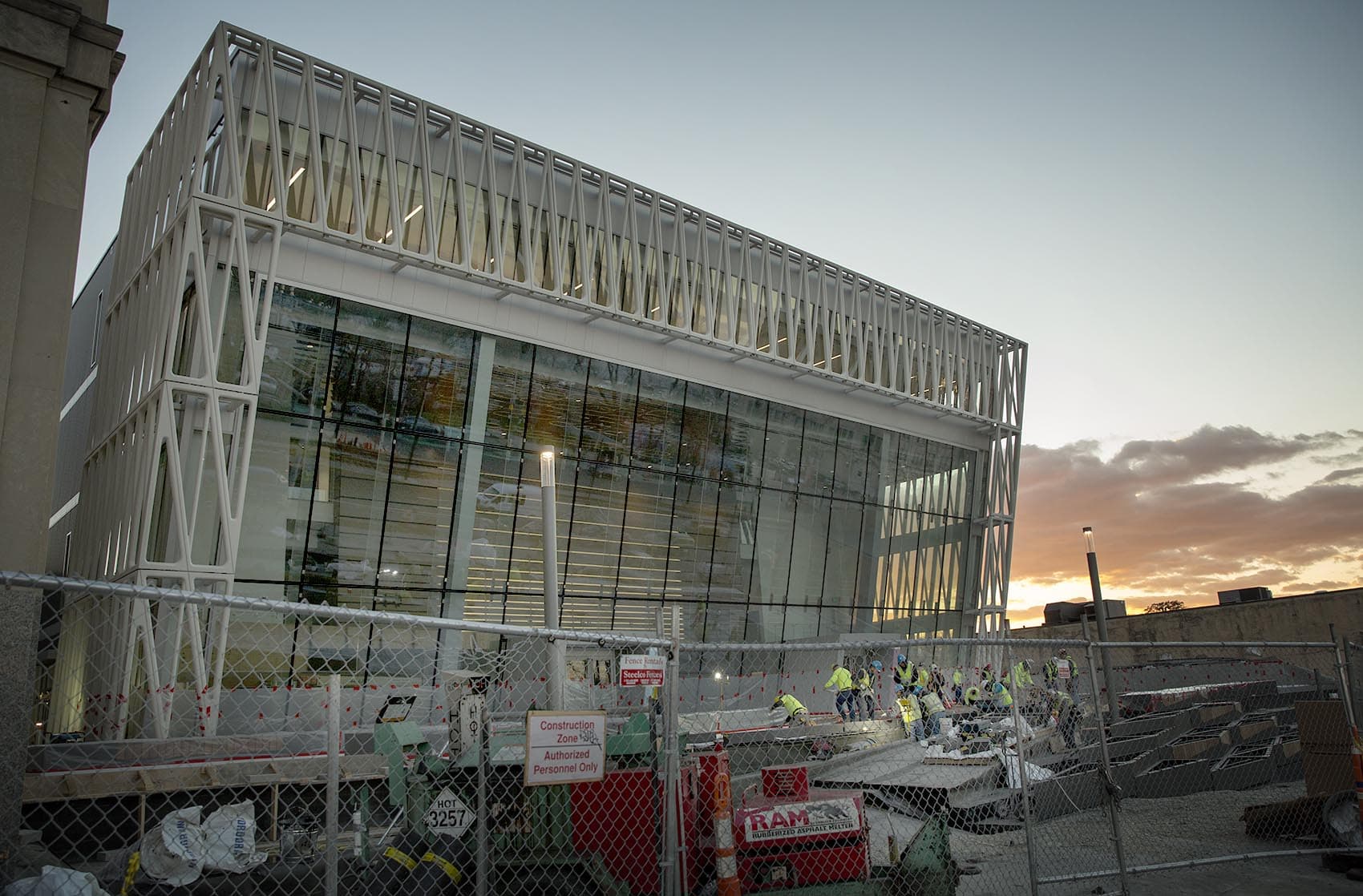 This article is more than 4 years old.
Along a bustling Commonwealth Avenue, another new building emerges. This one, with a modern, reflective glass façade, will be the new home of BU's College of Fine Arts theater program.
The 75,000-square-foot facility will include the Joan and Edgar Booth Theatre, a 250-seat black box theater that is scheduled to open by mid-January, and the Boston University Production Center, where students are already at work. The center holds faculty offices, teaching studios, a study room and shops where students can construct scenery and costumes. There's also a parking lot for 286 cars.
"It's nice that a university of our stature and our size, as it builds these other wonderful facilities, views the arts as a priority in this regard," says Jim Petosa, director of BU's CFA School of Theatre.
But one thing will be missing from this arts facility: a resident professional theater company.
For over 60 years, the CFA School of Theatre has operated out of the Boston University Theatre on Huntington Avenue, which BU owned. After the Huntington Theatre Company partnered with BU in 1982, it shared the space with the BU theater program.
Together, BU and the Huntington created a solid teaching ground for CFA's aspiring theater professionals. Students could work alongside professionals every day, getting answers to questions and asking for advice.
"We're constantly asking them, like, 'Where did you get this supply from?' 'How did you guys go about organizing this?' So it's helped us set up our own shop by being able to work with them and learn from them," says Katherine Keaton, a second-year graduate student in scenic painting.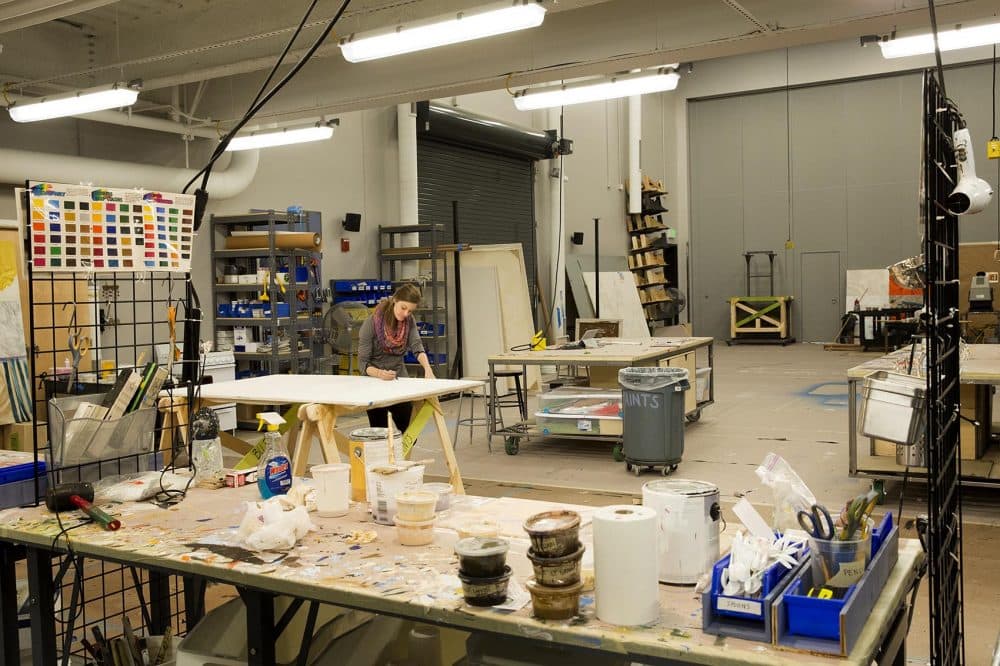 Students — especially those studying scenery, costumes and props — learned on the job and built connections for their professional lives. And their experience with the Huntington also helped them set up and adjust to their new workspace.
"Definitely, working with them, it helped us learn the ropes, coming into this year, of what a shop requires," says Keaton.
But the relationship between BU and the Huntington changed in 2015, when the university decided to sell the Huntington Avenue building. In 2016, the building's new owners reached an agreement with the Huntington Theatre Company to stay there. But the BU students will now be working in their own new theater complex.
Petosa, however, doesn't believe the relationship between BU and the Huntington will suffer. If anything, he thinks it will flourish because it will no longer be frayed by the stress of sharing confined spaces.
"The relationship of the school and the Huntington, in terms of being historically devoted partners to the education of the next generation of theater practitioners, won't be changed," says Petosa.
Last year, BU and the Huntington released a joint statement that they would remain supportive throughout the separation process. But the statement didn't mention working together in the future.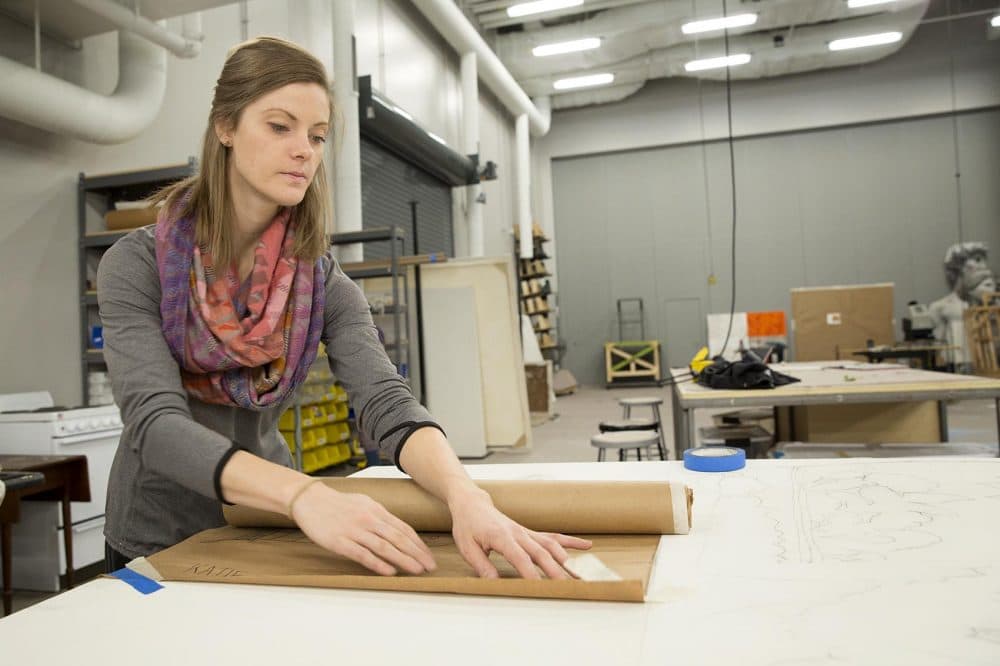 Meanwhile, though, Petosa says BU is continuing to seek partnerships with other theater companies to supplement its students' education.
That effort builds on the BU Professional Theatre Initiative, founded in 2002 to link students with theater professionals who can help them find internships, summer jobs and positions for recent grads. In recent years, the university has worked with the New Repertory Theatre in Watertown (where Petosa is artistic director), the Somerville-based Actors' Shakespeare Project and the Maryland-based touring company National Players. The program also creates opportunities for  artistic collaboration, not just jobs.
The Huntington has participated in that initiative, and Petosa hopes it stays that way. Once the Booth Theatre is completed at the start of the spring semester, BU will shift its focus toward how the relationship might work out.
Petosa believes that the Initiative's broader network of professional connections will serve students better than the single-company partnership with the Huntington. But it is a change; students will no longer work alongside a resident professional theater company.
Tazzy Cole, a second-year graduate student in costume production, worked with the Huntington last year and found the experience invaluable.
"It's nice to be in a professional work environment," says Cole.
Now, she's working in the new Production Center instead of at the Huntington. So at the start of the school year Cole realized quickly that if she wanted the same professional experiences provided by the Huntington, she'd have to go searching for them herself. So would incoming students — and Cole says that will give them a different experience from the one she has had.
"What I want more for this program is a connection to a professional setting," Cole says, "and I think that future students will miss out on that."