Gold Dust Orphans Take A Hatchet To The Holidays In 'Whatever Happened To Baby Jesus?'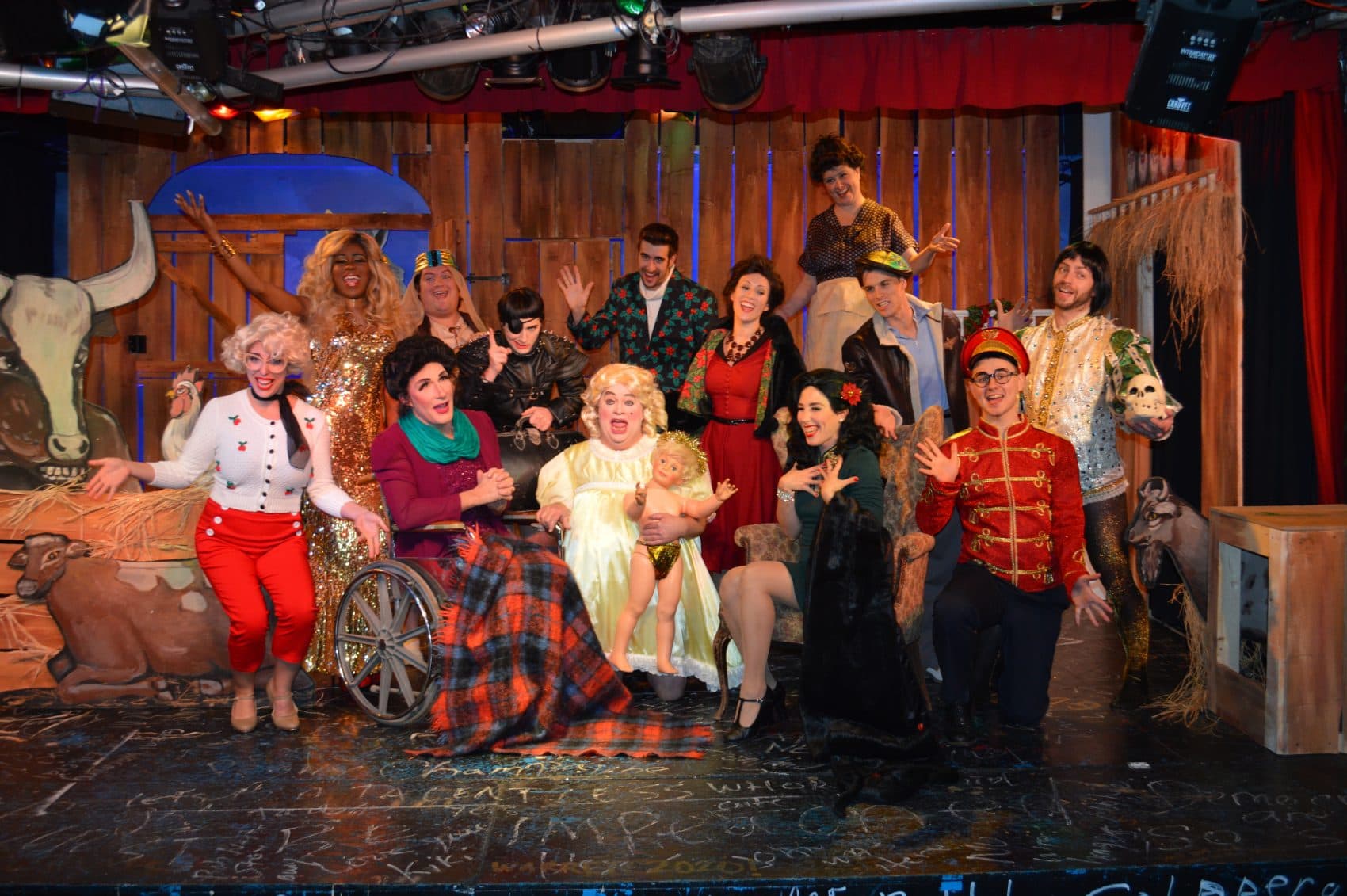 This article is more than 4 years old.
It's "Deck the Halls with Decapitation" in Ryan Landry and the Gold Dust Orphans' highly enjoyable holiday outing, "Whatever Happened to Baby Jesus?" (at Machine Nightclub through Dec. 23). Ax me what the show's about? Well, it's a tinsel-and-terror-clad mashup of prancing, dancing Christmas spectacular and campy 1960s psycho-horror classics "What Ever Happened to Baby Jane?" and "Strait-Jacket." The only thing missing is a tap-danced bashing by Yule log.
But murder is not all Landry wrote into this Christmas collision of mistletoe and mayhem, in which folks get snuffed like so many votive candles. To leaven the heavily made-up mix of Joan Crawford and Bette Davis in their dotage, we also get a wholesome Judy Garland stand-in named Mary Margaret Marvel, sweeping out the barn to put on a show as in the 1950 movie musical "Summer Stock."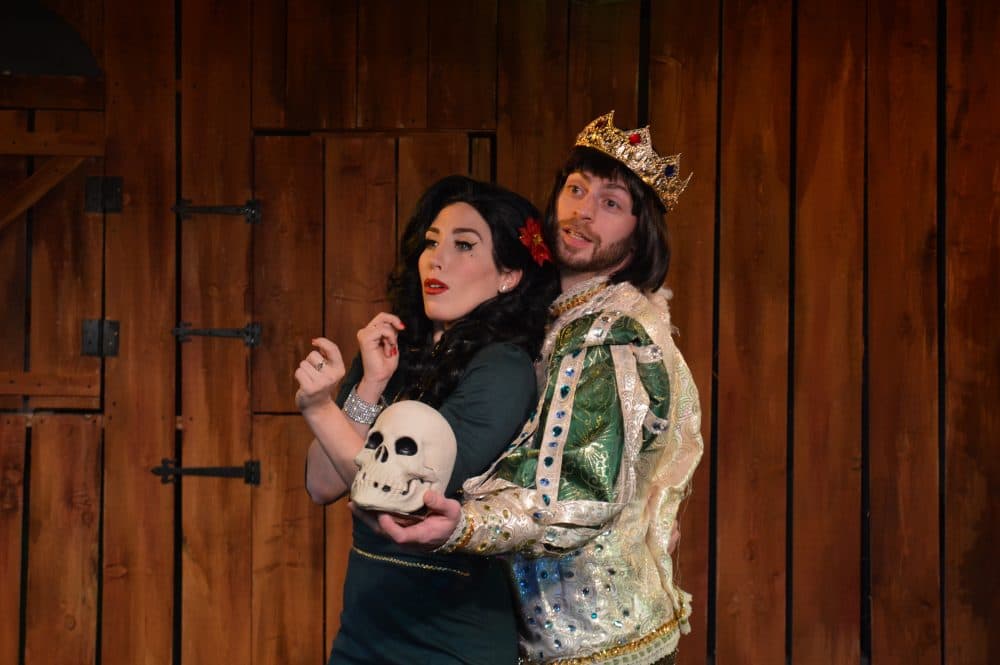 Author-impresario Landry calls his hydra-headed parody a "Christmystery" since, in addition to the holiday hoofing and "Baby Jane" sequel, there's genuine sleuthing to be done in Mapleton, Vermont. That's the farm-fed hometown to which wheelchair-ridden ex-movie star Blanche Hudson and her addled erstwhile-child-star sister, Jane, have repaired for the holidays, following the latter's institutionalization for crazed criminality. When the pair takes up residence at the Marvel Family Farm, along with proprietress Mary Margaret's aspiring-thespian sister Abigail and a barnstorming cohort bent on theatrics, the hatchets start to fly like chicken feathers.
But first, a flashback in which a preacher's wife is offed and the Shirley Temple-like incarnation of the infant savior in a downtown crèche is made off with. That crime remains unsolved until the big doll shows up with the Hudsons and more carnage ensues — between (and sometimes during) production numbers replete with heartwarmingly mutilated holiday and Broadway tunes (everything from "Home for the Holidays" to "Hello, Dolly!"), nutcrackers, snowmen, Santa and a Little Drummer Boy ripe for the Witness Protection Program.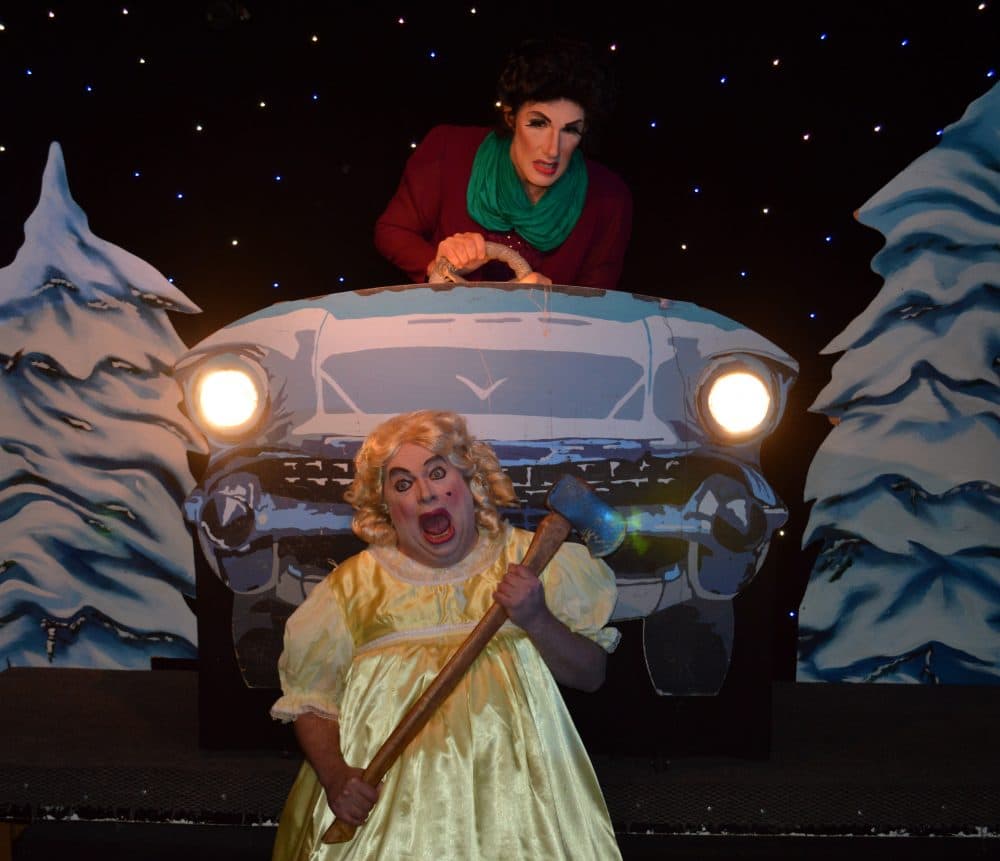 "The plot thins" is an ominous utterance that pops up in the second act. And though I've been admonished not to reveal its denouement, I'm not sure I entirely understood the plot. And I didn't care. It was enough to see Larry Coen (who also directs) looking saucer-eyed, shell-shocked and infantile in Baby Jane's blonde sausage curls and triangular frock or to hear music director Tim Lawton apply his outsized baritone to a tweaking of "There's No Business Like Show Business." And though you know you shouldn't trust Landry's crafty Blanche, she's at least cuddlier than Joan Crawford's — especially when waxing nostalgic about the Green Mountain State from her wheelchair. "I hear your sap drippin'" she croons fondly, "And I start flippin'."
Of course, Coen, Lawton, Landry and Penny Champayne — who is hilarious as a glam gorgon in a swivel chair, as well as the creator of the myriad dizzying costumes — are as familiar Orphans as Annie. But there is fresher Orphan blood bubbling here too, including that of Taryn Lane's Mary Margaret — whose romantic, down-to-earth heroine is as wholesome as her voice is robust — and Sarah Jones as Mary Margaret's rolling-pin-wielding agricultural sidekick Marge, who lets loose a "Sufferin' Cats!" so often you'd think she was in a "Tom and Jerry" cartoon instead of a slasher Christmas special.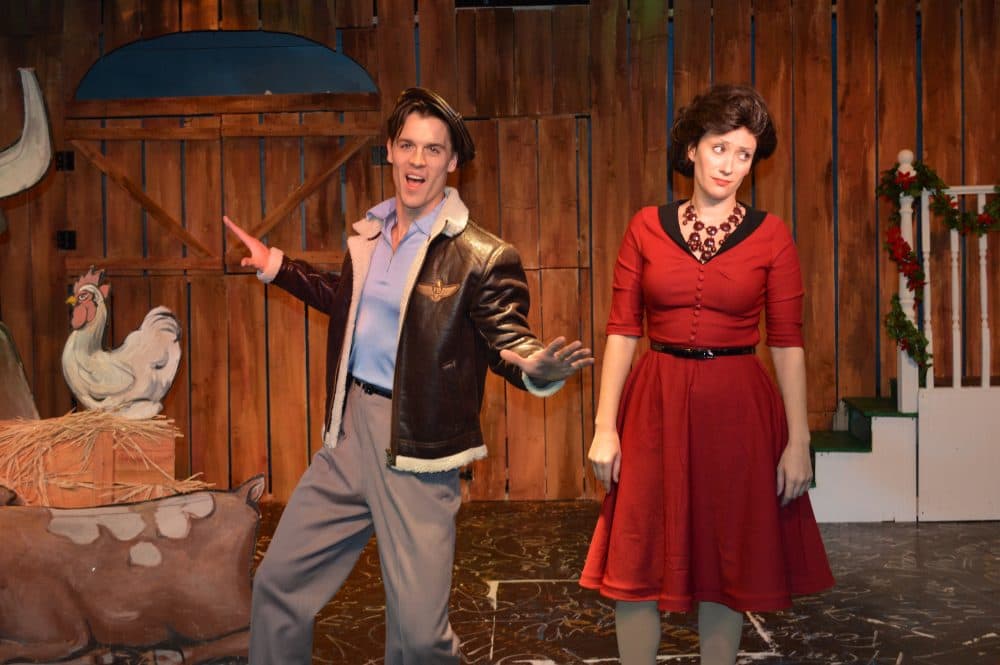 Also memorable are Kiki Samko as a deranged psychiatrist in leathers and an eye patch and Michael Underhill as the invading theater troupe's prima donna director and resident straight man, who steals Mary Margaret's heart as surely as someone swiped the baby Jesus. Imperiously simmering Qya Cristál is on hand too, to lend not only sass and soaring vocals, but also, when called for, a synopsis.
Though I wouldn't dream of outing the murderer, I can reveal this much about the ending: It's a blockbuster number from the itinerant players' own holiday musical, called "A Stranger in the Manger." Amid much low-rent glitz and glitter, delivering its bounciest Judy Garland sentiment, the number invites the audience to "pack up your troubles and just get happy." Throw in a scoop of raunchiness, a big wink, a few kinks, some flashing corsets and an ax murderer hiding in the holly, and that's pretty much the Orphans' message too.
---
Ryan Landry and the Gold Dust Orphans' "Whatever Happened to Baby Jesus?" is at Machine Nightclub through Dec. 23.