Mass. Rises To No. 1 In National Health Rankings, But Challenges Remain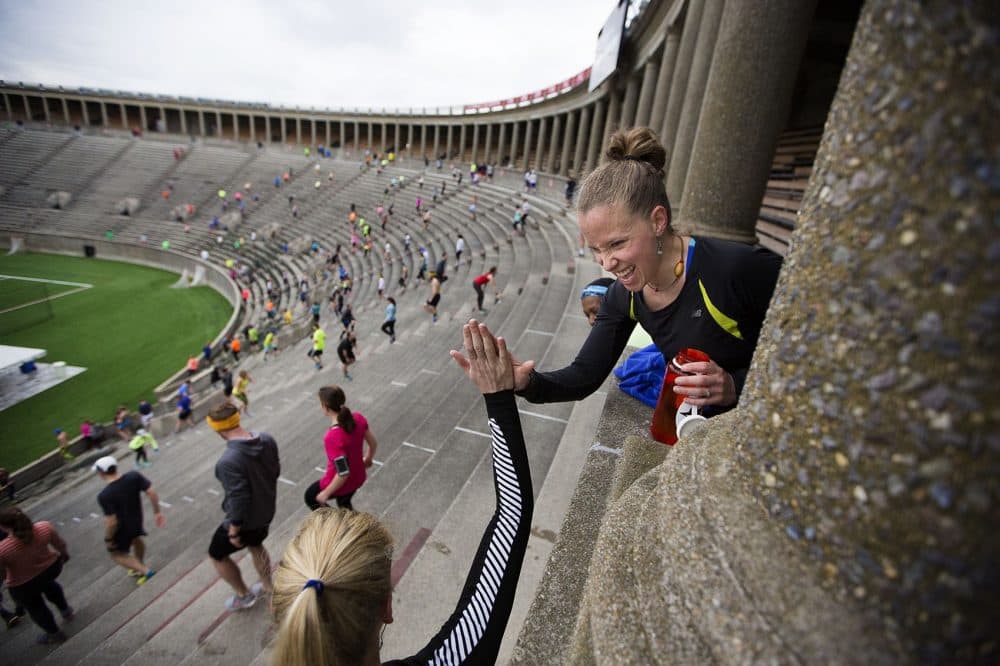 This article is more than 5 years old.
For the first time, Massachusetts this year has risen to the top spot in long-running national health rankings put out by the United Health Foundation.
The report notes that Massachusetts has more people covered by health insurance, a lower obesity rate and more mental health care than other states. Smoking among adults is way down here in the last five years — from 18 percent to 13.6 percent — and cancer deaths dropped 4 percent over the same period.
But challenges remain, the report says, including a high drug death rate — up from nearly 12 to nearly 20 per 100,000 people over the last five years — and high rate of preventable hospitalizations.
Time to pat ourselves on the back? Yes and no, says Maddie Ribble, spokesman for the Massachusetts Public Health Association. The longer answer, lightly edited:
We know we have terrific health care institutions. We have the world's best health care institutions in Massachusetts. We know we've been a leader in providing access to health insurance and health coverage going back a long time. And we know our state, overall, is pretty affluent and has access to a lot of resources, and these are things that really drive that ranking. We always have been in the top tier, and we should be really proud of that ranking. And, we need to dig a little deeper.

If we break down the data by race, ethnicity, household income, even by the region of the state in some cases, we find some very significant inequities that we really should be disturbed by. We look at things like infant mortality: We have some other recent data that shows we have the lowest infant mortality rate int he country — that's terrific.

But black residents are 86% more likely to suffer from infant mortality than white residents. So if we look at black residents as a state, we would be 41st, tied with Oklahoma. That is nothing to be proud about. We should be outraged about that. There's no reason that children born in Massachusetts, where nearly everyone has health insurance, should suffer from infant mortality, and there's no reason we should see almost 90 percent increase among black families. That's outrageous. And we need to dig deeper to understand why that is.

Regardless of race and ethnicity, the lower income people have, the worse their health outcome is across nearly every measure. And we know in Massachusetts we are among the worst in the nation in terms of income inequality, and that is a factor that is actually called out in the health rankings report out today, looking at the best and worst counties in Massachusetts — there's a big, big gap.

Politically, there are two related opportunities and challenges we face. One is on the social determinants of health, that are not directly related to health care but that drive health outcomes and health costs. The report highlights things like violent crime, severe housing problems and long commutes as things where there's a big gap between the best and worst counties in Massachusetts.

Those are social determinants of health that we know drive health outcomes. We know that families that have unstable housing or are homeless just cannot be healthy. So if we don't address our severe housing challenges in Massachusetts, families will not be healthy.

The other opportunity is making a stronger connection between what's going on in our clinical settings, and the streets and neighborhoods outside the doors of those clinics. This is the work that the Prevention and Wellness Trust Fund has been pursuing over the last four years. For instance, if there's a child suffering from asthma who's seen in a clinical setting, the triggers of that asthma are often in the child's home or school or neighborhood, and if the clinical providers are not reaching out into the community to address the causes of those triggers, you can't do enough on the medical side to control that asthma, and even if you did, it's tremendously expensive, with terrible consequences for that child's health. The Prevention and Wellness Trust Fund is at risk of being dismantled because of lack of legislative action.